Abstract
Thallium is a rare and easily dispersed element with high toxicity to organisms. Relatively high levels of thallium (∼9.58 mg kg−1) had been found in aqua regia soil extract of an accidentally polluted soil from south of Spain. To assess the available and leachable portions of thallium in the polluted soil, single and sequential extraction procedures have been utilized. Further, X-ray diffraction and scanning electron microscopic studies have also been used to find out the mineral phases. The amount of thallium extracted by the extracting agents in comparison to aqua regia, as well as the different phase associations are discussed.
We're sorry, something doesn't seem to be working properly.
Please try refreshing the page. If that doesn't work, please contact support so we can address the problem.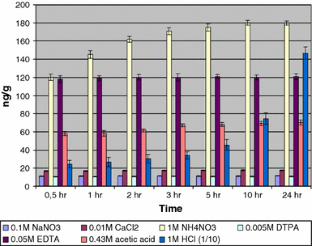 References
Dahal MP, Lawrance GA (1996) Adsorption of thallium(I), lead(II), copper(II), bismuth(III) and chromium(III) by electrolytic manganese dioxide. Adsorp Sci Technol 13:231–240

DIN (1995) Deutsches Institut für Normung, Bodenbeschaffenheit. Extraktion von Spurenelemente mit Ammonium-nitratlösung. Vornorm DINV 19730, DIN Boden-Chemische Bodenuntersuchungs-verfahren, Berlin, Germany

Durrant PJ, Durrant B (1970) Introduction to advanced inorganic chemistry, 2nd edn. Longman, London

Gupta SK, Aten C (1993) Comparison and evaluation of extraction media and their suitability in a simple-model to predict the biological relevance of heavy-metal concentrations in contaminated soils. Int J Environ Anal Chem 51:25–46. doi:10.1080/03067319308027609

Houba VJG, Lexmond TM, Novozamsky I, Van der Lee JJ (1996) State of the art and future developments in soil analysis for bioavailability assessment. Sci Total Environ 178:21–28. doi:10.1016/0048-9697(95)04793-X

ISO (1995) Soil quality. Extraction of trace elements soluble in aqua regia, ISO norm 11466:1995(E)

Jacobson AR, McBride MB, Baveye P, Steenhuis TS (2005) Environmental factors determining the trace-level sorption of silver and thallium to soils. Sci Total Environ 345:191–205. doi:10.1016/j.scitotenv.2004.10.027

Larner BL, Seen AJ, Townsend AT (2006) Comparative study of optimised BCR sequential extraction scheme and acid leaching of elements in the certified reference material NIST 2711. Anal Chim Acta 556:444–449. doi:10.1016/j.aca.2005.09.058

Lee AG (1971) The chemistry of thallium (Topics in inorganic and general chemistry, Monograph No. 14). Elsevier, New York

Leonard A, Gerber GB (1997) Mutagenicity, carcinogenicity and teratogenicity of thallium compounds. Mutat Res 387:47–53. doi:10.1016/S1383-5742(97)00022-7

Lindsay WL, Norvell WA (1978) Development of a dtpa soil test for zinc, iron, manganese, and copper. Soil Sci Soc Am J 42:421–428

Pavlickova J, Zbiral J, Smatanova M, Houserova P, Cizmarova E, Havlikova S, Kuban V (2005) Uptake of Thallium from artificially and naturally contaminated soils into rape (Brassica napus L.). J Agric Food Chem 53:2867–2871. doi:10.1021/jf048042k

Peter ALJ, Viraraghavan T (2005) Thallium: a review of public health and environmental concerns. Environ Intern 31:493–501. doi:10.1016/j.envint.2004.09.003

Pueyo M, Sahuquillo A, Rigol A, Lopez-Sanchez JF, Rauret G (2005) A new quality control soil material for monitoring trace metals in accidentally polluted areas. Anal Chim Acta 533:41–49. doi:10.1016/j.aca.2004.10.078

Qi W, Chen Y, Cao J (1992) Indium and thallium background content in soils in China. Int J Environ Stud 40:311–315. doi:10.1080/00207239208710737

Quevauviller P, Rauret G, Rubio R, Lopez-Sanchez JF, Ure A, Bacon J, Muntau H (1997) Certified reference materials for the quality control of EDTA- and acetic acid-extractable contents of trace elements in sewage sludge amended soils (CRMs 483 and 484). Fresenius J Anal Chem 357:611–618. doi:10.1007/s002160050222

Rauret G, Lopez-Sanchez JF, Sahuquillo A, Rubio R, Davidson C, Ure A, Quevauviller P (1999) Improvement of the BCR three step sequential extraction procedure prior to the certification of new sediment and soil reference materials. J Environ Monitor 1:57–61. doi:10.1039/a807854h

Smith IC, Carson BL (1977) Trace metals in the environment (vol. 1): thallium. Ann Arbor Science, USA

Snape I, Scouller RC, Stark SC, Stark J, Riddle MJ, Gore DB (2004) Characterisation of the dilute HCl extraction method for the identification of metal contamination in Antarctic marine sediments. Chemosphere 57:491–504. doi:10.1016/j.chemosphere.2004.05.042

Tremel A, Masson P, Stercheman T, Baize D, Mench M (1997a) Thallium in French agrosystems. I. Thallium contents in arable soils. Environ Pollut 95:293–302. doi:10.1016/S0269-7491(96)00145-5

Tremel A, Masson P, Garraud H, Donard OFX, Baize D, Mench M (1997b) Thallium in French agrosystems-II. Concentration of thallium in field-grown rape and some other plant species. Environ Pollut 97:161–168. doi:10.1016/S0269-7491(97)00060-2

van Leeuwen HP (1999) Metal speciation dynamics and bioavailability: inert and labile complexes. Environ Sci Technol 33:3743–3748. doi:10.1021/es990362a

Weinberg E (1977) Microorganisms and minerals. Marcel Dekker, New York

Zbiral J, Pavlickova J, Havlikova S, Cizmarova E, Nemec P, Sanka M, Kuban V, Medek P (2002) Comparison of several soil extractants for determination of thallium Comm. Soil Sci Plant Anal 33:3303–3312. doi:10.1081/CSS-120014524

Zhou D, Liu D (1985) Chronic thallium poisoning in a rural area of Guizhou province. China J Environ Health 48:14–18
Acknowledgements
C. R. M. Rao is thankful to the Spanish Ministry of Science and Education for a sabbatical fellowship for his stay in Spain (SAB 2005-0143) and also to Government of India for the sanction of necessary leave. The authors also thank DGICYT (Project CTQ 2006-02924) for financial support and Serveis Científico-Tècnics (Universitat de Barcelona) for their help in XRD, SEM and ICP measurements.
About this article
Cite this article
Rao, C.R.M., Ruiz-Chancho, M.J., Sahuquillo, A. et al. Assessment of Extractants for the Determination of Thallium in an Accidentally Polluted Soil. Bull Environ Contam Toxicol 81, 334–338 (2008). https://doi.org/10.1007/s00128-008-9473-y
Received:

Accepted:

Published:

Issue Date:
Keywords
Thallium

Single extraction

Sequential extraction

Accidentally polluted soil