Abstract
In contrast to arsenicosis caused by consumption of water contaminated by naturally occurring inorganic arsenic, human exposure to this metalloid through coal burning has been rarely reported. In this study, arsenic speciation and 8-hydroxy-2′-deoxyguanosine (8-OHdG) levels in urine were determined in the Chinese residents exposed to arsenic through coal burning in Guizhou, China, an epidemic area of chronic arsenic poisoning caused by coal burning. The urinary concentrations of inorganic arsenic (iAs), monomethylarsonic acid (MMA), dimethylarsinic acid (DMA) and total arsenic (tAs) of high-arsenic exposed subjects were significantly higher than those of low-arsenic exposed residents. A biomarker of oxidative DNA damage, urinary 8-OHdG level was significantly higher in high-arsenic exposed subjects than that of low exposed. Significant positive correlations were found between 8-OHdG levels and concentrations of iAs, MMA, DMA and tAs, respectively. In addition, a significant negative correlation was observed between 8-OHdG levels and the secondary methylation ratio (DMA/(MMA + DMA)). The results suggest that chronic arsenic exposure through burning coal rich in arsenic is associated with oxidative DNA damages, and that secondary methylation capacity is potentially related to the susceptibility of individuals to oxidative DNA damage induced by arsenic exposure through coal burning in domestic living.
Access options
Buy single article
Instant access to the full article PDF.
USD 39.95
Price includes VAT (USA)
Tax calculation will be finalised during checkout.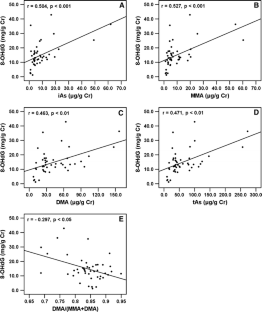 References
Abernathy CO, Liu YP, Longfellow D, Aposhian HV, Beck B, Fowler B, Goyer R, Menzer R, Rossman T, Thompson C, Waalkes M (1999) Arsenic: health effects, mechanisms of actions, and research issues. Environ Health Perspect 107(7):593–597. doi:10.2307/3434403

An D, Li DS, Liang Y, Jing ZJ (2007) Unventilated indoor coal-fired stoves in Guizhou province, China: reduction of arsenic exposure through behavior changes resulting from mitigation and health education in populations with arsenicosis. Environ Health Perspect 115:659–662

Aposhian HV (1997) Enzymatic methylation of arsenic species and other new approaches to arsenic toxicity. Annu Rev Pharmacol Toxicol 37:397–419. doi:10.1146/annurev.pharmtox.37.1.397

Flora SJ, Bhadauria S, Kannan GM, Singh N (2007) Arsenic induced oxidative stress and the role of antioxidant supplementation during chelation: a review. J Environ Biol 28(2 Suppl):333–347

Gebel TW (1999) Arsenic and drinking water contamination. Science 283(5407):1458–1459. doi:10.1126/science.283.5407.1455e

Hayakawa T, Kobayashi Y, Cui X, Hirano S (2005) A new metabolic pathway of arsenite: arsenic-glutathione complexes are substrates for human arsenic methyltransferase Cyt19. Arch Toxicol 79:183–191. doi:10.1007/s00204-004-0620-x

Huang C, Ke Q, Costa M, Shi X (2004) Molecular mechanisms of arsenic carcinogenesis. Mol Cell Biochem 255(1–2):57–66. doi:10.1023/B:MCBI.0000007261.04684.78

Karihtala P, Soini Y (2007) Reactive oxygen species and antioxidant mechanisms in human tissues and their relation to malignancies. APMIS 115(2):81–103. doi:10.1111/j.1600-0463.2007.apm_514.x

Liu J, Zheng B, Aposhian HV, Zhou Y, Chen ML, Zhang A, Waalkes MP (2002) Chronic arsenic poisoning from burning high-arsenic-containing coal in Guizhou, China. Environ Health Perspect 110(2):119–122

Nesnow S, Roop BC, Lambert G, Kadiiska M, Mason RP, Cullen WR, Mass MJ (2002) DNA damage induced by methylated trivalent arsenicals is mediated by reactive oxygen species. Chem Res Toxicol 15(12):1627–1634. doi:10.1021/tx025598y

Nickson R, McArthur J, Burgess W, Ahmed KM, Ravenscroft P, Rahman M (1998) Arsenic poisoning of Bangladesh groundwater. Nature 395(6700):338. doi:10.1038/26387

Nordstrom DK (2002) Public health. Worldwide occurrences of arsenic in ground water. Science 296(5576):2143–2145. doi:10.1126/science.1072375

Oremland RS, Stolz JF (2003) The ecology of arsenic. Science 300(5621):939–944. doi:10.1126/science.1081903

Petrick JS, Ayala-Fierro F, Cullen WR, Carter DE, Aposhian HV (2000) Monomethylarsonous acid (MMAIII) is more toxic than arsenite in Chang human hepatocytes. Toxicol Appl Pharmacol 163:203–207. doi:10.1006/taap.1999.8872

Pi J, Kumagai Y, Sun G, Yamauchi H, Yoshida T, Iso H, Endo A, Yu L, Yuki K, Miyauchi T, Shimojo N (2000) Decreased serum concentrations of nitric oxide metabolites among Chinese in an endemic area of chronic arsenic poisoning in Inner Mongolia. Free Radic Biol Med 28(7):1137–1142. doi:10.1016/S0891-5849(00)00209-4

Pi J, Yamauchi H, Kumagai Y, sun G, Yoshida T, Aikawa H, Hopenhayn-Rich C, Shimojo N (2002) Evidence for induction of oxidative stress caused by chronic exposure of Chinese residents to arsenic contained in drinking water Environ Health Perspect 110:331–336

Pi J, Horiguchi S, Sun Y, Nikaido M, Shimojo N, Hayashi T, Yamauchi H, Itoh K, Yamamoto M, Sun G, Waalkes MP, Kumagai Y (2003a) A potential mechanism for the impairment of nitric oxide formation caused by prolonged oral exposure to arsenate in rabbits. Free Radic Biol Med 35(1):102–113. doi:10.1016/S0891-5849(03)00269-7

Pi J, Qu W, Reece JM, Kumagai Y, Waalkes MP (2003b) Transcription factor Nrf2 activation by inorganic arsenic in cultured keratinocytes: involvement of hydrogen peroxide. Exp Cell Res 290:234–245. doi:10.1016/S0014-4827(03)00341-0

Saito S, Yamauchi H, Hasui Y, Kurashige J, ochi H, Yoshida K (2000) Quantitative determination of urinary 8-hydroxydeoxyguanosine (8-OH-dg) by using ELISA. Res Commun Mol Pathol Pharmacol 107:39–44

Shi H, Shi X, Liu KJ (2004) Oxidative mechanism of arsenic toxicity and carcinogenesis. Mol Cell Biochem 255(1–2):67–78. doi:10.1023/B:MCBI.0000007262.26044.e8

Styblo M, Del Razo LM, Vega L, Germolec DR, LeCluyse EL, Hamilton GA, Reed W, Wang C, Cullen WR, Thomas DJ (2000) Comparative toxicity of trivalent and pentavalent inorganic and methylated arsenicals in rat and human cells. Arch Toxicol 74(6):289–99. doi:10.1007/s002040000134

Sun G, Liu S, Li B, Li X, Sun X, Guo X, Qian C, Pi J (2001) Current situation of endemic arsenicosis in China. Environ Sci 5:425–434

Sun G (2004) Arsenic contamination and arsenicosis in China. Toxicol Appl Pharmacol 198(3):268–271. doi:10.1016/j.taap.2003.10.017

Sun G, Li X, Pi J, Sun Y, Li B, Jin Y, Xu Y (2006) Current research problems of chronic arsenicosis in China. J Health Popul Nutr 24(2):176–181

Sun G, Xu YY, Li X, Jin Y, Li B, Sun X (2007) Urinary arsenic metabolites in children and adults exposed to arsenic in drinking water in Inner Mongolia, China. Environ Health Perspect 115:648–652

Tamura S, Tsukahara H, Ueno M, Maeda M, Kawakami H, Sekine K, Mayumi M (2006) Evaluation of a urinary multi-parameter biomarker set for oxidative stress in children, adolescents and young adults. Free Radic Res 40(11):1198–1205. doi:10.1080/10715760600895191

Wu LL, Chiou CC, Chang PY, Wu JT (2004) Urinary 8-OHdG: a marker of oxidative stress to DNA and a risk factor for cancer, atherosclerosis and diabetics. Clin Chim Acta 339(1–2):1–9. doi:10.1016/j.cccn.2003.09.010

Yamauchi H, Fowler BA (1994) Toxicity and metabolism of inorganic and methylated arsenicals. In: As in environment. part II: human health and ecosystem effects. Wiley, New York, p 35–43

Yamauchi H, Yamamura Y (1984) Metabolism and excretion of orally administered dimethylarsinic acid in the hamster. Toxicol Appl Pharmacol 174:134–140. doi:10.1016/0041-008X(84)90279-5

Zheng B, Ding Z, Huang R, Zhu J, Yu X, Wang A, Zhou D, Mao D, Su H (1999) Issues of health and disease relating to coal use in southwestern China. Int J Coal Geol 40:119–132. doi:10.1016/S0166-5162(98)00064-0
Acknowledgments
This work was supported by National Natural Science Foundation of China (NSFC) research grant 30400362, 30530640 and 30600510. We thank Dr. Dong An and Dr. Dasheng Li (Centre for Disease Control and Prevention of Guizhou, China) for their collaboration of the recruitment of subjects. We also thank Dr. Courtney Woods (The Hamner Institutes for Health Sciences, USA) for her effort on the preparation of this manuscript.
About this article
Cite this article
Li, X., Pi, J., Li, B. et al. Urinary Arsenic Speciation and its Correlation with 8-OHdG in Chinese Residents Exposed to Arsenic Through Coal Burning. Bull Environ Contam Toxicol 81, 406–411 (2008). https://doi.org/10.1007/s00128-008-9471-0
Received:

Accepted:

Published:

Issue Date:
Keywords
Arsenic

Arsenic speciation

8-OHdG

Oxidative stress

Coal

Methylation