Abstract
The paper presents a method for residue analysis of flubendiamide in rice (Oryza sativa), which includes improved extraction, cleanup and determination of flubendiamide in rice seeds, husk and straw by using LC with UV detection. Safety evaluation of this insecticide in rice has been carried out after applying its soluble concentrate (SC) formulation at recommended dose (30 g a.i. ha−1) and double of the recommended dose (60 g a.i. ha−1) on rice crop. MRL of flubendiamide on rice grain can be proposed as 0.2 mg kg−1.
Access options
Buy single article
Instant access to the full article PDF.
USD 39.95
Price includes VAT (USA)
Tax calculation will be finalised during checkout.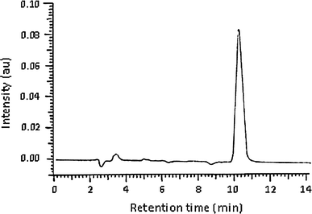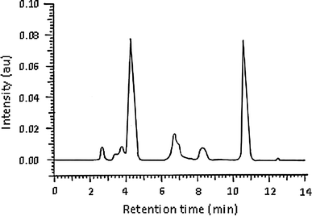 References
Bayer AG (2003) Report MR-202/03, Laboratory Project ID: P601030020, Leverkusen

Codex Alimentarius Commission (1986) Codex maximum limits for pesticide residues, vol 13. Food and Agriculture Organization, Rome, pp 32-iv–48-iv

Diaz de Toranzo EG, Brieux JA (1967) Synthesis of unsymmetric o-phthalic acid diamides. J Med Chem 10:982–983

Gopal M, Mukherjee I (1995) MRL of fenvalerate, HCH and endosulfan on chickpea. Ann Pl Protec Sci 3:105–109

Hall LM, Ren D, Feng G, Eberl DF, Dubald M, Yang M, Hannan F, Kousky CT, Zheng W (1995) Calcium channel as a new potential target for insecticides. ACS Symp Series 59:162–172

Pessah IN (1989) Recent advances in the chemistry of insect control. In: Crombie L (ed) Special Publication, vol 79. Royal Society of Chemistry, Cambridge, pp 278–296

Tohnishi M, Nakao H, Furuya T, Seo A, Kodama H, Tsubata K, Fujioka S, Kodama H, Hirooka T, Nishimatsu T (2005a) Flubendiamide, a novel insecticide highly active against lepidopterous insect pests. J Pestic Sci 30:354–360

Tohnishi M, Steffens R, Buckelew L (2005b) 1057 NNI-001: the next generation of chemistry for lepidoptera pest management. In: Lauderdale F (ed) The Larry L Larson symposium: new frontiers in pest management. The 2005 ESA Annual Meeting, 15–18 December, Ento Soc of America, Florida

Usherwood PNR (1962) The action of the alkaloid ryanodine on insect skeletal muscle. Comp Biochem Physiol 6:181–199
About this article
Cite this article
Gopal, M., Mishra, E. Analytical Method for Estimation of a New Insecticide Flubendiamide and its Safety Evaluation for Usage in Rice Crop. Bull Environ Contam Toxicol 81, 360 (2008). https://doi.org/10.1007/s00128-008-9470-1
Received:

Accepted:

Published:
Keywords
Flubendiamide

Rice (Oryza sativa)

Residue analysis

MRL