Abstract
As a part of the pilot study on "Freshwater Mussel Watch", butyltin (monobutyltin, MBT; dibutyltin, DB; tributyltin, TBT), and phenyltins (monophenyltin, MPT; diphenyltin DPT; triphenyltin TPT) were analyzed in soft tissues of 15 bivalve mussels Anodonta woodiana sampled from five separate sites (Huzhou, Xueyan, Dapu, Sansandao, and Wulihu) around the Taihu Lake of China in 2004. The residue of total butyltins and total phenyltins in the all mussels ranged 142–1693 and 3.0–90 ng Sn g−1 dry weight, respectively. Except for the mussels from Xueyan, DBT and MBT accounted more than 60% of total butyltins in those from other four sites. In contrast, TPT were usually almost 100% of the mussels studied. The present study provides most recent information about the organotin contamination in the Taihu Lake, and suggests Anodonta woodiana can be used as a suitable bioindicator.
Access options
Buy single article
Instant access to the full article PDF.
USD 39.95
Price includes VAT (USA)
Tax calculation will be finalised during checkout.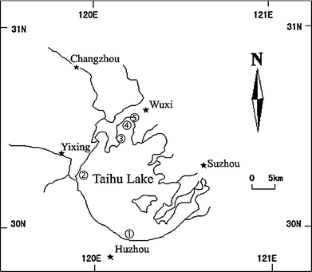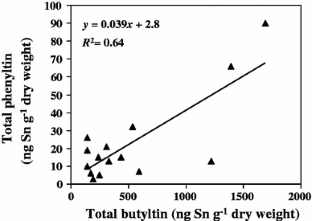 References
Bian X, Liu H, Gan J, Li R, Yang J (2007) DDT and HCH residues in Anodonta woodiana in Wulihu Lake of the Taihu Lake. J Eco Rural Environ 23:52–56

Cai R, Huang W (1991) Fauna of Zhejiang: Mollusca. Zhejiang Science and Technology Press, Hangzhou

Fent K, Woodin BR, Stegeman JJ (1998) Effects of triphenyltin and other organotins on hepatic monooxygenase system in fish. Comp Biochem Physiol C 121:277–288

Goldberg ED (1986) The Mussel watch concept. Environ Monit Assess 7:91–103. doi:10.1007/BF00398031

Harino H, Fukushima M, Kawai S (2000) Accumulation of butyltin and phenyltin compounds in various fish species. Arch Environ Contam Toxicol 39:13–19. doi:10.1007/s002440010074

Harino H, Iwasaki N, Arai T, Ohji M, Miyazaki N (2005) Accumulation of organotin compounds in the deep-sea environment of Nankai Trough, Japan. Arch Environ Contam Toxicol 49:497–503. doi:10.1007/s00244-005-7014-9

Iwata H, Tanabe S, Miyazaki N, Tatsukawa R (1994) Detection of butyltin compound residues in the blubber of marine mammals. Mar Pollut Bull 28:607–612. doi:10.1016/0025-326X(94)90362-X

Jiang G. (2001) Current status of organotin studied in China and abroad. J Hygiene Res 30:1–3

Jiang G, Liu J, Zhou Q, Wu D (2000) Preliminary studies on the occurrence of organotins in Chinese inland water system. Acta Sci Circum 20:636–638

Regoli L, Chan HM, de Lafontaine Y (1999) Organotins in zebra mussels (Dreissena polymorpha) from the Saint Lawrence river. J Great Lakes Res 25:839–846

Santillo D, Johnston P, Langston WJ (2001) Tributytin (TBT) antifoulants: a tale of ships, snail and imposex. In: Harremoës D, Gee D, MacGarrin M, Stirling A, Keys J, Wynne B, Vaz SG (eds) Late lessons from early warning: the precautionary principle 1896–2000. EEA, Copenhagen, pp 135–148

Shen JH, Gutendorf B, Vahl HH, Shen L, Westendorf J (2001) Toxicological profile of pollutants in surface water from an area in Taihu Lake, Yangtze Delta. Toxicology 166:71–78. doi:10.1016/S0300-483X(01)00439-5

Shindo K, Otsuki A (1999) Establishment of sampling strategy for the use of blue mussels as an indicator of organotin contamination in the coastal environment. J Environ Monitor 1:243–250. doi:10.1039/a809669d

Stäb JA, Traas TP, Stromberg G, van Kresteren J, Leonards P, van Hattum B, Brinkman UATh, Coffino WP (1996) Determination of organotin compounds in the foodweb of a shallow freshwater lake in the Netherlands. Arch Environ Contam Toxicol 31:319–328. doi:10.1007/BF00212670

Takahashi S, Tanabe S, Kubodera T (1997) Butyltin residues in deep-sea organism collected from Suruga Bay, Japan. Environ Sci Technol 31:3103–3109. doi:10.1021/es970032v

Takahashi S, Mukai H, Tanabe S, Sakayama K, Miyazaki T, Masuno H (1999) Butyltin residues in livers of humans and wild terrestrial mammals and in plastic products. Environ Pollut 106:213–218. doi:10.1016/S0269-7491(99)00068-8

Vos JG, Dybing E, Greim HA, Ladefoged O, Lambre C, Tarazona JV, Brandt I, Vethaak AD (2000) Health effects of endocrine-disrupting chemicals on wildlife, with special reference to the European situation. Crit Rev Toxicol 30:71–133. doi:10.1080/10408440091159176

Tanabe S, Subramanian A (2006) Bioindicators of POPs: monitoring in developing countries. Kyoto University Press, Kyoto & Trans Pacific Press, Melbourne

Wang H, Wang C, Wu W, Mo Z, Wang Z (2003) Persistent organic pollutants in water and surface sediments of Taihu Lake, China and risk assessment. Chemosphere 50:557–562. doi:10.1016/S0045-6535(02)00484-8

Yan T, Li Z, Li J, Zhou M (2001) Effects of triphenyltin on feeding, attachment and survival of bay scallop Argopecten irradians. J Fish China 25:279–282

Yang J, Wang H, Zhu H, Gong X, Yu R (2005) Bioaccumulation of heavy metals in Anodonta woodiana from Wulihu area of Taihu Lake. Resour Environ Yangtze Basin 14:362–366

Yang X, Yang R, Jiang G (2006a) Using Mytilus edulis and Pema viridis as bioindicators to monitor butyltins pollution along the Bohai coastal sites. Environ Chem 25:88–91

Yang R, Zhou Q, Zhang Q, Jiang G (2006b) Study on the contamination status of butyltin in Taihu Lake. Environ Sci 27:661–664

Zhao D, Wang X, Ma J, Hong H (2007) Occurrence and distribution of organotin in seawater of Xiamen Bay. J Trop Oceanogr 26:76–81
Acknowledgments
This work was supported by the Natural Science Funds of Jiangsu Province (Grant No. BK2006030) and the Ministry of Science and Technology of China (Grant No. 6-115007).
About this article
Cite this article
Yang, J., Harino, H., Liu, H. et al. Monitoring the Organotin Contamination in the Taihu Lake of China by Bivalve Mussel Anodonta woodiana . Bull Environ Contam Toxicol 81, 164–168 (2008). https://doi.org/10.1007/s00128-008-9464-z
Received:

Accepted:

Published:

Issue Date:
Keywords
Anodonta woodiana

Butyltin

Contamination

Phenyltin

Taihu Lake