Abstract
A simple spectrophotometric method has been developed for the determination of arsenic in various environmental and biological samples. The method is based on the reaction of arsenic(III) with potassium iodate in acid medium to liberate iodine. This liberated iodine bleaches the blue color of toluidine blue or pinkish red color of safranine O. The decrease in absorbance at 628 or 532 nm is directly proportional to arsenic(III) concentration and obeys Beer's law in the range of 1.2–10.5 or 0.4–11.5 μg mL−1 for arsenic(III). The molar absorptivity, Sandell's sensitivity, detection limit and quantitation limit of the method using toluidine blue or safranine O were found to be 1.076 × 104 or 1.388 × 104 L mol−1 cm−1, 9.66 × 10−3 or 7.49 × 10−3 μg cm−2, 0.308 or 0.250 μg mL−1, 0.934 or 0.759 μg mL−1 respectively. The relative standard deviation for five replicate analyses of 4 μg mL−1 of As(III) using toluidine blue or safranine O were 0.60% or 0.80%. The optimum reaction conditions and other analytical conditions were evaluated. The effect of interfering ions on the determination is described. The proposed method is free from any interference. The method has been used for the determination of arsenic in various environmental and biological samples.
Access options
Buy single article
Instant access to the full article PDF.
USD 39.95
Price includes VAT (USA)
Tax calculation will be finalised during checkout.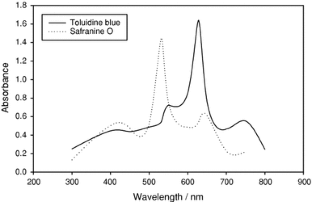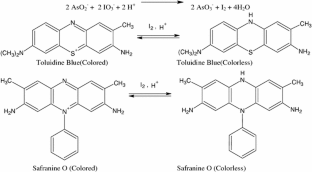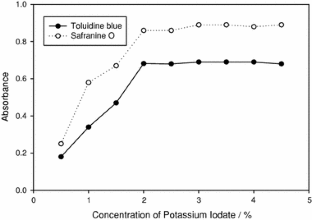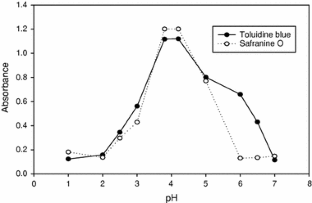 References
Ahmed MJ, Hassan MJ (1999) Non-extractive spectrophotometric method for the determination of arsenic and its application to environmental, biological and soil analysis. Res J Chem Environ 3:9–20

Deveral SJ, Millard SP (1988) Distribution and mobility of selenium and other trace elements in shallow groundwater of the western San Joaquin Valley California. Environ Sci Technol 22:697–702. doi:10.1021/es00171a013

Dianwen H, Jianping L (1996) A new spectrophotometric determination of trace arsenic. Guangxueyuan Xuebao 13:84–87

Jiayu W, Jiayan S, Haofei C, Qimin J, Jianyan L (1993) Absorption spectrophotometric determination of arsenic in a vanadium catalyst with DTPM. Huaxue Fence 29:351–354

Jie H, Wenbin Q (1985) Determination of microamounts of arsenic in some environmental samples by spectrophotometric analysis. Huanjing Huaxue 4:70–74

kohnhorst A, Allan L, Pokethitiyoke P, Anyapo S (2002) Sustainable environmental sanitation and water services. 28th WEDC Conference, Kolkata, India

Kunze S, Dietze U, Ackermann G (1989) Indirect determination of arsenic by flotation spectrophotometry. Microchim Acta 99:147–153

Madrid Y, Chakraborti D, Camara C (1995) Evaluation of flow-injection in lead hydride generation-atomic absorption spectrometry. Mikrochem Acta 120:63–67

Min LS, Qin XY, Biao WY (1999) Study on new spectrophotometric determination of arsenic(V) with chlorpromazine. Chin Chem Lett 10:155–156

Morita K, Kaneko E (2006) Spectrophotometric determination of arsenic in water samples based on micro particle formation of ethyl violet-molybdoarsenate. Anal Sci 22:1085–1089

Pastare S, Rudzitis G, Nulle S, Jansons E (1993) Spectrophotometric determination of arsenic by extraction of the antipyrylazo-4-hydroxybenzene-dithiocarboxylate complex. Latvijas Kimijas Zurnals 2:188–191

Perez MF, Prieto GF, Barrado EE, Rojas HA, Mendez MA (2002) Optimization of the method for determining arsenic in potable waters by UV–Vis spectrophotometry with silver diethyldithiocarbamate. Revista de la Sociedad Quimica de Mexico 46:175–179

Pillai A, Sunita G, Gupta VK (2000) A new system for the spectrophotometric determination of arsenic in environmental and biological samples. Anal Chim Acta 408:111–115

Tatken RL, Lewis RJ (1983) Registery of toxic effects of chemical substances. US Department of Health and Human Services, Cincinnati, OH

Sandbery GR, Alken IK, Woolson EA (1975) Arsenical pesticides. Americal Chemical Society, Washington, DC

Samanta G, Chowdhury UK, Mandal BK, Chakraborti D, Sekaran NC, Tokunaga H, Ando M (2000) High performance liquid chromatography inductively coupled plasma mass spectrometry for speciation of arsenic compounds in urine. Microchem J 65:113–127

Samanta G, Chakraborti D (1997) Flow Injection atomic absorption spectrometry for the standardization of arsenic, lead and mercury in environmental and biological standard reference materials. Fresenius J Anal Chem 357:827–832

Shull M, Winefordner JD (1984) Determination of arsenic in environmental samples using neutron activation analysis. Anal Chem 56:2617–2620

Smedley PL, Kinniburgh DG (2002) A review of the source, behaviour and distribution of arsenic in natural waters. Appl Geochem 17:517–568

Wickstrom T, Lund W, Bye R (1995) Determination of arsenic and tellurium by hydride generation atomic spectrometry, minimizing interferences from nickel, cobalt and copper by using an alkaline sample solution. Analyst 120:2695–2698

Yuji S, Tomomi K, Isoshi N, Kunio O (2003) Spectrophotometric determination of arsenic(III) based on solid-phase extraction of the arsenic—APDC complex and the conversion to the copper complex. Bunseki Kagaku 52:1153–1156

Zaijun L, Liping W, Jiaomai P (2000) Spectrophotometric determination of arsenic in cosmetic samples with diantipyrylmethane. Riyong Gongye 30:48–49
Acknowledgement
One of the author (CP) is grateful to P. A. College of Engineering, Naupadav, Mangalore for the technical help.
About this article
Cite this article
Pasha, C., Narayana, B. Determination of Arsenic in Environmental and Biological Samples Using Toluidine Blue or Safranine O by Simple Spectrophotometric Method. Bull Environ Contam Toxicol 81, 47–51 (2008). https://doi.org/10.1007/s00128-008-9454-1
Received:

Accepted:

Published:

Issue Date:
Keywords
Arsenic determination

Spectrophotometry

Toluidine blue

Safranine O