Abstract
The pattern of elements in nestling black-crowned night-heron feathers from a rural Minnesota colony differed from colonies in industrialized regions of Maryland and Delaware. Except for chromium, however, the differences did not reflect the elements associated with waters and sediments of the Maryland and Delaware colonies. Therefore, elements in water and sediment do not necessarily bioaccumulate in night-heron feathers in relation to potential exposure. Although trace element patterns in feathers indicated differences among geographical locations, they did not separate all locations well and their usefulness as an indicator of natal colony location may be limited.
Access options
Buy single article
Instant access to the full article PDF.
USD 39.95
Price includes VAT (USA)
Tax calculation will be finalised during checkout.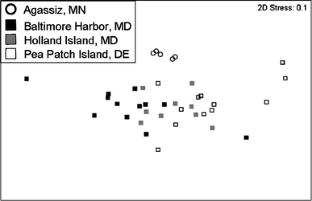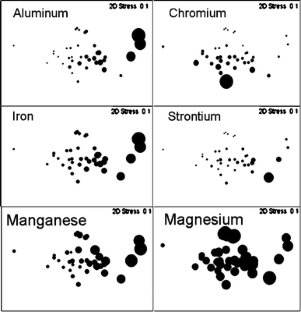 References
Becker PH, Henning D, Furness RW (1994) Differences in mercury contamination and elimination during feather development in gull and tern broods. Arch Environ Contam Toxicol 27:162–167. doi:10.1007/BF00214258

Burger J (1994) Metals in avian feathers: bioindicators of environmental pollution. Rev Environ Toxicol 5:203–311

Clarke KR, Warwick RM (2001) Change in marine communities: an approach to statistical analysis and interpretation, 2nd edn. Plymouth Marine Laboratories, Plymouth, UK

Custer TW, Custer CM, Eichhorst BA, Warburton D (2007) Selenium and metal concentrations in waterbird eggs and chicks at Agassiz National Wildlife Refuge, Minnesota. Arch Environ Contam Toxicol 53:103–109. doi:10.1007/s00244-006-0139-7

Donovan T, Buzas J, Jones P, Gibbs HL (2006) Tracking dispersal in birds: assessing the potential of elemental markers. Auk 123:500–511. doi:10.1642/0004-8038(2006)123[500:TDIBAT]2.0.CO;2

Edwards WR, Smith KE (1984) Exploratory experiments on the stability of mineral profiles of feathers. J Wildl Manage 48:853–866. doi:10.2307/3801432

Kruskal JB (1964) Multidimensional scaling by optimizing goodness of fit to a nonmetric hypothesis. Psychometrika 29:1–27. doi:10.1007/BF02289565

Golden NH, Rattner BA, McGowan PC, Parsons KC, Ottinger MA (2003) Concentrations of metals in feathers and blood of nestling black-crowned night-herons (Nycticorax nycticorax) in Chesapeake and Delaware Bays. Bull Environ Contam Toxicol 70:385–393. doi:10.1007/s00128-002-0203-6

McGee BL, Fisher DJ, Yonkos LT, Ziegler GG (1999) Assessment of sediment contamination, acute toxicity, and population viability of the estuarine amphipod Leptocheirus plumulosus in Baltimore Harbor, Maryland, USA. Environ Toxicol Chem 18:2151–2160. doi:10.1897/1551-5028(1999)018<2151:AOSCAT>2.3.CO;2

Sutton CC, O'Herron JCII, Zappalorti RT (1996) The scientific characterization of the Delaware Estuary. Delaware Estuary Program (DRBC Project No. 321; HA File No 93.21), 200 pp

Weyers BE, Gluck E, Stoeppler M (1988) Investigation of the significance of heavy metal contents of blackbird feathers. Sci Total Environ 77:61–67. doi:10.1016/0048-9697(88)90315-4
Acknowledgments
We thank Paul M. Dummer, Bruce A. Eichhorst, Stephanie R. Schmidt and Jan E. Yacabucci for assistance with field collections; David B. Carter and the State of Delaware for providing financial support for portions of the Maryland and Delaware study; Margaret Anderson for allowing us to work on Agassiz National Wildlife Refuge, Minnesota; and Christine M. Custer, Brian Ickes, and Wayne Thogmartin for comments on the manuscript. The Minnesota study was funded through On-Refuge Contaminants Investigations of the U.S. Fish and Wildlife Service.
About this article
Cite this article
Custer, T.W., Golden, N.H. & Rattner, B.A. Element Patterns in Feathers of Nestling Black-Crowned Night-Herons, Nycticorax nycticorax L., from Four Colonies in Delaware, Maryland, and Minnesota. Bull Environ Contam Toxicol 81, 147–151 (2008). https://doi.org/10.1007/s00128-008-9444-3
Received:

Accepted:

Published:

Issue Date:
Keywords
Elements

Feathers

Metals

Black-crowned night-heron