Abstract
This study was aimed at assessing the ability of Bacillus sp.ev3 to reduce hexavalent chromium into its trivalent form. Bacillus sp.ev3 could tolerate Cr6+ (4800 μg/mL), Pb2+ (800 μg/mL), Cu2+ (200 μg/mL), Cd2+ (50 μg/mL), Zn2+ (400 μg/mL), Ni2+ (4000 μg/mL) and Hg2+ (50 μg/mL). Bacillus sp.ev3 showed optimum growth at 37°C and pH at 7. Bacillus sp.ev3 could reduce 91% of chromium from the medium after 96 h and was also capable to reduce 84% chromium from the industrial effluents after 144 h. Cell free extracts of Bacillus sp.ev3 grown in the presence of Cr showed reduction of 70%, 45.6% and 27.4% at concentrations of 10 μg Cr6+/mL, 50 μg Cr6+/mL and 100 μg Cr6+/mL, respectively.
Access options
Buy single article
Instant access to the full article PDF.
USD 39.95
Price includes VAT (USA)
Tax calculation will be finalised during checkout.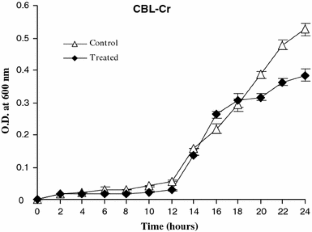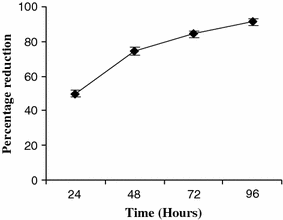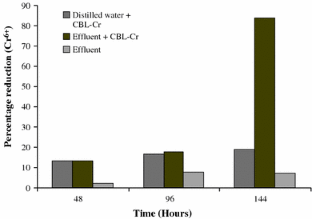 References
Ackerley DF, Gonzalez CF, Park CH, Blake R, Keyhan A, Matin A (2004) Chromate-reducing properties of soluble flavoproteins from Pseudomonas putida and Escherichia coli. Appl Environ Microbiol 70:873–888. doi:10.1128/AEM.70.2.873-882.2004

Ahluwalia SS, Goyal D (2007) Microbial and plant derived biomass for removal of heavy metals from wastewater. Bioresour Technol 98:2243–2257. doi:10.1016/j.biortech.2005.12.006

APHA (1989) Standard methods for the examination of water and wastewater. 18th edn. APHA, Washington, DC

Camargo FAO, Bento FM, Okeke BC, Frankenberger WT (2003) Chromate reduction by chromium-resistant bacteria isolated from soils contaminated with dichromate. J Environ Qual 32:1228–1233

Campos J, Martinez-Pacheco M, Cervantes C (1995) Hexavalent chromium reduction by a chromate-resistant Bacillus sp. strain. Int J Gen Mol Microbiol 68:203–208

Campos VL, Moraga R, Yanez J, Zaror CA, Mondaca MA (2005) Chromate reduction by Serratia marcescens isolated from tannery effluent. Bull Environ Contam Toxicol 75:400–406. doi:10.1007/s00128-005-0767-z

Chardin B, Giudici-Orticoni MT, De Luca G, Guigliarelli B, Bruschi M (2003) Hydrogenases in sulfate-reducing bacteria function as chromium reductase. Appl Microbiol Biotechnol 63:315–321. doi:10.1007/s00253-003-1390-8

Elangovan R, Abhipsa S, Rohit B, Ligy P, Chandraraj K (2006) Reduction of Cr (VI) by a Bacillus sp. Biotechnol Lett 28:247–252. doi:10.1007/s10529-005-5526-z

Francisco R, Alpoim MC, Morais PV (2002) Diversity of chromium-resistant and reducing bacteria in a chromium-contaminated activated sludge. J Appl Microbiol 92:837–843. doi:10.1046/j.1365-2672.2002.01591.x

Fulladosa E, Desjardin V, Murat JC, Gourdon R, Villaescusa I (2006) Cr (VI) reduction into Cr (III) as a mechanism to explain the low sensitivity of Vibrio fischeri bioassay to detect chromium pollution. Chemosphere 65:644–650. doi:10.1016/j.chemosphere.2006.01.069

Ganguli A, Tripathi AK (2002) Bioremediation of toxic chromium from electroplating effluents by chromate-reducing Pseudomonas aeruginosa A2Chr in two bioreactors. Appl Microbiol Biotechnol 58:416–420. doi:10.1007/s002530100822

Goulhen F, Gloter A, Guyot F, Bruschi A (2006) Cr (VI) detoxification by Desulfovibrio vulgaris strain Hildenborough: microbe-metal interactions studies. Appl Microbiol Biotechnol 71:892–897. doi:10.1007/s00253-005-0211-7

Holan ZR, Volesky B (1995) Accumulation of Cd, lead and nickel by fungal and wood biosorbents. Appl Biochem Biotechnol 53:133–146. doi:10.1007/BF02788603

Kotas J, Stasicka Z (2000) Chromium occurrence in the environment and methods of its speciation. Environ Pollut 107:263–283. doi:10.1016/S0269-7491(99)00168-2

Megharaj M, Avudainayagam S, Naidu R (2003) Toxicity of hexavalent chromium and its reduction by bacteria isolated from soil contaminated with tannery waste. Curr Microbiol 47:51–54. doi:10.1007/s00284-002-3889-0

Nourbakhsh M, Sag Y, Ozer D, Aksu Z, Kutsal T, Calgar A (1994) A comparative study of various biosorbents for removal of chromium (ε) ions from industrial wastewater. Process Biochem 29:1–5. doi:10.1016/0032-9592(94)80052-9

Pattanapipitpaisal P, Mabbett AN, Finlay JA, Beswick AJ, Paterson-Beedle M, Essa A, Wright J, Tolley MR, Badar U, Ahmed N, Hobman JL, Brown NL, Macaskie LE (2002) Reduction of Cr(VI) and bioaccumulation of chromium by Gram-positive and Gram-negative microorganisms not previously exposed to Cr-stress. Environ Technol 23:731–745

Rajkumar M, Nagendran R, Lee KJ, Lee WH (2005) Characterization of a novel Cr6+ reducing Pseudomonas sp. with plant growth-promoting potential. Curr Microbiol 50:266–271. doi:10.1007/s00284-005-4470-4

Rehman A, Shakoori FR, Shakoori AR (2007) Heavy metal resistant Distigma proteus (Euglenophyta) isolated from industrial effluents and its possible role in bioremediation of contaminated wastewaters. World J Microbiol Biotechnol 23:753–758. doi:10.1007/s11274-006-9291-5

Romanenko VI, Koren'Ken VN (1977) A pure culture of bacteria utilizing chromates and bichromates as hydrogen acceptors in growth under anaerobic conditions. Mikrobiologiya 46:414–417

Sag Y, Kutsal T (1989) The use of zoogloea in waste water treatment containing Cr (VI) and Cd (II) ions. Biotechnol Lett 11:145–148. doi:10.1007/BF01192192

Stasinakis AS, Thomaidis NS, Mamais D, Papanikolaou EC, Tsakon A, Lekkas TD (2003) Effect of chromium (VI) addition on the activated sludge process. Water Res 37:2140–2148. doi:10.1016/S0043-1354(02)00623-1

Sultan S, Hasnain S (2007) Reduction of toxic hexavalent chromium by Ochrobactrum intermedium strain SDCr-5 stimulated by heavy metals. Bioresour Technol 98:340–344. doi:10.1016/j.biortech.2005.12.025

Thacker U, Madamwar D (2005) Reduction of toxic chromium and partial localization of chromium reductase activity in bacterial isolate DM1. World J Microbiol Biotechnol 21:891–899. doi:10.1007/s11274-004-6557-7

Viamajala S, Smith WA, Sani RK, Apel WA, Petersen JN, Neal AL, Roberto FF, Newby DT, Peyton BM (2007) Isolation and characterization of Cr (VI) reducing Cellulomonas spp. from subsurface soils: implications for long-term chromate reduction. Bioresour Technol 98:612–622. doi:10.1016/j.biortech.2006.02.023

Ziagova M, Dimitriadis G, Aslanidou D, Papaioannou X, Litopoulou-Tzannetaki E, Liakopoulou-Kyriakides M (2007) Comparative study of Cd(II) and Cr(VI) biosorption on Staphylococcus xylosus and Pseudomonas sp. in single and binary mixtures. Bioresour Technol 98:2859–2865. doi:10.1016/j.biortech.2006.09.043
About this article
Cite this article
Rehman, A., Zahoor, A., Muneer, B. et al. Chromium Tolerance and Reduction Potential of a Bacillus sp.ev3 Isolated from Metal Contaminated Wastewater. Bull Environ Contam Toxicol 81, 25–29 (2008). https://doi.org/10.1007/s00128-008-9442-5
Received:

Accepted:

Published:

Issue Date:
Keywords
Cr6 + reducing bacterium

Bioremediation

Cr6+ reduction
Bacillus sp.ev3