Abstract
The remediation of diesel fuel contaminated soil over a 2-year period by the plant–microorganism synergy was evaluated. Results indicated that the growth of Astragalus adsurgens was affected significantly, when the diesel fuel concentration was higher than 10 g kg−1 dry soil. After a 2-year period, the removal of diesel fuel was >67%, and about 58–70% removal of aromatic hydrocarbons was obtained in these treatments. The removal of diesel fuel and its components was 13–30% higher than that of plant alone. These results show that an appropriate plant–microorganism synergy may serve as a low-cost, effective remedial technology for diesel-contaminated soil.
Access options
Buy single article
Instant access to the full article PDF.
USD 39.95
Price includes VAT (USA)
Tax calculation will be finalised during checkout.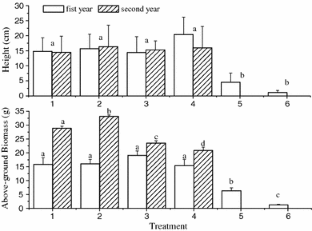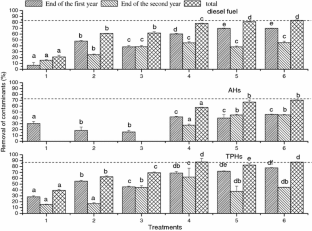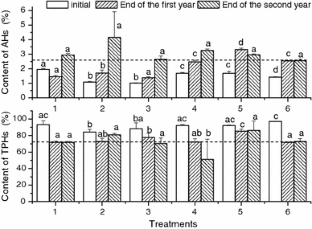 References
Alexander M (1999) Biodegradation and bioremediation. Academic Press Inc., San Diego, USA

Alexander M (2000) Aging, bioavailability, and overestimation of risk from environmental pollutants. Environ Sci Technol 34: 4259–4265. doi:10.1021/es001069+

Anderson TA, Guthrie EA, Walton BT (1993) Bioremediation in the rhizosphere. Environ Sci Technol 27:2630–2637. doi:10.1021/es00049a001

Bamforth SM, Singleton I (2005) Bioremediation of polycyclic aromatic hydrocarbons: current knowledge and future directions. J Chem Technol Biot 80:723–736. doi:10.1002/jctb.1276

Banks MK, Schwab P, Liu B, Kulakow P, Smith JS, Kim R (2003) The effect of plants on the degradation and toxicity of petroleum contaminants in soil: a field assessment. Adv Biochem Eng Biotechnol 78:75–96

Betancur-Galvis LA, Alvarez-Bernal D, Ramos-Valdivia AC, Dendooven L (2006) Bioremediation of polycyclic aromatic hydrocarbon-contaminated saline–alkaline soils of the former Lake Texcoco. Chemosphere 62:1749–1760. doi:10.1016/j.chemosphere.2005.07.026

Denys S, Rollin C, Guillot F, Baroudi H (2006) In-situ phytoremediation of PAHs contaminated soils following a bioremediation treatment. Water Air Soil Pollut Focus 6, 299–315

Dibble JT, Bartha R (1979) Effect of environmental parameters on the biodegradation of oil sludge. Appl Environ Microbiol 37:729–739

Hatfield JL, Stewart BA (1994) Soil biology: effects on soil quality. Lewis Publishers, Cherry Hill

Huang XD, El-Alawi Y, Gurska J, Glick BR, Greenberg BM (2005) A multi-process phytoremediation system for decontamination of persistent total petroleum hydrocarbons (TPHs) from soils. Microchem J 81:139–147. doi:10.1016/j.microc.2005.01.009

Huang XD, El-Alawi Y, Penrose DM, Glick BR, Greenberg BM (2004) A multi-process phytoremediation system for removal of polycyclic aromatic hydrocarbons from contaminated soils. Environ Pollut 130:465–476. doi:10.1016/j.envpol.2003.09.031

Jacks G, Forsberg J, Mahgoub F, Palmqvist K (2000) Sustainability of local water supply and sewage system – a case study in a vulnerable environment. Ecol Eng 15:147–153. doi:10.1016/S0925-8574(99)00038-5

Joner EJ, Corgié S, Amellal N, Leyval C (2002) Nutritional constraints to PAH degradation in a rhizosphere model. Soil Biol Biochem 34:859–864. doi:10.1016/S0038-0717(02)00018-4

Kaimi E, Mukaidani T, Miyoshi S, Tamaki M (2006) Ryegrass enhancement of biodegradation in diesel-contaminated soil. Environ Exp Bot 55:110–119. doi:10.1016/j.envexpbot.2004.10.005

Lapinskien A, Martinkus P, Rebvilija Z (2006) Eco-toxicological studies of diesel and biodiesel fuels in aerated soil. Environ Pollut 142:432–437. doi:10.1016/j.envpol.2005.10.023

Lin X, Li P, Zhou QX, Xu HX, Zhang HR (2004) Microbial changes in rhizospheric soils contaminated with petroleum hydrocarbons after bioremediation. J Environ Sci 16:987–990

Liu WH, Zhao JZ, Ouyang ZY (2005) Impacts of sewage irrigation on heavy metal distribution and contamination in Beijing, China. Environ Int 31:805–812. doi:10.1016/j.envint.2005.05.042

Lundstedt S, Haglund P, Oberg L (2003) Degradation and formation of polycyclic aromatic compounds during bioslurry treatment of an acid aged gasworks soil. Environ Toxicol Chem 22:1413–1420. doi:10.1897/1551-5028(2003)22<1413:DAFOPA>2.0.CO;2

Mathew M, Tan LR, Su Q, Yang X, Baxter M, Senior E (2006) Bioremediation of 6% [w/w] diesel-contaminated mainland soil in Singapore: comparison of different biostimulation and bioaugmentation treatments. Eng Life Sci 6:63–67. doi:10.1002/elsc.200620119

Mendon CE, Picado A (2002) Ecotoxicological monitoring of remediation in a coke oven soil. Environ Toxicol 17:74–79. doi:10.1002/tox.10034

Mishra S, Jyot J, Kuhad RC et al (2001) Evaluation of inoculum addition to stimulate in situ bioremediation of oily-sludge-contaminated soil. Appl Environ Microbiol 67(4):1675–1681. doi:10.1128/AEM.67.4.1675-1681.2001

Oztas T, Fayetorbay F (2003) Effect of freezing and thawing processes on soil aggregate stability. Catena 52:1–8. doi:10.1016/S0341-8162(02)00177-7

Parrish ZD, Banks MK, Schwab AP (2005) Effect of root death and decay on dissipation of polycyclic aromatic hydrocarbons in the rhizosphere of yellow sweet clover and tall fescue. J Environ Qual 34:207–216

Radwan S, Sorkhoh N, El-Nemr I (1995) Oil biodegradation around roots. Nature 376:302. doi:10.1038/376302a0

Singer AC, Smith D, Jury WA, Khoiviet H, Crowley DE (2003) Impact of the plant rhizosphere and augmentation on remediation of polychlorinated biphenyl contaminated soil. Environ Toxicol Chem 22:1998–2004. doi:10.1897/02-471

Tesar M, Reichenauer TG, Sessitsch A (2002) Bacterial rhizosphere populations of black poplar and herbal plants to be used for phytoremediation of diesel fuel. Soil Biol Biochem 34:1883–1892. doi:10.1016/S0038-0717(02)00202-X

Trindade PVO, Sobral LG, Rizzo ACL, Leite SGF, Soriano AU (2005) Bioremediation of a weathered and a recently oil-contaminated soils from Brazil: a comparison study. Chemosphere 58:515–522. doi:10.1016/j.chemosphere.2004.09.021

Vinas M, Sabaté J, Espuny MJ, Solanas AM (2005) Bacterial community dynamics and polycyclic aromatic hydrocarbon degradation during bioremediation of heavily creosote-contaminated soil. Appl Environ Microbiol 71:7008–7018. doi:10.1128/AEM.71.11.7008-7018.2005
Acknowledgements
This research was supported by funds provided by National Basic Research Program of China (No. 2004CB418506) and Postdoctoral funds of Liaoning province.
About this article
Cite this article
Lin, X., Li, X., Li, P. et al. Evaluation of Plant–Microorganism Synergy for the Remediation of Diesel Fuel Contaminated Soil. Bull Environ Contam Toxicol 81, 19–24 (2008). https://doi.org/10.1007/s00128-008-9438-1
Received:

Accepted:

Published:

Issue Date:
Keywords
Diesel fuel

TPHs

AHs

Soil

Removal