Abstract
A microbial consortium was developed by continuous enrichment of bacterial population isolated from sediment core of pulp and paper mill effluent in mineral salts medium (MSM) supplemented with pentachlorophenol (PCP) as sole source of carbon and energy in the chemostat. The enriched consortium contained three bacterial strains identified as Escherichia coli (PCP1), Pseudomonas aeruginosa (PCP2) and Acinetobacter sp. (PCP3) by morphological and biochemical tests, further confirmation was done using 16S rDNA sequence analysis. The potency of bacterial isolates in degradation of PCP was monitored in terms of growth and utilization of PCP as substrate with spectrophotometer and gas chromatograph-mass spectrometer (GC-MS) analysis. The strains were tested for their utilization of various organic compounds. The strain PCP3, showed higher potency to utilize PCP as sole source of carbon and energy than PCP1 and PCP2. The bacterial strain were able to utilize PCP through an oxidative and reductive route as indicated with the formation of tetrachloro-p-hydroquinone (TeCH), 2-chloro-1,4-benzenediol and 2,3,4,6-tetrachlorophenol, respectively.
Access options
Buy single article
Instant access to the full article PDF.
USD 39.95
Price includes VAT (USA)
Tax calculation will be finalised during checkout.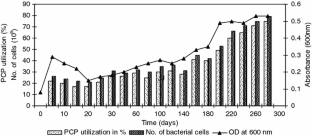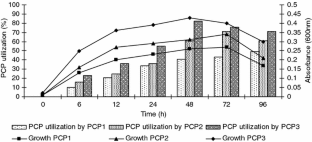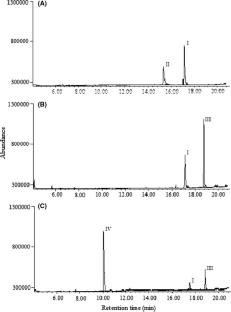 References
Bock C, Kroppenstedt RM, Schmidt U, Diekmann H (1996) Degradation of prochloraz and 2,4,6-trichlorophenol by environmental bacterial strains. Appl Microbiol Biotechnol 45:257–262. doi:10.1007/s002530050680

Chanama S, Crawford RL (1997) Mutational analysis of pcpA and its role in pentachlorophenol degradation by Sphingomonas (Flavobacterium) chlorophenolica ATCC 39723. Appl Environ Microbiol 63:4833–4838

Copley SD (2000) Evolution of metabolic pathway for degradation of a toxic xenobiotic: the patchwork approach. Trends Biochem Sci 25:261–265. doi:10.1016/S0968-0004(00)01562-0

Crawford RL, Mohn WW (1985) Microbial removal of pentachlorophenol from soil using a Flavobacterium. Enzyme Microb Technol 7:617–620. doi:10.1016/0141-0229(85)90031-6

Dams RI, Paton GI, Killham K (2007) Rhizomediation of pentachlorophenol by Sphingobium chlorophenolicum ATCC 39723. Chemosphere 68:864–870. doi:10.1016/j.chemosphere.2007.02.014

Edgehill RU (1994) Pentachlorophenol removal from slightly acidic mineral salts, commercial sand, and clay soil by recovered Arthrobacter strain ATCC 33790. Appl Microbiol Biotechnol 41:142–148. doi:10.1007/BF00166097

Edgehill RU, Finn RK (1983) Microbial treatment of soil to remove pentachlorophenol. Appl Environ Microbiol 45:1122–1125

Fetzner S, Lingens F (1994) Bacterial dehalogenase: biochemistry, genetics and biotechnological applications. Microbiol Rev 58:641–685

Hu Z, Wu YR, Lin BK, Maskaoui K, Zhuang DH, Zheng TL (2006) Isolation and characterization of two phenol degrading yeast strains from marine sediment. Bull Environ Contam Toxicol 76:899–906. doi:10.1007/s00128-006-1003-1

Kaoa CM, Chaib CT, Liub JK, Yehc TY Chena KF, Chend SC (2004) Evaluation of natural and enhanced PCP biodegradation at a former pesticide manufacturing plant. Water Res 38:663–672. doi:10.1016/j.watres.2003.10.030

Leung KM, Campbell S, Gan Y, White DC, Lee H, Trevors T (1999) The role of the Sphingomonas species UG30 pentachlorophenol-4-monooxygenase in p-nitrophenol degradation. FEMS Microbiol Lett 173:247–253. doi:10.1111/j.1574-6968.1999.tb13509.x

McAllister KA, Lee H, Trevors JT (1996) Microbial degradation of pentachlorophenol. Biodegradation 7:1–40. doi:10.1007/BF00056556

Miethling R, Karlson U (1996) Accelerated mineralization of pentachlorophenol in soil upon inoculation with Mycobacterium chlorophenolicum PCP1 and Sphingomonas chlorophenolica RA2. Appl Environ Microbiol 62:4361–4366

Okeke BC, Paterson A, Smith JE, Watson-Craik IA (1997) Comparative biotransformation of pentachlorophenol in soils by solid substrate cultures of Lentinula edodes. Appl Microbiol Biotechnol 48:563–569. doi:10.1007/s002530051097

Orser CS, Lange CC, Xun L, Zahrt TC, Schneider BJ (1993) Cloning, sequence analysis, and expression of the Flavobacterium pentachlorophenol-4-monooxygenase gene in Escherichia coli. J Bacteriol 175:411–416

Palleroni NJ (1984) Pseudomonas. In: Krieg NR, Holt JG (eds) Bergey's manual of systematic bacteriology. Williams Wilkins, Baltimore, pp 141–198

Reineke W, Knackmuss HJ (1988) Microbial degradation of haloaromatics. Ann Rev Microbiol 42:263–287. doi:10.1146/annurev.mi.42.100188.001403

Rensnick SM, Chapman PJ (1994) Physiological properties and substrate specificity of a pentachlorophenol-degrading Pseudomonas species. Biodegradation 5:47–54

Saber DL, Crawford RL (1985) Isolation and characterization of Flavobacterium strain that degrade pentachlorophenol. Appl Environ Microbiol 50:1512–1518

Shen DS, Liu XW, Feng HJ (2005) Effect of easily degradable substrate on anaerobic degradation of pentachlorophenol in an upflow anaerobic sludge blanket (UASB) reactor. J Hazard Mater B119:239–243. doi:10.1016/j.jhazmat.2004.12.024

Shiu WY, Ma KC, Varhanickova D, MacKay D (1994) Chlorophenols and alkylphenols: a review and correlation of environmentally relevant properties and fate in an evaluative environment. Chemosphere 29(6):1155–1224. doi:10.1016/0045-6535(94)90252-6

Shukla S, Sharma R, Thakur IS (2001) Enrichment and characterization of pentachlorophenol degrading microbial community from the treatment of tannery effluent. Pollut Res 20:353–363

Tartakovsky B, Levesque MJ, Dumortier R, Beaudet R, Guiot SR (1999) Biodegradation of pentachlorophenol in a continuous anaerobic reactor augmented with Desulfitobacterium frappieri PCP-1. Appl Environ Microbiol 65:4357–4362

Tartakovsky B, Manuel MF, Beaumier D, Greer CW, Guiot SR (2001) Enhanced selection of an anaerobic pentachlorophenol-degrading consortium. Biotechnol Bioeng 73:476–483. doi:10.1002/bit.1082

Thakur IS, Verma P, Upadhyaya KC (2001) Involvement of plasmid in degradation of pentachlorophenol by Pseudomonas sp. from a chemostat. Biochem Biophys Res Comm 286:109–113. doi:10.1006/bbrc.2001.5340

Thakur IS, Verma PK, Upadhaya KC (2002) Molecular cloning and characterization of pentachlorophenol-degrading monooxygenase genes of Pseudomonas sp. from the chemostat. Biochem Biophys Res Commun 290:770–774. doi:10.1006/bbrc.2001.6239

Vallecillo A, Garcia-Encina PA, Pena M (1999) Anaerobic biodegradability and toxicity of chlorophenols. Water Sci Technol 40:161–168. doi:10.1016/S0273-1223(99)00622-8

Wang YT, Muthukrishnan S, Wang Z (1998) Reductive dechlorination of chlorophenols in methanogenic cultures. J Environ Eng 124(3):231–238. doi:10.1061/(ASCE)0733-9372(1998)124:3(231)

Xun L, Orser CS (1991) Purification and properties of pentachlorophenol hydroxylase, a flavoprotein from Flavobacterium sp. strain ATCC 39723. J Bacteriol 173:4447–4453

Yang CF, Lee CM, Wang CC (2006) Isolation and physiological characterization of the pentachlorophenol degrading bacterium Sphingomonas chlorophenolica. Chemosphere 62:709–714. doi:10.1016/j.chemosphere.2005.05.012
Acknowledgement
We thank Department of Biotechnology, Ministry of Science and Technology, Government of India, New Delhi, for providing financial assistance to carry out this work.
About this article
Cite this article
Sharma, A., Thakur, I.S. Characterization of Pentachlorophenol Degrading Bacterial Consortium from Chemostat. Bull Environ Contam Toxicol 81, 12–18 (2008). https://doi.org/10.1007/s00128-008-9437-2
Received:

Accepted:

Published:

Issue Date:
Keywords
Biodegradation

Chemostat

Consortia

GC-MS

Pentachlorophenol