Abstract
This study was to evaluate the degradation efficiency of naturally contaminated polycyclic aromatic hydrocarbons in sewage sludge by using electron beam irradiation as a function of the absorbed dose. Degradation efficiency of PAHs was near to 90% at the absorbed doses 5 kGy. The degradation of PAHs was "first order" reaction rates with respect to absorbed dose. The electron beam irradiation was found effective in means of removing PAHs in domestic wastewater.
Access options
Buy single article
Instant access to the full article PDF.
USD 39.95
Price includes VAT (USA)
Tax calculation will be finalised during checkout.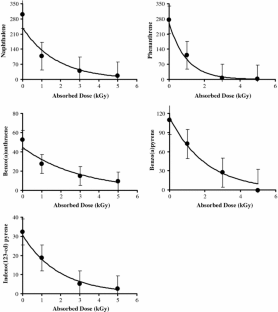 References
Al-Bachir M, Al-Adawi MA, Shamma M (2003) Synergetic effect of gamma irradiation and moisture content on decontamination of sewage sludge. Bioresour Technol 90:139–143. doi:10.1016/S0960-8524(03)00124-X

An YJ, Carraway ER (2002) PAH degradation by UV/H2O2 in perfluorinated surfactant solutions. Water Res 36:309–314. doi:10.1016/S0043-1354(01)00206-8

Atkinson R (1986) Kinetics and mechanisms of the gas-phase reactions of the hydroxyl radical with organic compounds under atmospheric conditions. Chem Rev 86:69–201. doi:10.1021/cr00071a004

Atkinson R (2000) Atmospheric chemistry of VOCs and NOx. Atmos Environ 34:2063–2101. doi:10.1016/S1352-2310(99)00460-4

Beltran FJ, Ovejero G, Rivas J (1996) Oxidation of polynuclear aromatic hydrocarbons in water: UV radiation combined with hydrogen peroxide. Ind Eng Chem Res 36:883–890. doi:10.1021/ie950363l

Borrely SI, Cruz AC, Del Mastro NL, Sampa MHO, Somessari ES (1998) Radiation processing of sewage and sludge: a review. Prog Nucl Energy 33:3–21. doi:10.1016/S0149-1970(97)87287-3

Cho JY, Han KW, Kim JH, Son JK, Yoon KS (2003) Distribution and sources of PAHs in Saemangeum reclaimed tidal lands of central Korea. Bull Environ Contam Toxicol 71:182–188. doi:10.1007/s00128-003-0147-5

Chung NJ, Cho JY, Park SW, Park BJ, Hwang SA, Park TI (2007) Polycyclic aromatic hydrocarbons (PAHs) in soils and crops after irrigation of wastewater discharged from domestic sewage treatment plants. Bull Environ Contam Toxicol (in press)

Gerasimov A (2007) Modelling study of electron-beam polycyclic and nitro-polycyclic aromatic hydrocarbons treatment. Radiat Phys Chem 76:27–36. doi:10.1016/j.radphyschem.2005.12.042

Kim TH, Lee JK, Lee MJ (2007) Biodegradability enhancement of textile wastewater by electron beam irradiation. Radiat Phys Chem 76:1037–1041. doi:10.1016/j.radphyschem.2006.10.001

Kurucz CN, Waite TD, Cooper WJ, Nickelsen MG (1995) Empirical models for estimating the destruction of toxic organic compounds utilizing electron beam irradiation at full scale. Radiat Phys Chem 45:805–816. doi:10.1016/0969-806X(94)00104-R

Laughrey Z, Bear E, Jones R, Tarr MA (2001) Aqueous sonolytic decomposition of polycyclic aromatic hydrocarbons in the presence of additional dissolved species. Ultrason Sonochem 8:353–357. doi:10.1016/S1350-4177(00)00080-8

Martin DI, Margaritescu I, Cirstea E, Togoe I, Ighigeanu D, Nemtanu MR, Oproiu C, Iacob N (2005) Application of accelerated electron beam and microwave irradiation to biological waste treatment. Vacuum 77:501–506. doi:10.1016/j.vacuum.2004.09.019

Park JK, Hong SW, Chang WS (2000) Degradation of polycyclic aromatic hydrocarbons by ultrasonic irradiation. Environ Technol 21:1317–1323

Psillakis E, Goula G, Kalogerakis N, Mantzavinos D (2004) Degradation of polycyclic aromatic hydrocarbons in aqueous solutions by ultrasonic irradiation. J Hazard Mater 108:95–102. doi:10.1016/j.jhazmat.2004.01.004

Sampa MHO, Borrely SI, Silva BL, Vieira JM, Rela PR, Calvo WAP, Nieto RC, Duarte CL, Perez HEB, Somessari ES, Lugao AB (1995) The use of electron beam acceleration for the treatment of drinking water and wastewater in Brazil. Radiat Phys Chem 46:1143–1146. doi:10.1016/0969-806X(95)00345-X

Sigman ME, Schuler PF, Ghosh MM, Dabestani RT (1998) Mechanism of pyrene photochemical oxidation in aqueous and surfactant solution. Environ Sci Technol 32:3980–3985. doi:10.1021/es9804767

Taylor E, Cook BB, Tarr MA (1999) Dissolved organic matter inhibition of sonochemical degradation of aqueous polycyclic aromatic hydrocarbons. Ultrason Sonochem 6:175–183. doi:10.1016/S1350-4177(99)00015-2

U.S. Environmental Protection Agency (1992) Test methods for evaluating solid waste, update II. Method 3540. Washington, DC, EPA report SW-846

Weihua S, Zheng Z, Rami A-S, Tao Z, Desheng H (2002) Degradation and detoxification of aqueous nitrophenol solutions by electron beam irradiation. Radiat Phys Chem 65:559–563. doi:10.1016/S0969-806X(02)00365-1
About this article
Cite this article
Chung, B.Y., Cho, J.Y., Song, C.H. et al. Degradation of Naturally Contaminated Polycyclic Aromatic Hydrocarbons in Municipal Sewage Sludge by Electron Beam Irradiation. Bull Environ Contam Toxicol 81, 7 (2008). https://doi.org/10.1007/s00128-008-9435-4
Received:

Accepted:

Published:
Keywords
Polycyclic aromatic hydrocarbons

PAHs

Electron beam irradiation