Abstract
This study assessed the potential of Potamogeton crispus and Pomacea canaliculata as biomonitors of sedimentary metal contamination. The results indicate P. crispus possesses several attributes of a biomonitor and its tissue concentrations of Cd, Pb and Zn may reflect the levels of sedimentary contamination by these metals. Although P. canaliculata can accumulate metals to high levels and serve as an indicator of metal contamination, its tissue metal concentrations did not correlate with those of the sediments or macrophytes.
Access options
Buy single article
Instant access to the full article PDF.
USD 39.95
Price includes VAT (USA)
Tax calculation will be finalised during checkout.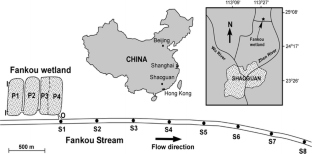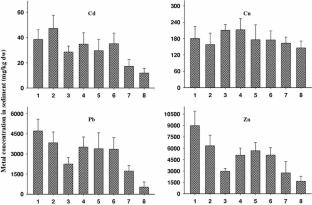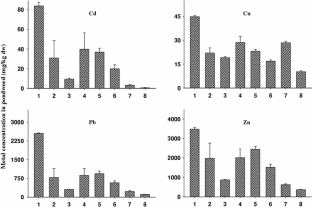 References
Berger B, Dallinger R (1993) Terrestrial snails as quantitative indicators of environmental metal pollution. Environ Monitor Assess 25:65–84

Cardwell AJ, Kawker DW, Greenway M (2002) Metal accumulation in aquatic hydrophytes from southeast Queensland, Australia. Chemosphere 48:653–663

Cowie RH (2002) Apple snails (Ampullariidae) as agricultural pests: their biology, impacts and management. In: Barker GM (ed) Molluscs as crop pests. CABI, Wallingford, pp 145–192

Dallinger R, Wieser W (1984) Patterns of accumulation, distribution and liberation of Zn, Cu, Cd and Pb in different organs of the land snail Helix pomatia L. Comp Biochem Physiol 79C:117–124

Deng H, Ye ZH, Wong MH (2004) Accumulation of lead, zinc, copper and cadmium by 12 wetland plant species thriving in metal-contaminated sites in China. Environ Pollut 132:29–40

Fernandes HM (1997) Heavy metal distribution in sediments and ecological risk assessment: the role of diagenetic processes in reducing metal toxicity in bottom sediments. Environ Pollut 97:317–325

Flessas C, Couillard Y, Pinel-Alloul B, St-Cyr L, Campbell PGC (2000) Metal concentrations in two freshwater gastropods (Mollusca) in the St. Lawrence River and relationships with environmental contamination. Canadian J Fish Aquat Sci 57(Suppl 1):126–137

Kabata-Pendias A, Pendias H (2000) Trace elements in soils and plants, 3rd edn. CRC Press, Boca Raton, Florida

Lan CY, Chen GZ, Li LC, Wong MH (1992) Use of cattails in treating wastewater from a Pb/Zn mine. Environ Manage 16:75–80

MPH and CSA (1991–1994) Standards for the Maximum Level of Cd, Cu, Pb, and Zn in Food. Ministry of Public Health and the China Standardization Administration, Beijing

Phillips DJH (1990) Use of macroalgae and invertebrates as monitors of metal levels in estuaries and coastal waters. In: Furness RW, Rainbow PS (eds) Heavy metals in the marine environment. CRC Press, Boca Raton, Florida, pp 81–99

Ramos L, Gonzalez MJ, Hernandez LM (1999) Sequential extraction of copper, lead, cadmium, and zinc in sediments from Ebro River (Spain): relationship with levels detected in earthworms. Bull Environ Contam Toxicol 62:301–308

Sabti H, Hossain MM, Brooks RR, Stewart RB (2000) The current environmental impact of base-metal mining at the Tui Mine, Te Aroha, New Zealand. J Royal Soc New Zealand 30:197–208
Acknowledgments
We thank N.C. Wong and C.W. Chau for technical support. This study was supported by the National Nature Science Fund (No. 30700111) and Guangdong Province Natural Science Fund (No. 5300407).
About this article
Cite this article
Deng, P.Y., Shu, W.S., Lan, C.Y. et al. Metal Contamination in the Sediment, Pondweed, and Snails of a Stream Receiving Effluent from a Lead/Zinc Mine in Southern China. Bull Environ Contam Toxicol 81, 69–74 (2008). https://doi.org/10.1007/s00128-008-9428-3
Received:

Accepted:

Published:

Issue Date:
Keywords
Pomacea canaliculata
Potamogeton crispus

Heavy metal

Biomonitor