Abstract
Fluoride in the soil and vegetation in the vicinity of brick field in the suburb of Lucknow, India was estimated. The water soluble fluoride (1:1) in the surface soil ranged from 0.59 ppm to 2.74 ppm where as CaCl2 extractable fluoride ranged from 0.69 ppm to 3.18 ppm. The mean total fluoride concentration in surface soil varied from 322 μg g−1 to 456 μg g−1. The local vegetations grown in the area found to accumulate air borne fluoride from the brick field. The fluoride accumulation in the vegetation followed the order Mentha arvensis > Spinacea oleracea > Luffa cylindrical.
Access options
Buy single article
Instant access to the full article PDF.
USD 39.95
Price includes VAT (USA)
Tax calculation will be finalised during checkout.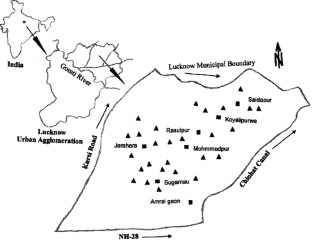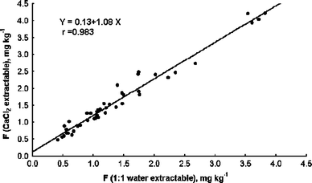 References
Adriano DC (2001) Trace elements in terrestrial environments, 2nd edn. Springer Verlag, Berlin, Heidel-berg, New York

Alina KF, Henryk P (1984) Trace elements on soil and plants. CRC press, Boca Raton, Florida

Bear FE (1964) Chemistry of the soil, 2nd edn. Reinhold, New York

Brewer RF (1965) Fluorine. In: Black CA et al (eds) Methods of soil analysis. Part 2. Agronomy monograph. ASA and SSSA, Madison, WI, USA

Churchill HV, Rowley RJ, Martin LN (1948) Fluorine content of certain vegetation in Western Pennsylvania area. Anal Chem 20(1):69–71

Haidouti C (1991) Fluoride distribution in soils in the vicinity of a point emission source in Greece. Geoderma 49:129–138

Hluchan E, Mayer J, Abel E (1964) The influence of aluminium works exhalation on the content of fluorides in the soil and grass (In Slovak). Pal nohospodars tvo 10:257–262 English abstract in USEPA: 1973

Hou ML (2004) Food analysis. Chemical Industry Press, Beijing

Larsen S, Widdowson AE (1971) Soil fluorine. J Soil Sci 22:210–221

Lavado RS, Reinaudi N (1979) Fluoride in salt affected soil of La Pampa (Republic of Argentina). Fluoride 1:28–32

Mc Quaker NR, Gurney M (1977) Determination of total fluoride in soil and vegetation using an alkali fusion selective ion electrode technique. Anal Chem 49:53–56

Pickering WF (1985) The mobility of soluble fluoride in soils. Environ Pollut 9:281–308

Polomski J, Fluhler H, Blaser P (1982) Accumulation of airborne fluoride in soils. J Environ Qual 11:457–461

Sidhu SS (1979) Fluoride level in air, vegetation and soil in the vicinity of a phosphorous plant. J Air Pollut Control Assoc 29:1069–1072

Soil Survey Staff (1998) Key to soil taxonomy, 8th edn. USDA National Resource Conservation Services, Washington, DC

Supharungsun S, Wainwright M (1982) Determination, distribution and adsorption of fluoride in an atmospheric polluted soils. Bull Environ Contam Toxicol 28:632–636

Suttie JE (1980) Performance of a dairy cattle herd in close proximity to an industrial fluoride emitting source. Paper presented at the Jine annual meeting of the A.P.C.A. 23 pp

Vike E, Habjorg A (1995) Variation in fluoride content and leaf injury on plants associated with three aluminium smelters in Norway. Sci Total Environ 163:25–34

Villa AE (1979) Rapid method for determining fluoride in vegetation using an ion selective electrode. Analyst 104:545–551

Walton KE (1987) Factors determining amounts of fluoride in woodlice, Oniscus aselus and Porcellio scaber, litter and soil near aluminium reduction plant. Environ Pollut 46:1–9
About this article
Cite this article
Jha, S.K., Nayak, A.K., Sharma, Y.K. et al. Fluoride Accumulation in Soil and Vegetation in the Vicinity of Brick Fields. Bull Environ Contam Toxicol 80, 369–373 (2008). https://doi.org/10.1007/s00128-008-9391-z
Received:

Accepted:

Published:

Issue Date:
Keywords
Brick field

Soil

Vegetation

Fluoride