Abstract
Soils contaminated with heavy metals present a major threat to sustainable agriculture. Understanding the effects of these metals on pea productivity will be useful. We studied the effects of cadmium, chromium and copper used both separately and as mixtures, on over all growth of pea plants inoculated with Rhizobium sp. Among the metals, copper was most toxic for pea plants and decreased the seed yield by 15% at 1,338 mg kg−1 compared to control plants whereas cadmium and chromium in general, increased the measured parameters. The metal accumulation in roots and shoots at 90 d and in grains at 120 d differed among treatments.
Access options
Buy single article
Instant access to the full article PDF.
USD 39.95
Price includes VAT (USA)
Tax calculation will be finalised during checkout.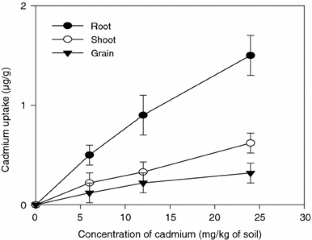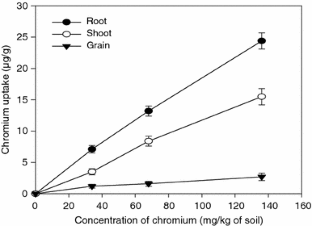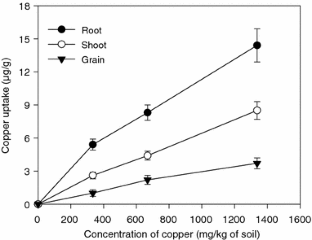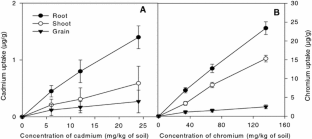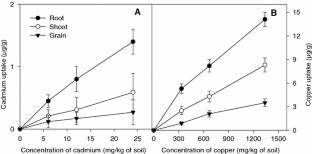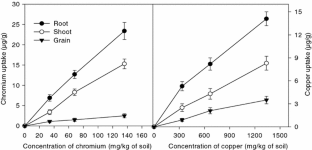 References
Assche FV, Clijsters H (1990) Effects of metals on enzyme activity in plants. Plant Cell Environ 13:195–206

Bibi M, Hussain M (2005) Effect of copper and lead on photosynthesis and plant pigments in black gram (Vigna mungo L.). Bull Environ Contam Toxicol 74:1126–1133

Breen AP, Murphy JA (1995) Reaction of oxyl radicals with DNA. Free Rad Biol Med 18:1033–1077

Broos K, Beyens H, Smolders E (2005) Survival of rhizobia in soil is sensitive to elevated zinc in the absence of the host plant. Soil Biol Biochem 37:573–579

Chaoui A, Mazhoudi S, Ghorbal MH, Ferjani EE (1997) Cadmium and zinc induction of lipid peroxidation and effects on antioxidant enzyme activities in bean (Phaeolus vulgaris L.). Plant Sci 127:139–147

Chaudri AM, McGrath SP, Giller KE, Reitz E, Suerbeck DR (1993) Enumeration of indigenous Rhizobium leguminosarum biovar trifolii in soils previously treated with metal contaminated sewage sludge. Soil Biol Biochem 25:301–309

Chaudri AM, Allain CM, Barbosa-Jefferson VL, Nicholson FA, Chambers BJ, McGrath SP (2000) A study of the impacts of Zn and Cu on two rhizobial species in soils of a long term field experiment. Plant Soil 22:167–179

Grill E, Winnacker EL, Zenk MH (1987) Phytochelatins, a class of heavy metal binding peptides from plants are functionally analogous to metallothioneins. Proc Nat Acad Sci USA 84:439–443

Grill E, Loffler S, Winnacker EL, Zenk MH (1989) Phytochelatins, the heavy metal binding peptides of plants are synthesized from glutathione by a specific γ-glutamylcysteine dipeptidyl transpeptidase (phytochelatin synthase). Proc Natl Acad Sci USA 86:6838–6842

Heckman JR, Angle JS, Chaney RL (1987) Residual effects of sewage sludge on soybean, II accumulation of soil and symbiotically fixed nitrogen. J Environ Qual 16:117–124

Hirsch PR, Jones MJ, McGrath SP, Giller KE (1993) Heavy metals from past applications of sewage sludge decrease the genetic diversity of Rhizobium leguminosarum biovar trifolii populations. Soil Biol Biochem 25:1485–1490

Iswaran V, Marwah TS (1980) A modified rapid Kjeldahl method for determination of total nitrogen in agricultural and biological materials. Geobios 7:281–282

McGrath SP, Brookes PC, Giller KE (1988) Effect of potentially toxic metals in soil derived from post applications of sewage sludge on nitrogen fixation by Trifolium repens L. Soil Biol Biochem 20:415–425

McGrath SP, Cunliffe CH (1985) A simplified method for the extraction of metals Fe, Zn, Cu, Ni, Cd, Pb, Cr and Mn from soils and sewage sludge. J Sci Food Agri 36:794–798

McCarthy I, Romero-Puertas MC, Palma JM, Sandalio LM, Corpas FJ, Gomez M, Del Rio LA (2001) Cadmium induces senescence systems in leaf peroxisomes of pea plants. Plant Cell Environ 24:1065–1073

Ouzounidou GE, Eleftheriou P, Karataglis (1992) Ecophysiological and ultrastructural effects of copper in Thlaspi Ochroleucum (cruciferae). Can J Bot 70:947–957

Prasad MNV (1999) Heavy metal stress in plants from biomolecules to ecosystem, Narosa Publishing House, New Delhi, India

Rother JA, Millbank JW, Thornton I (1983) Nitrogen fixation by white clover (Trifolium repens) in grasslands on soils contaminated with cadmium, lead and zinc. J Soil Sci 34:127–136

Sadasivam S, Manikam A (1992) Biochemical methods for agricultural sciences, Wiley Eastern Limited, New Delhi, India

Sheoran IS, Signal HR, Singh R (1990) Effect of Cd and Ni on photosynthesis and the enzymes of the photosynthetic carbon reduction cycle in pigeonpea (Cajans cajan L.). Photosyn Res 23:345–351

Sinha SK, Srivastava HS, Misra SN (1988) Nitrate assimilation in intact and excised maize leaves in the presence of lead. Bull Environ Contam Toxicol 41:419–426

Wani PA, Khan MS, Zaidi A (2006) An evaluation of the effects of heavy metals on the growth, seed yield and grain protein of lentil in pots. Ann Appl Biol (Suppl TAC) 27:23–24

Wani PA, Khan MS, Zaidi A (2007a) Chromium reduction, plant growth-promoting potentials and metal solubilization by Bacillus sp. isolated from alluvial soil. Curr Microbiol 54:237–243

Wani PA, Khan MS, Zaidi A (2007b) Cadmium, chromium and copper in greengram plants. Agron Sustain Dev 27:145–153

Wani PA, Khan MS, Zaidi A (2007c) Impact of heavy metal toxicity on plant growth, symbiosis, seed yield and nitrogen and metal uptake in chickpea. Aus J Exp Agric 47:712–720
About this article
Cite this article
Wani, P.A., Khan, M.S. & Zaidi, A. Effects of Heavy Metal Toxicity on Growth, Symbiosis, Seed yield and Metal Uptake in Pea Grown in Metal Amended Soil. Bull Environ Contam Toxicol 81, 152–158 (2008). https://doi.org/10.1007/s00128-008-9383-z
Received:

Accepted:

Published:

Issue Date:
Keywords
Heavy metals

Rhizobium

Pea

Phyto-accumulation