Abstract
Microcystin (MC) problem made more and more care about in China, intercellular MC (Int-MC) and cellular MC (Cel-MC) were important contents to reflect the producing-MC ability by cyanobacteria and by lakes. To study the correlations between Int-MC, Cel-MC concentration and biological and environmental factors, eight cyanobacterial blooming lakes were studied in the middle and lower reaches of the Yangtze River. Microcystin-RR (MC-RR) and Microcystin-LR (MC-LR) were the primary toxin variants in our data. From the linear correlations between MC and environmental factors, cellular-YR had significant correlation with most of chemical factors except total nitrogen (TN) and the ratio of total nitrogen and total phosphorus (TN/TP), most intracellular MC analogues had significant correlations with total dissolved nitrogen (TDN), ammonium (NH +4 ), nitrite (NO –2 ), TP, total dissolved phosphorus (TDP), Microcystis. From the canonal correspondence analysis, Int-MC concentrations were closely related with the chemical and biological factors, such as TP, total organic carbon (TOC), chlorophyll a (Chl a), Microcystis biomass, et al. While Cel-MC contents, especially Cel-RR and Cel-LR, were closely related with light environmental in the lakes such as water depth and transparence.
Access options
Buy single article
Instant access to the full article PDF.
USD 39.95
Price includes VAT (USA)
Tax calculation will be finalised during checkout.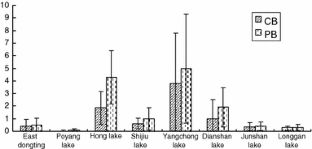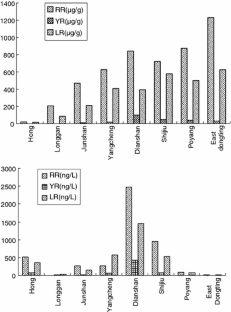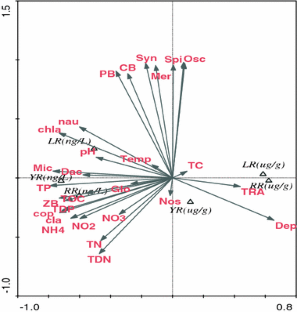 References
Aboal M, Puig MA (2005) Intracellular and dissolved microcystin in reservoirs of the river Segura basin, Murcia, SE Spain. Toxicon 45:509–518

Chen J, Xie P (2005) Tissue distributions and seasonal dynamics of the hepatotoxic microcystins-LR and -RR in two freshwater shrimps, Palaemon modestus and Macrobrachium nipponensis, from a large shallow, eutrophic lake of the subtropical China. Toxicon 45:615–625

Chorus I, Niesel V, Fastner J, Wiedner C, Nixdorf B, Lindenschmidt KE (2001) Environmental factors and Microcystin levels in water bodies. In: Chorus I (ed) Cyanotoxins: occurrence, causes consequences. Springer-Verlag, Berlin, pp 159–177

Eaton AD, Clesceri LS, Greenberg AE, Branson MAH (1995) Standard methods for the examination of water and wastewater. American Public Health Association, Washington

Graham JL, Jones JR, Jones SB, Downing JA, Clevenger TE (2004) Environmental factors influencing microcystin distribution and concentration in the Midwestern United States. Water Res 38:4395–4404

Jacoby JM, Collier DC, Welch EB, Hardy FJ, Crayton M (2000) Environmental factors associated with a toxic bloom of Microcystis aeruginosa. Can J Fish Aquat Sci 57:231–240

Jin XC (2003) Analysis of eutrophication state and trend for lakes in China. J Limnol 62:60–66

Jochimsen EM, Carmichael WW, An JS, Cardo DM, Cookson ST, Holmes CEM (1998) Liver failure and death after exposure to microcystin toxins at a dialysis center in Brazil. N Engl J Med 338:873–878

Kotak BG, Lam AKY, Prepas EE, Kenefick SL, Hrudey SE (1995) Variability of the hepatotoxin, microcystin-LR, in hypereutrophic drinking water lakes. J Phycol 31:248–263

Kotak BG, Lam AKY, Prepas EE, Hrudey SE (2000) Role of chemical and physical variables in regulating microcystin-LR concentration in phytoplankton of eutrophic lakes. Can J Fish Aquat Sci 57:1584–1593

Long BM, Jones GJ, Orr PT (2001) Cellular microcystin content in N-limited Microcystis aeruginosa can be predicted from growth rate. Appl Environ Microbiol 67:278–283

Nydahl F (1978) On the peroxodisulphate oxidation of total nitrogen in waters to nitrate. Water Res 12:1123–1130

Orr PT, Jones GJ (1998) Relationship between microcystin production and cell division rates in nitrogen-limited Microcystis aeruginosa cultures. Limnol Oceanogr 43:1604–1614

Prepas EE, Rigler FH (1982) Improvements in quantifying the phosphorus concentration in lake water. Can J Fish Aquat Sci 39:822–829

Prescott GW (1978) How to know the freshwater algae. Wm. C. Brown Company Publishers, Dubuque Iowa, p 348

Sekadende BC, Lyimo TJ, Kurmayer R (2005) Microcystin production by cyanobacteria in the Mwanza Gulf (Lake Victoria, Tanzania). Hydrobiologia 543:299–304

Tisdale ES (1931) Epidemic of intestinal disorders in Charleston, W.Va, occuring simultaneously with unprecented water supply conditions. Am J Public Health 21:198–200

Ueno Y, Nagata S, Tsutsumi T, Hasegawa A, Watanabe MF (1996) Detection of microcystins, a blue-green algal hepatotoxin, in drinking water sampled in Haimen and Fusui, endemic areas of primary liver cancer in China, by highly sensitive immunoassay. Carcinogenesis 17:1317–1321

Utkilen H, Gjølme N (1992) Toxin production by Microcystis aeruginosa as a function of light in continuous cultures and its ecological significance. Appl Environ Microbiol 58:1321–1325

Van der Westhuizen AJ, Eloff JN (1985) Effect of temperature and light on the toxicity and growth of the blue-green alga Microcystis aeruginosa (UV-006). Planta 163:55–59

Vézie C, Brient L, Sivonen K, Bertru G, Lefeuvre JC, Salkinoja-Salonen M (1997) Occurrence of microcystin-containing cyanobacterial blooms in freshwaters of Brittany (France). Archiv Hydrobiol 139:401–413

Vézie C, Rapala J, Vaitomaa J, Seitsonen J, Sivonen K (2002) Effect of nitrogen and phosphorus on growth of toxic and nontoxic Microcystis strains and on intracellular microcystin concentrations. Microb Ecol 43(4):443–454

Watanabe MF, Oishi S (1985) Effect of environmental factors on toxicity of a cyanobacterium (Microcystis aeruginosa) under culture conditions. Appl Environ Microbiol 49:1342–1344

Wicks RJ, Thiel PG (1990) Environmental factors affecting the production of peptide toxins in floating scums of the cyanobacterium Microcystis aeruginosa in a hypertrophic African reservoir. Environ Sci Technol 24:1413–1418

Zhang ZS, Huang XF (1991) A manual on methods for plankton research in Freshwater. Science Press, Beijing, China, pp 333–356
Acknowledgments
This work was supported by a key project of the Chinese Academy of Sciences (Grant No. KZCX1-SW-12) and by a fund from National Natural Science Foundation of China (Grant No. 30225011). We thank Prof. Wang H Z for the guidance and Wu A P, Wang H J, Cui Y D, Pang B Z, Wang Z X and Liang X M for assistance in sampling and experimental methods.
About this article
Cite this article
Wu, S., Wang, S., Yang, H. et al. Field Studies on the Environmental Factors in Controlling Microcystin Production in the Subtropical Shallow Lakes of the Yangtze River. Bull Environ Contam Toxicol 80, 329–334 (2008). https://doi.org/10.1007/s00128-008-9378-9
Received:

Accepted:

Published:

Issue Date:
Keywords
Microcystin

Microcystis

Shallow lakes

The Yangtze River