Abstract
The purpose of the study was to determine the levels and organ distribution of the potentially harmful inorganic elements cadmium and lead in great scallops and horse mussels from unpolluted Norwegian waters. The scallops far exceeded the EU-limit for cadmium in bivalves when all soft tissues were analysed. When only muscle and gonad were included, however, the level of cadmium was acceptable, because cadmium accumulated in the digestive gland with a mean of 52 mg/kg ww (wet weight). In horse mussel, lead was the most problematic element and the concentration varied from 1.4 to 6.6 mg/kg ww with a mean of 3.7 mg/kg ww, exceeding the EU limit of 1.5 mg Pb/kg. The highest concentration of lead was found in the kidney with an average of 120 mg/kg ww and with a maximum value of 240 mg/kg ww. The kidney tissue accounted for ∼94% of the lead burden in the horse mussel. In order to consume these bivalves, only muscle and gonad of great scallops should be used for consumption and the kidney of horse mussel should be removed prior to consumption.
Access options
Buy single article
Instant access to the full article PDF.
USD 39.95
Price includes VAT (USA)
Tax calculation will be finalised during checkout.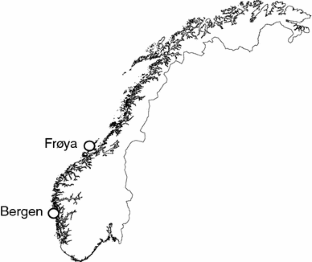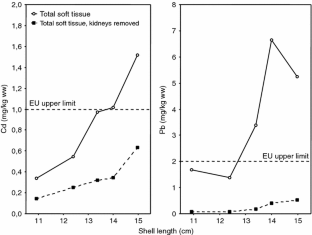 References
Anwar NA, Richardson CA, Seed R (1990) Age determination, growth rate and population structure of the horse mussel Modiolus modiolus. J Mar Biol Assoc UK 70:441–457

Brand A (2006) Scallop ecology: distributions and behaviour. In: Shumway SE, Parsons GJ (eds) Scallops: biology, ecology and aquaculture. Elsevier, Amsterdam, pp 651–744

Bryan GW (1973) The occurrence and seasonal variation of trace metals in the scallops Pecten maximus (L.) and Chlamys opercularis (L.). J Mar Biol Assoc UK 53:145–166

Bustamante P, Miramand P (2004) Interspecific and geographical variations of trace element concentrations in Pectinidae from European waters. Chemosphere 57:1355–1362

Gutierrez-Galindo EA, Villaescusa-Celaya JA, Arreola-Chimal A (1999) Bioaccumulation of metals in mussels from four sites of the coastal region of Baja California. Cienc Mar 25:557–578

Julshamn K, Andersen KJ (1983) Subcellular distribution of major and minor elements in unexposed mollusks in Western Norway. 3. The distribution and binding of cadmium, zinc, copper, magnesium, manganese, iron and lead in the kidney and the digestive system of the horse mussel Modiolus modiolus. Comp Biochem Physiol A Physiol 75:17–20

Julshamn K, Lundebye A-K, Heggstad K, Berntssen MHG, Bøe B (2004) Norwegian surveillance programme on inorganic and organic contaminants in fish caught in the Barents Sea, Norwegian Sea and North Sea in the period from 1994–2001. Food Addit Contam 21:365–376

Julshamn K, Måge A, Skaar Norli H, Grobecker K, Jorhem L, Fecher P (2007) Determination of arsenic, cadmium, mercury and lead by ICP-MS in foods after pressure digestion: NMKL Collaborative study. J Aoac Int 90:844–856

Mauri M, Orlando E, Nigro M, Regoli F (1990) Heavy-metals in the Antarctic scallop Adamussium colbecki. Mar Ecol Prog Ser 67:27–33

Metian M, Hedouin L, Barbot Q, Teyssie JL, Fowler SW, Goudard F, Bustamante P, Durand JP, Pieri J, Warnau M (2005) Use of radiotracer techniques to study subcellular distribution of metals and radionuclides in bivalves from the Noumea Lagoon, New Caledonia. Bull Environ Contam Toxicol 75:89–93

Rainbow PS (1997) Trace metal accumulation in marine invertebrates: marine biology or marine chemistry? J Mar Biol Assoc UK 77:195–210

Simkiss K, Taylor M, Mason AZ (1982) Metal detoxification and bioaccumulation in mollusks. Mar Biol Lett 3:187–201

Strand Ø, Parsons GJ (2006) Scandinavia. In: Shumway SE, Parsons GJ (eds) Scallops: biology, ecology and aquaculture. Elsevier, Amsterdam, pp 1067–1091

Wilson DP (1977) Modiolus modiolus (L.) in small mid-tidal rock pools at Penrhyn Bay, North Wales. Est Coast Mar Sci 5:215–216
About this article
Cite this article
Julshamn, K., Duinker, A., Frantzen, S. et al. Organ Distribution and Food Safety Aspects of Cadmium and Lead in Great Scallops, Pecten maximus L., and Horse Mussels, Modiolus modiolus L., from Norwegian Waters. Bull Environ Contam Toxicol 80, 385–389 (2008). https://doi.org/10.1007/s00128-008-9377-x
Received:

Accepted:

Published:

Issue Date:
Keywords
Cadmium

Lead

Great Scallop

Pecten maximus

Horse mussel

Modiolus modiolus