Abstract
The speciation distribution of cadmium (Cd) in mangrove (Kandelia candel (L.) Druce) rhizosphere sediment was investigated after different contents of Cd being loaded. The study results indicated that root induced changes of Cd bioavailability in the rhizosphere. Exchangeable and carbonate bound Cd in the rhizosphere sediments were lower than these in the bulk sediments, whilst an increase in Fe–Mn oxides bound and O.M/sulfide bound fractions occurred in the rhizosphere sediment. Increased levels of Cd in sediments resulted in higher Cd concentrations in mangrove plants, and the order of accumulation was: roots > hypocotyls > stems and leaves.
Access options
Buy single article
Instant access to the full article PDF.
USD 39.95
Price includes VAT (USA)
Tax calculation will be finalised during checkout.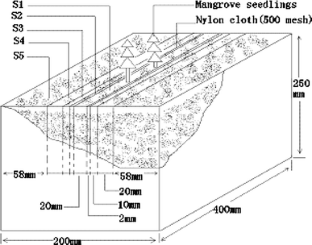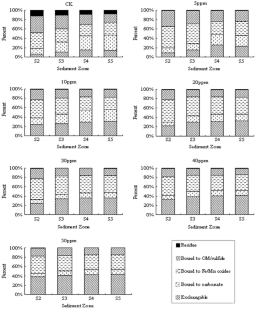 References
Ainsworth C, Pilon J, Gassman P, Van der Sluys W (1994) Cobalt, cadmium, and lead sorption to hydrous iron oxide: residence time effect. Soil Sci Soc Am J 58:1615–1623

Che RGO (1999) Concentration of 7 heavy metals in sediments and mangrove root samples from Mai Po, Hong Kong. Mar Pollut Bull 39:269–279

Chen JS, Wang FY, Li XD, Song JJ (2000) Geographical variations of trace elements in sediments of the major rivers in eastern China. Environ Geol 39:1334–1340

Philippe H, Claude P, Tang C, Jaillard B (2003) Origins of root-mediated pH changes in the rhizosphere and their responses to environmental constraints: a review. Plant Soil 248:43–59

Lin Q, Chen YX, Chen HM, Yu YL, Luo YM, Wong MH (2003) Chemical behavior of Cd in rice rhizosphere. Chemosphere 50:755–761

Liu JC, Yan CL, Macnair MR, Hu J, Li YH (2006) Distribution and speciation of some metals in mangrove sediments from Jiulong River Estuary, People's Republic of China. Bull Environ Contam Toxicol 76:815–822

Lu HL, Yan CL, Liu JC (2007) Low-molecular-weight organic acids exuded by mangrove (Kandelia candel (L.) Druce) roots and their effect on cadmium species change in the rhizosphere. Environ Exp Bot 61:159–166

MacFarlane GR, Pulkownik A, Burchett MD (2003) Accumulation and distribution of heavy metals in the grey mangrove, Avicennia marina (Forsk.) Vierh: biological indication potential. Environ Pollut 123:139–151

Tam NFY, Wong YS (1997) Accumulation and distribution of heavy metals in a simulated mangrove system treated with sewage. Hydrobiologia 352:67–75

Tessier A, Campbell PGC, Bisson M (1979) Sequential extraction procedure for the speciation of particulate trace metals. Anal Chem 51:844–851

Wang F, Chen J, Forsling W (1997) Modeling sorption of trace metals on natural sediments by surface complexation model. Environ Sci Technol 31:448–453

Wang ZW, Shan XQ, Zhang SZ (2002) Comparison between fractionation and bioavailability of trace elements in rhizosphere and bulk soils. Chemosphere 46:1163–1171

Youssef RA, Chino M (1989) Root-induced changes in the rhizosphere of plants II. Distribution of heavy metal across the rhizosphere in soil. Soil Sci Plant Nutr 35:609–621

Véronique S, Christian G, François C (2004) Changes in water extractable metals, pH and organic carbon concentrations at the soil-root interface of forested soils. Plant Soil 260:1–17
Acknowledgements
This work was financially supported by the Natural Science Foundation of China (No. 30470301, 30530150, 40673064), and "Program for innovative Research Team in Science and Technology in Fujian Province University". The authors also thank Dr John R. Merefield of Department of Lifelong Learning, University of Exeter for encouragement and suggestive comments.
About this article
Cite this article
Jingchun, L., Chongling, Y., Ruifeng, Z. et al. Speciation Changes of Cadmium in Mangrove (Kandelia candel (L.)) Rhizosphere Sediments. Bull Environ Contam Toxicol 80, 231–236 (2008). https://doi.org/10.1007/s00128-007-9351-z
Received:

Accepted:

Published:

Issue Date:
Keywords
Cadmium

Kandelia candel (L.)

Rhizosphere

Speciation