Abstract
This study investigated the effect of soil organic matter content on the bioavailability of malathion to the common nightcrawler, Lumbricus terrestris. Earthworms were exposed for 72 h to malathion on two soil types, 8% organic matter and 55% organic matter. Two different measures of bioavailability, malathion body burdens and tissue cholinesterase activities, were then measured in the malathion exposed animals. There were no significant differences in body burden or cholinesterase levels in L. terrestris exposed to malathion on soils with differing organic matter content. This suggests that absorption into organic matter is not a limiting factor of malathion bioavailability to earthworm species.
Access options
Buy single article
Instant access to the full article PDF.
USD 39.95
Price includes VAT (USA)
Tax calculation will be finalised during checkout.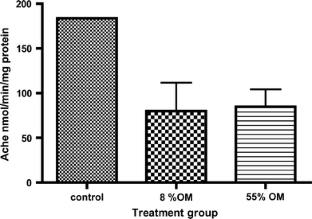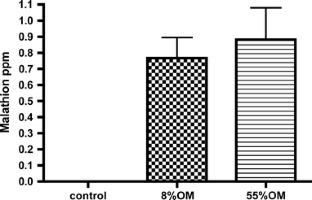 References
Albro P, Schroeder J, Corbett J (1992) Lipids of the earthworm Lumbricus terrestris. Lipids 27:136–143

Baccetti B (1967). Collagen of the earthworms. J Cell Bio 30:885–891

Booth LH, Hodge S, O'Halloran K (2001) Use of biomarkers in earthworms to detect use and abuse of field applications of a model organophosphate pesticide. Bull Environ Contam Toxicol 67:633–640

Cahill T, Cousins I, Mackay D (2003) General fugacity-based model to predict the environmental fate of multiple chemical species. Environ Toxicol Chem 22:483–493

Coggeshall R (1966). A fine structure analysis of the epidermis of the earthworm, Lumbricus terrestris. J Cell Biol 28:95–108

Edwards C, Bohlen P (1992). The effects of toxic chemicals on earthworms. Rev Environ Contam Toxicol 125:23–95

Ellman G, Courtney KD, Andres VJ, Featherstone RM (1961) A new and rapid colorimeteric determination of acetylcholinesterase activity. Biochem Pharmacol 7:88–95

Folch J, Lees M, Stanley GHS (1957) A simple method for the isolation and purification of total lipids from animal tissues. J Biol Chem 226:497–509

Guthrie FE, Perry JJ (eds) (1980) Introduction to environmental toxicology. Elsevier, New York, NY

Haines P, Uren N (1990) Effects of conservation tillage farming on soil microbial biomass, organic matter, and earthworm populations, in north-eastern Victoria Australian. J Exper Agr 30:365–371

Hendrix P (1995) Earthworm ecology and biogeography in North America. CRC press, Boca Raton, Fl

Jager T (1998) Mechanistic approach for estimating bioconcentration of organic chemicals in earthworms (Oligochaeta). Environ Toxicol Chem 17:2080–2090

Jamieson BGM (1981) The integumentary system. The ultrastructure of Oligochaeta. A. Press, Latimer Trend and Company, pp 10–42

Khan S, Khan N (1986) The mobility of some organophosphorus pesticides in soil as affected by some soil parameters. Soil Sci 142:214–221

Kukkonen J, Landrum P (1996) Distribution of organic carbon and organic xenobiotics among different particle-size fractions in sediments. Chemosphere 32:1063–1076

Lavelle P (1988) Earthworm activities and the soil system. Biol Fert Soils 6:237–251

Lord K, Briggs G, Neale M, Manlove R (1980) Uptake of pesticides from water and soil to earthworms. Pest Sci 11:401–408

Lydy M, Linck S (2003) Assessing the impact of triazine herbicides on Organophosphate insecticide toxicity to earthworm Eisenia foetida. Arch Environ Contam Toxico 45:343–349

Panda S, Sahu S (2002) Acute toxicity assessment of three pesticides to the earthworm Drawida Willsi. J Ecotox Environ Monitoring 12:215–223

Rajukkannu K, Basha A, Habeebullah B, Durasisamy P, Balasubramanian M (1985) Degradation and persistence of DDT, HCH, carbaryl, and malathion in soils. Indian J Environ Health 27:237–243

Raty M, Hunta V (2003) Earthworm and pH affect communities of nematodes and enchytraeids in forest soil. Biol Fertil Soils 38:52–58

Roberts B, Dorough W (1984) Relative toxicities of chemicals to the earthworm Eisenia foetida. Environ Toxicol Chem 3:67–78

Rozman K, Klaassen C (2001) Absorption, distribution, and excretion of toxicants. In: Klaassen C (ed) Casarett and Doull's toxicology: the basic science of poisons. Mc GrawHill, New York, pp 107–132

Sanchez-Martin M, Sanchez-Camazano M (1991) Relationship between the structure of organophosphorus pesticides and adsorption by soil components. Soil Sci 152(4):283–288

Stenersen J, Brekke E, Engelstad F (1992). Earthworms for toxicity testing; Species differences in response towards cholinesterase inhibiting insecticides. Soil Biol Biochem 24:1761–1764

Watson M (1958). The chemical composition of the earthworm cuticle. Biochemistry 68:416–420

Wauchope R, Yeh S, Linders J, Kloskowki R, Tanaka K, Rubin B, Katayama A, Kordel W, Gerstl Z, Lane M, Unsworth J (2002). Review: pesticide soil sorption parameters: theory, measurement, uses, limitations, reliability. Pest Manage Sci 58:419–445

Zambonin C, Lostito I, Cilenti A, Palmisano F (2002). Solid-phase microextraction coupled to gas chromatography-mass spectrometry for the study of soil adsorption coefficients of organophosphorus pesticides. J Environ Monitor 4:477–481
Acknowledgments
The authors thank the Environmental Protection Agency for funding for this project. The U.S. Environmental Protection Agency (EPA) through its Office of Research and Development partially funded and collaborated in the research described here under assistance agreement #R-83055101 to North Carolina State University. The views expressed in this article are those of the authors and do not necessarily reflect the view or policies of the EPA.
About this article
Cite this article
Henson-Ramsey, H., Shea, D., Levine, J.F. et al. Assessment of the Effect of Varying Soil Organic Matter Content on the Bioavailability of Malathion to the Common Nightcrawler, Lumbricus terrestris L.. Bull Environ Contam Toxicol 80, 220–224 (2008). https://doi.org/10.1007/s00128-007-9349-6
Received:

Accepted:

Published:

Issue Date:
Keywords
Earthworm

Malathion

Bioavailability

Soil organic matter