Abstract
Phytofiltration of Cu from water by Elsholtzia plants were investigated hydroponically. Both E. splendens and E. argyi could effectively clean up lower Cu contaminated water, probably attributed to their extremely high surface area of roots. The removal rate of Cu was concentration-dependent and showed a monotonic decline with time. At higher external Cu concentration, the growth of E. argyi has been considerably inhibited while E. splendens still grew normally. E. splendens has the greater capacity to absorb Cu to roots from water and translocate Cu from roots to shoots. Lignin in roots probably has no significant effect on immobilizing Cu.
Access options
Buy single article
Instant access to the full article PDF.
USD 39.95
Price includes VAT (USA)
Tax calculation will be finalised during checkout.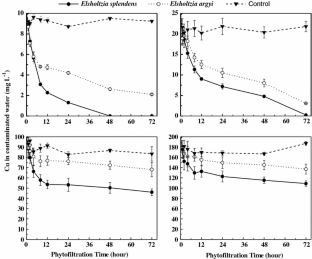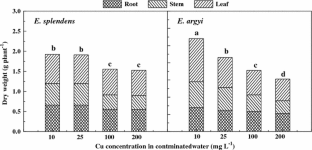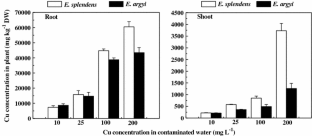 References
Chandra P, Sinha S, Rai UN (1997) In: Kruger EL, Anderson TA, Coats JR (eds) Phytoremediation of soil and water contaminants. American Chemical Society, Washington, DC, pp 274–282

Cunningham SD, Ow DW (1996) Promise and prospects of phytoremediation. Plant Physiol 110:715–719

Dushenkov V, Kumar NPBA, Motto H, Raskin I (1995) Rhizofiltration: the use of plants to remove heavy metals from aqueous streams. Environ Sci Technol 29:1239–1245

Dushenkov V, Vasudev D (1997) Metal accumulation by aquacultured seedling of Indian mustard. Environ Sci Technol 31:3468–3474

Harrison SJ, Lepp NW, Phipps DA (1979) Uptake of copper by excised roots II. Copper desorption from the free space. Z Pflanzenernähr Bodenkd 94:27–34

Harrison SJ, Lepp NW, Phipps DA (1984) Uptake of copper by excised roots. II. Copper desorption from the free space. Z Pflanzenernähr Bodenkd 94:27–34

Huang JW, Poyntoncy CY, Kochian LV, Elless MP (2004) Phytofiltration of arsenic from drinking water using arsenic-hyperaccumulating ferns. Environ. Sci Technol 38:3412–3417

Jiang LY, Yang XE, He ZL (2004a) Growth response and phytoextraction of copper at different levels in soils by Elsholtzia splendens. Chemosphere 55:1179–1187

Jiang LY, Yang XE, Shi WY, Ye ZQ, He ZL (2004b) Copper uptake and tolerance in two contrasting ecotypes of Elsholtzia argyi. J Plant Nutr 27(12):2067–2083

Kadlee RH, Knight RL (1996) Treatment of wetlands. CRC Lewis Publishers, New York

Robson AD, Reuter DJ (1981) Diagnosis of copper deficiency and toxicity. In: Loneragan JF, Robson AD, Graham RD (eds) Copper in soils and plants. Academic Press, Sydney, pp 287–312

Salt DE, Blaylock M, Nanda Kumar PBAN, Duschenkov S, Ensley BD, Chet I, Raskin I (1995) Phytoremediation: a novel strategy for the removal of toxic metals from the environment using plants. Biotechnology 31:468–474

USEPA (1991) Maximum contaminant level goals and national primary drinking water regulations for lead and copper; final rule, 40CRF. Parts 141 and 142. Fed. Reg. 56:110. Environmental Protection Agency, Washington, DC, 26460

WHO (1993) Guidelines for drinking water quality, 2nd edn, vol 1, Recommendations. WHO, Geneva, pp 1–190

П ПΟЧИН НΟК XH (1981) Analytical techniques for plant biochemistry. Science Press Publisher, Beijing, pp 178–181

Yang MJ, Yang XE, Römheld V (2002) Growth and nutrient composition of Elsholtzia splendens Nakai under copper toxicity. J Plant Nutr 25(7):1359–1375
Acknowledgments
This project was supported by Program for Changjiang Scholars and Innovative Research Team in University (#IRT0536), the "973" Program from Science and Technology Ministry of China (2002CB410804), and the Project from National Natural Science Foundation of China (#20477039).
About this article
Cite this article
Tian, S., Peng, H., Yang, X. et al. Phytofiltration of Copper from Contaminated Water: Growth Response, Copper Uptake and Lignin Content in Elsholtzia splendens and Elsholtzia argyi . Bull Environ Contam Toxicol 81, 85–89 (2008). https://doi.org/10.1007/s00128-007-9298-0
Received:

Accepted:

Published:

Issue Date:
Keywords
Phytofiltration

Cu

E. splendens
E. argyi