Abstract
Aroclor 1254 a polychlorinated biphenyls (PCBs) mixture, when administrated through the diet, was previously found to inhibit adult tilapia (Oreochromis niloticus) reproduction. Since fish larvae can be more sensitive to contaminants, the objectives of this study were to evaluate in adults the impact in gonad development and in thyroid function of Aroclor 1254 administrated at larvae stages. Aroclor 1254 exposed tilapia presented both ovary and testicular alterations and a decline in T4 plasma concentration while T3 remained unaltered. This work shows exposure to Aroclor 1254 during tilapia early life stages causes a disruption of the reproductive axis that enables reproduction.
Access options
Buy single article
Instant access to the full article PDF.
USD 39.95
Price includes VAT (USA)
Tax calculation will be finalised during checkout.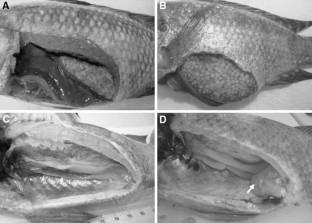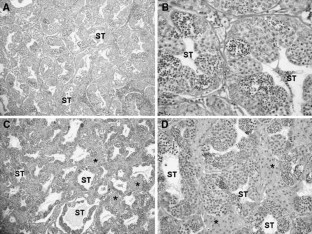 References
Ahmad SU, Tariq S, Jalali S, Ahmad MM (2003) Environmental pollutant Aroclor 1242 (PCB) disrupts reproduction in adult male rhesus monkeys (Macaca mulatta). Environ Res 93:272–278

Andric SA, Kostic TS, Stojilkovic SS, Kovacevic RZ (2000) Inhibition of rat testicular androgenesis by a polychlorinated biphenyl mixture Aroclor 1248. Biol Reprod 62:1882–1888

Antunes P, Gil O, Ferreira M, Vale C, Reis-Henriques MA (2007) Depuration of PCBs and DDTs in mullet under captivity clean conditions. Chemosphere 67:S58–S64

Brouwer A, Morse DC, Lans MC, Schuur AG, Murk AJ, Klasson-Wehler E, Bergman A, Visser TJ (1998) Interactions of persistent environmental organohalogens with the thyroid hormone system: mechanisms and possible consequences for animal and human health. Toxicol Ind Health 14:59–84

Brown SB, Adams BA, Cyr DG, Eales JG (2004) Contaminant effects on the teleost fish thyroid. Environ Toxicol Chem 23:1680–1701

Chauhan KR, Kodavanti PRS, McKinney JD (2000) Assessing the role of ortho-substitution on polychlorinated biphenyl binding to transthyretin, a thyroxine transport protein. Toxicol Appl Pharmacol 162:10–21

Cheek AO, Kow K, Chen J, McLachlan JA (1999) Potential mechanisms of thyroid disruption in humans: interaction of organochlorine compounds with thyroid receptor, transthyretin, and thyroid-binding globulin. Environ Health Persp 107:273–278

Coimbra AM, Reis-Henriques MA (2005) Nile tilapia, Oreochromis niloticus L., reproduction inhibition by dietary exposure to Aroclor 1254. Bull Environ Contam Toxicol 75:407–412

Coimbra AM, Reis-Henriques MA, Darras VA (2005) Circulating thyroid hormone levels and iodothyronine deiodinase activities in Nile tilapia (Oreochromis niloticus) following dietary exposure to Endosulfan and Aroclor 1254. Comp Biochem Physiol C 141:8–14

Colborn T, Saal FSV, Soto AM (1993) Developmental effects of endocrine-disrupting chemicals in wildlife and humans. Environ Health Persp 101:378–384

Cooper RL, Kavlock RJ (1997) Endocrine disruptors and reproductive development: a weight-of-evidence overview. J Endocrinol 152:159–166

Coward K, Bromage NR (2000) Reproductive physiology of female tilapia broodstock. Rev Fish Biol Fish 10:1–25

Eales JG (1997) Iodine metabolism and thyroid-related functions in organisms lacking thyroid follicles: are thyroid hormones also vitamins? Proc Soc Exp Biol Med 214:302–317

Goksoyr A (2006) Endocrine disruptors in the marine environment: mechanisms of toxicity and their influence on reproductive processes in fish. J Toxicol Environ Health A 69:175–184

Gray LE, Ostby JS (1995) In-utero 2,3,7,8-tetrachlorodibenzo-p-dioxin (TCDD) alters reproductive morphology and function in female rat offspring. Toxicol Appl Pharmacol 133:285–294

Guillette LJ, Gunderson MP (2001) Alterations in development of reproductive and endocrine systems of wildlife populations exposed to endocrine-disrupting contaminants. Reprod 122:857–864

Halldin K (2005) Impact of endocrine disrupting chemicals on reproduction in Japanese quail. Domest Anim Endocrinol 29:420–429

Hardy MP, Kirby JD, Hess RA, Cooke PS (1993) Leydig-cells increase their numbers but decline in steroidogenic function in the adult-rat after neonatal-hypothyroidism. Endocrinol 132:2417–2420

Harrison PTC, Holmes P, Humfrey CDN (1997) Reproductive health in humans and wildlife: are adverse trends associated with environmental chemical exposure? Sci Total Environ 205:97–106

Heiden TK, Carvan MJ, Hutz RJ (2006) Inhibition of follicular development, vitellogenesis, and serum 17 beta-estradiol concentrations in zebrafish following chronic, sublethal dietary exposure to 2,3,7,8-tetrachlorodibenzo-p-dioxin. Toxicol Sci 90:490–499

Heiden TK, Hutz RJ, Carvan MJ (2005) Accumulation, tissue distribution, and maternal transfer of dietary 2,3,7,8,-tetrachlorodibenzo-p-dioxin: impacts on reproductive success of zebrafish. Toxicol Sci 87:497–507

Hellou J, Warren WG, Payne JF (1993) Organochlorines including polychlorinated-biphenyls in muscle, liver, and ovaries of cod, Gadus-morhua. Arch Environ Contam Toxicol 25:497–505

Hwang H-M, Green PG, Young TM (2006) Tidal salt marsh sediment in California, USA. Part 1: occurrence and sources of organic contaminants. Chemosphere 64:1383–1392

Kay DP, Blankenship AL, Coady KK, Neigh AM, Zwiernik MJ, Millsap SD, Strause K, Park C, Bradley P, Newsted JL, Jones PD, Giesy JP (2005) Differential accumulation of polychlorinated biphenyl congeners in the aquatic food web at the Kalamazoo river superfund site, Michigan. Environ Sci Technol 39:5964–5974

Khan IA, Thomas P (2001) Disruption of neuroendocrine control of luteinizing hormone secretion by Aroclor 1254 involves inhibition of hypothalamic tryptophan hydroxylase activity. Biol Reprod 64:955–964

Kim IS, Ariyaratne HBS, Mendis-Handagama S (2001) Effects of continuous and intermittent exposure of lactating mothers to Aroclor 1242 on testicular steroidogenic function in the adult male offspring. Tissue Cell 33:169–177

Lans MC, Spiertz C, Brouwer A, Koeman JH (1994) Different competition of thyroxine-binding to transthyretin and thyroxine-binding globulin by hydroxy-PCBs, PCDDs and PCDFs. Eur J Pharmacol 270:129–136

Leatherland JF (1994) Reflections on the thyroidology of fishes: from molecules to humankind. Guelph Ichthyol Rev 2:1–67

Mendishandagama S, Sharma OP (1994) Effects of neonatal administration of the reversible goitrogen propylthiouracil on the testis interstitium in adult-rats. J Reprod Fert 100:85–92

Mills LJ, Chichester C (2005) Review of evidence: are endocrine-disrupting chemicals in the aquatic environment impacting fish populations? Sci Total Environ 343:1–34

Monosson E, Ashley JTF, McElroy AE, Woltering D, Elskus AA (2003) Pcb congener distributions in muscle, liver and gonad of Fundulus heteroclitus from the lower Hudson river estuary and Newark bay. Chemosphere 52:777–787

Nguyen LTH, Janssen CR (2002) Embryo–larval toxicity tests with the african catfish (Clarias gariepinus): Comparative sensitivity of endpoints. Arch Environ Contam Toxicol 42:256–262

Orn S, Andersson PL, Forlin L, Tysklind M, Norrgren L (1998) The impact on reproduction of an orally administered mixture of selected PCBs in zebrafish (Danio rerio). Arch Environ Contam Toxicol 35:52–57

Ottinger MA, Quinn MJ, Lavoie E, Abdelnabi MA, Thompson N, Hazelton JL, Wu JM, Beavers J, Jaber M (2005) Consequences of endocrine disrupting chemicals on reproductive endocrine function in birds: establishing reliable end points of exposure. Domest Anim Endocrinol 29:411–419

Palstra A, van Ginneken V, Murk A, van den Thillart G (2006) Are dioxin-like contaminants responsible for the eel (Anguilla anguilla) drama? Naturwissenschaften 93:145–148

Power DM, Llewellyn L, Faustino M, Nowell MA, Bjornsson BT, Einarsdottir IE, Canario AVM, Sweeney GE (2001) Thyroid hormones in growth and development of fish. Comp Biochem Physiol C 130:447–459

Sangalang GB, Freeman HC, Crowell R (1981) Testicular abnormalities in cod (Gadus-morhua) fed Aroclor-1254. Arch Environ Contam Toxicol 10:617–626

Sapozhnikova Y, Bawardi O, Schlenk D (2004) Pesticides and PCBs in sediments and fish from the Salton sea, California, USA. Chemosphere 55:797–809

Tyler CR, Jobling S, Sumpter JP (1998) Endocrine disruption in wildlife: a critical review of the evidence. Crit Rev Toxicol 28:319–361

Vos JG, Dybing E, Greim HA, Ladefoged O, Lambre C, Tarazona JV, Brandt I, Vethaak AD (2000) Health effects of endocrine-disrupting chemicals on wildlife, with special reference to the european situation. Crit Rev Toxicol 30:71–133

Wolf CJ, Ostby JS, Gray LE (1999) Gestational exposure to 2,3,7,8-tetrachlorodibenzo-p-dioxin (TCDD) severely alters reproductive function of female hamster offspring. Toxicol Sci 51:259–264

Zhang CQ, Qiao HL (2004) Effect of polychlorinated biphenyls on spermatogenesis and testosterone secretion in adult cocks. J Zhejiang Univ Sci 5:193–197
Acknowledgments
The authors would like to thank C. Rosa for his technical assistance with the tilapia's systems. This work was supported by FCT-Fundação para a Ciência e Tecnologia PhD grant SFRH/BD/5161/2001.
About this article
Cite this article
Coimbra, A.M., Reis-Henriques, M.A. Tilapia Larvae Aroclor 1254 Exposure: Effects on Gonads and Circulating Thyroid Hormones During Adulthood. Bull Environ Contam Toxicol 79, 488–493 (2007). https://doi.org/10.1007/s00128-007-9288-2
Received:

Accepted:

Published:

Issue Date:
Keywords
Tilapia

Aroclor 1254

PCBs

Reproduction

Ovary

Testis

Thyroid hormones

Larvae