Abstract
Napropamide is an amide group of herbicide, used as pre-emergence herbicide controlling in broad leaved weeds of tea, ground nut, citrus, etc. Napropamide 45 SC (Devrinol) was applied on tea bushes twice @ 1.125 and 2.250 g a.i./ha along with untreated control. After following the standard extraction process, the residue of napropamide in made tea and soil cropped with tea was analyzed by HPLC. Napropamide was rapidly dissipated in soil following the first-order kinetics with half-lives in the range of 12.54–27.87 days. The residue in made tea found to be below detectable limit on 7th day samples.
Access options
Buy single article
Instant access to the full article PDF.
USD 39.95
Price includes VAT (USA)
Tax calculation will be finalised during checkout.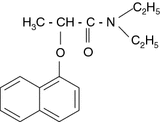 References
Agav FA, Voevodin AV (1985) Promising herbicides for egg plants. Zashehita Rastinii 6:19–20

Anonymous (1984) Napropamide, environmental effects branch. US Environmental Protection Agency

Chang LL, Giang BY, Lee K, Tseng CK (1991) Aqueous photolysis of napropamide. J Agric Food Chem 39:617–621

Gunther FA, Blinn RC (1955) Analysis of insecticides and acaricides. Inter Science Publishers, New York, pp 696

Hoskins WM (1961) Mathematical treatment of loss of pesticide residues. Plant Protect Bull FAO 9:163–168

Kalinova S, Rastenievdni N (1991) Institute of tobacco and tobacco Products. Plovdu, Bulgeria

Murillo Pulgariän JA, Garciäa Bermejo LF (2002) Determination of the pesticide napropamide in soil, pepper, and tomato by micelle-stabilized room-temperature phosphorescence. J Agric Food Chem 50:1002–1008
Acknowledgments
We are very grateful to M/S United Phosphorus Limited, Mumbai for financial assistance of this research programme and Manager, Kamalpur Tea Estate, Darjeeling, West Bengal for conducting the field experiment. The infrastructural facilities provided by the BCKV are also thankfully acknowledged.
About this article
Cite this article
Biswas, P.K., Pramanik, S.K., Mitra, S.R. et al. Persistence of Napropamide in/on Tea under North-East Indian Climatic Condition. Bull Environ Contam Toxicol 79, 566–569 (2007). https://doi.org/10.1007/s00128-007-9275-7
Received:

Accepted:

Published:

Issue Date:
Keywords
Napropamide

Made tea

Soil

Residue