Access options
Buy single article
Instant access to the full article PDF.
USD 39.95
Price includes VAT (USA)
Tax calculation will be finalised during checkout.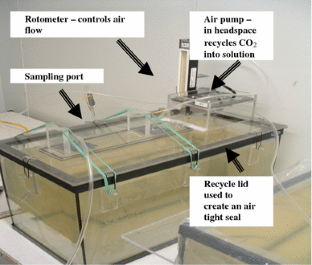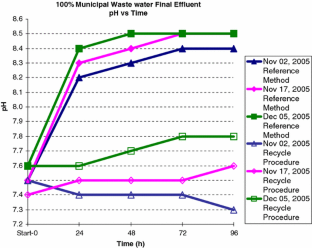 References
Alabaster JS, Herbert DWM, Hemens J (1957) The survival of rainbow trout (Salmo gairdneri Richardson) and perch (Perca Fluviatilis L.) at various concentrations of dissolved oxygen and carbon dioxide. Ann Appl Biol 45:177–188

Alabaster JS, Lloyd R (1980) Water quality criteria for freshwater fish. Butterworth Ltd. London

Elliott GE, Mitchelmore L, Antoniolli W, Kruper N (2003) pH maintenance of chemi-thermo-mechanical pulp mill effluent by CO2 recycling during trout lethality testing. Bull Environ Contam Toxicol 71:1053–1060

Emerson K, Russo RC, Lund RE, Thurston RV (1975) Aqueous ammonia equilibrium calculations: effect of pH and temperature. J Fish Res Board Canada 32:2379–2383

Environment Canada (1990) Guidance document on control of toxicity test precision using reference toxicants. Report EPS 1/RM/12, Ottawa, ON, Canada

Environment Canada (2000) Biological test method: reference method for determining acute lethality of effluents to rainbow trout. Reference method EPS 1/RM/13, Ottawa, ON, Canada

Merkens JC, Downing KM (1957) The effect of tension of dissolved oxygen on the toxicity of un-ionized ammonia to several species of fish. Ann Appl Biol 45:521–527

Mount DR, Mount DI (1992) A simple method of pH control for static and static-renewal aquatic toxicity tests. Environ Toxicol Chem 11:609–614

Schnell A, Dorica J, Ho C, Ashikawa M, Munnoch G, and Hall ER (1990) Anaerobic and aerobic pilot-scale effluent detoxification studies at an integrated newsprint mill. Pulp Paper Canada 91(9):75–80

Servizi, JA, Gordon, RW (1986) Detoxification of TMP and CTMP effluents alternating in a pilot scale aeration lagoon. Pulp Paper Canada 87(11):42–46

Stephan CE (1977) Methods for calculating an LC50. In: Mayer FL, Hamelink JL (eds) Aquatic toxicology and hazard evaluation, ASTM STP 634, American Soc Testing Materials, Philadelphia, p 65–84

Thurston RV, Phillips GR, Russo RC (1981) Increased toxicity of ammonia to rainbow trout (Salmo gairdneri) resulting from reduced concentrations of dissolved oxygen. Can J Aquat Sci 38:983–988
Acknowledgments
The comments and suggestions offered by Dr. J. D. Somers of the Standards Council of Canada, are greatly appreciated. Special thanks are due the staff at Goldbar Treatment Facility, Edmonton, Alberta, for participating in the collection of samples.
About this article
Cite this article
Elliott, G.E., Beaulieu, R., Antoniolli, W. et al. pH Maintenance of Municipal Wastewater Effluent by CO2 Recycling During Trout Lethality Testing. Bull Environ Contam Toxicol 79, 519–523 (2007). https://doi.org/10.1007/s00128-007-9273-9
Received:

Accepted:

Published:

Issue Date:
Keywords
Reference Method

Environment Canada

Median Lethal Concentration

Ammonium Chloride Solution

Warning Limit