Abstract
A microcosm experiment was used to examine the effects of nickel on offshore nematode communities of a Tunisian coastal zone (Southwestern Mediterranean Sea). Sediments were contaminated with three nickel concentrations [low (250 ppm), medium (550 ppm) and high (900 ppm)], and effects were examined after 30 days. Results showed significant differences between nematode assemblages from undisturbed controls and those from nickel treatments. Most univariates measures, including diversity and species richness, decreased significantly with increasing level of Ni contamination. Results from multivariate analyses of the species abundance data demonstrated that responses of nematode species to the nickel treatments were varied: Leptonemella aphanothecae was eliminated at all the nickel doses tested and seemed to be intolerant species to nickel contamination; Daptonema normandicum, Neochromadora trichophora and Odontophora armata which significantly increased at 550 ppm nickel concentration appeared to be "opportunistic" species at this dose whereas Oncholaimus campylocercoides and Bathylaimus capacosus which increased at all doses tested (250, 550 and 900 ppm) seemed to be "nickel-resistant" species.
Access options
Buy single article
Instant access to the full article PDF.
USD 39.95
Price includes VAT (USA)
Tax calculation will be finalised during checkout.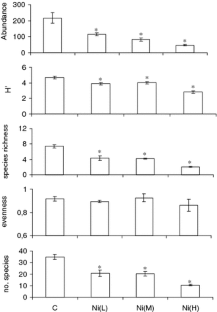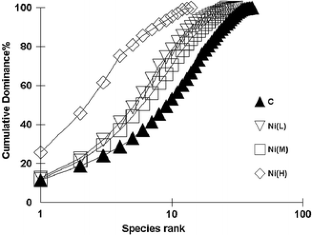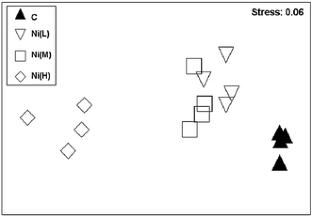 References
Austen MC, McEvoy AJ (1997) The use of offshore meiobenthic communities in laboratory microcosm experiments: response to heavy metal contamination. J Exp Mar Biol Ecol 211:247–261

Austen MC, McEvoy AJ, Warwick RM (1994) The specificity of meiobenthic community responses to different pollutants: results from microcosm experiments. Mar Pollut Bull 28:557–563

Bell SS (1988) Experimental techniques. In: Higgins RP, Thiel H (eds) Introduction to the study of meiofauna, Smithsonian Institute Press, Washington, DC, p 169

Clarke KR (1993) Non-parametric multivariate analyses of changes in community structure. Aust J Ecol 18:117–143

Clarke KR, Warwick RM (2001) Changes in marine communities: an approach to statistical analysis and interpretation, 2nd edn. PRIMER-E: Plymouth, UK

Coull BC, Chandler GT (1992) Pollution and meiofauna: field, laboratory and mesocosm studies. Oceanogr Mar Biol Ann Rev 30:191–271

Denkhaus E, Salnikow K (2002) Nickel essentiality, toxicity, and carcinogenicity. Oncol. Hematol 42:35–56

Garrett RG (2000) Natural sources of metals to the environment. In: Centeno JA, Collery P, Fernet G, Finkelman RB, Gibb H, Etienne J-C (eds) Metal ions in biology and medicine, vol 6. John Libbey Eurotext, Paris, p 508

Gyedu-Ababio TK, Baird D (2006) Response of meiofauna and nematode communities to increased levels of contaminants in a laboratory microcosm experiment. Ecotoxicol Environ Safe 63:443–450

Hedfi A, Mahmoudi E, Essid N, Beyrem H, Aïssa P (2003) Distribution quantitative de la méiofaune d'un milieu fortement anthropisé: le vieux port de Bizerte. Bull INSTM 30:91–100

Hédouin L, Pringault O, Metian M, Bustamante P, Warnau M (2007) Nickel bioaccumulation in bivalves from the New Caledonia lagoon: seawater and food exposure. Chemosphere 66:1449–1457

Kasprzak KS, Sunderman FWJ, Salnikow K (2003) Nickel carcinogenesis. Fund Mol Mecan Mutat 53:67–97

Lambshead PJD, Platt HM, Shaw KM (1983) The detection of difference among assemblages of marine benthic species based on assessment of dominance and diversity. J Nat Hist 17:859–874

Mahmoudi E, Baccar L, Beyrem H, Aïssa P (2002) Response of free-living nematodes to the quality of waters and sediments at Bou Ghrara lagoon (Tunisia) during winter 2000. Medit Mar Sci 2:133–146

Mahmoudi E, Essid N, Beyrem H, Hedfi A, Boufahja F, Vitiello P, Aissa P (2005) Effects of hydrocarbon contamination on a free-living marine nematode community: results from microcosm experiments. Mar Pollut Bull 50:1197–1204

Millward RN, Carmen KR, Fleeger JW, Gambrell RP, Portier R (2004) Mixtures of metals and hydrocarbons elicit complex responses by a benthic invertebrate community. J Exp Mar Biol Ecol 310:115–130

Mulsow S, Povince P, Wyse E, Benmansour M, Sammir B, Cahfik A (2001) Trace elements, heavy metals and Pb isotopic ratios in marine sediments of the South Mediterranean Sea (Morroca). Rapp Comm Int Mer Médit 36:147

Nicolaidou A, Nott JA (1990) Mediterranean pollution from a ferronickel smelter: differential uptake of metals by some gastropods. Mar Pollut Bull 21:137–143

Nicolaidou A, Pancucci MA, Zenetos A (1989) The impact of dumping coarse metalliferous waste on the benthos in Evoikos gulf, Greece. Mar Pollut Bull 20:28–33

Norseth T, Piscator M (1979) Nickel. In: Friberg L, Nordberg GF, Vouk VB (eds) Handbook on the toxicology of metals.Elsevier Biomedical Press, Amsterdam, North-Holland

Platt HM, Warwick RM (1983) Free living marine nematodes. Part I. British Enoplids. Synopses of the British Fauna no 28. Cambridge University Press, Cambridge

Platt HM, Warwick RM (1988) Free living marine nematodes. Part II. British Chromadorids. Synopses of the British Fauna no 38. E.J Brill, Leiden

Rouibah M (2001) Etat de pollution par les métaux lourds dans le port de Djen-Djen et le port de Jijel (Algérie). Rapp Comm Int Mer Médit 36:160

Schratzberger M, Rees HL, Boyd SE (2000) Effects of simulated deposition of dredged material on structure of nematode assemblage-the role of contamination. Mar Biol 137:613–622

Schratzberger M, Wall CM, Reynolds WJ, Reed J, Waldock MJ (2002) Effects of paint-derived tributylin on structure of estuarine nematode assemblage in experimental microcosms. J Exp Mar Bio Ecol 272:217–235

Warwick RM, Carr MR, Clarke KR, Gee JM, Green RH (1988) A mesocosm experiment on the effects of hydrocarbon and copper pollution on a sublittoral soft-sediment meiobenthic community. Mar Ecol Prog Ser 46:181–191

Warwick RM, Platt HM, Somerfield PJ (1998) Free living marine nematodes. Part III. British Monhysterida. Synopses of the British fauna no 53. Field Studies Council, Shrewsbury

Wieser W (1960) Benthic studies in Buzzards Bay. II. The meiofauna Limnol Oceanogr 5:121–137

Yoshida M, Hamdi H, Abdulnasser I, Jedidi N (2004) Contamination of potentially toxic elements (PTEs) in Bizerte lagoon bottom sediments, surface sediment and sediment repository. In: Ghrabi A, Yoshida M (eds) Study on environmental pollution of Bizerte Lagoon. INRST-JICA Press, Tunisa, p 31
Acknowledgments
This work was funded by the MSRTCD (Ministry of Scientific Research, Technology and Competency Development).
About this article
Cite this article
Hedfi, A., Mahmoudi, E., Boufahja, F. et al. Effects of Increasing Levels of Nickel Contamination on Structure of Offshore Nematode Communities in Experimental Microcosms. Bull Environ Contam Toxicol 79, 345–349 (2007). https://doi.org/10.1007/s00128-007-9261-0
Received:

Accepted:

Published:

Issue Date:
Keywords
Free living nematodes

Sediment

Nickel

Contamination

Microcosms