Abstract
This study was conducted to assess the influence of suspended solids, dissolved organic carbon, and phytoplankton (as chlorophyll a) water quality characteristics on λ-cyhalothrin and γ-cyhalothrin aqueous toxicity to Hyalella azteca using natural water from 12 ponds and lakes in Mississippi, USA with varying water quality characteristics. H. azteca 48-h immobilization EC50 values ranged from 1.4 to 15.7 ng/L and 0.6 to 13.4 ng/L for λ-cyhalothrin and γ-cyhalothrin, respectively. For both pyrethroids, EC50 values linearly increased as turbidity, suspended solids, dissolved organic carbon and chlorophyll a concentrations increased.
Access options
Buy single article
Instant access to the full article PDF.
USD 39.95
Price includes VAT (USA)
Tax calculation will be finalised during checkout.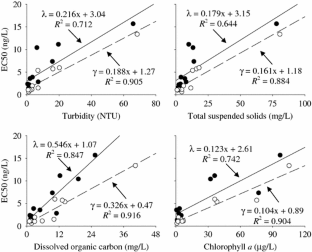 References
American Public Health Association (APHA) (1998) Standard methods for the examintaion of water and wastewater, 20th edn. Washington, DC

Barry MJ, Logan DC, Ahokas JT, Holdway DA (1995) Effect of algal food conentration on toxicity of two agricultural pesticides to Daphnia carinata. Ecotox Environ Saf 32:273–279

Bennett ER, Moore MT, Cooper CM, Smith S (2000) Method for the simultaneous extraction and analysis of two current use pesticides, atrazine and lamda-cyhalothrin, in sediment and aquatic plants. Bull Environ Contam Toxicol 64:825–833

Day K (1991) Effects of dissolved organic carbon on accumulation and acute toxicity of fenvalerate, deltamethrin and cyhalothrin to Daphnia magna (Straus). Environ Toxicol Chem 10:91–101

de March BGE (1981) Hyalella azteca (Saussure). In: Lawrence SG (ed) Manual for the culture of selected freshwater invertebrates. Can Spec Publ Fish Aquat Sci 54:61–77

Dodds WK (2002) Freshwater ecology: concepts and environmental applications. Academic, New York

Frederiksen HK, Kristensen HG, Pedersen M (2003) Solid lipid microparticle formulations of the pyrethroid gamma-cyhalothrin – incompatibility of the lipid and the pyrethroid and biological properties of the formulations. J Control Release 86:243–252

Leistra M, Zweers AJ, Warinton JS, Crum SJH, Hand LH, Beltman WHJ, Maund SJ (2003) Fate of the insecticide lambda-cyhalothrin in ditch enclosures differing in vegetation density. Pest Manage Sci 60:75–84

Liu W, Gan JJ, Lee S, Kabashima JN (2004) Phase distribution of synthetic pyrethroids in runoff and stream water. Environ Toxicol Chem 23:7–11

Maund SJ, Hamer MJ, Warinton JS, Kedwards TJ (1998) Aquatic ecotoxicology of the pyrethroid insecticide lambda-cyhalothrin: considerations for higher-tier aquatic risk assessment. Pestic Sci 54:408–417

Maund SJ, Hamer MJ, Lane MCG, Farrelly E, Rapley JH, Goggin UM, Gentle WE (2002) Partitioning, bioavailability, and toxicity of the pyrethroid insecticide cypermethrin in sediments. Environ Toxicol Chem 21:9–15

Mokry LE, Hoagland KD (1990) Acute toxicities of five synthetic pyrethroid insecticides to Daphnia magna and Ceriodaphnia dubia. Environ Toxicol Chem 9:1045–1051

Schroer AFW, Belgers JDM, Brock TCM, Master AM, Maund SJ, Van den Brink PJ (2004) Comparison of laboratory single species and field population-level effects of the pyrethroid insecticide λ-cyhalothrin on freshwater invertebrates. Arch Environ Contam Toxicol 46:324–335

Smith S, Cooper CM (2004) Pesticides in shallow groundwater and lake water in the Mississippi Delta MSEA. In: Nett M, Locke M, Pennington D (eds) Water quality assessments in the Mississippi delta: regional solutions, national scope. ACS Symposium Series 877, American Chemical Society. Oxford University Press, New York, p 284

Steel RGD, Torrie JH Dickey DA (1997) Principles and procedures of statistics: a biometrical approach. McGraw-Hill, New York, p 665

US Environmental Protection Agency (USEPA) (1994) Methods for measuring the toxicity and bioaccumulation of sediment-associated contaminants with freshwater invertebrates. EPA 600/R-94/024

Wheelock CE, Miller JL, Miller MJ, Phillips BM, Gee SJ, Tjeerdema RS, Hammock BD (2005) Influence of container adsorption upon observed pyrethroid toxicity to Ceriodaphnia dubia and Hyalella azteca. Aquat Toxicol 74:47–52

Yang W, Gan J, Hunter W, Spurlock F (2006a) Effect of suspended solids on bioavailablity of pyrethroid insecticides. Environ Toxicol Chem 25:1585–1591

Yang W, Spurlock F, Liu W, Gan J (2006b) Effects of dissolved organic matter on permethrin bioavailability to Daphnia species. J Agric Food Chem 54:3967–3397
Acknowledgments
Appreciation is extended to L. Brooks, A. Delmastro, J. Hill, and C. Bryant for technical and analytical assistance as well as M. Moore, L. Southwick, and J. Bouldin for providing valuable comments while reviewing an earlier version of the manuscript. Mention of equipment, software or chemicals does not constitute an endorsement for use by the US Department of Agriculture nor does it imply pesticide registration under FIFRA as amended. All programs and services of the USDA are offered on a non-discriminatory basis without regard to race, color, national origin, sex, marital status, or handicap.
About this article
Cite this article
Smith, S., Lizotte, R.E. Influence of Selected Water Quality Characteristics on the Toxicity of λ-Cyhalothrin and γ-Cyhalothrin to Hyalella azteca . Bull Environ Contam Toxicol 79, 548–551 (2007). https://doi.org/10.1007/s00128-007-9253-0
Received:

Accepted:

Published:

Issue Date:
Keywords
λ-Cyhalothrin

γ-Cyhalothrin

Toxicity

Phytoplankton