Abstract
Insects inhabiting contaminated areas show increased susceptibility to other stressors, the purpose of this study was to investigate whether this phenomenon had a genetic basis. We investigated changes in susceptibility to food deprivation and insecticide (dimethoate) treatment of the ground beetle Pterostichus oblongopunctatus originating from four populations situated along a metal pollution gradient. To determine whether the increased susceptibility to additional stressors found in field-exposed animals from chronically metal-polluted sites had a genetic basis, our research was conducted on the second generation of laboratory-reared animals. There was no difference in susceptibility to the additional stressors indicating that the differences between populations observed in earlier studies do not have a genetic basis.
Access options
Buy single article
Instant access to the full article PDF.
USD 39.95
Price includes VAT (USA)
Tax calculation will be finalised during checkout.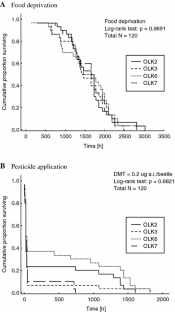 References
Gehan EA, Thomas DG (1969) The performance of some two sample tests in small samples with and without censoring. Biometrika 56:127–132

Holmstrup M (1997) Drought tolerance in Folsomia candida Willem (Collembola) after exposure to sublethal concentrations of three soil-polluting chemicals. Pedobiologia 41:361–368

Holmstrup M, Bayley M, Sjursen H, Højer R, Bossen S, Friis K (2000) Interactions between environmental pollution and cold tolerance of soil invertebrates: a neglected field of research. Cryo Lett 21:309–314

Klerks PL, Levinton JS (1989) Effects of heavy metals in a polluted aquatic ecosystem. In: Kelly JR, Kimball KD (eds) Ecotoxicology: problems and approaches. Springer, New York, pp 41–67

Lagisz M, Kramarz P, Laskowski R, Tobor M (2002). Population parameters of the beetle Pterostichus oblongopunctatus F. from metal contaminated and reference areas. Bull Environ Contam Toxicol 69:243–249

Lagisz M, Kramarz P, Niklińska M (2005) Metal kinetics and respiration rates in F1 generation of carabid beetles (Pterostichus oblongopunctatus F.) originating from metal-contaminated and reference areas. Arch Environ Contam Toxicol 48:484–489

Mantel N (1966) Evaluation of survival data and two new rank order statistics arising in its consideration. Cancer Chemother Rep 50:163–170

Mousseau TA, Fox CW (1998) The adaptive significance of maternal effects. TREE 13:403–407

Mozdzer T, Kramarz P, Piśkiewicz A, Niklińska M (2003) Effects of cadmium and zinc on larval growth and survival in the ground beetle, Pterostichus oblongopunctatus. Environ Int 28:737–742

Posthuma L, van Straalen NM (1993) Heavy-metal adaptation in terrestrial invertebrates—a review of occurrence, genetics, physiology and ecological consequences. Comp Biochem Physiol C106:11–38

Stone D, Jepson P, Kramarz P, Laskowski R (2001) Time to death response in carabid beetles exposed to multiple stressors along a gradient of heavy metal pollution. Environ Pollut 113:239–244

Van Straalen NM, Hoffmann AA (2000) Review of experimental evidence for physiological costs of tolerance to toxicants. In: Kammenga J, Laskowski R (eds) Demography in ecotoxicology. Wiley, New York, pp 147–161

Walker CH, Hopkin SP, Sibly RM, Peakall DB (eds) (1996) Principles of ecotoxicology. Taylor and Francis, London
Acknowledgments
We thank Maria Niklińska, Maciej Maryański, Piotr Zygmunt and Paulina Kramarz for their invaluable help in field and laboratory. Gordon Port helped improve the manuscript. Financial support was provided by the National Committee for Scientific Research (Grant No 6 PO4F 043 18) and the Jagiellonian University.
About this article
Cite this article
Lagisz, M., Laskowski, R. Susceptibility of a Carabid Beetle, Pterostichus oblongopunctatus Fab., from a Gradient of Heavy Metal Pollution to Additional Stressors. Bull Environ Contam Toxicol 79, 504–507 (2007). https://doi.org/10.1007/s00128-007-9248-x
Received:

Accepted:

Published:

Issue Date:
Keywords
Metal pollution

Multiple stress susceptibility