Access options
Buy single article
Instant access to the full article PDF.
USD 39.95
Price includes VAT (USA)
Tax calculation will be finalised during checkout.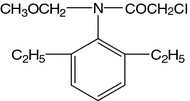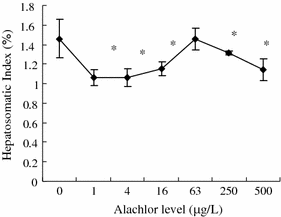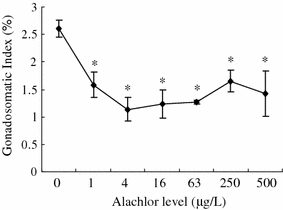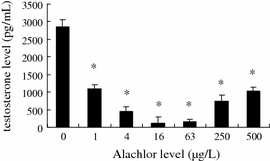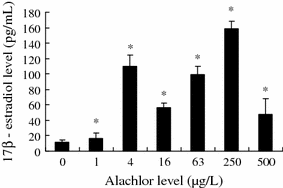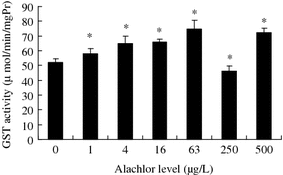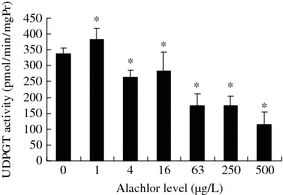 References
Andersson T, Forlin L (1992) Regulation of the cytochrome P450 enzyme system in fish. Aquat Toxicol 24:1–20

Andersson T, Forlin L, Hardig J, Larsson A (1988) Physiological disturbances in fish living in coastal water polluted with bleached kraft pulp mill effluents. Can J Fish Aquat Sci 45:1525–1536

Ankley G, Mihaich E, Stahl R, Tillitt D, Colborn T et al. (1998) Overview of a workshop on screening methods for detecting potential (anti-)estrogenic/androgenic chemicals in wildlife. Environ Toxicol Chem 17:68–87

Baldwin SW, Leblanc AG (1994) In vivo biotransformation of testosterone by phase I and II detoxication enzymes and their modulation by 20-hydroxyecdysome in Daphnia magna. Aquat Toxicol 29:105–117

Barceló D, Chiron S, Fernandez-Alba A, Valverde A, Alpendurada MF (1996) Monitoring pesticides and metabolites in surface water and groundwater in Spain. ACS Symp Ser 630:237–253

Bonfanti M, Taverna P, Chiappetta L, Villa P, D'Incalci M, Bagnati R, Fanelli R (1992) DNA damage induced by alachlor after in vitro activation by rat hepatocytes. Toxicology 72:207–219

Bradford MM (1976) A rapid and sensitive method for the quantitation of microgram quantities of protein utilizing the principle of protein-dye binding. Anal Biochem 72:248–254

Chesters G, Simsiman GV, Levy J, Alhajjar BJ, Rathulla RN, Harkin JM (1989) Environmental fate of alachlor and metolachlor. Rev Environ Contam Toxicol 110:1–74

Colborn T, Saal FSV, Soto AM (1993) Developmental effects of endocrine-disrupting chemicals in wildlife and humans. Environ Health Perspect 101:378–384

Donaldson D, Kiely T, Grube A (2002) Pesticide industry sales and usage: 1998 and 1999 market estimates. Environmental Protection Agency, Washington

Gammon DW, Aldous CN, Carr WC, Sanborn JR, Pfeifer KF (2005) A risk assessment of atrazine use in California: human health and ecological aspects. Pest Manag Sci 61:331–335

Habig WH, Pabst MJ, Jakoby WB (1974) Glutathione S-transferases. The first enzymatic step in mercapturic acid formation. J Biol Chem 249:7130–7139

Hayes WJ Jr, Laws ER Jr (1991) Handbook of pesticide toxicology, vol. 3. Classes of pesticides. Academic, New York

Hayes JD, Pulford DJ (1996) The glutathione S-transferase supergene family: regulation of GST and the contribution of the isoenzymes to cancer chemoprotection and drug resistance. CRC Crit Rev Biochem Mol Biol 30:445–600

Huggett RT, Kimerle AR, Mehrie MP, Bergman LH (1992) Biomarkers: biochemical, physiological, and histopathologicalmarkers of anthropogenic stress. Lewis Publishers, USA

Meisner LF, Belluck DA, Roloff BD (1992) Cytogenetic effects of alachlor and/or atrazine in vivo and in vitro. Environ Mol Mutagen 19:77–82

Owens IS (1977) Genetic regulation of UDP glucuronosyltransferase induction by polycyclic aromatic compounds in mice. J Biol Chem 252:2827–2833

Qian Y, Yin D, Li Y, Wang J, Zhang M, Hu S (2004) Effects of four chlorobenzenes on serum sex steroids and hepatic microsome enzyme activities in crucian carp, Carassius auratus. Chemosphere 57:127–133

Ramesh A, Maheswari ST (2004) Dissipation of alachlor in cotton plant, soil and water and its bioaccumulation in fish. Chemosphere 54:647–652

Spalding RF, Exner ME, Snow DD, Casada DA, Burbach ME, Monson SJ (2003) Herbicides in ground water beneath Nebraska's management systems evaluation area. J Environ Qual 32:92–99

United States Environmental Protection Agency Office of Pesticide Programs (1985) Special review of certain pesticide products—alachlor (Document no. PB85-175503). Springfield, VA, USA

Zhang JF, Liu H, Sun YY, Wang XR, Wu JC, Xue YQ (2005) Responses of the antioxidant defenses of the Goldfish Carassius auratus, exposed to 2, 4-dichlorophenol. Environ Toxicol Pharmacol 19:185–190
Acknowledgments
Funding for this study is provided by National Natural Science Foundation of China (project no. 20577033) and National Key Basic Research Program of China (project no. 2004CB418503).
About this article
Cite this article
Yi, X.H., Liu, H.H., Lu, Y.T. et al. Altered Serum Levels of Sex Steroids and Biotransformation Enzyme Activities by Long-term Alachlor Exposure in Crucian Carp (Carassius auratus). Bull Environ Contam Toxicol 79, 283–287 (2007). https://doi.org/10.1007/s00128-007-9245-0
Received:

Accepted:

Published:

Issue Date:
Keywords
Crucian Carp

Serum Testosterone Level

Alachlor

CDNB

Hepatic Microsome Enzyme