Abstract
Acute and chronic effects of insecticide-endosulfan on the survival and reproduction performance of Moina macrocopa were determined in a laboratory study. Endosulfan concentrations that cause 50% mortality (LC50) after exposure for 24 and 48 h were 3.34 and 0.16 mg L−1, respectively. Average longevity, initial age of reproduction and intrinsic rate of natural increase were reduced at 0.002 mg L−1. Fecundity was greatly reduced by about 70% at 0.0004 mg L−1 and approximately 97% at 0.002 mg L−1 as compared to control organisms throughout the whole life span of 15 days. If environmental concentration of endosulfan do not exceed 0.0004 mg L−1, application of this insecticide is unlikely to induce detrimental effects on these cladoceran populations in agro-ecosystem.
Access options
Buy single article
Instant access to the full article PDF.
USD 39.95
Price includes VAT (USA)
Tax calculation will be finalised during checkout.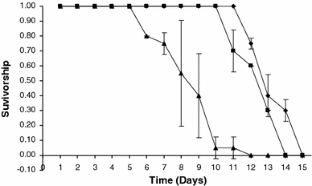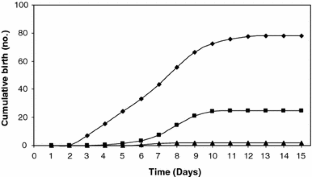 References
APHA (1985) Standard methods for the examination of water and wastewater, 16th Edn. American Public Health Association, Washington, DC

Barry MJ, Logan DC, Ahokas JT, Holdway DA (1995) The effects of algal food concentration on toxicity of two agricultural pesticides to Dapnia carinata. Ecotoxicol Environ Saf 32:273–279

Chu KH, Wong CK, Chiu KC (1997) Effect of the insect growth regulator(S)-Methoprene on survival and reproduction of the freshwater cladoceran Moina Macrocopa. Environ Pollut 96:173–178

Cheah UB, Lum KY (1998) Pesticide residues and microbial contamination of water resources in the Muda Rice agroecosystem. In: Nashriyah BM, NK Ho BS Ismail AB Ali KY Lum (eds) Rice agroecosystem of the muda irrigation scheme, Malaysia. MINT-MADA, Malaysia, p256

EJF (2002) End of the road for endosulfan: A call for action against a dangerous pesticide. Environmental Justice Foundation, London

Fernandez-Casalderry A, Ferrando MD, Andreu-Moliner E (1993) Effects of endosulfan on survival, growth and reproduction of Daphnia magna. Compr Biochem Physiol 106:437–441

Ferrando MD, Andreu-Moliner E, Fernandez-Casalderrey A (1992) Relative sensitivity of Daphnia magna and Brachionus calyciflorus to five pesticides. J Environ Sci Health B27(5):511–522

Hanazota T (1998) Response of a zooplankton community to insecticide application in experimental ponds: a review and the implications of the effects of chemicals on the structure and functioning of freshwater communities. Environ Pollut 101:361–373

Krebs DJ (1985) The experimental analysis of distribution and abundance. Harper and Row, New York

Lotka AJ (1913) A natural population norm. J Wash Acad Sci 3: 241–293

Seethi KM, Reghunathan M (2002) Effect of endosulfan (online). Mahatma Gandhi University, India, http://www.keralamonitor.com/endosulfan.html

Sunderam RIM, Thompson GB, Chapman JC, Cheng DMH (1994) Acute and chronic toxicity of endosulfan to two australian cladocerans and their applicability in deriving water quality criteria. Arch Environ Contam Toxicol 27(4): 541–545

Tan BLL, Mustafa AM (2003) Analysis of selected pesticides and alkylphenols in human cord blood by gas chromatograph–mass spectrometer. Talanta 61:385–391

Van Leeuwen CJ, Luttmer WJ, Griffieon PS (1985) The use of cohorts and populations in chronic toxicity studies with Daphnia magna: a cadmium example. Ecotoxicol Environ Saf 9:26–39

Wirth EF, Lund SA, Fulton MH, Scott GI (2002) Reproductive alteration in adult grass shrimp, Palaemonetes pugio, following sub-lethal, chronic endosulfan exposure. Aqua Toxicol 59:93–99

Wong CK, Chu KH, Shum FF (1995) Acute and chronic toxicity of malathion to the freshwater cladoceran Moina macrocopa. Water Air Soil Pollut 84:399–405

Wong CK (1993) Effects of chromium, copper, nickel, and zinc on longevity and reproduction of the cladoceran Moina macrocopa. Bull Environ Contam Toxicol 50:633–639
Acknowledgments
This research was funded by UMT fundamental research grant 54152. We would like to express our appreciation to Prof Dr Wong Chong Kim from The Chinese University of Hong Kong for his technical assistance.
About this article
Cite this article
Chuah, T.S., Loh, J. & Hii, Y.S. Acute and Chronic Effects of the Insecticide-Endosulfan on Freshwater Cladoceran, Moina macrocopa Straus. Bull Environ Contam Toxicol 79, 557–561 (2007). https://doi.org/10.1007/s00128-007-9234-3
Received:

Accepted:

Published:

Issue Date:
Keywords
Endosulfan

Moina macrocopa

reproduction

survivorship