Abstract
Arsenic contamination of ground water is well understood while other environmental systems are rarely considered to be contaminated by arsenic. A vital issue is whether or not appreciable arsenic transmits through the food chain. Reportedly, ayurvedic herbal medicine products (AHMPs) manufactured in Asia were found to be contaminated by harmful level of Arsenic. This study was aimed to quantify the arsenic levels in water, herbal and soil samples collected from the same origin using highly accurate neutron activation analysis (NAA) technique. Harmful level of arsenic was detected in most of the water and soil samples. Moreover, a considerably harmful level of Arsenic was detected in herbal samples collected from the same origin. As a result, AHMPs manufactured in Asia might be contaminated by arsenic through arsenic contaminated herb plants.
Access options
Buy single article
Instant access to the full article PDF.
USD 39.95
Price includes VAT (USA)
Tax calculation will be finalised during checkout.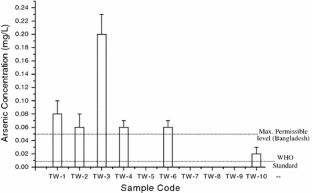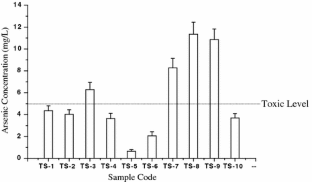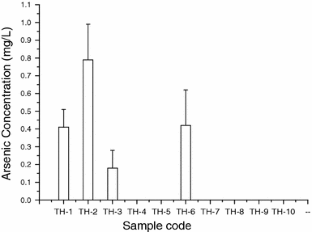 Refernces
Alaerts G, Khouri N, Kabir B (2001) Strategies to mitigate arsenic contamination of water supply. In: Arsenic in Drinking Water. United Nations Synthesis Report on Arsenic in Drinking Water.http://www.who.int/water_sanitation_health/dwq/arsenicun8.pdf

Alam MG, Snow ET, Tanaka A (2003) Arsenic and heavy metal contamination of vegetables grown in Samta village, Bangladesh. Sci Total Environ 308:83–96

Alfassi ZB (1994) Chemical analysis by nuclear methods. Wiley, New York, pp 120–122

Bangladesh Arsenic Mitigation Water Supply Project (BAMWSP) (2006) Available: http://www.bamwsp.org

BGS (British Geological Survey) (1998) Groundwater studies for arsenic contamination in Bangladesh, phase-1 findings. http://www.bgs.ac.uk/arsenic/bphase1/B_find.htm

Chatterjee A, Das D, Chakraborti K (1993) A study of groundwater contamination by arsenic in the residential area of Behala, Calcutta, due to industrial pollution. Environ Pollut 80:57–65

Chowdhury UK, Biswas BK, Chowdhury TR, Samanta G, Mandal BK, Basu GC et al (2000) Groundwater arsenic contamination in Bangladesh and West Bengal, India. Environ Health Perspect 108:393–397

Dhaka Community Hospital Trust (2005) Arsenic problem in Bangladesh. Available: http://www.dchtrust.org/arsenic_problem.htm

IAEA TECDOC-1215, "Use of research reactors for neutron activation analysis", Vienna, 22–26 June 1998

Josephson J (2002) The slow poisoning of Bangladesh: metals in drinking water. Environ Health Perspect 110:A690–A691

Matsui M, Nishigori C, Toyokuni S, Takada J, Akaboshi M, Ishikawa M, et al (1999) The role of oxidative DNA damage in human arsenic carcinogenesis: detection of 8-hydroxy-2´-deoxyguanosine in arsenic-related Bowen's disease. J Invest Dermatol 113:26–31

Saper RB et al (2004) Heavy metal content of Ayurvedic herbal medicine products. JAMA 292:2868–2873

Schmitt S, Ahting U, Eichacker L, Granvogl B, Go NE, Nargang FE, Neupert W, Nussberger S (2005) Role of Tom5 in maintaining the structural stability of the TOM complex of mitochondria. J Biol Chem 280:14499–14506

Smith AH, Lingas EO, Rahman M (2000) Contamination of drinking-water by arsenic in Bangladesh: a public health emergency. Bull WHO 78:1093–1103

US EPA (1993) Drinking Water Regulations and Health Advisories. Washington, DC: US Environmental Protection Agency, Health and Ecological Criteria Division

WHO (1990) African Traditional Medicine AFRO technical report series, no. 1, 1976; In: Abdul Ghani (ed) Abdul Ghani, traditional medicine (origin, practice and state-of-the art). Traditional medicine (Jahangirnagar University, Savar, Dhaka

WHO (1992) Guideline for drinking water quality, recommendation, vol 1. 2nd edn. World Health Organization, Geneva, p 41

Zhuang G, Zhou Y, Lu H, Lu W, Zhou M, Wang Y, Tan M (1996) Concentration of rare earth elements, As, and Th in human brain and brain tumors, determined by neutron activation analysis. Biol Trace Elem Res 53(1–3):45–49
Acknowledgments
The authors would like to thank the Bangladesh Atomic Energy Commission (BAEC) for allowing the experiment to be conducted in their laboratories; and the Department of Physics of Jahangirnagar University, Bangladesh for the financial assistance in collecting the samples. Thanks are also due to Professor M. Dilder Hossain and Dr F M Amirul Islam for their critical review of the manuscript.
About this article
Cite this article
Islam, M.T., Islam, S.A. & Latif, S.A. Detection of Arsenic in Water, Herbal and Soil Samples by Neutron Activation Analysis Technique. Bull Environ Contam Toxicol 79, 327–330 (2007). https://doi.org/10.1007/s00128-007-9209-4
Received:

Accepted:

Published:

Issue Date:
Keywords
Arsenic

Herbal

Neutron activation analysis (NAA) technique