Abstract
The levels of 13 organochlorine pesticides (OCPs) were measured in breast milk from 87 Tunisian mothers throughout their lactation periods. Breast milk levels of OCP residues were determined using a validated methodology that included capillary column gas chromatography with electron-capture detection. All samples contained detectable residues of p,p′-DDE (2.421 mg/kg milk fat) and HCB (0.260 mg/kg milk fat). The other OCP residues were detected in the following order of frequency: Dieldrin 38%, β-HCH 22.9% and γ-HCH 6.8%. It was made an attempt to point out the relationship between some factors and the transfer of OCP residues into breast milk. In this study we found that concentrations of OCPs increased with mothers' age, these levels decreased with the number of children.
Access options
Buy single article
Instant access to the full article PDF.
USD 39.95
Price includes VAT (USA)
Tax calculation will be finalised during checkout.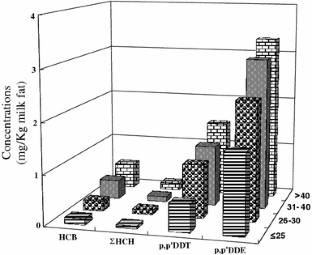 References
Čajka T, Hajšlová J (2003) Polychlorinated biphenyls and organochlorine pesticides in human milk from the locality Prague, Czech Republic: a comparative study. Bull Environ Contam Toxicol 70:913–919

Çok I, Karakaya AE, Afkham BL, Burgaz S (1999) Organochlorine pesticide contaminants in human milk samples collected in Tebriz (Iran). Bull Environ Contam Toxicol 63:444–450

Czaja K, Ludwicki JK, Góralczyk K, Struciński P (1997) Effect of age and number of deliveries on mean concentration of organochlorine compounds in human breast milk in Poland. Bull Environ Contam Toxicol 59:407–413

Czaja K, Ludwicki JK, Góralczyk K, Struciński P (2001) Relationship between two consecutive lactations and fat level in persistent organochlorine compound concentrations in human breast milk. Chemosphere 43:889–893

DeVoto E, Kohlmeier L, Heeschen W (1998) Some dietary predictors of plasma organochlorine concentrations in an elderly German population. Arch Environ Health 53:147–155

Driss MR, Bouguerra ML (1987) Détermination rapide des résidus de polychlorobiphényles (PCB) et de pesticides organochlorés dans les œufs. Application à une série d'œufs de faucon. Analusis 15:361–365

Driss MR, Zafzouf M, Sabbah S, Bouguerra ML (1994) Simplified procedure for organochlorine pesticide residues analyses in honey. Inter J Environ Anal Chem 57:63–71

Ejobi F, Kanja LW, Kyule MN, Müller P, Krüger J, Latigo AAR (1996) Organochlorine pesticide residues in mothers' milk in Uganda. Bull Environ Contam Toxicol 56:873–880

Gòmez-Catalán J, To-Figueras J, Planas J, Rodamilans M, Corbella J (1987) Pentachlorophenol and hexachlorobenzene in serum and urine of the population of Barcelona. Human Toxicol 6:397–400

Iscan M, Coban T, Cok I, Bulbul D, Eke BC, Burgaz S (2002) The organochlorine pesticide residues and antioxidant enzyme activities in human breast tumors: is there any association? Breast Cancer Res Treat 72:173–182

Kalantzi OI, Martin FL, Thomas GO, Alcock RE, Tang HR, Drury SC, Carichael PL, Nicolson JK, Jones KC (2004) Different levels of polybrominated diphenyl ethers (PBDEs) and chlorinated compounds in breast milk from two UK regions. Environ Health Perspect 112:1085–1091

Konishi Y, Kuwabara K, Hori S (2001) Continuous surveillance of organochlorine compounds in human breast milk from 1972 to 1998 in Osaka, Japan. Arch Environ Contam Toxicol 40:571–578

Longnecher MP, Klebanoff MA, Zhou H, Brock JW (2001) Association between maternal serum of the DDT metabolite DDE and preterm and small-for-gestational-age babies at birth. Lancet 358:110–114

Norén K (1983) Some aspects of the determination of organochlorine contaminants in human milk. Arch Environ Contam Toxicol 12:277–283

Norén K, Meironyté D (2000) Certain organochlorine and organochloine contaminants in Swedish human milk in perspective of past 20–30 years. Chemosphere 40:1111–1123

Safi JM (2002) Association between chronic exposure to pesticides and recorded cases of human malignancy in Gaza Governorates (1990–1999). Sci Total Environ 284:75–84

Sabbah S, Bouguerre ML (1997) Organochlorine pesticides in cow's milk from Tunisie. Fresenius Environ Bull 7–8:359–364

Sabbah S, Jemaa Z, Bouguerra ML (1987) Etude chromatographique des résidus de pesticides organochlorés dans le lait maternel, le sang de cordon et le sang d'adulte. Analusis 15:399–403

Schanler RJ, Shulman RJ, Lau C (1999) Feeding strategies for premature infants: beneficial outcomes of feeding fortified human milk versus preterm formula. Pediatrics 103:1150–1157

Stuetz W, Prapamontol T, Erhardt JG, Classen HG (2001) Organochlorine pesticide residues in human milk of a hmong hill tribe living in Northern Thailand. Sci Total Environ 273:53–60

Vos JG, Dybing E, Greim HA, Ladefoged A, Lambré C, Tarazona JV, Brandt I, Vethaak AD (2000) Health effects of endocrine-disrupting chemicals on wildlife, with special reference to the European situation. Critical Rev Toxicol 30:71–133

Waliszewski SM, Aguirre AA, Infanzon RM, Benitez A, Rivera J (1999) Comparison of organochlorine pesticide levels in adipose tissue and human milk of mothers living in Veracruz, Mexico. Bull Environ Contam Toxicol 62:685–690

Wong CK, Leung KM, Poon BH, Lan CY, Wong MH (2002) Organochlorine hydrocarbons in human breat milk collected in Hong Kong and Guangzhou. Arch Environ Contam Toxicol 43:364–372
About this article
Cite this article
Ennaceur, S., Gandoura, N. & Driss, M.R. Organochlorine Pesticide Residues in Human Milk of Mothers Living in Northern Tunisia. Bull Environ Contam Toxicol 78, 325–329 (2007). https://doi.org/10.1007/s00128-007-9185-8
Received:

Accepted:

Published:

Issue Date:
Keywords
Organochlorine pesticides

Breast milk

Breast-feeding

Tunisia