Access options
Buy single article
Instant access to the full article PDF.
USD 39.95
Price includes VAT (USA)
Tax calculation will be finalised during checkout.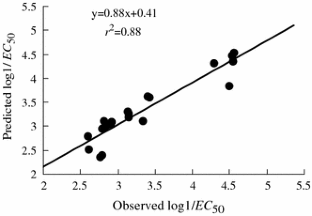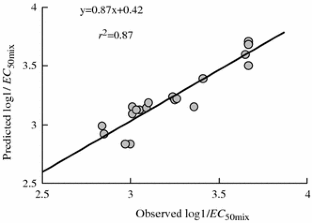 References
Cronin MTD, Schultz TW (1996) Structure–toxicity relationships for phenols to Tetrahymena pyriformis. Chemosphere 32:1453–1468

Huang H, Wang X, Shao Y, Chen D, Dai X, Wang L (2003) QSAR for prediction of joint toxicity of substituted phenols to tadpoles (Rana japonica). Bull Environ Contam Toxicol 71:1124–1130

Kamlet MJ, Doherty RM, Taft RW, Abraham MH (1986) Solubility properties in polymers and biological media: 7. An analysis of toxicant properties that influent inhibition of bioluminescence in Photobacterium phosphoreum (The Microtox Test). Environ Sci Technol 20:690–695

Köneman H, Musch A (1981) Quantitative structure–activity relationships in fish toxicity studies Part 2: The influence of pH on the QSAR of chlorophenols. Toxicology 19:223–228

Lu GH, Yuan X, Wang C (2003) Quantitative structure–toxicity relationships for substituted aromatic compounds to Vibrio fischeri. Bull Environ Contam Toxicol 70:832–838

Lu GH, Yuan X, Zhao YH (2001) QSAR study on the toxicity of substituted benzenes on the algae (Scenedesmus obliquus) . Chemosphere 44:437–440

Mayer FL, Hamelink JL (1977) Aquatic toxicology and hazard evaluation. Philadelphia: ASTM STP 634 Publication, 99–108

Mielczarek C (2005) Acid–base properties of selected flavonoid glycosides. Eur J Pharmaceut Sci 25:273–279

Netzeva TI, Dearden JC, Edwards R, Worgan ADP, Cronin MTD (2004) Toxicological evaluation and QSAR modeling of aromatic amines to Chlorella vulgaris. Bull Environ Contam Toxicol 73:385–391

OECD (1981) Test guideline 201. Paris Decision of the Council C 81:320–323

Placket RL, Hewlett PS (1967) A comparison of two approaches to the construction of models for quantal response to mixtures drugs. Biometrics 23:27–44

Preston S, Coad N, Townend J, Killham K, Paton GI (2000) Biosensing the acute toxicity of metal interactions: Are they additive, synergistic, or antagonistic? Environ Toxicol Chem 19:775–780

Ren S, ASCE M, Frymier PD (2003) Toxicity estimation of phenolic compounds by bioluminescent bacterium. J Environ Eng 129: 328–335

Schultz TW, Holcombe TW, Phipps GL (1986) Relationships of quantitative structure–activity to comparative toxicity of selected phenols in the Pimephales promelas and Tetrahymena pyriformis test systems. Ectotoxicol Environ Saf 12:146–153

Schultz TW, Wesley SK, Baker LL (1989) Structure–activity relationships for di and tri alkyl and/or halogen substituted phenols. Bull Environ Contam Toxicol 43:192–198

Xu S, Nirmalakhandan N (1998) Use of QSAR models in predicting joint effect in multicomponent mixtures of organic chemicals. Water Research 32:2391–2399

Yan XF, Xiao HM, Gong XD, Ju XH (2006) A comparison of semiempirical and first principle methods for establishing toxicological QSARs of nitroaromatics. J Mol Structure: Theochem 764:141–148

Yuan X, Lu GH, Zhao JS (2002) QSAR study on the joint toxicity of 2,4-dinitrotoluene with aromatic compounds to Vibrio Fischeri. J Environ Sci Health A 37:573–578
Acknowledgments
This research was funded by the New Century Excellent Talent (2005) of the Ministry of Education of China, the National "973" Great Foundation Research Item, and the National Natural Science Foundation of China.
About this article
Cite this article
Lu, G.H., Wang, C., Tang, Z.Y. et al. Quantitative Structure–Activity Relationships for Predicting the Joint Toxicity of Substituted Anilines and Phenols to Algae. Bull Environ Contam Toxicol 78, 107–111 (2007). https://doi.org/10.1007/s00128-007-9070-5
Keywords
Aniline

Binary Mixture

Scenedesmus Obliquus

Substitute Aniline

Joint Toxicity