Access options
Buy single article
Instant access to the full article PDF.
USD 39.95
Price includes VAT (USA)
Tax calculation will be finalised during checkout.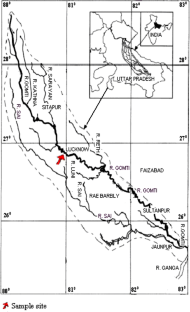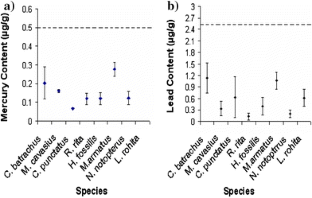 References
Altindag A, Yigit S (2005) Assessment of heavy metal concentrations in the food web of lake Beysehir, Turkey. Chemosphere 60:552–556

Ayyadurai K, Krishnasamy V (1989) Total mercury concentration in fresh water, sediment, and fish. J Environ Biol 10:165–171

Canli M, Kalay M, Ay O (2001) Metal (Cd, Pb, Cu, Zn, Fe, Cr, Ni) concentrations in tissues of a fish Sardina pilchardus and a prawn Peaenus japonicus from Three Stations on the Mediterranean Sea. Bul Environ Contam Toxicol 67:75–82

Carvalho ML, Santiago S, Nunes ML (2005) Assessment of the essential element and heavy metal content of edible fish muscle. Anal Bioanal Chem 382: 426–432

EU (European Communities) (2002) Amending regulation, setting maximum levels of certain contaminants in foodstuffs. Official J Eur Communities L37: 4–6

Gammons CH, Slotton DG, Gerbrandt B, Weight W, Young CG, McNearny RL, Camac E, Calderon R, Tapia H (2006) Mercury concentration of fish, river water, and sediment in the Rio Ramis-Lake Titicaca Watershed, Peru. Sci Total Environ 368: 637–648

Gaur VK, Gupta SK, Pandey SD, Gopal K, Misra V (2005) Distribution of heavy metals in sediment and water of river Gomti. Environ Monitor Assess 102: 419–433

Horwitz W (2000) Official method of analysis of AOAC International. 17th ed. AOAC International, Washington, DC

Mirlean N, Larned ST, Nikora V, Kutter VT (2005) Mercury in lakes and lake fishes on a conservation–industry gradient in Brazil. Chemosphere 60: 226–236

Paul RS (1987) Incidence of methylmercury in fish from Stanley reservoir (Mettur), Tamil Nadu, India. J Environ Biol 8: 151–155

PFA Act (1954) The Prevention of Food Adulteration Act, 1954, together with Prevention of Adulteration Rules, 1955, and Notification and Commodity Index, India (amended, 2002) Eastern Book Company, Lucknow. Table No. R-57:106–110

Tungare SM, Sawant AD (2002) Lead and cadmium in selected species of shrimp around the Mumbai Coast, India. Bull Environ Contam Toxicol 68: 455–462

US EPA CR (2001) Water quality criteria for the protection of human health: Methylmercury. Office of Science and Technology, Office of Water, U.S. Environmental Protection Agency 20460, Washington, DC, Federal document: EPA-823-R-01-001

Viana F, Huertas R, Danulat E (2005) Heavy metal levels in fish from coastal waters of Uruguay. Arch Environ Contam Toxicol 48: 530–537

World Health Organization (1990) Environmental Health Criteria 101: Methylmercury. World Health Organization, Geneva
Acknowledgments
The authors thank Director Industrial Toxicology Research Centre (ITRC) for his encouragement in the study. The help of Ms. Ila Mishra and Mr. Ramashanker Sahu in the experiments is duly acknowledged. Rakhi Agarwal is grateful to UGC for the award of a junior research fellowship.
About this article
Cite this article
Agarwal, R., Kumar, R. & Behari, J.R. Mercury and Lead Content in Fish Species From the River Gomti, Lucknow, India, as Biomarkers of Contamination. Bull Environ Contam Toxicol 78, 118–122 (2007). https://doi.org/10.1007/s00128-007-9035-8
Keywords
Mercury

Fish Species

Total Mercury

Mercury Level

Maximum Residue Limit