Access options
Buy single article
Instant access to the full article PDF.
USD 39.95
Price includes VAT (USA)
Tax calculation will be finalised during checkout.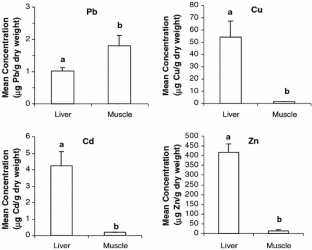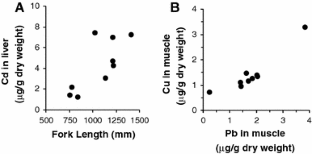 References
Atli G, Canli M (2003) Natural occurrence of metallothionein-like proteins in the liver of fish Oreochromis niloticus and effects of cadmium, lead, copper, zinc, and iron exposures on their profiles. Bull Environ Contam Toxicol 70: 618–627

Canli M, Atli G (2003) The relationships between heavy metal (Cd, Cr, Cu, Fe, Pb, Zn) levels and the size of six Mediterranean fish species. Environ Pollut 121: 129–136

Canli M, Kalay M, Ay Ö (2001) Metal (Cd, Pb, Cu, Zn, Fe, Cr, Ni) concentrations in tissues of a fish Sardina pilchardus and a prawn Peaenus japonicus from three stations on the Mediterranean Sea. Bull Environ Contam Toxicol 67: 75–82

Çoğun HY, Kargin F (2004) Effects of pH on the mortality and accumulation of copper in tissues of Oreochromis niloticus. Chemosphere 55: 277–282

Crespo S, Nonnotte G, Colin DA, Leray C, Nonnotte L, Aubree A (1986) Morphological and functional alterations induced in trout (Salmo gairdneri) intestine by dietary cadmium and lead. J Fish Biology 28: 69–80

De Conto Cinier C, Petit-Ramel M, Faure R, Garin D (1997) Cadmium bioaccumulation in carp (Cyrpinus carpio) tissues during long-term high exposure: Analysis by inductively coupled plasma-mass spectrometry. Ecotox Environ Safety 38: 137–143

De Smet H, De Wachter B Lobinski R, Blust R (2001) Dynamics of (Cd, Zn)-metallothionein in gills, liver, and kidney of common carp Cyrpinus carpio during cadmium exposure. Aquatic Tox 52: 269–281

Feldhausen PH, Johnson D (1983) Ordination of trace metals in Syacium papillosum (dusky flounder) from the eastern Gulf of Mexico. Northeast Gulf Science 6: 9–21

Food and Agriculture Organization/World Health Organization (FAO/WHO) (2004) Report of the 36th session of the Codex Committee on Food Additives and Contaminants, Thirty-sixth Session, Rotterdam, The Netherlands, 22–26 March 2004. ftp://ftp.fao.org/docrep/fao/meeting/008/j2262e.pdf. Cited 15 June 2006

Food and Agriculture Organization/World Health Organization (FAO/WHO), (2006) Provisional agenda, report of the 38th session of the Codex Committee on Food Additives and Contaminants, Thirty-Sixth Session, The Hague, The Netherlands, 24–28 April 2006. ftp://ftp.fao.org/codex/ccfac38/fa38_18e.pdf. Cited 15 June 2006

Hamilton SJ, Mehrle PM (1986) Metallothionein in fish: Review of its importance in assessing stress from metal contaminants. Trans Am Fish Soc 115: 596–609

Handy RD (1993) The effect of acute exposure to dietary Cd and Cu on organ toxicant concentrations in rainbow trout, Oncorhynchus mykiss. Aquatic Tox 27: 1–14

Hanson PJ (1997) Response of hepatic trace element concentrations in fish exposed to elemental and organic contaminants. Estuaries 20: 659–676

Holcombe GW, Benoit DA, Leaonard EN, McKim JM (1976) Long-term effects of lead exposure on three generations of brook trout Salvelinus fontinalis. J Fish Res Board Can 33: 1731–1741

Ikem A, Egiebor NO (2005) Assessment of trace elements in canned fishes (mackerel, tuna, salmon, sardines, and herrings) marketed in Georgia and Alabama (United States of America). J Food Comp Anal 18: 771–787

Jureša D, Blanuša M (2003) Mercury, arsenic, lead, and cadmium in fish and shellfish from the Adriatic Sea. Food Add Contamin 20: 241–246

McEachran JD, Fechhelm JD (2005) Fishes of the Gulf of Mexico. Vol. 2. University of Texas Press, Austin, TX

Roesijadi G (1992) Metallothioneins in metal regulation and toxicity in aquatic animals. Aquatic Toxicol 22: 81–114

Roméo M, Siau Y, Sidoumou Z, Gnassia-Barelli M (1999) Heavy metal distribution in different fish species from the Mauritiania coast. Sci Total Environ 232: 169–175

United States Environmental Protection Agency (U.S. EPA) (1994) Method 3051: Microwave assisted acid digestion of sediments, sludges, soils, and oils. SW-846, Test Methods for Evaluating Solid Waste, U.S. EPA, Washington, DC. http://www.epa.gov/epaoswer/hazwaste/test/sw846.htm. Cited 15 June 2006

United States Environmental Protection Agency (U.S. EPA) (2004a) Fact Sheet: National listing of fish advisories. EPA-823-F-05-004, 6 pages. http://www.epa.gov/ost/fish/advisories. Cited 15 June 2006

United States Environmental Protection Agency (U.S. EPA) (2004b) What you need to know about mercury in fish and shellfish. EPA-823-F-04-009 2 p. http://www.epa.gov/waterscience/fish/MethylmercuryBrochure.pdf. Cited 15 June 2006

Vazquez FG, Sharma VK, Mendoza QA, Hernandez R (2001) Metals in fish and shrimp of the Campeche Sound, Gulf of Mexico. Bull Environ Contamin Toxicol 67: 756–762

Zauke G-P, Savinov VM, Ritterhoff J, Savinova T (1999) Heavy metals in fish from the Barents Sea (summer 1994). Sci Total Environ 227: 161–173

Zhang YS, Schlenk D (1995) Induction and characterization of hepatic metallothionein expression from cadmium-induced channel catfish (Ictalurus punctatus). Environ Toxicol Chem 14: 1425–1431
Acknowledgments
The authors acknowledge the Alabama JAYCEES for providing specimens, Dr. Eugene Cioffi of the Department of Chemistry, University of South Alabama, for access to instrumentation, Dr. William Patterson, University of West Florida, for providing the initial genesis for this project, and the University of South Alabama Center for Undergraduate Research for providing a stipend to Danielle M. Ploetz.
About this article
Cite this article
Ploetz, D.M., Fitts, B.E. & Rice, T.M. Differential Accumulation of Heavy Metals in Muscle and Liver of a Marine Fish, (King Mackerel, Scomberomorus cavalla Cuvier) from the Northern Gulf of Mexico, USA. Bull Environ Contam Toxicol 78, 134–137 (2007). https://doi.org/10.1007/s00128-007-9028-7
Keywords
Environmental Protection Agency

Fork Length

Heavy Metal Level

Provisional Tolerable Weekly Intake

Liver Level