Abstract
Purpose
Natural disaster has an impact on mental health. The 2018 Japan Floods, which took place in July 2018 were one of the largest water disasters in Japan's recorded history. We aimed to evaluate the change in the number of benzodiazepine prescriptions by physicians before and after the disaster.
Methods
A retrospective cohort study based on the National Database of Health Insurance Claims was conducted in the flood-stricken areas between July 2017 and June 2019. The subjects were divided between victims and non-victims according to certification by local governments. Members of both groups were then categorized into three groups based on their pre-flood use of benzodiazepines: non-user, occasional user, and continuous user. Difference-in-differences (DID) analysis with a logistic regression model was conducted to estimate the effect of the disaster among victims by comparing the occurrence of benzodiazepine prescriptions before and after the disaster.
Results
Of 5,000,129 people enrolled, 31,235 were victims. Among all participants, the mean prescription rate for benzodiazepines in victims before the disaster (11.3%) increased to 11.8% after the disaster, while that in non-victims (8.3%) decreased to 7.9%. The DID analysis revealed that benzodiazepine prescription among victims significantly increased immediately after the disaster (adjusted ratio of odds ratios (ROR) 1.07: 95% confidence interval 1.05–1.11), and the effect of the disaster persisted even 1 year after the disaster (adjusted ROR 1.2: 95% confidence interval 1.16–1.24).
Conclusion
The flood increased the number of benzodiazepines prescriptions among victims, and the effect persisted for at least 1 year.
Access options
Buy single article
Instant access to the full article PDF.
USD 39.95
Price excludes VAT (USA)
Tax calculation will be finalised during checkout.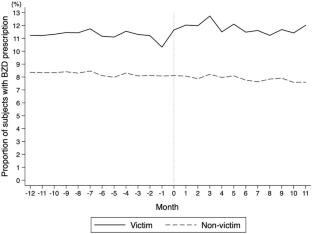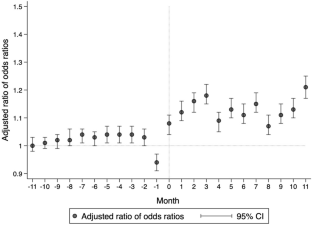 Data availability
This data of this research was obtained from the National Database of Health Insurance Claims and was permitted to be used by the Ministry of Health, Labor and Welfare.
References
Dr BR, Wooding S, Burns P, Stevens MG, Raphael K, Thomson C, Kennett V (2012) NSW Health Disaster Mental Health Manual 2012

Kario K, McEwen BS, Pickering TG (2003) Disasters and the heart: A review of the effects of earthquake-induced stress on cardiovascular disease. Hypertens Res 26(5):355–367. https://doi.org/10.1291/hypres.26.355

Yoshida S, Kashima S, Matsumoto M (2021) The effect of the 2018 Japan Floods on cognitive decline among long-term care insurance users in Japan: a retrospective cohort study. Environ Health Prev Med 26(1):1–11. https://doi.org/10.1186/S12199-021-01038-9/FIGURES/3

Fassaert T, Dorn T, Spreeuwenberg PM, van Dongen MC, van Gool CJ, Yzermans CJ (2007) Prescription of benzodiazepines in general practice in the context of a man-made disaster: a longitudinal study. Eur J Public Health 17(6):612–617. https://doi.org/10.1093/eurpub/ckm020

Usher K, Brown LH, Buettner P, Glass B, Boon H, West C, Grasso J, Chamberlain-Salaun J, Woods C (2012) Rate of prescription of antidepressant and anxiolytic drugs after cyclone Yasi in North Queensland. Prehosp Disaster Med 27(6):519–523. https://doi.org/10.1017/S1049023X12001392

Lecher M (2010) The estimation of causal effects by difference-in-difference methods. Found Trends Econom 4(3):165–224

International Narcotics Control B (2015) Special report: availability of internationally controlled drugs: ensuring adequate access for medical and scientific purpose. 37–67

Ishigooka J, Sugiyama T, Suzuki M, Kobayashi K, Takeuchi H, Murasaki M (1998) Survival analytic approach to long-term prescription of benzodiazepine hypnotics. Psychiatry Clin Neurosci 52(5):541–545. https://doi.org/10.1046/j.1440-1819.1998.00422.x

Patient Surveys (2017) https://www.e-stat.go.jp/stat-search/files?page=1&layout=datalist&toukei=00450022&tstat=000001031167&cycle=7&tclass1=000001124800&tclass2=000001124802&stat_infid=000031790690&tclass3val=0. Accessed 24 November 2021.

Centers for Disease Control and Prevention (2020) Caring for Children in a Disaster. https://www.cdc.gov/childrenindisasters/differences.html. Accessed 10 November 2021

Veronese A, Garatti M, Cipriani A, Barbui C (2007) Benzodiazepine use in the real world of psychiatric practice: Low-dose, long-term drug taking and low rates of treatment discontinuation. Eur J Clin Pharmacol 63:867–873. https://doi.org/10.1007/s00228-007-0341-1

Inada T, Inagaki A (2015) Psychotropic dose equivalence in Japan. Psychiatry Clin Neurosci 69(8):440–447. https://doi.org/10.1111/pcn.12275

Dimick JB, Ryan AM (2014) Methods for evaluating changes in health care policy: the difference-in-differences approach. JAMA 312:2401–2402. https://doi.org/10.1001/jama.2014.16153

Moran JL, Santamaria JD, Duke GJ (2021) Modelling hospital outcome: problems with endogeneity. BMC Med Res Methodol 21(1):124. https://doi.org/10.1186/s12874-021-01251-8

Zhang J, Yu KF (1998) What's the relative risk? A method of correcting the odds ratio in cohort studies of common outcomes. J Am Med Assoc 280:1690–1691. https://doi.org/10.1001/jama.280.19.1690

Tang B, Liu X, Liu Y, Xen C, Zhang L (2014) A meta-analysis of risk factors for depression in adults and children after natural disasters. BMC Public Health 14:623–623. https://doi.org/10.1186/1471-2458-14-623

Vlahov D, Galea S, Resnick H, Ahern J, Boscarino JA, Bucuvalas M, Gold J, Kilpatrick D (2002) Increased use of cigarettes, alcohol, and marijuana among Manhattan, New York, residents after the September 11th terrorist attacks. Am J Epidemiol 155(11):988–996. https://doi.org/10.1093/aje/155.11.988

Beaglehole B, Bell C, Frampton C, Hamilton G, McKean A (2015) The impact of the Canterbury earthquakes on prescribing for mental health. Aust N Z J Psychiatry 49(8):742–750. https://doi.org/10.1177/0004867415589794

Sederer LI (2012) Are human made disasters different? Epidemiol Psych Sci 21(5):23–25. https://doi.org/10.1017/S2045796011000710

Mulcahy AW, Whaley CM, Gizaw M, Schwam D, Edenfield N, Becerra-Ornelas AU (2021) International prescription drug price comparisons. RAND Corpor. https://doi.org/10.7249/RR2956

Koichiro S (2000) Co-payment, coinsurance rate and the elderly care in Japan. Med Soc 10(2):115–138

Simonsen M, Skipper L, Skipper N, Illemann A (2021) Spot price biases in non-linear health insurance contracts. J Public Econ 203:104508. https://doi.org/10.1016/j.jpubeco.2021.104508

Cunningham CM, Hanley GE, Morgan S (2010) Patterns in the use of benzodiazepines in British Columbia: Examining the impact of increasing research and guideline cautions against long-term use. Health Policy 97(2–3):122–129. https://doi.org/10.1016/j.healthpol.2010.03.008

Alessi-Severini S, Bolton JM, Enns MW, Dahl M, Collins DM, Chateau D, Sareen J (2014) Use of benzodiazepines and related drugs in Manitoba: a population-based study. CMAJ Open 2(4):E208–E216. https://doi.org/10.9778/cmajo.20130076

Lazaratou H, Paparrigopoulos T, Anomitri C, Alexandropoulou N, Galanos G, Papageorgiou C (2018) Sleep problems six-months after continuous earthquake activity in a Greek island. Psychiatrike 29 (1):25–33. https://doi.org/10.22365/jpsych.2018.291.25

Kato H, Asukai N, Miyake Y, Minakawa K, Nishiyama A (1996) Post-traumatic symptoms among younger and elderly evacuees in the early stages following the 1995 Hanshin-Awaji earthquake in Japan. Acta Psychiatr Scand 93(6):477–481. https://doi.org/10.1111/j.1600-0447.1996.tb10680.x

Billioti S, Bégaud B, Bazin F, Verdoux H, Dartigues JF, Pérès K, Kurth T, Pariente A (2012) Benzodiazepine use and risk of dementia: prospective population based study. BMJ 345:e6231. https://doi.org/10.1136/bmj.e6231

Soyka M (2017) Treatment of benzodiazepine dependence. N Engl J Med 376(12):1147–1157. https://doi.org/10.1056/NEJMra1611832

Donnelly K, Bracchi R, Hewitt J, Routledge PA, Carter B (2017) Benzodiazepines, Z-drugs and the risk of hip fracture: A systematic review and meta-analysis. PLoS One 12(4):e0174730. https://doi.org/10.1371/journal.pone.0174730

Smink BE, Egberts ACG, Lusthof KJ, Uges DRA, De Gier JJ (2010) The relationship between benzodiazepine use and traffic accidents: A systematic literature review. CNS Drugs 24(8):639–653. https://doi.org/10.2165/11533170-000000000-00000

Weich S, Pearce HL, Croft P, Singh S, Crome I, Bashford J, Frisher M (2014) Effect of anxiolytic and hypnotic drug prescriptions on mortality hazards: Retrospective cohort study. BMJ 348:g1996. https://doi.org/10.1136/bmj.g1996

National Institute for Health and Care Excellence (NICE) (2019) Generalised anxiety disorder and panic disorder in adults: management. NICE

World Health Organization (WHO) (2013) Assessment and Management of Conditions Specifically Related To Stress: mhGAP Intervention Guide Module (version 1.0). WHO

Yehuda R (2002) Post-traumatic stress disorder. N Engl J Med 346(2):108–114. https://doi.org/10.1056/NEJMra012941

Votaw VR, Geyer R, Rieselbach MM, McHugh RK (2019) The epidemiology of benzodiazepine misuse: A systematic review. Drug Alcohol Depend 200:95–114. https://doi.org/10.1016/j.drugalcdep.2019.02.033

Statistics Division, Hiroshima Prefectural Government. https://www.pref.hiroshima.lg.jp/soshiki/21/jinkougepposaisin.html. Assessed 7 May 2021

Japan medical analysis platform, Japan Medical Association. https://jmap.jp/ Accessed 28 February 2022

Mansournia MA, Nazemipour M, Naimi AI et al (2021) Reflection on modern methods: Demystifying robust standard errors for epidemiologists. Int J Epidemiol 50:346–351. https://doi.org/10.1093/ije/dyaa260

Colin Cameron A, Gelbach JB, Miller DL (2008) Bootstrap-based improvements for inference with clustered errors. Rev Econ Stat 90:414–427. https://doi.org/10.1162/rest.90.3.414
Funding
This work was not supported by any funding.
Ethics declarations
Conflict of interest
The authors declare that they have no competing interests.
Ethical approval
The requirement for informed consent was waived because the anonymous data of National Database of Health Insurance Claims was used in this study.
Supplementary Information
Below is the link to the electronic supplementary material.
About this article
Cite this article
Okazaki, Y., Yoshida, S., Kashima, S. et al. Impact of the 2018 Japan Floods on benzodiazepine use: a longitudinal analysis based on the National Database of Health Insurance Claims. Soc Psychiatry Psychiatr Epidemiol 57, 2411–2421 (2022). https://doi.org/10.1007/s00127-022-02289-9
Received:

Accepted:

Published:

Issue Date:

DOI: https://doi.org/10.1007/s00127-022-02289-9
Keywords
Natural disaster

Benzodiazepine

Epidemiology

Anxiety

Insomnia

Rural health services