Abstract
Purpose
There is economic importance to stimulating awareness about preventing adolescent suicide and other associated deleterious mental and behavioral health outcomes, especially the long-term costs from lost productivity. However, the presence of stigma and poor healthcare reporting systems which often prevent data access have frequently limited research into these topics in low-and-middle income (LMICs) countries. The majority of existing research on these topics using LMICs data primarily focuses on prevalence rates and basic correlational associations, and is often a-theoretic. Empirically rigorous work, mostly found using data from the developed world, has primarily relegated suicide into a box of utility-maximization-based decisions. Social integration theory may be a more relevant approach for researching the mitigating factors to deleterious heath behaviors among adolescents in LMICs.
Methods
Using data from the Global School-based Student Health Survey (GSHS) of six different countries, we estimate a reduced-form, simultaneous model incorporating specialized clustering to determine the influence of social integration on five different deleterious health outcomes, including three levels of suicidal behavior.
Results
Robust results indicate that positive parenting and social exclusion reduce and increase the likelihood of all outcomes, respectively, among both pooled and individual country samples.
Conclusion
Such results provide an impetus for pursuing interventions in LMICs, which focus on social-based, multi-level approaches. Such interventions could include such elements as peer-to-peer training support and awareness/promotion of mental health among parents of adolescents.
Access options
Buy single article
Instant access to the full article PDF.
USD 39.95
Price includes VAT (USA)
Tax calculation will be finalised during checkout.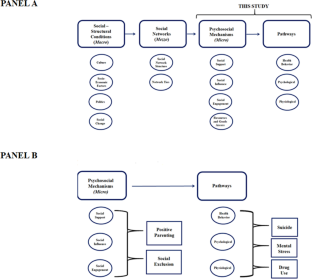 Code availability
STATA statistical software used for empirical analyses.
Notes
1.

This is a standardized survey instrument created in collaboration among the WHO, United Nations' UNICEF, UNESCO, and UNAIDS, with technical assistance from the U.S. Center for Disease Control (CDC) [79]. This survey uses a standardized scientific sample selection process, common school-based methodology, and core questionnaire modules. There are also expanded question modules and country-specific questions which form a self-administered questionnaire that 13–17-year-old students can be expected to complete in one regular class period.

2.

This variable only captures drug use and not alcohol use. Within some of the countries used, religious prohibitions prevent the legal consumption of alcohol at any age (e.g. Bangladesh), meaning that the core module questionnaire in that country did not survey students on its consumption. Thus, to maintain consistency across the pooled samples, we chose to use drug use as a representative indicator of such risky health behaviours as drug and alcohol use.

3.

There is evidence in literature supporting the strong predictive role that loneliness plays in the development [88,89,90] and experience [91,92,93] of mental health disorders, such as depression and anxiety. As such, experiences of loneliness, along with trouble sleeping, are two commonly measured symptoms in diagnostic survey instruments meant to capture mental health conditions [94,95,96]. These measures, thus, serve as reasonable means by which to capture overall negative mental health status.

4.

One takes the mean survey weight value from each country, and each individual observation's survey weight given from data is divided (i.e. weighted) by the mean weight from their respective country.
References
1.

Petroni S, Patel V, Patton G (2015) Why is suicide the leading killer of older adolescent girls? Lancet 386(10008):2031–2032

2.

Wasserman D, Cheng Q, Jiang G-X (2005) Global suicide rates among young people aged 15–19. World Psychiatry 4(2):114–120

3.

World Health Organization (2018) World health statistics 2018: monitoring health for the SDGs. http://apps.who.int/iris/bitstream/handle/10665/272596/9789241565585-eng.pdf?ua=1. Accessed 9 Sep 2019

4.

Liu X, Huang Y, Liu Y (2018) Prevalence, distribution, and associated factors of suicide attempts in young adolescents: School-based data from 40 low-income and middle-income countries. Hashimoto K, editor. PLoS ONE 13(12):e0207823

5.

Miron O, Yu K-H, Wilf-Miron R, Kohane IS (2019) Suicide rates among adolescents and young adults in the United States, 2000–2017. JAMA 321(23):2362

6.

Kann L, McManus T, Harris WA, Shanklin SL, Flint KH, Queen B et al (2018) Youth risk behavior surveillance—United States, 2017. MMWR Surveill Summ 67(8):1–114

7.

McKinnon B, Gariépy G, Sentenac M, Elgar FJ (2016) Adolescent suicidal behaviours in 32 low- and middle-income countries. Bull World Health Organ 94(5):340-350F

8.

Page RM, Saumweber J, Hall PC, Crookston BT, West JH (2013) Multi-country, cross-national comparison of youth suicide ideation: findings from global school-based health surveys. Sch Psychol Int 34(5):540–555

9.

Jordans M, Rathod S, Fekadu A, Medhin G, Kigozi F, Kohrt B et al (2018) Suicidal ideation and behaviour among community and health care seeking populations in five low- and middle-income countries: a cross-sectional study. Epidemiol Psychiatr Sci 27(4):393–402

10.

Kessler RC, Berglund PA, Foster CL, Saunders WB, Stang PE, Walters EE (1997) Social consequences of psychiatric disorders, II: teenage parenthood. Am J Psychiatry 154(10):1405–1411

11.

Overbeek G, Vollebergh W, Engels RCME, Meeus W (2003) Young adults' relationship transitions and the incidence of mental disorders. Soc Psychiatry Psychiatr Epidemiol 38(12):669–676

12.

World Health Organization (ed) (2017) Mental health atlas 2017. World Health Organization, Geneva, p 72

13.

Shepard DS, Gurewich D, Lwin AK, Reed GA, Silverman MM (2016) Suicide and suicidal attempts in the united states: costs and policy implications. Suicide Life Threat Behav 46(3):352–362

14.

Miller TR (eds) (1995) Databook on nonfatal injury: incidence, costs, and consequences. Urban Institute Press, Washington, DC, Lanham, MD, Distributed by University Press of America, p 181

15.

McDaid D (2016) Making an economic case for investing in suicide prevention quo vadis. In: O'Connor RC, Pirkis J (eds) The International handbook of suicide prevention. Wiley, Hoboken, pp 775–790

16.

Sinclair JMA, Gray A, Rivero-Arias O, Saunders KEA, Hawton K (2011) Healthcare and social services resource use and costs of self-harm patients. Soc Psychiatry Psychiatr Epidemiol 46(4):263–271

17.

McDaid D, Kennelly B (2009) An economic perspective on suicide across the five continents. In: Wasserman D, Wasserman C (eds) Oxford textbook of suiciology and suicide prevention. Oxford University Press, Oxford, pp 359–368

18.

Cox K, Miller T (1999) The costs of youth suicide and medically-treated attempts by state. Children's Safety Network, Landover

19.

Greenberg PE, Stiglin LE, Finkelstein SN, Berndt ER (1993) The economic burden of depression in 1990. J Clin Psychiatry 54(11):405–418

20.

Conti DJ, Burton WN (1994) The economic impact of depression in a workplace. J Occup Med 36(9):983–988

21.

Slap G, Goodman E, Huang B (2001) Adoption as a risk factor for attempted suicide during adolescence. Pediatrics 108(2):e30

22.

Boahen-Boaten BB, White RG, O'Connor Rory C (2017) Suicide in low- and middle-income countries. In: White RG, Jain S, Orr DMR, Read UM (eds). The palgrave handbook of sociocultural perspectives on global mental health. London: Palgrave Macmillan UK. p 351–82. http://link.springer.com/10.1057/978-1-137-39510-8_17 Accessed 6 Sep 2019

23.

Iemmi V, Bantjes J, Coast E, Channer K, Leone T, McDaid D et al (2016) Suicide and poverty in low-income and middle-income countries: a systematic review. Lancet Psychiatry 3(8):774–783

24.

Knipe DW, Carroll R, Thomas KH, Pease A, Gunnell D, Metcalfe C (2015) Association of socio-economic position and suicide/attempted suicide in low and middle income countries in South and South-East Asia—a systematic review. BMC Public Health. 15(1). http://bmcpublichealth.biomedcentral.com/articles/10.1186/s12889-015-2301-5 Accessed 6 Sep 2019

25.

Chen J, Choi YJ, Mori K, Sawada Y, Sugano S (2012) Socio-economic studies on suicide: a survey. J Econ Surv 26(2):271–306

26.

Daly MC, Wilson DJ, Johnson NJ (2013) Relative status and well-being: evidence from U.S. suicide deaths. Rev Econ Stat 95(5):1480–1500

27.

Kposowa AJ (2001) Unemployment and suicide: a cohort analysis of social factors predicting suicide in the US National Longitudinal Mortality Study. Psychol Med 31(1):127–138

28.

Blakely TA, Collings SCD, Atkinson J (2003) Unemployment and suicide. Evidence for a causal association? J Epidemiol Community Health 57(8):594

29.

Halicioglu F, Andres AR (2010) Determinants of suicides in Denmark: evidence from time series data. Working Paper

30.

Botha F (2012) The economics of suicide in South Africa. S Afr J Econ 80(4):526–552

31.

Hamermesh DS, Soss NM (1974) An economic theory of suicide. J Polit Econ 82(1):83–98

32.

Marcotte DE (2003) The economics of suicide, revisited. South Econ J 69(3):628

33.

Dupas P (2011) Health behavior in developing countries. Annu Rev Econ 3(1):425–449

34.

Das J, Hammer J, Leonard K (2008) The quality of medical advice in low-income countries. J Econ Perspect 22(2):93–114

35.

Marmot M, Friel S, Bell R, Houweling TA, Taylor S (2008) Closing the gap in a generation: health equity through action on the social determinants of health. Lancet 372(9650):1661–1669

36.

WHO Commission on Social Determinants of Health, World Health Organization (eds) (2008) Closing the gap in a generation: health equity through action on the social determinants of health: commission on social determinants of health final report. World Health Organization, Geneva. p 246

37.

Viner RM, Ozer EM, Denny S, Marmot M, Resnick M, Fatusi A et al (2012) Adolescence and the social determinants of health. Lancet 379(9826):1641–1652

38.

Berkman LF, Glass T (2000) Social integration, social networks, social support, and health. Social epidemiology, 1st edn. Oxford University Press, Oxford, pp 137–173

39.

Steinberg L (2001) We know some things: parent-adolescent relationships in retrospect and prospect. J Res Adolesc 11(1):1–19

40.

Steinberg L (2001) Autonomy, conflict, and harmony in the family relationship. At the threshold: the developing adolescent. In: Feldman SS, Elliott GR (eds) At the threshold: the developing adolescent. Harvard University Press, Cambridge, MA, pp 255–276

41.

Durkheim É, Simpson G (1897) Suicide: a study in sociology. Free Press, New York

42.

Cassel J (1976) The contribution of the social environment to host resistance. Am J Epidemiol 104(2):107–123

43.

Cobb S (1976) Social support as a moderator of life stress. Psychosom Med 38(5):300–314

44.

Berkman LF (1995) The role of social relations in health promotion. Psychosom Med 57(3):245–254

45.

House JS (1981) Work stress and social support. Addison-Wesley, Reading

46.

House J, Landis K, Umberson D (1988) Social relationships and health. Science 241(4865):540–545

47.

Blazer DG (1982) Social support and mortality in an elderly community population. Am J Epidemiol 115(5):684–694

48.

Heaney CA, Israel BA (2015) Social networks and social support. Health behavior and health education, 5th edn. Jossey-Bass, San Francisco, pp 189–210

49.

Repetti RL, Taylor SE, Seeman TE (2002) Risky families: Family social environments and the mental and physical health of offspring. Psychol Bull 128(2):330–366

50.

Lohaus A, Vierhaus M, Ball J (2008) Parenting styles and health-related behavior in childhood and early adolescence: results of a longitudinal study. J Early Adolesc 29(4):449–475

51.

Williams GC, Hedberg VA, Cox EM, Deci EL (2000) Extrinsic life goals and health-risk behaviors in adolescents. J Appl Soc Psychol 30(8):1756–1771

52.

Yap MBH, Pilkington PD, Ryan SM, Jorm AF (2014) Parental factors associated with depression and anxiety in young people: a systematic review and meta-analysis. J Affect Disord 156:8–23

53.

Barber BK, Stolz HE, Olsen JA, Collins WA, Burchinal M (2005) Parental support, psychological control, and behavioral control: assessing relevance across time, culture, and method. Monogr Soc Res Child Dev 70(4):i–147

54.

Neff K (2003) Understanding how universal goals of independence and interdependence are manifested within particular cultural contexts. Hum Dev 46(5):312

55.

Chandler MJ, Lalonde CE, Sokol BW, Hallett D, Marcia JE (2003) Personal persistence, identity development, and suicide: a study of native and non-native north american adolescents. Monogr Soc Res Child Dev 68(2):i–138

56.

Wang Q, Pomerantz EM, Chen H (2007) The role of parents' control in early adolescents' psychological functioning: a longitudinal investigation in the United States and China. Child Dev 78(5):1592–1610

57.

Siziya S, Muula AS, Rudatsikira E (2007) Prevalence and correlates of truancy among adolescents in Swaziland: findings from the global school-based health survey. Child Adolesc Psychiatry Ment Health 1(1):15

58.

Chen B, Soenens B, Vansteenkiste M, Van Petegem S, Beyers W (2016) Where do the cultural differences in dynamics of controlling parenting lie? Adolescents as active agents in the perception of and coping with parental behavior. Psychol Belg 56(3):169–192

59.

Catalano RF, Hawkins JD (1996) The social development model: a theory of antisocial behavior. In: Delinquency and crime: current theories. Cambridge University Press, Cambridge, UK, pp 149–197

60.

Bonanno RA, Hymel S (2010) Beyond hurt feelings: investigating why some victims of bullying are at greater risk for suicidal ideation. Merrill Palmer Q 56(3):420–440

61.

Fletcher AC, Steinberg L, Williams-Wheeler M (2004) Parental influences on adolescent problem behavior: Revisiting Stattin and Kerr. Child Dev 75(3):781–796

62.

Abar CC, Jackson KM, Wood M (2014) Reciprocal relations between perceived parental knowledge and adolescent substance use and delinquency: the moderating role of parent–teen relationship quality. Dev Psychol 50(9):2176–2187

63.

Fleishman JA, Sherbourne CD, Crystal S, Collins RL, Marshall GN, Kelly M et al (2000) Coping, conflictual social interactions, social support, and mood among HIV-infected persons. Am J Community Psychol 28(4):421–453

64.

House JS (1987) Social support and social structure. Sociol Forum 2(1):135–146

65.

Cranford JA (2004) Stress-buffering or stress-exacerbation? Social support and social undermining as moderators of the relationship between perceived stress and depressive symptoms among married people. Pers Relatsh 11(1):23–40

66.

McFarlane AH, Bellissimo A, Norman GR (1995) The role of family and peers in social self-efficacy: links to depression in adolescence. Am J Orthopsychiatry 65(3):402–410

67.

Oetzel J, Duran B, Jiang Y, Lucero J (2007) Social support and social undermining as correlates for alcohol, drug, and mental disorders in American Indian women presenting for primary care at an Indian Health Service Hospital. J Health Commun 12(2):187–206

68.

Harel-Fisch Y, Abdeen Z, Walsh SD, Radwan Q, Fogel-Grinvald H (2012) Multiple risk behaviors and suicidal ideation and behavior among Israeli and Palestinian adolescents. Soc Sci Med 75(1):98–108

69.

Cohen S (1997) Social ties and susceptibility to the common cold. JAMA 277(24):1940

70.

Suomi SJ (1997) Early determinants of behaviour: evidence from primate studies. Br Med Bull 53(1):170–184

71.

Suomi SJ (1991) Uptight and laid-back monkeys: individual differences in the response to social challenges. In: Brauth SE, Hall WS, Dooling RJ (eds) Plasticity of development. The MIT Press, Boston, MA, pp 27–56

72.

Francis D, Diorio J, Laplante P, Weaver S, Seckl JR, Meaney MJ (1996) The role of early environmental events in regulating neuroendocrine development: moms, pups, stress, and glucocorticoid receptors. Ann N Y Acad Sci 794:136–152

73.

Gao Y, Li LP, Kim JH, Congdon N, Lau J, Griffiths S (2010) The impact of parental migration on health status and health behaviours among left behind adolescent school children in China. BMC Public Health 10(1):56

74.

Patton GC, Olsson C, Bond L, Toumbourou JW, Carlin JB, Hemphill SA et al (2008) Predicting female depression across puberty: a two-nation longitudinal study. J Am Acad Child Adolesc Psychiatry 47(12):1424–1432

75.

Niraula K, Kohrt BA, Flora MS, Thapa N, Mumu SJ, Pathak R, et al (2013) Prevalence of depression and associated risk factors among persons with type-2 diabetes mellitus without a prior psychiatric history: a cross-sectional study in clinical settings in urban Nepal. BMC Psychiatry. 13(1). http://bmcpsychiatry.biomedcentral.com/articles/10.1186/1471-244X-13-309 Accessed 9 Jul 2018

76.

Luitel NP, Jordans MJD, Sapkota RP, Tol WA, Kohrt BA, Thapa SB et al (2013) Conflict and mental health: a cross-sectional epidemiological study in Nepal. Soc Psychiatry Psychiatr Epidemiol 48(2):183–193

77.

Thapa SB, Hauff E (2005) Psychological distress among displaced persons during an armed conflict in Nepal. Soc Psychiatry Psychiatr Epidemiol 40(8):672–679

78.

OECD (2017) PISA 2015 results (volume III): students' well-being. OECD; (PISA). https://www.oecd-ilibrary.org/education/pisa-2015-results-volume-iii_9789264273856-en. Accessed 30 May 2019

79.

CDC, WHO. Global school-based student health survey. https://www.cdc.gov/gshs/

80.

Fleming LC, Jacobsen KH (2009) Bullying and symptoms of depression in chilean middle school students. J Sch Health 79(3):130–137

81.

Due P, Holstein BE (2008) Bullying victimization among 13 to 15 year old school children: results from two comparative studies in 66 countries and regions. Int J Adolesc Med Health 20(2):209–222

82.

Rudatsikira E, Muula AS, Siziya S, Twa-Twa J (2007) Suicidal ideation and associated factors among school-going adolescents in rural Uganda. BMC Psychiatry 7(1). http://bmcpsychiatry.biomedcentral.com/articles/10.1186/1471-244X-7-67 Accessed 6 Sep 2019

83.

Abdirahman H, Bah T, Shrestha H, Jacobsen K (2012) Bullying, mental health, and parental involvement among adolescents in the Caribbean. West Indian Med J 61:504–508

84.

Mahfoud ZR, Afifi RA, Haddad PH, DeJong J (2011) Prevalence and determinants of suicide ideation among Lebanese adolescents: Results of the GSHS Lebanon 2005. J Adolesc 34(2):379–384

85.

Brown D (2009) Exposure to physical and sexual violence and adverse health behaviours in African children: results from the global school-based student health survey. Bull World Health Organ 87(6):447–455

86.

CDC (2013) Methodology of the youth risk behavior surveillance system. Centers for Disease Control and Prevention. (MMWR). Report No. RR-62

87.

World Bank (2018) World development indicators. DataBank. https://databank.worldbank.org/source/world-development-indicators

88.

Richardson T, Elliott P, Roberts R (2017) Relationship between loneliness and mental health in students. J Public Ment Health 16(2):48–54

89.

Erzen E, Çikrikci Ö (2018) The effect of loneliness on depression: a meta-analysis. Int J Soc Psychiatry 64(5):427–435

90.

Hsueh Y-C, Chen C-Y, Hsiao Y-C, Lin C-C (2019) A longitudinal, cross-lagged panel analysis of loneliness and depression among community-based older adults. J Elder Abuse Negl 31(4–5):281–293

91.

Stickley A, Koyanagi A (2016) Loneliness, common mental disorders and suicidal behavior: findings from a general population survey. J Affect Disord 197:81–87

92.

McIntyre JC, Worsley J, Corcoran R, Harrison Woods P, Bentall RP (2018) Academic and non-academic predictors of student psychological distress: the role of social identity and loneliness. J Ment Health 27(3):230–239

93.

Gijzen MWM, Rasing SPA, Creemers DHM, Smit F, Engels RCME, De Beurs D (2021) Suicide ideation as a symptom of adolescent depression a network analysis. J Affect Disord 278:68–77

94.

Radloff LS (1977) The CES-D scale: a self-report depression scale for research in the general population. Appl Psychol Meas 1(3):385–401

95.

Lipman RS, Covi L, Shapiro AK (1979) The Hopkins Symptom Checklist (HSCL): factors derived from the HSCL-90. J Affect Disord 1(1):9–24

96.

Beck AT, Steer RA, Carbin MG (1988) Psychometric properties of the beck depression inventory: twenty-five years of evaluation. Clin Psychol Rev 8(1):77–100

97.

Skinner C, Mason B (2012) Weighting in the regression analysis of survey data with a cross-national application. Can J Stat 40(4):697–711

98.

Pecchenino RA (2015) Have we cause for despair? J Behav Exp Econ 58:56–62

99.

Becker SO, Woessmann L (2018) Social cohesion, religious beliefs, and the effect of protestantism on suicide. Rev Econ Stat 100(3):377–391

100.

Detotto C, Sterzi V (2011) The role of family in suicide rate in Italy. Econ Bull 31(2):1509–1519

101.

Yamamura E (2010) The different impacts of socio-economic factors on suicide between males and females. Appl Econ Lett 17(10):1009–1012

102.

Stack S (2000) Suicide: a 15-year review of the sociological literature part i: cultural and economic factors. Suicide Life Threat Behav 30(2):145–162

103.

Cutler DM, Glaeser EL, Norberg KL (2001) Explaining the rise in youth suicide. Risky behavior among youths: an economic analysis. University of Chicago Press, Chicago, pp 219–270

104.

Amato PR (2005) The impact of family formation change on the cognitive, social, and emotional well-being of the next generation. Future Child 15(2):75–96

105.

Capron C, Thérond C, Duyme M (2007) Brief report: effect of menarcheal status and family structure on depressive symptoms and emotional/behavioural problems in young adolescent girls. J Adolesc 30(1):175–179

106.

Patton GC, Coffey C, Romaniuk H, Mackinnon A, Carlin JB, Degenhardt L et al (2014) The prognosis of common mental disorders in adolescents: a 14-year prospective cohort study. Lancet 383(9926):1404–1411

107.

Kim HH (2016) The associations between parental involvement, peer network, and youth suicidality in China: evidence from the global school-based student health survey (2003). Soc Sci J 53(1):77–87

108.

Quinlan EB, Barker ED, Luo Q, Banaschewski T, Bokde ALW, Bromberg U et al (2018) Peer victimization and its impact on adolescent brain development and psychopathology. Mol Psychiatry. https://doi.org/10.1038/s41380-018-0297-9

109.

Lien Y-J, Hu J-N, Chen C-Y (2016) The influences of perceived social support and personality on trajectories of subsequent depressive symptoms in Taiwanese youth. Soc Sci Med 153:148–155

110.

Zaloshnja E, Miller TR, Galbraith MS, Lawrence BA, DeBruyn LM, Bill N et al (2003) Reducing injuries among native Americans: five cost-outcome analyses. Accid Anal Prev 35(5):631–639

111.

De Castro S, Newman F, Mills G, Sari N (2004) Economic evaluation of suicide prevention programs for young adults in Florida. Bus Rev Camb 3(1):14–20

112.

Thoits PA (1995) Stress, coping, and social support processes: where are we? What next? J Health Soc Behav 35:53

113.

Thoits PA (2011) Mechanisms linking social ties and support to physical and mental health. J Health Soc Behav 52(2):145–161

114.

Michael YL, Colditz GA, Coakley E, Kawachi I (1999) Health behaviors, social networks, and healthy aging: cross-sectional evidence from the Nurses' Health Study. Qual Life Res 8(8):711–722

115.

Dockery AM, Li J, Kendall G (2016) Sole-parent work schedules and adolescent wellbeing: evidence from Australia. Soc Sci Med 168:167–174

116.

Costa S, Gugliandolo MC, Barberis N, Cuzzocrea F, Liga F (2019) Antecedents and consequences of parental psychological control and autonomy support: the role of psychological basic needs. J Soc Pers Relatsh 36(4):1168–1189

117.

Mabbe E, Soenens B, Vansteenkiste M, van der Kaap-Deeder J, Mouratidis A (2018) Day-to-day variation in autonomy-supportive and psychologically controlling parenting: the role of parents' daily experiences of need satisfaction and need frustration. Parenting 18(2):86–109

118.

Cheng Y, Li X, Lou C, Sonenstein FL, Kalamar A, Jejeebhoy S et al (2014) The association between social support and mental health among vulnerable adolescents in five cities: findings from the study of the well-being of adolescents in vulnerable environments. J Adolesc Health 55(6):S31–S38

119.

Akee R, Copeland W, Costello EJ, Simeonova E (2018) How does household income affect child personality traits and behaviors? Am Econ Rev 108(3):775–827

120.

Chan CS, Rhodes JE, Howard WJ, Lowe SR, Schwartz SEO, Herrera C (2013) Pathways of influence in school-based mentoring: the mediating role of parent and teacher relationships. J Sch Psychol 51(1):129–142

121.

Wang M-T, Sheikh-Khalil S (2014) Does parental involvement matter for student achievement and mental health in high school? Child Dev 85(2):610–625

122.

Sigfusdottir ID, Kristjansson AL, Gudmunsdottir ML, Allegrante JP (2010) A collaborative community approach to adolescent substance misuse in Iceland. Int Psychiatry 7(4):86–88

123.

UIS (UNESCO Institute for Statistics) (2018) One in five children, adolescents and youth is out of school. Report No. Fact Sheet No. 48. http://uis.unesco.org/sites/default/files/documents/fs48-one-five-children-adolescents-youth-out-school-2018-en.pdf

124.

Arafat S (2017) Suicide in Bangladesh: a mini review. J Behav Health 6(1):66

125.

WHO (2014) Health for the world's adolescents: a second chance in the second decade. World Health Organization. http://apps.who.int/adolescent/second-decade/#. Accessed 15 Feb 2016

126.

Soenens B, Luyckx K, Vansteenkiste M, Duriez B, Goossens L (2008) Clarifying the link between parental psychological control and adolescents' depressive feelings: reciprocal versus unidirectional models of influence. Merrill Palmer Q 54:411–444

127.

Miller AB, Esposito-Smythers C, Leichtweis RN (2015) Role of social support in adolescent suicidal ideation and suicide attempts. J Adolesc Health 56(3):286–292

128.

Winfree LT, Jiang S (2010) Youthful suicide and social support: exploring the social dynamics of suicide-related behavior and attitudes within a national sample of US adolescents. Youth Violence Juv Justice 8(1):19–37

129.

Yaniv G (2001) Suicide intention and suicide prevention: an economic perspective. J Socio Econ 30(5):453–468

130.

Rook KS (1990) Social relationships as a source of companionship: implications for older adults' psychological well being. Social support: an interactional view. Wiley, New York, pp 221–250
Ethics declarations
Conflict of interest
The authors declare that they have no competing interests.
Electronic supplementary material
Below is the link to the electronic supplementary material.
About this article
Cite this article
Yilmaz, S.K., Bohara, A.K. A step back from the edge: empirical modeling of the role of social integration on suicide and associated deleterious health outcomes across adolescents from six middle-income countries. Soc Psychiatry Psychiatr Epidemiol 56, 793–805 (2021). https://doi.org/10.1007/s00127-020-01987-6
Received:

Accepted:

Published:

Issue Date:
Keywords
Suicide

Multivariate probit

Cross-country

Social integration

Low-and-middle-income countries (LMIC)

Design-weighting