Abstract
Purpose
Media—a powerful influence on mental illness stigma—varies by language and culture. Nevertheless, recent meta-analyses have demonstrated scant attention to Spanish language media as well as historically low Latinx participation in mental illness anti-stigma intervention. To better inform how to improve equity in mental health service utilization, this study assessed how language preferences in mass media influence stigma among Latinx adolescents, compared to family language and social preferences.
Methods
Sixth-graders self-identifying as Latinx self-completed assessments of mental illness knowledge/positive attitudes and desired separation from peers and adolescent vignette characters experiencing mental illness (N = 179; Texas, U.S., 2011–2012). Participants also responded to measures of language preferences (any Spanish versus only English) for consuming media (film/television, music/radio) and speaking with family (parents/grandparents), and social preferences for parties or social gatherings (Latinx versus Anglo persons). Linear regression models adjusting for student and household factors examined the associations between media and family language and social preferences on mental illness stigma.
Results
Latinx adolescents preferring any Spanish versus English-only media reported less mental illness knowledge/positive attitudes and greater social separation from peers and vignette characters with a mental illness, net of all covariates. Family language and social preferences were not associated with any mental illness stigma outcomes.
Conclusions
Spanish media preference is associated with greater stigma suggesting more stigmatization may exist in Spanish- versus English-media. Ensuring anti-stigma messaging in Spanish media may reduce disparities in mental illness stigma among Latinx adolescents. These findings have implications for populations with other non-English media preferences.
This is a preview of subscription content, log in to check access.
Access options
Buy single article
Instant access to the full article PDF.
US$ 39.95
Tax calculation will be finalised during checkout.
Subscribe to journal
Immediate online access to all issues from 2019. Subscription will auto renew annually.
US$ 199
Tax calculation will be finalised during checkout.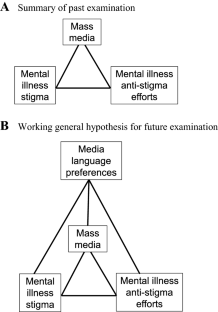 References
1.

In Merriam Webster Online. "Latinx". Merriam-Webster 2019. https://www.merriam-webster.com/dictionary/Latinx. Accessed 3 Sept 2019

2.

Alegria M, Vallas M, Pumariega AJ (2010) Racial and ethnic disparities in pediatric mental health. Child Adolesc Psychiatr Clin N Am. 19(4):759–774

3.

Merikangas K, He J, Brody D et al (2010) Prevalence and treatment of mental disorders among US children in the 2001–2004 NHANES. Pediatrics 125(1):75–81

4.

Merikangas KR, He JP, Burstein M et al (2010) Lifetime prevalence of mental disorders in U.S. adolescents: results from the National Comorbidity Survey Replication–Adolescent Supplement (NCS-A). J Am Acad Child Adolesc Psychiatry 49(10):980–989

5.

Brown JS, Meadows SO, Elder GH Jr (2007) Race-ethnic inequality and psychological distress: depressive symptoms from adolescence to young adulthood. Dev Psychol 43(6):1295–1311

6.

Ayón C, Krysik J, Gerdes K et al (2011) The mental health status of Latino children in the public child welfare system: a look at the role of generation and origin. Child Fam Soc Work 16:369–379

7.

Zayas LH, Lester RJ, Cabassa LJ, Fortuna LR (2005) Why do so many Latina teens attempt suicide? a conceptual model for research. Am J Orthopsychiatry 75(2):275–287

8.

Cummings JR, Druss BG (2011) Racial/ethnic differences in mental health service use among adolescents with major depression. J Am Acad Child Adolesc Psychiatry 50(2):160–170

9.

Merikangas KR, He JP, Burstein M et al (2011) Service utilization for lifetime mental disorders in U.S. adolescents: Results of the National Comorbidity Survey-Adolescent Supplement (NCS-A). J Am Acad Child Adolesc Psychiatry. 50(1):32–45

10.

Olfson M, Druss BG, Marcus SC (2015) Trends in mental health care among children and adolescents. N Engl J Med 372(21):2029–2038

11.

Kataoka SH, Zhang L, Wells KB (2002) Unmet need for mental health care among U.S. children: variation by ethnicity and insurance status. Am J Psychiatry 159(9):1548–1555

12.

Weissman MM, Wolk S, Goldstein RB et al (1999) Depressed adolescents grown up. JAMA 281(18):1707–1713

13.

Gunstad J, Paul RH, Spitznagel MB et al (2006) Exposure to early life trauma is associated with adult obesity. Psychiatry Res 142(1):31–37

14.

Goodman E, Whitaker RC (2002) A prospective study of the role of depression in the development and persistence of adolescent obesity. Pediatrics 110(3):497–504

15.

Fergusson DM, Boden JM, Horwood L (2007) Recurrence of major depression in adolescence and early adulthood, and later mental health, educational and economic outcomes. Br J Psychiatry. 191:335–342

16.

Corrigan PW (2004) How stigma interferes with mental health care. Am Psychol 59(7):614–625

17.

Anglin DM, Alberti PM, Link BG, Phelan JC (2008) Racial differences in beliefs about the effectiveness and necessity of mental health treatment. Am J Community Psychol 42(1–2):17–24

18.

Gary FA (2005) Stigma: barrier to mental health care among ethnic minorities. Issues Ment Health Nurs. 26(10):979–999

19.

Interian A, Martinez IE, Guarnaccia PJ, Vega WA, Escobar JI (2007) A qualitative analysis of the perception of stigma among Latinos receiving antidepressants. Psychiatr Serv 58(12):1591–1594

20.

Nadeem E, Lange JM, Edge D, Fongwa M, Belin T, Miranda J (2007) Does stigma keep poor young immigrant and U.S.-born Black and Latina women from seeking mental health care? Psychiatr Serv 58(12):1547–1554

21.

Hodgkin D, Merrick EL, Horgan CM, Garnick DW, McLaughlin TJ (2007) Does type of gatekeeping model affect access to outpatient specialty mental health services? Health Serv Res 42(1 Pt 1):104–123

22.

Corrigan PW, Kosyluk KA, Markowitz F et al (2016) Mental illness stigma and disclosure in college students. J Ment Health. 25(3):224–230

23.

Chandra A, Minkovitz CS (2006) Stigma starts early: gender differences in teen willingness to use mental health services. J Adolesc Health. 38(6):754 (e751–758)

24.

Elkington K, Hackler D, McKinnon K, Borges C, Wright ER, Wainberg ML (2012) Perceived mental illness stigma among youth in psychiatric outpatient treatment. J Adolesc Res 27(2):290–317

25.

DuPont-Reyes MJ, Villatoro AP, Phelan JC, Painter K, Link BG (2019) Adolescent views of mental illness stigma: an intersectional lens. Am J Orthopsychiatry. https://doi.org/10.1037/ort0000425

26.

Ramos-Sánchez L, Atkinson DR (2009) The relationship between Mexican American acculturation, cultural values, gender, and help-seeking intentions. J Couns Dev 87:62–71

27.

Corrigan PW, Morris SB, Michaels PJ, Rafacz JD, Rusch N (2012) Challenging the public stigma of mental illness: a meta-analysis of outcome studies. Psychiatr Serv 63(10):963–973

28.

Clark W, Welch SN, Berry SH et al (2013) California's historic effort to reduce the stigma of mental illness: the Mental Health Services Act. Am J Public Health 103(5):786–794

29.

Alegria M, Takeuchi D, Canino G et al (2004) Considering context, place and culture: the National Latino and Asian American Study. Int J Methods Psychiatr Res 13(4):208–220

30.

Villatoro AP, Morales ES, Mays VM (2014) Family culture in mental health help-seeking and utilization in a nationally representative sample of Latinos in the United States: the NLAAS. Am J Orthopsychiatry 84(4):353–363

31.

Keyes KM, Martins SS, Hatzenbuehler ML, Blanco C, Bates LM, Hasin DS (2012) Mental health service utilization for psychiatric disorders among Latinos living in the United States: the role of ethnic subgroup, ethnic identity, and language/social preferences. Soc Psychiatry Psychiatr Epidemiol 47(3):383–394

32.

Cohen DA, Scribner RA, Farley TA (2000) A structural model of health behavior: a pragmatic approach to explain and influence health behaviors at the population level. Prev Med 30(2):146–154

33.

Wahl O (2003) Depictions of mental illnesses in children's media. J Mental Health 12(3):249–258

34.

Granello D, Pauley P (2000) Television viewing habits and their relationship to tolerance toward people with mental illness. J Mental Health Couns 22(2):162–175

35.

Ross A, Morgan AJ, Jorm AF, Reavley NJ (2019) A systematic review of the impact of media reports of severe mental illness on stigma and discrimination, and interventions that aim to mitigate any adverse impact. Soc Psychiatry Psychiatr Epidemiol 54:11–31

36.

Maiorano A, Lasalvia A, Sampogna G, Pocai B, Ruggeri M, Henderson C (2017) Reducing stigma in media professional: is there room for improvement? results from a systematic review. Can J Psychiatry 62(10):702–715

37.

Jamieson P, Jamieson KH, Romer D (2003) The responsible reporting of suicide in print journalism. Am Behav Sci 46(2):1643–1660

38.

McGinty EE, Kennedy-Hendricks A, Choksy S, Barry CL (2016) Trends in news media coverage of mental illness in the United States: 1995–2014. Health Aff (Millwood). 35(6):1121–1129

39.

Matthews AM, Rosenquist PB, McCall WV (2016) Representations of ECT in English-language film and television in the new millennium. J ECT 32(3):187–191

40.

Corrigan PW, Powell KJ, Michaels PJ (2013) The effects of news stories on the stigma of mental illness. J Nerv Ment Dis 201(3):179–182

41.

Gwarjanski AR, Parrott S (2018) Schizophrenia in the news: the role of news frames in shaping online reader dialogue about mental illness. J Health Commun 33(8):954–961

42.

McGinty EE, Webster DW, Barry CL (2013) Effects of news media messages about mass shootings on attitudes toward persons with serious mental illness and public support for gun control policies. Am J Psychiatry 170(5):494–501

43.

Hoffner CA, Fujioka Y, Cohen EL, Atwell Seate A (2017) Perceived media influence, mental illness, and responses to news coverage of a mass shooting. Psychol Popul Media Cult 6(2):159–173

44.

Campbell NN, Heath J, Bouknight J, Rudd K, Pender J (2009) Speaking out for mental health: collaboration of future journalists and psychiatrists. Acad Psychiatry. 33:166–168

45.

Hugo Lopez M, Gonzalez-Barrera A (2013) What is the future of Spanish in the United States? https://www.pewresearch.org/fact-tank/2013/09/05/what-is-the-future-of-spanish-in-the-united-states/. Accessed 2 June 2019

46.

Ronen S, Goncalves B, Hu KZ, Vespignani A, Pinker S, Hidalgo CA (2014) Links that speak: the global language network and its association with global fame. PNAS 111(52):E5616–E5622

47.

Hugo Lopez M (2013) What Univision's milestone says about U.S. demographics. https://www.pewresearch.org/fact-tank/2013/07/29/what-univisions-milestone-says-about-u-s-demographics/. Accessed 2 June 2019

48.

Univision Public Relations (2019) Univision is No. 1 Broadcast Network Among Young Adults 18-34 on Thursday and Sunday Night [press release]. Univision Communications, Inc

49.

Entertainment Industries Council Inc (2012) Analysis of English and Spanish Language Newspaper Coverage of Mental Health Issues in California. Burbank, California

50.

Aragones E, Lopez-Muntaner J, Ceruelo S, Basora J (2014) Reinforcing stigmatization: coverage of mental illness in Spanish newspapers. J Health Commun. 19(11):1248–1258

51.

Flores A, Hugo Lopez M (2018) Among U.S. Latinos, the internet now rivals television as a source for news. Accessed 3 June 2019

52.

Painter K, Phelan JC, DuPont-Reyes MJ, Villatoro AP, Barkin K, Link BG (2016) Evaluation of anti-stigma interventions with sixth-grade students: a school-based field experiment. Psychiatric Serv 68(4):345–352

53.

Texas Education Agency (2012) Enrollment in Texas Public School, 2011–2012. Division of Research and Analysis, Department of Assessment and Accountability, Texas Education Agency

54.

Noss A (2012) Household income for states: 2010 and 2011. American Community Survey Briefs, Bureaa, U.S.C. (Ed.)

55.

Link BG, Phelan JC (2013) Labeling and stigma. In: Aneshensel CS, Phelan JC (eds) Handbook of the sociology of mental health. Springer, Dordrecht, pp 525–541

56.

Adler A, Wahl O (1998) Children's beliefs about people labeled mentally ill. Am J Orthopsychiatry 68:321–326

57.

Link BG, Yang LH, Phelan JC, Collins PY (2004) Measuring mental illness stigma. Schizophr Bull 30(3):511–541

58.

American Psychiatric Association (2000) Diagnostic and statistical manual of mental disorders: DSM IV. American Psychiatric Association, Washington, DC

59.

Marin G, Sabogal F, VanOss Marin B, Otero-Sabogal R, Perez-Stable E (1987) Development of a short acculturation scale for Hispanics. Hisp J Behav Sci 9(2):183–205

60.

Corrigan P, Green A, Lundin R, Kubiak M, Penn D (2001) Familiarity with and social distance from people who have serious mental illness. Psychiatr Serv 52(7):953–958

61.

Wahl O (2002) Children's views of mental illness: a review of the literature. Psychiatr Rehabil Skills 6:134–158

62.

Alegria M (2009) The challenge of acculturation measures: what are we missing? a commentary on Thomson & Hoffman-Goetz. Soc Sci Med 69(7):996–998
Acknowledgements
The study was supported by grants #R01MH095254 and #5-T32-MH 13043 from the National Institute of Mental Health, and by the Latino Research Institute at The University of Texas at Austin.
Ethics declarations
Conflict of interest
On behalf of all authors, the corresponding author states that there is no conflict of interest.
About this article
Cite this article
DuPont-Reyes, M.J., Villatoro, A.P., Phelan, J.C. et al. Media language preferences and mental illness stigma among Latinx adolescents. Soc Psychiatry Psychiatr Epidemiol 55, 929–939 (2020). https://doi.org/10.1007/s00127-019-01792-w
Received:

Accepted:

Published:

Issue Date:
Keywords
Mental illness stigma

Hispanic Latinx

Media language preference

Acculturation

Spanish