Abstract
Purpose
Loneliness and social isolation can occur at all stages of the life course and are recognized as a global health priority. The aim of this study was to review existing literature on the economic costs associated with loneliness and social isolation as well as evidence on the cost-effectiveness of interventions to prevent or address loneliness and social isolation.
Methods
A bibliographic database search was undertaken in Medline, PsycINFO, CINAHL, and Embase, supplemented by a grey literature search and a reference list search. Papers were included that were published in English language in peer-reviewed literature in the past 10 years, reporting costs of loneliness and/or social isolation or economic evaluations of interventions whose primary purpose is to reduce loneliness and/or social isolation, including return on investment (ROI) or social return on investment (SROI) studies.
Results
In total, 12 papers were included in this review, consisting of four cost-of-illness studies, seven economic evaluations and five ROI or SROI studies. Most studies were conducted in the UK and focused on older adults. Due to the inconsistent use of the terms loneliness and social isolation, as well as their measurement, the true economic burden can only be estimated to a certain extent and the comparability across economic evaluations and ROI studies is limited.
Conclusions
The paucity of evidence that is available primarily evaluating the economic costs of loneliness indicates that more research is needed to assess the economic burden and identify cost-effective interventions to prevent or address loneliness and social isolation.
Access options
Buy single article
Instant access to the full article PDF.
US$ 39.95
Tax calculation will be finalised during checkout.
Subscribe to journal
Immediate online access to all issues from 2019. Subscription will auto renew annually.
US$ 159
Tax calculation will be finalised during checkout.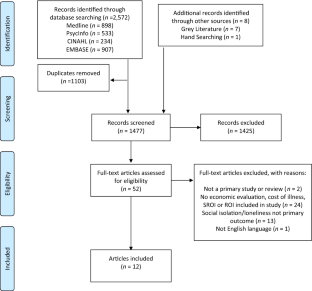 References
1.

Peplau L, Perlman D (1982) Loneliness: a sourcebook of current theory, research and therapy. Wiley, New York

2.

Russell D, Peplau LA, Cutrona CE (1980) The revised UCLA loneliness scale: concurrent and discriminant validity evidence. J Pers Soc Psychol 39(3):472–480

3.

Cornwell EY, Waite LJ (2009) Social disconnectedness, perceived isolation, and health among older adults. J Health Soc Behav 50(1):31–48

4.

Steptoe A, Shankar A, Demakakos P, Wardle J (2013) Social isolation, loneliness, and all-cause mortality in older men and women. Proc Natl Acad Sci USA 110(15):5797–5801

5.

Durcan D, Bell R (2015) Local action on health inequalities: reducing social isolation across the lifecourse. Public Health England, London

6.

Cacioppo JT, Hughes ME, Waite LJ, Hawkley LC, Thisted RA (2006) Loneliness as a specific risk factor for depressive symptoms: cross-sectional and longitudinal analyses. Psychol Aging 21(1):140–151

7.

James BD, Wilson RS, Barnes LL, Bennett DA (2011) Late-life social activity and cognitive decline in old age. J Int Neuropsychol Soc 17(6):998–1005

8.

Knox SS, Uvnas-Moberg K (1998) Social isolation and cardiovascular disease: an atherosclerotic pathway? Psychoneuroendocrinology 23(8):877–890

9.

Hawkley LC, Thisted RA, Masi CM, Cacioppo JT (2010) Loneliness predicts increased blood pressure: 5-year cross-lagged analyses in middle-aged and older adults. Psychol Aging 25(1):132–141

10.

Kuiper JS, Zuidersma M, Oude Voshaar RC, Zuidema SU, van den Heuvel ER, Stolk RP et al (2015) Social relationships and risk of dementia: a systematic review and meta-analysis of longitudinal cohort studies. Ageing Res Rev 22:39–57

11.

Holt-Lunstad J, Smith TB, Baker M, Harris T, Stephenson D (2015) Loneliness and social isolation as risk factors for mortality: a meta-analytic review. Perspect Psychol Sci 10(2):227–237

12.

Gerst-Emerson K, Jayawardhana J (2015) Loneliness as a public health issue: the impact of loneliness on health care utilization among older adults. Am J Public Health 105(5):1013–1019

13.

Valtorta NK, Moore DC, Barron L, Stow D, Hanratty B (2018) Older adults' social relationships and health care utilization: a systematic review. Am J Public Health 108(4):e1–e10

14.

Larg A, Moss JR (2011) Cost-of-illness studies: a guide to critical evaluation. PharmacoEconomics 29(8):653–671

15.

Cacioppo S, Grippo AJ, London S, Goossens L, Cacioppo JT (2015) Loneliness: clinical import and interventions. Perspect Psychol Sci 10(2):238–249

16.

Masi CM, Chen HY, Hawkley LC, Cacioppo JT (2011) A meta-analysis of interventions to reduce loneliness. Pers Soc Psychol Rev 15(3):219–266

17.

Drummond MF, Sculpher MJ, Claxton K, Stoddart GL, Torrance GW (2015) Methods for the economic evaluation of health care programmes. Oxford University Press, Oxford

18.

Moher D, Liberati A, Tetzlaff J, Altman DG, Group P (2009) Preferred reporting items for systematic reviews and meta-analyses: the PRISMA statement. PLoS Med 6(7):e1000097

19.

Ouzzani M, Hammady H, Fedorowicz Z, Elmagarmid A (2016) Rayyan—a web and mobile app for systematic reviews. Syst Rev 5:210

20.

Krlev G, Munscher R, Mulbert K (2013) Social return on investment (SROI): state-of-the-art and perspectives. A meta-analysis of practice in social return on investment (SROI) studies published 2002–2012. Heidelberg University, Germany, Services CfSIA

21.

Fulton L, Jupp B (2015) Investing to tackle loneliness—a discussion paper. Social Finance, London

22.

McDaid D, Park AL, Fernandez J-L (2016) Reconnections evaluation interim report. Personal Social Services Research Unit (PSSRU), London School of Economics and Political Science, London

23.

Landeiro F, Leal J, Gray AM (2016) The impact of social isolation on delayed hospital discharges of older hip fracture patients and associated costs. Osteoporos Int 27(2):737–745

24.

Shaw JG, Farid M, Noel-Miller C, Joseph N, Houser A, Asch SM et al (2017) Social isolation and medicare spending: among older adults, objective social isolation increases expenditures while loneliness does not. J Aging Health 29(7):1119–1143

25.

Pitkala KH, Routasalo P, Kautiainen H, Tilvis RS (2009) Effects of psychosocial group rehabilitation on health, use of health care services, and mortality of older persons suffering from loneliness: a randomized, controlled trial. J Gerontol Ser A Biol Sci Med Sci 64(7):792–800

26.

Knapp M, McDaid D, Parsonage M (2011) Mental health promotion and prevention: the economic case. Department of Health, London

27.

Mallender J, OPritchard C, Tierney R, Rtveladze K (2015) Independence and mental wellbeing (including social and emotional wellbeing) for older people. Optimity Matrix, commissioned by the National Institute for Health and Care Excellence

28.

Onrust S, Smit F, Willemse G, Bout J, Cuijpers P (2008) Cost-utility of a visiting service for older widowed individuals: randomised trial. BMC Health Serv Res 8:128

29.

McDaid D, Park AL, Knapp M (2017) Commissioning cost-effective services for promotion of mental health and wellbeing and prevention of mental ill-health. Public Health England, London

30.

Kimberlee R, Means R (2013) Assessing the impact of the LinkAge hub in Whitehall and St. George, Bristol: briefing report. University of the West of England, Bristol

31.

Social Value Lab (2011) CraftCafe—creative solutions to isolation & loneliness—social return on investment evaluation. Social Value Lab, Glasgow

32.

Willis E, Semple AC, de Waal H (2018) Quantifying the benefits of peer support for people with dementia: a social return on investment (SROI) study. Dementia (London, England) 17(3):266–278

33.

Nicholls J, Lawlor E, Neitzert E, Goodspeed T (2012) A guide to social return on investment, 2nd edn. The SROI Network. http://www.socialvalueuk.org/app/uploads/2016/03/The%20Guide%20to%20Social%20Return%20on%20Investment%202015.pdf

34.

McDaid D, Bauer A, Park AL (2017) Making the economic case for investing in actions to prevent and/or tackle loneliness: a systematic review. A briefing paper. Personal Social Services Research Unit (PSSRU), London School of Economics and Political Science, London

35.

BBC UK (2018) 16–24 year olds are the loneliest age group according to new BBC Radio 4 survey 2018. https://www.bbc.co.uk/mediacentre/latestnews/2018/loneliest-age-group-radio-4. Accessed 29 Nov 2018

36.

Beutel ME, Klein EM, Brahler E, Reiner I, Junger C, Michal M et al (2017) Loneliness in the general population: prevalence, determinants and relations to mental health. BMC Psychiatry 17(1):97

37.

Valtorta NK, Kanaan M, Gilbody S, Hanratty B (2016) Loneliness, social isolation and social relationships: what are we measuring? A novel framework for classifying and comparing tools. BMJ Open 6(4):e010799

38.

Ellaway A, Wood S, Macintyre S (1999) Someone to talk to? The role of loneliness as a factor in the frequency of GP consultations. Br J Gen Pract 49(442):363–367

39.

Geller J, Janson P, McGovern E, Valdini A (1999) Loneliness as a predictor of hospital emergency department use. J Fam Pract 48(10):801–804

40.

Liotta G, Inzerilli MC, Palombi L, Bianchini A, Di Gennaro L, Madaro O et al (2018) Impact of social care on hospital admissions in a sample of community-dwelling older adults: results of a quasi-experimental study. Ann Ig 30(5):378–386

41.

Newall N, McArthur J, Menec VH (2015) A longitudinal examination of social participation, loneliness, and use of physician and hospital services. J Aging Health 27(3):500–518

42.

Zhang J, Xu L, Li J, Sun L, Ding G, Qin W et al (2018) Loneliness and health service utilization among the rural elderly in Shandong, China: a cross-sectional study. Int J Environ Res Public Health 15(7):1468–1479

43.

Mann F, Bone JK, Lloyd-Evans B, Frerichs J, Pinfold V, Ma R et al (2017) A life less lonely: the state of the art in interventions to reduce loneliness in people with mental health problems. Soc Psychiatry Psychiatr Epidemiol 52(6):627–638
Ethics declarations
Conflict of interest
On behalf of all authors, the corresponding author states that there is no conflict of interest.
Additional information
The original version of this article was revised due to a retrospective Open Access cancellation.
This article is part of the focused issue 'Loneliness: contemporary insights on causes, correlates, and consequences'.
Electronic supplementary material
Below is the link to the electronic supplementary material.
About this article
Cite this article
Mihalopoulos, C., Le, L.KD., Chatterton, M.L. et al. The economic costs of loneliness: a review of cost-of-illness and economic evaluation studies. Soc Psychiatry Psychiatr Epidemiol 55, 823–836 (2020). https://doi.org/10.1007/s00127-019-01733-7
Received:

Accepted:

Published:

Issue Date:
Keywords
Loneliness

Social isolation

Cost–benefit analysis

Cost of illness

Costs and cost analysis

Return on investment