Abstract
Purpose
To evaluate changes in standardized suicide rates in Brazil between 2000 and 2016, stratified by sex and age.
Methods
Descriptive analyses of data from the Brazilian Mortality Information System were performed.
Results
156,292 suicides were registered in the period, with a standardized rate of 4.82/100,000. The risk for males was 3.81 times higher than for females, without meaningful regional variations. This ratio was 8.2 at the 80+ group. An increase from 2000 to 2016 was demonstrated in nearly all subgroups over the 17, especially men aged 20–39 and women aged 40–59.
Conclusions
Suicide rates continue to rise in Brazil, especially among young men and middle-aged women. Older men remain exposed to the highest absolute risk.
Access options
Buy single article
Instant access to the full article PDF.
US$ 39.95
Tax calculation will be finalised during checkout.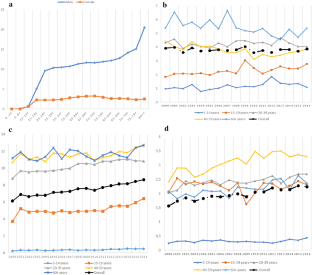 References
1.

World Health Organization (2018) World health statistics 2018: monitoring health for the SDGs, sustainable development goals. World Health Organization, Geneva, p 07

2.

Värnik P (2012) Suicide in the world. Int J Environ Res Public Health 9(3):760–771

3.

Zhong BL, Chiu HF, Conwell Y (2016) Rates and characteristics of elderly suicide in China, 2013–14. J Affect Disord 206:273–279

4.

Phillips JA (2014) A changing epidemiology of suicide? The influence of birth cohorts on suicide rates in the United States. Soc Sci Med 114:151–160

5.

Stack S (1991) Social correlates of suicide by age. In: Life span perspectives of suicide. Springer, Berlin, pp 187–213

6.

Machado DB, Santos DN (2015) Suicídio no Brasil, de 2000 a 2012. J Bras Psiquiatr 64(1):45–54

7.

Minayo MCS, Pinto LW, Assis SG, Cavalcante FG, Mangas RMN (2012) Tendência da mortalidade por suicídio na população brasileira e idosa, 1980–2006. Rev Saúde Pública 46(2):300–309

8.

Burns RA (2016) Sex and age trends in Australia's suicide rate over the last decade: Something is still seriously wrong with men in middle and late life. Psychiatry Res 245:224–229

9.

Wang Z, Yu C, Wang J, Bao J, Gao X, Xiang H (2016) Age-period-cohort analysis of suicide mortality by gender among white and black Americans, 1983–2012. Int J Equity Health 15:107

10.

Bando DH, Brunoni AR, Fernandes TG, Benseñor IM, Lotufo PA (2012) Suicide rates and trends in São Paulo, Brazil, according to gender, age and demographic aspects: a joinpoint regression analysis. Rev Bras Psiquiatr 34:286–293

11.

Pompili M, Vichi M, Innamorati M, Lester D, Yang B, De Leo D, Girardi P (2014) Suicide in Italy during a time of economic recession: some recent data related to age and gender based on a nationwide register study. Health Soc Care Community 22(4):361–367

12.

Ministério da Saúde (2018) DATASUS. http://datasus.saude.gov.br/. Accessed 03 Oct 2018

13.

Didier LS, Jos B, Bernard GCS (2012) The gender paradox in suicidal behavior and its impact on the suicidal process. J Affect Disord 138:19–26

14.

World Health Organization (2014) Preventing suicide: a global imperative. World Health Organization, Geneva

15.

Qin P, Agerbo E, Westergård-Nielsen N et al (2000) Gender differences in risk factors for suicide in Denmark. Br J Psychiatry 177:546–550

16.

Hawton K (2000) Sex and suicide. Gender differences in suicidal behaviour. Br J Psychiatry 177:484–485

17.

Murphy GE (1998) Why women are less likely than men to commit suicide. Compr Psychiatry 39(4):165–175

18.

de Kruif M, Spijker AT, Molendijk ML (2016) Depression during the perimenopause: a meta-analysis. J Affect Disord 206:174–180

19.

Office for National Statistics (2018) Deaths Registered in England and Wales, 2017 United Kingdom. https://www.ons.gov.uk/file?uri=/peoplepopulationandcommunity/birthsdeathsandmarriages/deaths/datasets/deathsregisteredinenglandandwalesseriesdrreferencetables/2017/drtables17.xls. Accessed 15 Nov 2018

20.

Stack S (2000) Suicide: a 15-year review of the sociological literature. Part II: modernization and social integration perspectives. Suicide Life Threat Behav 30(2):163–176

21.

Baudelot C, Establet R (2008) Suicide: the hidden side of mordernity. Polity Press, Cambridge

22.

Gunnell D, Middleton N, Whitley E, Dorling D, Frankel S (2003) Why are suicide rates rising in young men but falling in the elderly?—a time-series analysis of trends in England and Wales 1950–1998. Soc Sci Med 57(4):595–611

23.

Meneghel SN, Victora CG, Faria NMX, Carvalho LA, Falk JW (2004) Epidemiologica laspects of suicide in Rio Grande do Sul, Brazil. Rev Saude Publica 38(6):804–810

24.

Beautrais AL (2000) Risk factors for suicide and attempted suicide among young people. Aust N Z J Psychiatry 34(3):420–436
Acknowledgements
PVSM is supported by the National Council for Scientific and Technological Development—CNPq productivity fellowship.
Ethics declarations
Conflict of interest
On behalf of all authors, the corresponding author states that there is no conflict of interest.
About this article
Cite this article
Martini, M., da Fonseca, R.C., de Sousa, M.H. et al. Age and sex trends for suicide in Brazil between 2000 and 2016. Soc Psychiatry Psychiatr Epidemiol 54, 857–860 (2019). https://doi.org/10.1007/s00127-019-01689-8
Received:

Accepted:

Published:

Issue Date: