Abstract
Purpose
Suicidality (ranging from suicidal ideation to suicidal attempts and completed suicide) is a major and preventable public health concern, and body weight is considered a modifiable factor which might be helpful to the early risk assessment of suicidal ideation. This study aimed to comprehensively evaluate the association of body weight status with suicidal ideation across sex among Chinese adolescents.
Methods
Data were drawn from the 2015 National School-based Chinese Adolescents Health Survey, and 54,640 students' questionnaires were completed and qualified for the survey. Body mass index z scores were calculated and categorized into four levels: underweight (less than the 5th percentile for sex and age), normal weight (between the 5th and 85th percentile), overweight (between the 85th and 95th percentile), and obese (above the 95th percentile).
Results
Of the total sample, 47.3% (25,852) were boys. The weighted prevalence of suicidal ideation among Chinese adolescents is 15.7% (14.6% in boys and 17.3% in girls). After adjusting for demographics, smoking, drinking, and depressive symptoms, our final multivariate logistic regression models demonstrated that only boys identified as underweight (Adjusted odds ratio [AOR] = 1.23, 95% CI = 1.06–1.44) or obese (AOR = 1.19, 95% CI = 1.02–1.38) were at a higher risk of suicidal ideation. Additionally, the association between weight status and suicidal ideation among boys might be moderated by academic pressure, smoking, and depressive symptoms.
Conclusions
There was a significant J-shaped association between relative body weight and suicidal ideation in boys. The child's sex should be taken into consideration when developing interventions against unhealthy weight and suicidal ideation.
This is a preview of subscription content, log in to check access.
Access options
Buy single article
Instant access to the full article PDF.
US$ 39.95
Price includes VAT for USA
Subscribe to journal
Immediate online access to all issues from 2019. Subscription will auto renew annually.
US$ 199
This is the net price. Taxes to be calculated in checkout.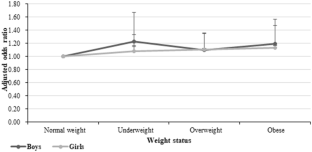 References
1.

World Health Organization (2014) Preventing suicide: a global imperative. https://apps.who.int/iris/bitstream/handle/10665/131056/9789241564779_eng.pdf;jsessionid=1DBC87AD26FF82B46AC01C10AF8DE21D?sequence=1. Accessed 5 Apr 2018

2.

Cluver L, Orkin M, Boyes ME, Sherr L (2015) Child and adolescent suicide attempts, suicidal behavior, and adverse childhood experiences in South Africa: a prospective study. J Adolesc Health 57(1):52–59

3.

Zhang J, Sun L, Liu Y, Zhang J (2014) The change in suicide rates between 2002 and 2011 in China. Suicide Life Threat Behav 44(5):560–568

4.

Cui S, Cheng Y, Xu Z, Wang Y (2011) Peer relationships and suicide ideation and attempts among Chinese adolescents. Child Care Health Dev 37(5):692–702

5.

Guo L, Xu Y, Deng J, Huang J, Huang G, Gao X, Li P, Wu H, Pan S, Zhang WH, Lu C (2017) Association between sleep duration, suicidal ideation, and suicidal attempts among Chinese adolescents: the moderating role of depressive symptoms. J Affect Disord 208:355–362

6.

Cash SJ, Bridge JA (2009) Epidemiology of youth suicide and suicidal behavior. Curr Opin Pediatr 21(5):613–619

7.

Magnusson PK, Rasmussen F, Lawlor DA, Tynelius P, Gunnell D (2006) Association of body mass index with suicide mortality: a prospective cohort study of more than one million men. Am J Epidemiol 163(1):1–8

8.

Ng M, Fleming T, Robinson M, Thomson B, Graetz N, Margono C, Mullany EC, Biryukov S, Abbafati C, Abera SF, Abraham JP, Abu-Rmeileh NM, Achoki T, AlBuhairan FS, Alemu ZA, Alfonso R, Ali MK, Ali R, Guzman NA, Ammar W, Anwari P, Banerjee A, Barquera S, Basu S, Bennett DA, Bhutta Z, Blore J, Cabral N, Nonato IC, Chang JC, Chowdhury R, Courville KJ, Criqui MH, Cundiff DK, Dabhadkar KC, Dandona L, Davis A, Dayama A, Dharmaratne SD, Ding EL, Durrani AM, Esteghamati A, Farzadfar F, Fay DF, Feigin VL, Flaxman A, Forouzanfar MH, Goto A, Green MA, Gupta R, Hafezi-Nejad N, Hankey GJ, Harewood HC, Havmoeller R, Hay S, Hernandez L, Husseini A, Idrisov BT, Ikeda N, Islami F, Jahangir E, Jassal SK, Jee SH, Jeffreys M, Jonas JB, Kabagambe EK, Khalifa SE, Kengne AP, Khader YS, Khang YH, Kim D, Kimokoti RW, Kinge JM, Kokubo Y, Kosen S, Kwan G, Lai T, Leinsalu M, Li Y, Liang X, Liu S, Logroscino G, Lotufo PA, Lu Y, Ma J, Mainoo NK, Mensah GA, Merriman TR, Mokdad AH, Moschandreas J, Naghavi M, Naheed A, Nand D, Narayan KM, Nelson EL, Neuhouser ML, Nisar MI, Ohkubo T, Oti SO, Pedroza A, Prabhakaran D, Roy N, Sampson U, Seo H, Sepanlou SG, Shibuya K, Shiri R, Shiue I, Singh GM, Singh JA, Skirbekk V, Stapelberg NJ, Sturua L, Sykes BL, Tobias M, Tran BX, Trasande L, Toyoshima H, van de Vijver S, Vasankari TJ, Veerman JL, Velasquez-Melendez G, Vlassov VV, Vollset SE, Vos T, Wang C, Wang X, Weiderpass E, Werdecker A, Wright JL, Yang YC, Yatsuya H, Yoon J, Yoon SJ, Zhao Y, Zhou M, Zhu S, Lopez AD, Murray CJ, Gakidou E (2014) Global, regional, and national prevalence of overweight and obesity in children and adults during 1980–2013: a systematic analysis for the Global Burden of Disease Study 2013. Lancet 384(9945):766–781

9.

He Y, Pan A, Yang Y, Wang Y, Xu J, Zhang Y, Liu D, Wang Q, Shen H, Zhang Y, Yan D, Peng Z, Hu FB, Ma X (2016) Prevalence of underweight, overweight, and obesity among reproductive-age women and adolescent girls in rural China. Am J Public Health 106(12):2103–2110

10.

Puhl RM, Heuer CA (2009) The stigma of obesity: a review and update. Obes (Silver Spring) 17(5):941–964

11.

Chu C, Buchman-Schmitt JM, Stanley IH, Hom MA, Tucker RP, Hagan CR, Rogers ML, Podlogar MC, Chiurliza B, Ringer FB, Michaels MS, Patros C, Joiner TE (2017) The interpersonal theory of suicide: a systematic review and meta-analysis of a decade of cross-national research. Psychol Bull 143(12):1313–1345

12.

Juan W, Xiao-Juan D, Jia-Ji W, Xin-Wang W, Liang X (2010) The associations between health risk behaviors and suicidal ideation and attempts in an urban Chinese sample of adolescents. J Affect Disord 126(1–2):180–187

13.

Kim JH, Kim DH, Park YS (2016) Body composition, sarcopenia, and suicidal ideation in elderly Koreans: hallym aging study. J Korean Med Sci 31(4):604–610

14.

Sun L, Zhou C (2018) Association between body mass index and suicidal ideation among seniors in Shandong, China. Compr Psychiatry 82:68–72

15.

Henriksen CA, Mather AA, Mackenzie CS, Bienvenu OJ, Sareen J (2014) Longitudinal associations of obesity with affective disorders and suicidality in the Baltimore epidemiologic catchment area follow-up study. J Nerv Ment Dis 202(5):379–385

16.

Perera S, Eisen R, Bawor M, Dennis B, de Souza R, Thabane L, Samaan Z (2015) Association between body mass index and suicidal behaviors: a systematic review protocol. Syst Rev 4:52

17.

Kim DK, Song HJ, Lee EK, Kwon JW (2016) Effect of sex and age on the association between suicidal behaviour and obesity in Korean adults: a cross-sectional nationwide study. BMJ Open 6(6):e10183

18.

Crockett LJ, Beal SJ (2012) The life course in the making: gender and the development of adolescents' expected timing of adult role transitions. Dev Psychol 48(6):1727–1738

19.

Li X, Miao Y, Chen W (2015) China's three-year health reform program and equity in sanitation improvement: a panel analysis. BMC Public Health 15:38

20.

Banna JC, Gilliland B, Keefe M, Zheng D (2016) Cross-cultural comparison of perspectives on healthy eating among Chinese and American undergraduate students. BMC Public Health 16(1):1015

21.

Guo L, Xu Y, Deng J, Huang J, Huang G, Gao X, Wu H, Pan S, Zhang WH, Lu C (2016) Association between nonmedical use of prescription drugs and suicidal behavior among adolescents. JAMA Pediatr 170(10):971–978

22.

Li H, Ji CY, Zong XN, Zhang YQ (2009) Body mass index growth curves for Chinese children and adolescents aged 0 to 18 years (in Chinese). Zhonghua Er Ke Za Zhi 47(7):493–498

23.

Mei Z, Ogden CL, Flegal KM, Grummer-Strawn LM (2008) Comparison of the prevalence of shortness, underweight, and overweight among US children aged 0 to 59 months by using the CDC 2000 and the WHO 2006 growth charts. J Pediatr 153(5):622–628

24.

Hong L, Guo L, Wu H, Li P, Xu Y, Gao X, Deng J, Huang G, Huang J, Lu C (2016) Bullying, depression, and suicidal ideation among adolescents in the Fujian Province of China: a cross-sectional study. Med (Baltim) 95(5):e2530

25.

Zhang J, Wu Z, Fang G (2010) Development of the Chinese age norms of CES-D in urban area. Chin Mental Health J (In Chin) 24:139–143

26.

Acierno R, Kilpatrick DG, Resnick H, Saunders B, De Arellano M, Best C (2000) Assault, PTSD, family substance use, and depression as risk factors for cigarette use in youth: findings from the National Survey of Adolescents. J Trauma Stress 13(3):381–396

27.

Huang R, Ho SY, Wang MP, Lo WS, Lam TH (2015) Sociodemographic risk factors of alcohol drinking in Hong Kong adolescents. J Epidemiol Community Health 70:374–379

28.

National Health and Nutrition Examination Survey (NHANES) (2006) Analytic and reporting guidelines. Centers for Disease Control and Prevention, Hyattsville, Maryland

29.

Kaslow NJ (2014) Suicidal behavior in children and adolescents. American Psychological Association, Presentation. https://www.apa.org/about/governance/president/suicidal-behavior-adolescents.pdf. Accessed 20 Mar 2018

30.

Fryar CD, Carroll MD, Ogden CL (2016) Prevalence of overweight and obesity among children and adolescents aged 2–19 years: United States, 1963–1965 through 2013–2014. Health E-Stats. Centers for disease control and prevention. https://www.cdc.gov/nchs/data/hestat/obesity_child_13_14/obesity_child_13_14.pdf. Accessed 10 Apr 2018

31.

Deurenberg P, Deurenberg-Yap M, Guricci S (2002) Asians are different from Caucasians and from each other in their body mass index/body fat per cent relationship. Obes Rev 3(3):141–146

32.

Haldar S, Chia SC, Henry CJ (2015) Body composition in Asians and Caucasians: comparative analyses and influences on cardiometabolic outcomes. Adv Food Nutr Res 75:97–154

33.

Ebneter DS, Latner JD (2013) Stigmatizing attitudes differ across mental health disorders: a comparison of stigma across eating disorders, obesity, and major depressive disorder. J Nerv Ment Dis 201(4):281–285

34.

Chang SS, Wen CP, Tsai MK, Lawlor DA, Yang YC, Gunnell D (2012) Adiposity, its related biologic risk factors, and suicide: a cohort study of 542,088 taiwanese adults. Am J Epidemiol 175(8):804–815

35.

Kelly SJ, Daniel M, Dal Grande E, Taylor A (2011) Mental ill-health across the continuum of body mass index. BMC Public Health 11:765

36.

Zeller MH, Reiter-Purtill J, Jenkins TM, Ratcliff MB (2013) Adolescent suicidal behavior across the excess weight status spectrum. Obes (Silver Spring) 21(5):1039–1045

37.

DePierre JA, Puhl RM (2012) Experiences of weight stigmatization: a review of self-report assessment measures. Obes Facts 5(6):897–918

38.

Anderson J, Bresnahan M (2013) Communicating stigma about body size. Health Commun 28(6):603–615

39.

Golomb BA, Tenkanen L, Alikoski T, Niskanen T, Manninen V, Huttunen M, Mednick SA (2002) Insulin sensitivity markers: predictors of accidents and suicides in Helsinki Heart Study screenees. J Clin Epidemiol 55(8):767–773

40.

Carpenter KM, Hasin DS, Allison DB, Faith MS (2000) Relationships between obesity and DSM-IV major depressive disorder, suicide ideation, and suicide attempts: results from a general population study. Am J Public health 90(2):251–257

41.

Jee SH, Kivimaki M, Kang HC, Park IS, Samet JM, Batty GD (2011) Cardiovascular disease risk factors in relation to suicide mortality in Asia: prospective cohort study of over one million Korean men and women. Eur Heart J 32(22):2773–2780

42.

van den Berg PA, Mond J, Eisenberg M, Ackard D, Neumark-Sztainer D (2010) The link between body dissatisfaction and self-esteem in adolescents: similarities across gender, age, weight status, race/ethnicity, and socioeconomic status. J Adolesc Health 47(3):290–296

43.

Caccavale LJ, Farhat T, Iannotti RJ (2012) Social engagement in adolescence moderates the association between weight status and body image. Body Image 9(2):221–226

44.

Sarokhani D, Delpisheh A, Veisani Y, Sarokhani MT, Manesh RE, Sayehmiri K (2013) Prevalence of depression among university students: a systematic review and meta-analysis study. Depress Res Treat 2013:1–7

45.

Strandheim A, Bjerkeset O, Gunnell D, Bjornelv S, Holmen TL, Bentzen N (2014) Risk factors for suicidal thoughts in adolescence-a prospective cohort study: the Young-HUNT study. BMJ Open 4(8):e5867

46.

Zhao X, Selman RL, Haste H (2015) Academic stress in Chinese schools and a proposed preventive intervention program. Cogent Educ 2(1):1000477

47.

Chen T, Wu Z, Shen Z, Zhang J, Shen X, Li S (2014) Sleep duration in Chinese adolescents: biological, environmental, and behavioral predictors. Sleep Med 15(11):1345–1353

48.

Dare S, Mackay DF, Pell JP (2015) Relationship between smoking and obesity: a cross-sectional study of 499,504 middle-aged adults in the UK general population. PLoS One 10(4):e123579

49.

Poorolajal J, Darvishi N (2016) Smoking and suicide: a meta-analysis. PLoS One 11(7):e156348
Acknowledgements
We specifically thank all of the participants in our study.
Funding
This study was supported by Guangdong Food and Drug Administration and Natural Science Foundation of Guangdong Province (Grant no. 2018A0303130331). The sponsors had no role in the design and conduct of the study; collection, management, analysis, and interpretation of the data; preparation, review, or approval of the manuscript; and decision to submit the manuscript for publication.
Ethics declarations
Conflict of interest
The authors declare no conflict of interest.
About this article
Cite this article
Guo, L., Xu, Y., Huang, G. et al. Association between body weight status and suicidal ideation among Chinese adolescents: the moderating role of the child's sex. Soc Psychiatry Psychiatr Epidemiol 54, 823–833 (2019). https://doi.org/10.1007/s00127-019-01661-6
Received:

Accepted:

Published:

Issue Date:
Keywords
Body weight status

Suicidal ideation

Chinese adolescents

Sex difference