Abstract
Purpose
This review aims to summarise the evidence on the impact of news media and social media reports of severe mental illness (SMI) on stigma, and interventions that aim to mitigate any adverse impact.
Methods
A systematic search of electronic databases was conducted in December 2017 to identify studies that report on the impact of media coverage or media interventions on stigma related to schizophrenia, psychosis, bipolar disorder, or mental illness in general. Data were synthesised narratively.
Results
12 studies met inclusion criteria; seven explored the impact of news media on stigma towards SMI or general mental illness, two explored the impact of social media, while three evaluated interventions that aimed to mitigate this impact. These studies showed that positive news reports and social media posts are likely to lead to reductions in stigmatizing attitudes and negative reports and social media posts are likely to increase stigmatizing attitudes. There were a limited number of interventions aiming to mitigate the negative impact of news reports of mental illness on stigma; however, these were ineffective. Interventions with media professionals appear to be successful at reducing their stigmatizing attitudes, but can also act to increase both positive and negative reports in the media.
Conclusions
Given the limited research evidence on the impact of news and social media on stigma towards SMI, and on the effectiveness of interventions aiming to mitigate this impact, further studies of higher quality are needed in this area. Due to mixed findings, interventions with media professionals are also an area of research priority.
Access options
Buy single article
Instant access to the full article PDF.
US$ 39.95
Tax calculation will be finalised during checkout.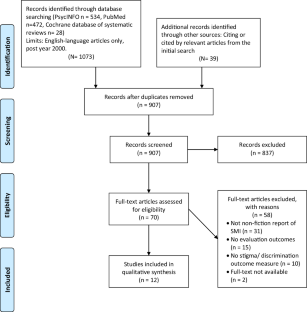 References
1.

Jorm AF, Oh E (2009) Desire for social distance from people with mental disorders. Australian N Z J Psychiatry 43(3):183–200

2.

Świtaj P, Wciórka J, Smolarska-Świtaj J, Grygiel P (2009) Extent and predictors of stigma experienced by patients with schizophrenia. Euro Psychiatry 24(8):513–520

3.

Crisp AH, Gelder MG, Rix S, Meltzer HI, Rowlands OJ (2000) Stigmatisation of people with mental illnesses. Br J psychiatry 177(1):4–7

4.

Schulze B, Angermeyer MC (2003) Subjective experiences of stigma. A focus group study of schizophrenic patients, their relatives and mental health professionals. Soc Sci Med 56(2):299–312

5.

Morgan VA, Waterreus A, Jablensky A, Mackinnon A, McGrath JJ, Carr V, Bush R, Castle D, Cohen M, Harvey C (2012) People living with psychotic illness in 2010: the second Australian national survey of psychosis. Aust N Z J Psychiatry 46(8):735–752

6.

Corrigan P, Thompson V, Lambert D, Sangster Y, Noel JG, Campbell J (2003) Perceptions of discrimination among persons with serious mental illness. Psychiatric Serv 54(8):1105–1110

7.

Link BG, Struening EL, Neese-Todd S, Asmussen S, Phelan JC (2001) Stigma as a barrier to recovery: the consequences of stigma for the self-esteem of people with mental illnesses. Psychiatric Serv 52(12):1621–1626

8.

Stuart H (2006) Media portrayal of mental illness and its treatments. CNS drugs 20(2):99–106

9.

Depla MF, de Graaf R, van Weeghel J, Heeren TJ (2005) The role of stigma in the quality of life of older adults with severe mental illness. Int J Geriatr Psychiatry 20(2):146–153

10.

Hawke LD, Parikh SV, Michalak EE (2013) Stigma and bipolar disorder: a review of the literature. J Affective Disorders 150(2):181–191

11.

Reavley NJ, Cvetkovski S, Jorm AF (2011) Sources of information about mental health and links to help seeking: findings from the 2007 Australian national survey of mental health and wellbeing. Soc Psychiatry Psychiatr Epidemiol 46(12):1267–1274

12.

Torrey EF (2011) The association of stigma with violence. Am J Psychiatry 168(3):325–325

13.

Coverdale J, Nairn R, Claasen D (2002) Depictions of mental illness in print media: a prospective national sample. Aust N Z J Psychiatry 36(5):697–700

14.

Huang B, Priebe S (2003) Media coverage of mental health care in the UK, USA and Australia. The Psychiatrist 27(9):331–333

15.

Murphy NA, Fatoye F, Wibberley C (2013) The changing face of newspaper representations of the mentally ill. J Mental Health 22(3):271–282

16.

Whitley R, Berry S (2013) Trends in newspaper coverage of mental illness in Canada: 2005–2010. The Can J Psychiatry 58(2):107–112

17.

McGinty EE, Kennedy-Hendricks A, Choksy S, Barry CL (2016) Trends in news media coverage of mental illness in the United States: 1995–2014. Health Aff 35(6):1121–1129

18.

Angermeyer C (2000) Schizophrenia and violence. Acta Psychiatr Scand 102(s407):63–67

19.

Steadman HJ, Mulvey EP, Monahan J, Robbins PC, Appelbaum PS, Grisso T, Roth LH, Silver E (1998) Violence by people discharged from acute psychiatric inpatient facilities and by others in the same neighborhoods. Archives General Psychiatry 55(5):393–401

20.

Varshney M, Mahapatra A, Krishnan V, Gupta R, Deb KS (2016) Violence and mental illness: what is the true story? J Epidemiol Community Health 70(3):223–225

21.

Corrigan PW, Watson AC (2005) Findings from the national comorbidity survey on the frequency of violent behavior in individuals with psychiatric disorders. Psychiatry Res 136(2):153–162

22.

Brekke JS, Prindle C, Bae SW, Long JD (2001) Risks for individuals with schizophrenia who are living in the community. Psychiatric Serv 52(10):1358–1366

23.

Knifton L, Quinn N (2008) Media, mental health and discrimination: a frame of reference for understanding reporting trends. Int J Mental Health Promot 10(1):23–31

24.

Corrigan PW, Powell KJ, Michaels PJ (2013) The effects of news stories on the stigma of mental illness. J Nerv Mental Dis 201(3):179–182

25.

Pirkis J, Blood RW, Beautrais A, Burgess P, Skehan J (2006) Media guidelines on the reporting of suicide. Crisis 27(2):82–87

26.

Everymind (2014) Reporting suicide and mental illness: a mindframe resource for media professionals. Hunter Institute of Mental Health, Newcastle, Australia

27.

World Health Organisation [WHO] (2017) Preventing suicide: a resource for media professionals—update 2017. WHO, Geneva, Switzerland

28.

Maiorano A, Lasalvia A, Sampogna G, Pocai B, Ruggeri M, Henderson C (2017) Reducing stigma in media professionals: is there room for improvement? Results from a systematic review. Can J Psychiatry 62(10):702–715

29.

Moher D, Liberati A, Tetzlaff J, Altman DG, Group P (2009) Preferred reporting items for systematic reviews and meta-analyses: the PRISMA statement. PLoS Med 6(7):e1000097

30.

Thomas B, Ciliska D, Dobbins M, Micucci S (2004) A process for systematically reviewing the literature: providing the research evidence for public health nursing interventions. Worldviews Evid Based Nurs 1(3):176–184

31.

Effective Public Health Practice Project (1998) Quality assessment tool for quantitative studies. Effective Public Health Practice Project, Hamilton

32.

Dietrich S, Heider D, Matschinger H, Angermeyer MC (2006) Influence of newspaper reporting on adolescents' attitudes toward people with mental illness. Soc Psychiatry Psychiatry Epidemiol 41(4):318–322

33.

Gwarjanski AR, Parrott S (2018) Schizophrenia in the news: the role of news frames in shaping online reader dialogue about mental illness. Health Commun 33(8):954–961

34.

Hoffner CA, Fujioka Y, Cohen EL, Atwell Seate A (2017) Perceived media influence, mental illness, and responses to news coverage of a mass shooting. Psychol Pop Med Cult 6(2):159–173

35.

McGinty EE, Webster DW, Barry CL (2013) Effects of news media messages about mass shootings on attitudes toward persons with serious mental illness and public support for gun control policies. Am J Psychiatry 170(5):494–501

36.

Morgan AJ, Jorm AF (2009) Recall of news stories about mental illness by Australian youth: associations with help-seeking attitudes and stigma. Aust N Z J Psychiatry 43(9):866–872

37.

Reavley N, Jorm A, Morgan A (2016) Beliefs about dangerousness of people with mental health problems: the role of media reports and personal exposure to threat or harm. Soc Psychiatry Psychiatr Epidemiol 51(9):1257–1264

38.

Miles SA (2016) A dual-process approach to stigma reduction using online, user-generated narratives in social media messages, PhD (Doctor of Philosophy) thesis, University of Iowa. https://ir.uiowa.edu/etd/2122

39.

Shigeta N, Ahmed S, Ahmed SW, Afzal AR, Qasqas M, Kanda H, Ishikawa Y, Turin TC (2017) Content analysis of Canadian newspapers articles and readers' comments related to schizophrenia. Int J Cult Mental Health 10(1):75–81. https://doi.org/10.1080/17542863.2016.1261167

40.

Stuart H, Koller M, Christie R, Pietrus M (2011) Reducing mental health stigma: a case study. Healthc Q (Toronto, Ont.) 14 Spec No 2:40–49

41.

Campbell NN, Heath J, Bouknight J, Rudd K, Pender J (2009) Speaking out for mental health: collaboration of future journalists and psychiatrists. Acad Psychiatry 33(2):166–168

42.

Stuart H (2003) Stigma and the daily news: evaluation of a newspaper intervention. Can J Psychiatry/La Revue Canadienne de Psychiatrie 48(10):651–656

43.

Kvaale EP, Gottdiener WH, Haslam N (2013) Biogenetic explanations and stigma: a meta-analytic review of associations among laypeople. Soc Sci Med 96:95–103

44.

Pirkis J, Dare A, Blood RW, Rankin B, Williamson M, Burgess P, Jolley D (2009) Changes in media reporting of suicide in Australia between 2000/01 and 2006/07. Crisis 30(1):25–33

45.

Niederkrotenthaler T, Sonneck G (2007) Assessing the impact of media guidelines for reporting on suicides in Austria: interrupted time series analysis. Aust N Z J Psychiatry 41(5):419–428

46.

Michel K, Wyss K, Frey C, Valach L (2000) An exercise in improving suicide reporting in print media. Crisis 21(2):71

47.

Sudak HS, Sudak DM (2005) The media and suicide. Acad Psychiatry 29(5):495–499

48.

Reavley NJ, Pilkington PD (2014) Use of twitter to monitor attitudes toward depression and schizophrenia: an exploratory study. PeerJ 2:e647
Acknowledgements
The study was funded by the Commonwealth Department of Health, Australia. The views expressed in this publication are those of the authors and are not necessarily those of the funder.
Ethics declarations
Conflict of interest
Three of the authors were authors on two studies included in this review. All authors declare that there is no further conflict of interest.
Appendix A: Systematic search strategy
Appendix A: Systematic search strategy
|   | PubMed | PsycINFO |
| --- | --- | --- |
| 1 | stigma[TIAB] OR stigmatization[TIAB] OR stigmatization[TIAB] OR anti-stigma[TIAB] OR "Social Stigma"[Mesh] OR "Social Discrimination"[Mesh] OR "Attitude"[Mesh] OR "Attitude of Health Personnel"[Mesh] OR "Prejudice"[Mesh] OR "Social Distance"[Mesh] OR Stereotyping[Mesh] OR Social Perception[Mesh] OR "Rejection (Psychology)"[Mesh] OR Shame[Mesh] | (discrimination or stigma$ or "social distance").mp. or stigma/ or "Attitude Change"/ or Prejudice/ or "Social Discrimination"/ or "Social Approval"/ or "Social Acceptance"/ or Labeling/ or exp "Social Perception"/ or Attitudes/ or "Adolescent Attitudes"/ or "Adult Attitudes"/ or "Child Attitudes"/ or "Counselor Attitudes"/ or "Employee Attitudes"/ or "Employer Attitudes"/ or "Explicit Attitudes"/ or "Female Attitudes"/ or "Health Attitudes"/ or exp "Health Personnel Attitudes"/ or "Implicit Attitudes"/ or "Male Attitudes"/ or "Parental Attitudes"/ or "Psychological Attitudes"/ or "Public Opinion"/ or "Stereotyped Attitudes"/ or "Student Attitudes"/ or "Teacher Attitudes"/ |
| 2 | Mental Disorders[Mesh:NoExp] OR "Schizophrenia Spectrum and Other Psychotic Disorders"[Mesh] OR "Bipolar and Related Disorders"[Mesh] OR "Mentally Ill Persons"[Mesh] OR schizophrenia[TIAB] OR psychosis[TIAB] OR psychotic[TIAB] OR bipolar[TIAB] | Mental Disorders/ OR exp "Chronic Mental Illness"/ OR exp "Bipolar Disorder"/ OR exp Mania/ OR exp Psychosis/ OR "Schizoaffective Disorder"/ OR "Psychiatric Patients"/ OR "Mental illness (Attitudes Toward)"/ OR "mental illness".mp |
| 3 | "Communications Media"[Mesh] OR "Journalism"[Mesh] OR journalism[TIAB] OR journalist[TIAB] OR media[TIAB] OR news[TIAB] OR newspaper[TIAB] OR television[TIAB] OR radio[TIAB] | exp Communications Media/ OR exp Journalists/ OR journalis$.mp OR media.mp OR news$.mp OR television.mp OR radio.mp |
| 4 | "Social Media"[Mesh] OR "Social media" [TIAB] OR facebook[TIAB] OR twitter[TIAB] | exp Social Media/ OR ("Social media" OR facebook OR twitter |
| 5 | (1 AND 2) AND (3 OR 4) | (1 AND 2) AND (3 OR 4) |
| 6 | Limit to Publications > = 2000 and Language = English | Limit to Publications > = 2000 and Language = English |
About this article
Cite this article
Ross, A.M., Morgan, A.J., Jorm, A.F. et al. A systematic review of the impact of media reports of severe mental illness on stigma and discrimination, and interventions that aim to mitigate any adverse impact. Soc Psychiatry Psychiatr Epidemiol 54, 11–31 (2019). https://doi.org/10.1007/s00127-018-1608-9
Received:

Accepted:

Published:

Issue Date:
Keywords
Stigma

Severe mental illness

Schizophrenia

Media intervention

News media

Social media

Journalism