Abstract
Purpose
The aim is to investigate the (1) longitudinal development in mental ill-health and wellbeing from ages 11 to 14, (2) predictors of changes in mental health outcomes, and (3) sex and reporter differences.
Method
Data are taken from 9553 participants in the Millennium Cohort Study, with both mental ill-health (parent- and self-report) and wellbeing outcomes of the cohort members measured at ages 11 and 14. A range of childhood socio-demographic, human capital, family and wider environment risk and protective factors are investigated.
Results
Wellbeing has weak stability and mental ill-health has moderate stability between ages 11 and 14 and large sex differences emerge in all the mental health outcomes investigated, with girls experiencing lower wellbeing and greater symptoms of mental illness at age 14. Raw associations between outcomes, and differences in their predictors, indicate varying patterns emerging for parent- and self-reported mental ill-health, with parent-reported symptoms in childhood a poor predictor of both self-reported wellbeing and depressive symptoms in adolescence. Investigating the emergent sex differences in prevalences highlights childhood risk and protective factors at this age that are more salient in females, including family income, school connectedness, cognitive ability, whereas peer relationships and bullying were equally relevant for mental health development in both males and females.
Conclusion
Low–moderate stability of mental health outcomes stresses the importance of the transition period for mental health, highlighting an intervention window at these ages for prevention. Socio-economic status is associated with mental health development in females but not in males at this age, highlighting a sex-specific vulnerability of deprivation associated with poorer mental health in adolescent females.
Access options
Buy single article
Instant access to the full article PDF.
USD 39.95
Price includes VAT (USA)
Tax calculation will be finalised during checkout.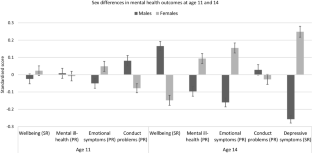 References
1.

Murray CJL et al (2012) Disability-adjusted life years (DALYs) for 291 diseases and injuries in 21 regions, 1990–2010: a systematic analysis for the Global Burden of Disease Study 2010. Lancet 380(9859):2197–2223

2.

NHS England and Department of Health (2015) Future in mind: Promoting, protecting and improving our children and young people's mental health and well-being. NHS England & Department of Health, London

3.

Sharpe H et al (2016) Exploring the relationship between quality of life and mental health problems in children: implications for measurement and practice. Eur Child Adolesc Psychiatry 25(6):659–667

4.

Kinderman P et al (2015) Causal and mediating factors for anxiety, depression and well-being. Br J Psychiatry 206(6):456–460

5.

Patalay P, Fitzsimons E (2016) Correlates of Mental Illness and Wellbeing in Children: Are They the Same? Results From the UK Millennium Cohort Study. J Am Acad Child Adolesc Psychiatry 55(9):771–783

6.

Rees G (2017) The association of childhood factors with children's subjective well-being and emotional and behavioural difficulties at 11 years old. Child Indic Res 11(4):1107–1129

7.

The World Bank (World Development Report 2007) Development and the Next Generation. 2006, The International Bank for Reconstruction and Development / The World Bank: Washington D.C

8.

Robson K (2010) Changes in family structure and the well-being of british children: evidence from a fifteen-year panel study. Child Indic Res 3(1):65–83

9.

Graber J, Hill J, Saczawa M (2014) Childhood and the entry into adolescence: a pivotal period in health-related behaviors and prevention. In: Sloboda Z, Petras H (eds) Defining prevention science. Springer, New York, pp 59–86

10.

Rice F et al. (2015) Identifying factors that predict successful and difficult transitions to secondary school. University College London, London

11.

Patalay P, Fitzsimons E (2017) Mental ill-health among children of the new century: trends across childhood with a focus on age 14. Centre for Longitudinal Studies, London

12.

Costello EJ, Copeland W, Angold A (2011) Trends in psychopathology across the adolescent years: What changes when children become adolescents, and when adolescents become adults? J Child Psychol Psychiatry 10:1015–1025

13.

Patalay P, Sharpe H, Wolpert M (2015) Internalising symptoms and body dissatisfaction: untangling temporal precedence using cross-lagged models in two cohorts. J Child Psychol Psychiatry 56:1223–1230

14.

Nolen-Hoeksema S, Girgus JS (1994) The emergence of gender differences in depression during adolescence. Psychol Bull 115(3):424–443

15.

Millennium Cohort Team, Millennium Cohort Study (2014) A guide to the datasets, 8th edn. Centre for Longitudinal Studies, London

16.

Fitzsimons E (2017) Millennium cohort study sixth survey 2015–2016: user guide, 1st edn. Centre for Longitudinal Studies, London

17.

Mostafa T, Ploubidis GB, Study MC (2017) Sixth Survey 2015–2016: technical report on response (Age 14). Centre for Longitudinal Studies, London

18.

Goodman R (1997) The Strengths and Difficulties Questionnaire: a research note. J Child Psychol Psychiatry 38:581–586

19.

Patalay P et al (2015) A general psychopathology factor in early adolescence. Br J Psychiatry 207:15–22

20.

Angold A et al (1995) The development of a short questionnaire for use in epidemiological studies of depression in children and adolescents. Int J Methods Psychiat Res 5:237–249

21.

Taylor MF et al (2010) British household panel survey user manual volume a: introduction, technical report and appendices. University of Essex, Colchester

22.

Schor J (2004) Born to buy: The commercialized child and the new consumer culture. Simon and Schuster, New York

23.

Elliott CD, Smith P, McCulloch K (1996) British Ability Scales second edition (BAS II): administration and scoring manual. Nelson, London

24.

Cole T, Lobstein T (2012) Extended international (IOTF) body mass index cut-offs for thinness, overweight and obesity. Pediat Obesity 7:284–294

25.

Kessler RC et al (2003) Screening for serious mental illness in the general population. Arch General Psychiatry 60(2):184–189

26.

StataCorp, Stata statistical software (2015) Release 14. StataCorp LP, College Station

27.

Kanji K (2006) Z-test for two correlation coefficients. In: Kanji K 100 statistical tests. Sage, London, pp 42–43

28.

Patalay P et al (2017) Cross-domain symptom development typologies and their antecedents: results from the UK Millennium Cohort Study. J Am Acad Child Adolesc Psychiatry 56(9):765–776

29.

Deighton J et al (2018) Longitudinal pathways between mental health difficulties and academic performance during middle childhood and early adolescence. Br J Dev Psychol 36(1):110–126

30.

Tram JM, Cole DA (2006) A multimethod examination of the stability of depressive symptoms in childhood and adolescence. J Abnorm Psychol 115(4):674

31.

Diener E, Eunkook M, Suh (1997) Subjective well-being and age: an international analysis. Ann Rev Gerontol Geriatr 17:304–324

32.

Graham C, Chattopadhyay S (2013) Gender and well-being around the world. Int J Happiness Dev 1(2):212–232

33.

Piccinelli M, Wilkinson G (2000) Gender differences in depression. Br J Psychiatry 177(6):486–492

34.

World Health Organization and Calouste Gulbenkian Foundation (2014) Social determinants of mental health. World Health Organization, Geneva

35.

Allen J et al (2014) Social determinants of mental health. Int Rev Psychiatry 26(4):392–407

36.

Stamatakis E, Wardle J, Cole TJ (2010) Childhood obesity and overweight prevalence trends in England: evidence for growing socioeconomic disparities. Int J Obes 34(1):41–47

37.

Najman JM et al (2004) The generational transmission of socioeconomic inequalities in child cognitive development and emotional health. Soc Sci Med 58(6):1147–1158

38.

Siegrist J, Marmot M (2006) Social inequalities in health: new evidence and policy implications. Oxford University Press, Oxford

39.

Achenbach TM, McConaughy SH, Howell CT (1987) Child/adolescent behavioral and emotional problems: Implications of cross-informant correlations for situational specificity. Psychol Bull 101:213–232

40.

Rescorla LA et al (2013) Cross-informant agreement between parent-reported and adolescent self-reported problems in 25 societies. J Clin Child Adolesc Psychol 42(2):262–273

41.

Sharp C, Goodyer IM, Croudace T (2006) The Short Mood and Feelings Questionnaire (SMFQ): a unidimensional item response theory and categorical data factor analysis of self-report ratings from a community sample of 7-through 11-year-old children. J Abnorm Child Psychol 34(3):379–391

42.

Arseneault L et al (2005) Psychometric evaluation of 5-and 7-year-old children's self-reports of conduct problems. J Abnorm Child Psychol 33(5):537–550

43.

Patalay P et al (2014) Clinical validity of the Me and My School questionnaire: a self-report mental health measure for children and adolescents. BMC Child Adolesc Psychiatry Mental Health 8:17

44.

Holder MD (2012) Happiness in children: measurement, correlates and enhancement of positive subjective well-being. Springer, London

45.

Copeland WE et al (2015) Adult functional outcomes of common childhood psychiatric problems: a prospective, longitudinal study. JAMA Psychiatry 72(9):892–899

46.

Layard R et al (2014) What predicts a successful life? A life-course model of well-being. Econ J 124(580):F720–F738

47.

Westerhof GJ, Keyes CLM (2010) Mental illness and mental health: the two continua model across the lifespan. J Adult Dev 17(2):110–119

48.

Weare K, Nind M (2011) Mental health promotion and problem prevention in schools: what does the evidence say? Health Promot Int 26(suppl 1):i29–i69

49.

Patalay P et al (2017) Mental health provision in schools: approaches and interventions in 10 European countries. Global Mental Health 4:e10. https://doi.org/10.1017/gmh.2017.6

50.

Bradley RH, Corwyn RF (2002) Socioeconomic status and child development. Annu Rev Psychol 53(1):371–399

51.

Li J et al (2009) Social determinants of child health and well-being. Health Sociol Rev 18(1):3–11

52.

Evangelou M et al., What makes a successful transition from primary to secondary school? 2008, Department for Children, Schools & Families: London
Acknowledgements
We are grateful for the co-operation of the Millennium Cohort Study families who voluntarily participate in the study. We thank the Economic and Social Research Council and the co-funding by a consortium of UK government departments for funding the Millennium Cohort Study through the Centre for Longitudinal Studies (CLS) at the UCL Institute of Education, London. We would also like to thank a large number of stakeholders from academic, policy-maker and funder communities and colleagues at CLS involved in data collection and management. The funders of the study had no role in study design, data collection, data analysis, data interpretation, or writing of this paper.
Ethics declarations
Ethics statement
Research reported in this paper received ethical permission (details for ethics approvals for the different sweeps of the cohort are reported in the cohort documentation). The research was performed in accordance with the ethical standards laid down in the 1964 Declaration of Helsinki and its later amendments.
Conflict of interest
The authors declare that they have no conflict of interest.
About this article
Cite this article
Patalay, P., Fitzsimons, E. Development and predictors of mental ill-health and wellbeing from childhood to adolescence. Soc Psychiatry Psychiatr Epidemiol 53, 1311–1323 (2018). https://doi.org/10.1007/s00127-018-1604-0
Received:

Accepted:

Published:

Issue Date:
Keywords
Well-being

Transition

Mental illness

Depression

Longitudinal