Abstract
Purpose
There is increasing concern regarding the mental health impact of first responder work, with some reports suggesting ambulance personnel may be at particularly high risk. Through this systematic review and meta-analysis we aimed to determine the prevalence of mental health conditions among ambulance personnel worldwide.
Methods
A systematic search and screening process was conducted to identify studies for inclusion in the review. To be eligible, studies had to report original quantitative data on the prevalence of at least one of the following mental health outcome(s) of interest (PTSD, depression, anxiety, general psychological distress) for ambulance personnel samples. Quality of the studies was assessed using a validated methodological rating tool. Random effects modelling was used to estimate pooled prevalence, as well as subgroup analyses and meta-regressions for five variables implicated in heterogeneity.
Results
In total, 941 articles were identified across all sources, with 95 full-text articles screened to confirm eligibility. Of these, 27 studies were included in the systematic review, reporting on a total of 30,878 ambulance personnel. A total of 18 studies provided necessary quantitative information and were retained for entry in the meta-analysis. The results demonstrated estimated prevalence rates of 11% for PTSD, 15% for depression, 15% for anxiety, and 27% for general psychological distress amongst ambulance personnel, with date of data collection a significant influence upon observed heterogeneity.
Conclusion
Ambulance personnel worldwide have a prevalence of PTSD considerably higher than rates seen in the general population, although there is some evidence that rates of PTSD may have decreased over recent decades.
Access options
Buy single article
Instant access to the full article PDF.
US$ 39.95
Tax calculation will be finalised during checkout.
Subscribe to journal
Immediate online access to all issues from 2019. Subscription will auto renew annually.
US$ 159
Tax calculation will be finalised during checkout.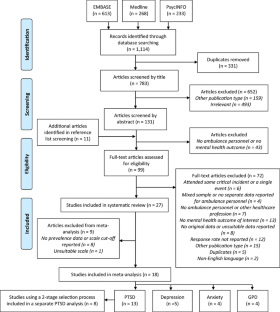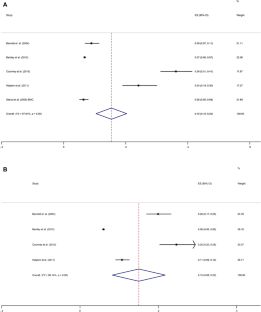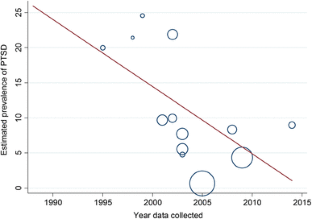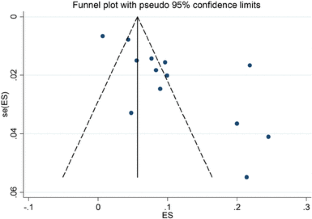 References
References marked with an asterisk are those studies included in the meta-analysis
1.

Beaton R, Murphy S, Johnson C, Pike K, Corneil W (1998) Exposure to duty-related incident stressors in urban firefighters and paramedics. J Trauma Stress 11(4):821–828

2.

McFarlane AC, Bryant RA (2007) Post-traumatic stress disorder in occupational settings: anticipating and managing the risk. Occup Med 57(6):404–410

3.

Mitchell KS, Wolf EJ, Bovin MJ, Lee LO, Green JD, Rosen RC, Keane TM, Marx BP (2017) Network models of DSM-5 posttraumatic stress disorder: implications for ICD-11. J Abnorm Psychol 126(3):355

4.

Bennett P, Williams Y, Page N, Hood K, Woollard M, Vetter N (2005) Associations between organizational and incident factors and emotional distress in emergency ambulance personnel. Br J Clin Psychol 44(2):215–226

5.

Sterud T, Hem E, Lau B, Ekeberg Ø (2011) A comparison of general and ambulance specific stressors: predictors of job satisfaction and health problems in a nationwide one-year follow-up study of Norwegian ambulance personnel. J Occup Med Toxicol 6(1):10

6.

Kessler RC, Chiu WT, Demler O, Walters EE (2005) Prevalence, severity, and comorbidity of 12-month DSM-IV disorders in the National Comorbidity Survey Replication. Arch Gen Psychiatry 62(6):617–627

7.

Karam EG, Friedman MJ, Hill ED, Kessler RC, McLaughlin KA, Petukhova M, Sampson L, Shahly V, Angermeyer MC, Bromet EJ (2014) Cumulative traumas and risk thresholds: 12-month PTSD in the World Mental Health (WMH) surveys. Depression Anxiety 31(2):130–142

8.

Atwoli L, Stein DJ, Koenen KC, McLaughlin KA (2015) Epidemiology of posttraumatic stress disorder: prevalence, correlates and consequences. Curr Opin Psychiatry 28(4):307

9.

Berger W, Coutinho ESF, Figueira I, Marques-Portella C, Luz MP, Neylan TC, Marmar CR, Mendlowicz MV (2012) Rescuers at risk: a systematic review and meta-regression analysis of the worldwide current prevalence and correlates of PTSD in rescue workers. Soc Psychiatry Psychiatr Epidemiol 47(6):1001–1011

10.

Alexander DA, Klein S (2001) Ambulance personnel and critical incidents: impact of accident and emergency work on mental health and emotional well-being. Br J Psychiatry 178(1):76–81*

11.

Skeffington PM, Rees CS, Mazzucchelli T (2017) Trauma exposure and post-traumatic stress disorder within fire and emergency services in Western Australia. Aust J Psychol 69(1):20–28

12.

Harvey SB, Milligan-Saville JS, Paterson HM, Harkness EL, Marsh AM, Dobson M, Kemp R, Bryant RA (2016) The mental health of fire-fighters: An examination of the impact of repeated trauma exposure. Aust N Z J Psychiatry 50(7):649–658

13.

Health NIo (2014) Quality assessment tool for observational cohort and cross-sectional studies. National Heart, Lung, and Blood Institute. http://www.nhlbi.nih.gov/health-pro/guidelines/in-develop/cardiovascular-risk-reduction/tools/cohort. Accessed 5 Nov 2015

14.

Maass SW, Roorda C, Berendsen AJ, Verhaak PF, de Bock GH (2015) The prevalence of long-term symptoms of depression and anxiety after breast cancer treatment: a systematic review. Maturitas 82(1):100–108

15.

Nyaga VN, Arbyn M, Aerts M (2014) Metaprop: a Stata command to perform meta-analysis of binomial data. Arch Public Health 72(1):39

16.

Arial M, Wild P, Benoit D, Chouaniere D, Danuser B (2011) Multi-level modeling of aspects associated with poor mental health in a sample of prehospital emergency professionals. Am J Ind Med 54(11):847–857*

17.

Bennett P, Williams Y, Page N, Hood K, Woollard M (2004) Levels of mental health problems among UK emergency ambulance workers. Emerg Med J 21(2):235–236*

18.

Bentley MA, Crawford JM, Wilkins J, Fernandez AR, Studnek JR (2013) An assessment of depression, anxiety, and stress among nationally certified EMS professionals. Prehosp Emerg Care 17(3):330–338*

19.

Berger W, Figueira I, Maurat AM, Bucassio EP, Vieira I, Jardim SR, Coutinho ES, Mari JJ, Mendlowicz MV (2007) Partial and full PTSD in Brazilian ambulance workers: prevalence and impact on health and on quality of life. J Trauma Stress 20(4):637–642*

20.

Clohessy S, Ehlers A (1999) PTSD symptoms, response to intrusive memories and coping in ambulance service workers. Br J Clin Psychol 38(3):251–265*

21.

Courtney JA, Francis AJP, Paxton SJ (2012) Caring for the carers: fatigue, sleep, and mental health in Australian paramedic shiftworkers. Aust N Z J Org Psychol 3:32–41. https://doi.org/10.1375/ajop.3.1.32*

22.

McGilloway S, Gallagher S (2009) Experience of critical incident stress among ambulance service staff and relationship to psychological symptoms. Emerg Ment Health 11(4):235–248*

23.

Grevin F (1996) Posttraumatic stress disorder, ego defense mechanisms, and empathy among urban paramedics. Psychol Rep 79(2):483–495*

24.

Halpern J, Maunder RG, Schwartz B, Gurevich M (2011) Identifying risk of emotional sequelae after critical incidents. Emerg Med J 28(1):51–56*

25.

Jonsson A, Segesten K, Mattsson B (2003) Post-traumatic stress among Swedish ambulance personnel. Emerg Med J 20(1):79–84*

26.

Lowery K, Stokes MA (2005) Role of peer support and emotional expression on posttraumatic stress disorder in student paramedics. J Trauma Stress 18(2):171–179*

27.

Misra M, Greenberg N, Hutchinson C, Brain A, Glozier N (2009) Psychological impact upon London Ambulance Service of the 2005 bombings. Occup Med 59(6):428–433*

28.

Nortje C, Roberts CB, Möller AT (2004) Judgement of risk in traumatized and nontraumatized emergency medical service personnel. Psychol Rep 95(3_suppl):1119–1128*

29.

Pyper Z, Paterson JL (2016) Fatigue and mental health in Australian rural and regional ambulance personnel. Emerg Med Australas 28(1):62–66*

30.

Sterud T, Hem E, Ekeberg Ø, Lau B (2008) Health problems and help-seeking in a nationwide sample of operational Norwegian ambulance personnel. BMC Public Health 8(1):3*

31.

Streb M, Häller P, Michael T (2014) PTSD in paramedics: resilience and sense of coherence. Behav Cogn Psychother 42(4):452–463*

32.

Van Der Ploeg E, Kleber RJ (2003) Acute and chronic job stressors among ambulance personnel: predictors of health symptoms. Occup Environ Med 60(suppl 1):i40–i46*

33.

Higgins JP, Thompson SG, Deeks JJ, Altman DG (2003) Measuring inconsistency in meta-analyses. Br Med J 327(7414):557

34.

Perrin MA, DiGrande L, Wheeler K, Thorpe L, Farfel M, Brackbill R (2007) Differences in PTSD prevalence and associated risk factors among World Trade Center disaster rescue and recovery workers. Am J Psychiatry 164(9):1385–1394

35.

Creamer M, Burgess P, McFarlane AC (2001) Post-traumatic stress disorder: findings from the Australian National Survey of Mental Health and Well-being. Psychol Med 31(7):1237–1247

36.

Michael T, Streb M, Häller P (2016) PTSD in paramedics: Direct versus indirect threats, posttraumatic cognitions, and dealing with intrusions. Int J Cogn Therapy 9(1):57–72

37.

World Health Organization (2017) Depression and other common mental disorders: global health estimates. World Health Organization, Geneva

38.

Goodwin L, Ben-Zion I, Fear NT, Hotopf M, Stansfeld SA, Wessely S (2013) Are reports of psychological stress higher in occupational studies? A systematic review across occupational and population based studies. PLoS One 8(11):e78693

39.

Varker T, Metcalf O, Forbes D, Chisolm K, Harvey S, Van Hooff M, McFarlane A, Bryant R, Phelps AJ (2018) Research into Australian emergency services personnel mental health and wellbeing: an evidence map. Aust N Z J Psychiatry 52:129–148

40.

Joyce S, Modini M, Christensen H, Mykletun A, Bryant R, Mitchell PB, Harvey SB (2016) Workplace interventions for common mental disorders: a systematic meta-review. Psychol Med 46(4):683–697

41.

Marshall RE, Milligan-Saville JS, Mitchell PB, Bryant RA, Harvey SB (2017) A systematic review of the usefulness of pre-employment and pre-duty screening in predicting mental health outcomes amongst emergency workers. Psychiatry Res 253:129–137

42.

Wessely S, Bryant RA, Greenberg N, Earnshaw M, Sharpley J, Hughes JH (2008) Does psychoeducation help prevent post traumatic psychological distress? Psychiatry. Interpers Biol Process 71(4):287–302

43.

North CS, Tivis L, McMillen JC, Pfefferbaum B, Cox J, Spitznagel EL, Bunch K, Schorr J, Smith EM (2002) Coping, functioning, and adjustment of rescue workers after the Oklahoma City bombing. J Trauma Stress 15(3):171–175

44.

Prati G, Pietrantoni L (2010) The relation of perceived and received social support to mental health among first responders: a meta-analytic review. J Community Psychol 38(3):403–417

45.

Pietrzak RH, Goldstein RB, Southwick SM, Grant BF (2011) Prevalence and Axis I comorbidity of full and partial posttraumatic stress disorder in the United States: results from Wave 2 of the National Epidemiologic Survey on Alcohol and Related Conditions. J Anxiety Disord 25(3):456–465

46.

Mykletun A, Harvey SB (2012) Prevention of mental disorders: a new era for workplace mental health. Occup Environ Med 69(12):868–869
Acknowledgements
The systematic review reported in this study was funded by Ambulance Victoria in collaboration with Phoenix Australia. SBH, JMS, AG and MD are supported by funding from NSW Health and the iCare Foundation. This project also benefited from funding from beyondblue and the Movember Foundation.
Ethics declarations
Conflict of interest
There are no conflicts of interest to report regarding this publication.
Electronic supplementary material
Below is the link to the electronic supplementary material.
About this article
Cite this article
Petrie, K., Milligan-Saville, J., Gayed, A. et al. Prevalence of PTSD and common mental disorders amongst ambulance personnel: a systematic review and meta-analysis. Soc Psychiatry Psychiatr Epidemiol 53, 897–909 (2018). https://doi.org/10.1007/s00127-018-1539-5
Received:

Accepted:

Published:

Issue Date:
Keywords
Ambulance personnel

Emergency services

Paramedic

Common mental disorder

Meta-analysis

Post-traumatic stress disorder

Prevalence