Abstract
Bullying is a significant public health problem for children and adolescents worldwide. Evidence suggests that both being bullied (bullying victimisation) and bullying others (bullying perpetration) are associated with concurrent and future mental health problems. The onset and course of bullying perpetration are influenced by individual as well as systemic factors. Identifying effective solutions to address bullying requires a fundamental understanding of why it occurs. Drawing from multi-disciplinary domains, this review provides a summary and synthesis of the key theoretical frameworks applied to understanding and intervening on the issue of bullying. A number of explanatory models have been used to elucidate the dynamics of bullying, and broadly these correspond with either system (e.g., social-ecological, family systems, peer-group socialisation) or individual-level (e.g., developmental psychopathology, genetic, resource control, social-cognitive) frameworks. Each theory adds a unique perspective; however, no single framework comprehensively explains why bullying occurs. This review demonstrates that the integration of theoretical perspectives achieves a more nuanced understanding of bullying which is necessary for strengthening evidence-based interventions. Future progress requires researchers to integrate both the systems and individual-level theoretical frameworks to further improve current interventions. More effective intervention across different systems as well as tailoring interventions to the specific needs of the individuals directly involved in bullying will reduce exposure to a key risk factor for mental health problems.
This is a preview of subscription content, log in to check access.
Access options
Buy single article
Instant access to the full article PDF.
US$ 39.95
Price includes VAT for USA
Subscribe to journal
Immediate online access to all issues from 2019. Subscription will auto renew annually.
US$ 199
This is the net price. Taxes to be calculated in checkout.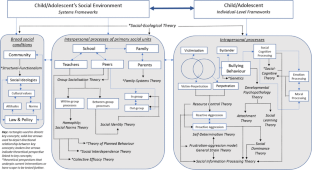 References
1.

Craig W, Harel-Fisch Y, Fogel-Grinvald H et al (2009) A cross-national profile of bullying and victimization among adolescents in 40 countries. Int J Public Health 54(2):216–224

2.

Tippett N, Wolke D (2014) Socioeconomic status and bullying: a meta-analysis. Am J Public Health 104(6):e48–e59

3.

Olweus D (2010) Understanding and researching bullying: some critical issues. In: Jimerson SR, Swearer S, Espelage DL (eds) Handbook of bullying in schools: an International perspective. Routledge, London, pp 9–33

4.

Haynie DL, Nansel T, Eitel P et al (2001) Bullies, victims, and bully/victims: distinct groups of at-risk youth. J Early Adolesc 21(1):29–49

5.

Wolke D, Lereya ST (2015) Long-term effects of bullying. Arch Dis Child 100(9):879–885

6.

Moore SE, Norman RE, Suetani S, Thomas HJ, Sly PD, Scott JG (2017) Consequences of bullying victimization in childhood and adolescence: a systematic review and meta-analysis. World J Psychiatry 7(1):60–76

7.

Scott JG, Moore SE, Sly PD, Norman RE (2014) Bullying in children and adolescents: a modifiable risk factor for mental illness. Aust N Z J Psychiatry 48(3):209–212

8.

Rivara F, Le Menestrel S (2016) Individuals withn social contexts. In: Rivara F, Le Menestrel S (eds) Preventing bullying through science, policy, and practice. The National Academies Press, Washington, DC, pp 69–112

9.

Greif JL, Furlong MJ (2006) The assessment of school bullying. J Sch Violence 5(3):33–50

10.

Bandura A (2001) Social cognitive theory: an agentic perspective. Annu Rev Psychol 52:1–26

11.

Volk AA, Camilleri JA, Dane AV, Marini ZA (2012) Is adolescent bullying an evolutionary adaptation? Aggress Behav 38(3):222–238

12.

von Bertalanffy L (1968) General systems theory. Braziller, New York

13.

Bronfenbrenner U (1979) The ecology of human development: experiments by design and nature. Harvard University Press, Cambridge

14.

Bronfenbrenner U (1977) Toward an experimental ecology of human development. Am Psychol 32(7):513–531

15.

Hernandez de Frutos T (2013) Five independent variables affecting bullying: neighborhood, family, school, gender-age and mass media. Sociol Mind 03:10

16.

Minuchin P (1985) Families and individual development: provocations from the field of family therapy. Child Dev 56(2):289–302

17.

Harris JR (1998/2009) The nuture assumption: why children turn out the way they do. Free Press, New York

18.

Kandel DB (1978) Homophily, selection, and socialization in adolescent friendships. Am J Sociol 84(2):427–436

19.

Perkins HW, Berkowitz AD (1986) Perceiving the community norms of alcohol use among students: some research implications for campus alcohol education programming. Int J Addict 21(9–10):961–976

20.

Tajfel H, Turner JC (1986) An integrative theory of intergroup conflict. Psychology of intergroup relations. Nelson-Hall, Chicago, pp 2–24

21.

Ajzen I (1991) The theory of planned behavior. Organ Behav Hum Decis Process 50(2):179–211

22.

Johnson DW, Johnson RT (2009) An educational psychology success story: social interdependence theory and cooperative learning. Educ Res 38(5):365–379

23.

Bandura A (2000) Exercise of human agency through collective efficacy. Curr Dir Psychol Sci 9(3):75–78

24.

Cicchetti D, Toth SL (1991) A developmental perspective on internalizing and externalizing disorders. In: Cicchetti D, Toth SL (eds) Internalizing and externalizing expressions of dysfunction: rochester symposum on developmental psychopathology. Erlbaum, New York, pp 1–19

25.

Main M, Kaplan N, Cassidy J (1985) Security in infancy, childhood, and adulthood: a move to the level of representation. Monogr Soc Res Child Dev 50(1/2):66–104

26.

Bandura A (1986) Social foundations of thought and action: a social cognitive theory. Prentice-Hall, Englewood Cliffs

27.

Ball HA, Arseneault L, Taylor A, Maughan B, Caspi A, Moffitt TE (2008) Genetic and environmental influences on victims, bullies and bully-victims in childhood. J Child Psychol Psychiatry 49(1):104–112

28.

Hawley PH (1999) The ontogenesis of social dominance: a strategy-based evolutionary perspective. Dev Rev 19(1):97–132

29.

Sidanius J, Pratto F (1999) Social dominance. Cambridge University Press, Cambridge

30.

Pratto F, Sidanius J, Levin S (2006) Social dominance theory and the dynamics of intergroup relations: taking stock and looking forward. Eur Rev Soc Psychol 17(1):271–320

31.

Ryan RM, Deci EL (2000) Self-determination theory and the facilitation of intrinsic motivation, social development, and well-being. Am Psychol 55(1):68–78

32.

Agnew R (1992) Foundation for a general strain theory of crime and delinquency. Criminology 30(1):47–88

33.

Bandura A (2002) Selective moral disengagement in the exercise of moral agency. J Moral Educ 31(2):101–119

34.

Crick NR, Dodge KA (1994) A review and reformulation of social information-processing mechanisms in children's social adjustment. Psychol Bull 115(1):74–101

35.

Swearer SM, Espelage DL (2011) Expanding the social-ecological framework of bullying among youth: lessons learned from the past and directions for the future. In: Espelage DL, Swearer SM (eds) Bullying in North American schools. Routledge, New York, pp 3–9

36.

Olweus D (1993) Bullying at school: what we know and what we can do. Blackwell, Oxford

37.

Olweus D (1993) Bullies on the playground: the role of victimization. In: Hart CH (ed) Children on playgrounds: research perspectives and applications Albany. State University of New York Press, New York, pp 85–128

38.

Swearer SM, Hymel S (2015) Understanding the psychology of bullying: moving toward a social-ecological diathesis–stress model. Am Psychol 70(4):344–353

39.

Elgar FJ, Craig W, Boyce W, Morgan A, Vella-Zarb R (2009) Income inequality and school bullying: multilevel study of adolescents in 37 countries. J Adolesc Health 45(4):351–359

40.

Cook CR, Williams KR, Guerra NG, Kim TE, Sadek S (2010) Predictors of bullying and victimization in childhood and adolescence: a meta-analytic investigation. School Psychol Q 25(2):65–83

41.

Schumann L, Craig W, Rosu A (2014) Power differentials in bullying: individuals in a community context. J Interpers Violence 29(5):846–865

42.

Espelage DL, Bosworth K, Simon TR (2000) Examining the social context of bullying behaviors in early adolescence. J Couns Dev 78(3):326–333

43.

Boel-Studt S, Renner LM (2013) Individual and familial risk and protective correlates of physical and psychological peer victimization. Child Abuse Neglect 37(12):1163–1174

44.

Espelage DL, Swearer SM (2003) Research on school bullying and victimization: what have we learned and where do we go from here? Sch Psychol Rev 32(3):365–383

45.

Arseneault L, Bowes L, Shakoor S (2010) Bullying victimization in youths and mental health problems: 'Much ado about nothing'? Psychol Med 40(05):717–729

46.

Hong JS, Espelage DL, Grogan-Kaylor A, Allen-Meares P (2012) Identifying potential mediators and moderators of the association between child maltreatment and bullying perpetration and victimization in school. Educ Psychol Rev 24(2):167–186

47.

Barboza GE, Schiamberg LB, Oehmke J, Korzeniewski SJ, Post LA, Heraux CG (2009) Individual characteristics and the multiple contexts of adolescent bullying: an ecological perspective. J Youth Adolesc 38(1):101–121

48.

Holt MK, Espelage DL (2007) Perceived social support among bullies, victims, and bully-victims. J Youth Adolesc 36(8):984–994

49.

Shields A, Cicchetti D (2001) Parental maltreatment and emotion dysregulation as risk factors for bullying and victimization in middle childhood. J Clin Child Psychol 30(3):349–363

50.

Demaray MK, Malecki CK (2003) Perceptions of the frequency and importance of social support by students classified as victims, bullies, and bully/victims in an urban middle school. Sch Psychol Rev 32(3):471–489

51.

Rigby K (2005) Why do some children bully at school? The contributions of negative attitudes towards victims and the perceived expectations of friends, parents and teachers. Sch Psychol Int 26(2):147–161

52.

Duffy AL, Nesdale D (2009) Peer groups, social identity, and children's bullying behavior. Soc Dev 18(1):121–139

53.

Bowes L, Arseneault L, Maughan B, Taylor A, Caspi A, Moffitt TE (2009) School, neighborhood, and family factors are associated with children's bullying involvement: a nationally representative longitudinal study. J Am Acad Child Adolesc Psychiatry 48(5):545–553

54.

Hemphill SA, Tollit M, Herrenkohl TI (2014) Protective factors against the impact of school bullying perpetration and victimization on young adult externalizing and internalizing problems. J Sch Violence 13(1):125–145

55.

Kljakovic M, Hunt C (2016) A meta-analysis of predictors of bullying and victimisation in adolescence. J Adolesc 49:134–145

56.

Ttofi MM, Farrington DP (2009) What works in preventing bullying: effective elements of anti-bullying programmes. J Aggress Confl Peace Res 1(1):13–24

57.

Yeager DS, Fong CJ, Lee HY, Espelage DL (2015) Declines in efficacy of anti-bullying programs among older adolescents: theory and a three-level meta-analysis. J Appl Dev Psychol 37:36–51

58.

Evans CBR, Fraser MW, Cotter KL (2014) The effectiveness of school-based bullying prevention programs: a systematic review. Aggress Violent Beh 19(5):532–544

59.

Cross D, Barnes A (2014) Using systems theory to understand and respond to family influences on children's bullying behavior: friendly schools friendly families program. Theory Into Practice 53(4):293–299

60.

Straus MA (1973) A general systems theory approach to a theory of violence between family members. Information (Int Soc Sci Counc) 12(3):105–125

61.

Wolke D, Tippett N, Dantchev S (2015) Bullying in the family: sibling bullying. The Lancet Psychiatry 2(10):917–929

62.

Lereya ST, Samara M, Wolke D (2013) Parenting behavior and the risk of becoming a victim and a bully/victim: a meta-analysis study. Child Abuse Neglect 37(12):1091–1108

63.

Duncan RD (2011) Family relationships of bullies and victims. In: Espelage Dorothy L, Swearer SM (eds) Bullying in North American schools. Erlbaum, New York, pp 191–204

64.

Salmivalli C, Lagerspetz K, Björkqvist K, Österman K, Kaukiainen A (1996) Bullying as a group process: participant roles and their relations to social status within the group. Aggress Behav 22(1):1–15

65.

Salmivalli C (1999) Participant role approach to school bullying: implications for interventions. J Adolesc 22(4):453–459

66.

Pepler D, Craig WM, O'Connell P (1999) Understanding bullying from a dynamic systems perspective. In: Slater A, Muir D (eds) The Blackwell reader in development psychology. Blackwell, Malden, pp 400–451

67.

O'Connell P, Pepler D, Craig W (1999) Peer involvement in bullying: insights and challenges for intervention. J Adolesc 22(4):437–452

68.

Garandeau CF, Lee IA, Salmivalli C (2014) Inequality matters: classroom status hierarchy and adolescents' bullying. J Youth Adolesc 43(7):1123–1133

69.

Espelage DL, Holt MK, Henkel RR (2003) Examination of peer–group contextual effects on aggression during early adolescence. Child Dev 74(1):205–220

70.

Hymel S, McClure R, Miller M, Shumka E, Trach J (2015) Addressing school bullying: insights from theories of group processes. J Appl Dev Psychol 37:16–24

71.

Berger C, Rodkin PC (2012) Group influences on individual aggression and prosociality: early adolescents who change peer affiliations. Soc Dev 21(2):396–413

72.

Perkins HW, Craig DW, Perkins JM (2011) Using social norms to reduce bullying. Group Process Intergr Relat 14(5):703–722

73.

Sandstrom M, Makover H, Bartini M (2013) Social context of bullying: do misperceptions of group norms influence children's responses to witnessed episodes? Soc Influence 8(2–3):196–215

74.

Hawley PH, Stump KN, Ratliff JM (2011) Sidestepping the jingle fallacy: bullying, aggression, and the importance of knowing the difference. In: Espelage Dorothy L, Swearer SM (eds) Bullying in North American schools, 2nd edn. Routledge, New York

75.

Salmivalli C, Kaukiainen A, Voeten M (2005) Anti-bullying intervention: implementation and outcome. Br J Educ Psychol 75(3):465–487

76.

Rodkin PC, Espelage DL, Hanish LD (2015) A relational framework for understanding bullying: developmental antecedents and outcomes. Am Psychol 70(4):311–321

77.

Hawley PH (2014) The duality of human nature. Curr Dir Psychol Sci 23(6):433–438

78.

Monks CP, Smith PK, Swettenham J (2005) Psychological correlates of peer victimisation in preschool: social cognitive skills, executive function and attachment profiles. Aggress Behav 31(6):571–588

79.

Kennedy JH, Kennedy CE (2004) Attachment theory: implications for school psychology. Psychol Sch 41(2):247–259

80.

Law AK-y (2013) Fung AL-c. Different forms of online and face-to-face victimization among schoolchildren with pure and co-occurring dimensions of reactive and proactive aggression. Comput Hum Behav 29(3):1224–1233

81.

Bushman BJ, Huesmann LR (2010) Aggression. In: Fiske ST, Gilbert DT, Lindzey G (eds) Handbook of social psychology. Wiley, Hoboken 833–863

82.

Silberg JL, Copeland W, Linker J, Moore AA, Roberson-Nay R, York TP (2016) Psychiatric outcomes of bullying victimization: a study of discordant monozygotic twins. Psychol Med 46(9):1875–1883

83.

Kelly EV, Newton NC, Stapinski LA, Teesson M (2017) Prospective associations between personality and bullying among Australian adolescents. Aust N Z J Psychiatry. https://doi.org/10.1177/0004867417726583

84.

Hawley PH (2003) Prosocial and coercive configurations of resource control in early adolescence: a case for the well-adapted machiavellian. Merrill-Palmer Q 49(3):279–309

85.

Little TD, Henrich CC, Jones SM, Hawley PH (2003) Disentangling the "whys" from the "whats" of aggressive behaviour. Int J Behav Dev 27(2):122–133

86.

Pellegrini AD (2002) Bullying, victimization, and sexual harassment during the transition to middle school. Educ Psychol 37(3):151–163

87.

Swearer SM, Espelage DL (2012) Bullying prevention and intervention: realistic strategies for schools. Guilford, New York

88.

Neal JW (2010) Social aggression and social position in middle childhood and early adolescence: burning bridges or building them? J Early Adolesc 30(1):122–137

89.

Bukowski WM, Abecassis M (2007) Self, other, and aggression: the never-ending search for the roots of adaptation. In: Hawley PH, Little TD, Rodkin PC (eds) Aggression and adaptation: the bright side to bad behavior. Lawrence Erlbaum Associates, Mahwah, pp 185–209

90.

Pellegrini AD, Long JD, Solberg D et al (2010) Bullying and social status during school transitions. In: Swearer SM, Espelage Dorothy L (eds) Handbook of bullying in schools: an international perspective. Routledge, New York, pp 199–210

91.

Reijntjes A, Vermande M, Goossens FA et al (2013) Developmental trajectories of bullying and social dominance in youth. Child Abuse Negl 37(4):224–234

92.

Kärnä A, Voeten M, Little TD, Poskiparta E, Alanen E, Salmivalli C (2011) Going to scale: a nonrandomized nationwide trial of the KiVa antibullying program for Grades 1–9. J Consult Clin Psychol 79(6):796–805

93.

Salmivalli C, Poskiparta E, Ahtola A, Haataja A (2013) The implementation and effectiveness of the KiVa antibullying program in Finland. Eur Psychol 18(2):79–88

94.

Volk AA, Dane AV, Marini ZA, Vaillancourt T (2015) Adolescent bullying, dating, and mating: testing an evolutionary hypothesis. Evol Psychol 13(4). https://doi.org/10.1177/1474704915613909

95.

Lemerise EA, Arsenio WF (2000) An integrated model of emotion processes and cognition in social information processing. Child Dev 71(1):107–118

96.

Card NA, Isaacs J, Hodges EVE (2009) Aggression and victimization in children's peer groups: a relationship perspective. In: Vangelisti A (ed) Feeling hurt in close relationships. Cambridge University Press, New York, pp 235–259

97.

Card NA, Little TD (2007) Differential relations of instrumental and reactive aggression with maladjustment: does adaptivity depend on function? In: Hawley PH, Little TD, Rodkin PC (eds) Aggression and adapatation: the brightside to bad behaviour. Lawrence Erlbaum & Associates, Mahwah, pp 107–134

98.

Sutton J, Smith PK, Swettenham J (1999) Bullying and 'Theory of Mind': a critique of the 'social skills deficit' view of anti-social behaviour. Soc Dev 8(1):117–127

99.

Crick NR, Dodge KA (1996) Social information-processing mechanisms in reactive and proactive aggression. Child Dev 67(3):993–1002

100.

Salmivalli C, Peets K (2011) Bullies, victim, and bully-victim relationships in middle childhood and early adolesence. In: Rubin KH, Bukowski WM, Laursen BP (eds) Handbook of peer interactions, relationships, and groups. Guilford Press, New York, pp 322–340

101.

Ettekal I, Kochenderfer-Ladd B, Ladd GW (2015) A synthesis of person- and relational-level factors that influence bullying and bystanding behaviors: toward an integrative framework. Aggress Violent Beh 23:75–86

102.

Guy A, Lee K, Wolke D (2017) Differences in the early stages of social information processing for adolescents involved in bullying. Aggress Behav 43(6):578–587

103.

Jolliffe D, Farrington DP (2011) Is low empathy related to bullying after controlling for individual and social background variables? J Adolesc 34(1):59–71

104.

Menesini E, Sanchez V, Fonzi A, Ortega R, Costabile A, Lo Feudo G (2003) Moral emotions and bullying: a cross-national comparison of differences between bullies, victims and outsiders. Aggress Behav 29(6):515–530

105.

Barchia K, Bussey K (2011) Individual and collective social cognitive influences on peer aggression: exploring the contribution of aggression efficacy, moral disengagement, and collective efficacy. Aggress Behav 37(2):107–120

106.

Gini G, Pozzoli T, Hymel S (2014) Moral disengagement among children and youth: a meta-analytic review of links to aggressive behavior. Aggress Behav 40(1):56–68

107.

Nocentini A, Menesini E (2016) KiVa anti-bullying program in italy: evidence of effectiveness in a randomized control trial. Prev Sci 17:1–12

108.

Cross D, Shaw T, Hadwen K et al (2016) Longitudinal impact of the cyber friendly schools program on adolescents' cyberbullying behavior. Aggress Behav 42(2):166–180

109.

Cross D, Lester L, Pearce N, Barnes A, Beatty S (2016) A group randomized controlled trial evaluating parent involvement in whole-school actions to reduce bullying. J Educ Res. https://doi.org/10.1080/00220671.2016.1246409

110.

Bradshaw CP (2015) Translating research to practice in bullying prevention. Am Psychol 70(4):322–332

111.

Durlak JA, Weissberg RP, Dymnicki AB, Taylor RD, Schellinger KB (2011) The impact of enhancing students' social and emotional learning: a meta-analysis of school-based universal interventions. Child Dev 82(1):405–432

112.

Espelage DL, Low S, Polanin JR, Brown EC (2015) Clinical trial of Second Step© middle-school program: impact on aggression and victimization. J Appl Dev Psychol 37:52–63

113.

Hawkins JL, Bravo P, Gobat N et al (2016) Group motivational interviewing in schools: development of a health promotion intervention. Health Educ J 75(5):513–527

114.

Thornberg R, Jungert T (2017) Callous-unemotional traits, harm-effect moral reasoning, and bullying among Swedish children. Child Youth Care Forum 46(4):559–575

115.

Vreeman RC, Carroll AE (2007) A systematic review of school-based interventions to prevent bullying. Arch Pediatr Adolesc Med 161(1):78–88

116.

Hunt C (2015) Understanding and combating school-based bullying from an individual-level perspective: a review. Aust Psychol 50(3):182–185

117.

Healy KL, Sanders MR (2014) Randomized controlled trial of a family intervention for children bullied by peers. Behav Ther 45(6):760–777

118.

Hawley PH, Williford A (2015) Articulating the theory of bullying intervention programs: views from social psychology, social work, and organizational science. J Appl Dev Psychol 37:3–15

119.

Hymel S, Swearer SM (2015) Four decades of research on school bullying: an introduction. Am Psychol 70(4):293–299
Acknowledgements
HJT is supported by the Bryan Foundation in partnership with ClearThinking Queensland, JPC by a National Health and Medical Research Council (NHMRC) of Australia Career Development Fellowship (1031909), and JGS by a NHMRC Practitioner Fellowship Grant (1105807).
Ethics declarations
Conflict of interest
The authors have no conflict of interest to declare.
About this article
Cite this article
Thomas, H.J., Connor, J.P. & Scott, J.G. Why do children and adolescents bully their peers? A critical review of key theoretical frameworks. Soc Psychiatry Psychiatr Epidemiol 53, 437–451 (2018). https://doi.org/10.1007/s00127-017-1462-1
Received:

Accepted:

Published:

Issue Date:
Keywords
Bullying

Adolescents

Children

Review

Theory