Abstract
Purpose
High work demands might be a determinant of poor mental health among women in low- and middle-income countries, especially in rural settings where women experience greater amounts of labor-intensive unpaid work. Research originating from such settings is lacking.
Methods
We estimated the cross-sectional association between work demands and mental distress among 3177 women living in 160 predominantly tribal communities in southern Rajasthan, India. A structured questionnaire captured the number of minutes women spent on various activities in the last 24 h, and we used this information to measure women's work demands, including the total work amount, nature of work (e.g., housework), and type of work (e.g., cooking). Mental distress was measured with the Hindi version of the 12-item General Health Questionnaire. We used negative binomial regression models to estimate the association between work demands (amount, nature, and type) and mental distress.
Results
On average, women spent more than 9.5 h a day on work activities. The most time, intensive work activity was caring for children, the elderly, or disabled (149 min). In adjusted models, we found a U-shaped association between work amount and mental distress. High amounts of housework were associated with higher distress, whereas paid work and farmwork amount were not. Certain types of housework, including collecting water and cleaning, were associated with increased distress scores.
Conclusions
We found an association between aspects of work demands and mental distress. Research in other contexts where women perform high amounts of unpaid work, particularly within the home or farm, is warranted.
This is a preview of subscription content,
to check access.
Access this article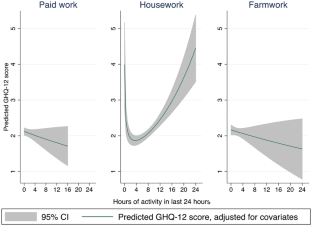 Similar content being viewed by others
References
Strazdins L, Griffin AL, Broom DH, Banwell C, Korda R, Dixon J, Paolucci F, Glover J (2011) Time scarcity: another health inequality? Environ Plan 43(3):545–559. doi:10.1068/a4360

Vickery C (1977) The time-poor: a new look at poverty. J Hum Resour 12(1):27–48

Harvey AS, Mukhopadhyay AK (2007) When twenty-four hours is not enough: time poverty of working parents. Soc Indic Res 82(1):57–77. doi:10.1007/s11205-006-9002-5

Warren T, Pascall G, Fox E (2010) Gender equality in time: low-paid mothers' paid and unpaid work in the UK. Fem Econ 16(3):193–219. doi:10.1080/13545701.2010.499997

Mattingly MJ, Blanchi SM (2003) Gender differences in the quantity and quality of free time: the US experience. Soc Forces 81(3):999–1030

Bardasi E, Wodon Q (2006) Measuring time poverty and analyzing its determinants: concepts and application to Guinea. In: Wodon B (ed) Gender, time use, and poverty in Sub-Saharan Africa. The World Bank, Washington, DC, pp 75–95

Kes A, Swaminathan H (2006) Gender, time use, and poverty in sub-Saharan Africa. Working paper no. 73. World Bank Publications, Washington, DC

Floro MS, Pichetpongsa A (2010) Gender, work intensity, and well-being of Thai home-based workers. Fem Econ 16(3):5–44. doi:10.1080/13545701.2010.499657

Gammage S (2010) Time pressed and time poor: unpaid household work in Guatemala. Fem Econ 16(3):79–112. doi:10.1080/13545701.2010.498571

Lachance-Grzela M, Bouchard G (2010) Why do women do the lion's share of housework? A decade of research. Sex Roles 63(11–12):767–780. doi:10.1007/s11199-010-9797-z

Ramu GN (1989) Women work and marriage in urban India: a study of dual-and single-earner couples. Sage Publications, Newbury Park

United Nations (2015) The world's women 2015: trends and statistics. United Nations, Department of Economic and Social Affairs, Statistics Division, New York

Razavi S (2007) The political and social economy of care in a development context: conceptual issues, research questions and policy options. Gender and development programme paper number 3. United Nations Research Institute for Social Development, Geneva

Nandi A, Maloney S, Agarwal P, Chandrashekar A, Harper S (2016) The effect of an affordable daycare program on health and economic well-being in Rajasthan, India: protocol for a cluster-randomized impact evaluation study. BMC Public Health. doi:10.1186/s12889-016-3176-9

Beaman L, Duflo E, Pande R, Topalova P (2012) Female leadership raises aspirations and educational attainment for girls: a policy experiment in India. Science 335(6068):582–586. doi:10.1126/science.1212382

19th International Conference of Labour Statisticians (2013) Resolution concerning statistics of work, employment, and labour underutilization. International Labour Organization, Geneva. http://www.ilo.org/global/statistics-and-databases/meetings-and-events/international-conference-of-labour-statisticians/19/WCMS_230304/lang--en/index.htm. Accessed 15 July 2017

Goldberg DP (1972) The detection of psychiatric illness by questionnaire: a technique for the identification and assessment of non-psychotic psychiatric illness. Oxford University Press, London

Gautam S, Nijhawan M, Kamal P (1987) Standardisation of Hindi version of Goldberg's general health questionnaire. Indian J Psychiatry 29(1):63

Shamasundar C, Murthy SK, Prakash OM, Prabhakar N, Krishna DK (1986) Psychiatric morbidity in a general practice in an Indian city. Br Med J 292(6537):1713–1715

Patel V, Araya R, Chowdhary N, King M, Kirkwood B, Nayak S, Simon G, Weiss H (2008) Detecting common mental disorders in primary care in India: a comparison of five screening questionnaires. Psychol Med 38(02):221–228. doi:10.1017/S0033291707002334

Patel V, Pereira J, Mann A (1998) Somatic and psychological models of common mental disorder in primary care in India. Psychol Med 28(1):135–143

Shidhaye R, Patel V (2010) Association of socio-economic, gender and health factors with common mental disorders in women: a population-based study of 5703 married rural women in India. Int J Epidemiol 39(6):1510–1521. doi:10.1093/ije/dyq179

Goldberg DP, Gater R, Sartorius N, Ustun T, Piccinelli M, Gureje O, Rutter C (1997) The validity of two versions of the GHQ in the WHO study of mental illness in general health care. Psychol Med 27(1):191–197

International Institute for Population Sciences(IIPS) and Macro International (2007) National Family Health Survey (NFHS-3), 2005–2006: India: volume 1. IIPS, Mumbai

Motiram S, Osberg L (2010) Gender inequalities in tasks and instruction opportunities within Indian families. Fem Econ 16(3):141–167. doi:10.1080/13545701.2010.504544

Patel V, Rodrigues M, DeSouza N (2002) Gender, poverty, and postnatal depression: a study of mothers in Goa, India. Am J Psychiatry 159(1):43–47. doi:10.1176/appi.ajp.159.1.43

Royston P, Altman DG (1994) Regression using fractional polynomials of continuous covariates: parsimonious parametric modelling. Appl Stat 43(3):429–467

Seedat S, Scott KM, Angermeyer MC, Berglund P, Bromet EJ, Brugha TS, Demyttenaere K, de Girolamo G, Haro JM, Jin R (2009) Cross-national associations between gender and mental disorders in the World Health Organization World Mental Health Surveys. Arch Gen Psychiatry 66(7):785–795. doi:10.1001/archgenpsychiatry.2009.36

Patel V, Kirkwood BR, Pednekar S, Pereira B, Barros P, Fernandes J, Datta J, Pai R, Weiss H, Mabey D (2006) Gender disadvantage and reproductive health risk factors for common mental disorders in women: a community survey in India. Arch Gen Psychiatry 63(4):404–413. doi:10.1001/archpsyc.63.4.404

Yount KM, Dijkerman S, Zureick-Brown S, VanderEnde KE (2014) Women's empowerment and generalized anxiety in Minya, Egypt. Soc Sci Med 106:185–193. doi:10.1016/j.socscimed.2014.01.022

Patel V, Kirkwood BR, Pednekar S, Weiss H, Mabey D (2006) Risk factors for common mental disorders in women. Population-based longitudinal study. Br J Psychiatry 189(6):547–555. doi:10.1192/bjp.bp.106.022558

Dooley D (2003) Unemployment, underemployment, and mental health: conceptualizing employment status as a continuum. Am J Community Psychol 32(1):9–20

Kleiner S, Pavalko EK (2010) Clocking in: the organization of work time and health in the United States. Soc Forces 88(3):1463–1486

Milner A, Smith P, LaMontagne AD (2015) Working hours and mental health in Australia: evidence from an Australian population-based cohort, 2001–2012. Occup Environ Med 72(8):573–579. doi:10.1136/oemed-2014-102791

Dinh H, Strazdins L, Welsh J (2017) Hour-glass ceilings: work-hour thresholds, gendered health inequities. Soc Sci Med 176:42–51. doi:10.1016/j.socscimed.2017.01.024

Maharatna A (2011) How can 'beautiful' be 'backward'? Tribes of India in a long-term demographic perspective. Econ Polit Wkly XLVI(4):42–52

Subramanian SV, Smith GD, Subramanyam M (2006) Indigenous health and socioeconomic status in India. PLOS Med 3(10):e421. doi:10.1371/journal.pmed.0030421

Thorat S, Mahamallik M (2007) Human poverty and socially disadvantaged groups in India. UNDP-HDRC, New Delhi

Ali GC, Ryan G, De Silva MJ (2016) Validated screening tools for common mental disorders in low and middle income countries: a systematic review. PloS One 11 (6):e0156939. doi:10.1371/journal.pone.0156939

Endsley P, Weobong B, Nadkarni A (2017) The psychometric properties of GHQ for detecting common mental disorder among community dwelling men in Goa, India. Asian J Psychiatr 28:106–110. doi:10.1016/j.ajp.2017.03.023

Kashyap GC, Singh SK (2017) Reliability and validity of general health questionnaire (GHQ-12) for male tannery workers: a study carried out in Kanpur, India. BMC Psychiatry 17(1):102. doi:10.1186/s12888-017-1253-y

Bandyopadhyay G, Sinha S, Sen B, Sen G (1988) Validity of general health questionnaire (GHQ-36/GHQ-12) in the psychiatric OPD of a general hospital—a pilot study. Int J Soc Psychiatry 34(2):130–134

Pereira B, Andrew G, Pednekar S, Pai R, Pelto P, Patel V (2007) The explanatory models of depression in low income countries: listening to women in India. J Affect Disord 102(1–3):209–218. doi:10.1016/j.jad.2006.09.025

Krishnan KR (2008) Towards a scientific taxonomy of depression. Dialogues Clin Neurosci 10(3):301–308

Nandi A, Beard JR, Galea S (2009) Epidemiologic heterogeneity of common mood and anxiety disorders over the lifecourse in the general population: a systematic review. BMC Psychiatry 9:31. doi:10.1186/1471-244x-9-31

Parker G (2000) Classifying depression: should paradigms lost be regained? Am J Psychiatry 157(8):1195–1203. doi:10.1176/appi.ajp.157.8.1195

Parker G (2006) Through a glass darkly: the disutility of the DSM nosology of depressive disorders. Can J Psychiatry 51(14):879–886. doi:10.1177/070674370605101403
Acknowledgements
This work was carried out with financial support from the UK Government's Department of International Development (DFID) and the International Development Research Centre (IDRC), Canada. Robin Richardson was supported by the Spencer Foundation (#242794) and a fellowship from the Regroupement Stratégique Santé Mondiale du Réseau de Recherché en Santé des Populations du Québec. Arijit Nandi was supported by the Canada Research Chairs program. Sam Harper was partially supported by a Chercheur Boursier Junior 2 from the Fonds de la Recherche en Santé du Québec. The views expressed herein are those of the authors and do not necessarily reflect those of the funding agencies.
Ethics declarations
Conflict of interest
On behalf of all authors, the corresponding author states that there is no conflict of interest.
Electronic supplementary material
Below is the link to the electronic supplementary material.
Appendix: Construction of household wealth index
Appendix: Construction of household wealth index
We summarized household wealth with a principle component analysis (PCA) using 27 indicators that are commonly used to measure wealth in India [29]. These indicators included housing characteristics (i.e., type of toilet facility, material of exterior wall, type of roofing, number of household members per total rooms in home, home electrification, and source of drinking water), the number of durables owned (i.e., number of cell phones, sewing machines, watches/clocks, electric stoves, wood stoves, fans, televisions, VCRs/CD players, radios, bikes, motorcycles, wells, grain storage cans, pressure cookers, chairs/stools, beds, tables, silver jewelry, gold jewelry, and wedding ornaments), property ownership (i.e., home ownership, amount of agricultural land owned), and whether the household had a savings account. We used a one component PCA that explained 27% of the variance.
About this article
Cite this article
Richardson, R.A., Nandi, A., Jaswal, S. et al. Are work demands associated with mental distress? Evidence from women in rural India. Soc Psychiatry Psychiatr Epidemiol 52, 1501–1511 (2017). https://doi.org/10.1007/s00127-017-1448-z
Received:

Accepted:

Published:

Issue Date:

DOI: https://doi.org/10.1007/s00127-017-1448-z
Keywords