Abstract
Purpose
The aim of the present study is to analyze the role of age in the association between socio-economic status (SES) and loneliness as well as the role of neighborhood social capital (NSC) in the association between individual social capital and loneliness.
Methods
Data include a representative population-based sample from Sant Boi de Llobregat (a suburb of Barcelona) of 1124 adults aged 50 and over. Logistic regression models were used to analyze the survey data. Interactions between SES and age, and NSC and individual social capital were explored.
Results
Among the poorest older adults, older individuals showed a lower likelihood of loneliness (OR 0.09, 95% CI 0.02, 0.30, p < 0.05) compared with the youngest cohort after adjusting for covariates, while among the richest individuals there were no significant differences among age cohorts. Individuals living in an area with high NSC and high individual social capital showed a lower likelihood of loneliness (OR 0.36, 95% CI 0.17, 0.73, p < 0.05) compared with those with low individual social capital after adjusting for covariates. The effect of individual social capital was not significant among individuals living in an area with low NSC.
Conclusion
Interventions focusing on low SES middle-aged (50–59 years old) individuals and those aiming to increase NSC could be effective strategies to reduce the prevalence of loneliness in older people.
Access options
Buy single article
Instant access to the full article PDF.
US$ 39.95
Tax calculation will be finalised during checkout.
Subscribe to journal
Immediate online access to all issues from 2019. Subscription will auto renew annually.
US$ 159
Tax calculation will be finalised during checkout.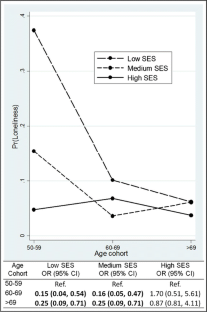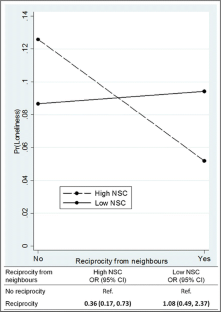 References
1.

Peplau L, Perlman D (1982) Perspectives on loneliness. In: Peplau L, Perlman D (eds) Loneliness: a sourcebook of current theory, research and therapy. Wiley, New York, pp 1–20

2.

Yang K, Victor C (2011) Age and loneliness in 25 European nations. Ageing Soc 31:1368–1388

3.

Netz Y, Goldsmith R, Shimony T et al (2013) Loneliness is associated with an increased risk of sedentary life in older Israelis. Aging Mental Health 17:40–47

4.

Dahlberg L, McKee KJ (2014) Correlates of social and emotional loneliness in older people: evidence from an English community study. Aging Mental Health 18:504–514

5.

Luo Y, Waite LJ (2014) Loneliness and mortality among older adults in China. J Gerontol B Psychol Sci Soc Sci 69:633–645

6.

Cacioppo JT, Hawkley LC, Thisted RA (2010) Perceived social isolation makes me sad: 5-year cross-lagged analyses of loneliness and depressive symptomatology in the Chicago Health, Aging, and Social Relations Study. Psychol Aging 25:453–463

7.

McWhirter BT (1990) Factor analysis of the revised UCLA loneliness scale. Curr Psychol 9:56–68

8.

Masi CM, Chen H-Y, Hawkley LC, Cacioppo JT (2011) A meta-analysis of interventions to reduce loneliness. Pers Soc Psychol Rev 15:219–266

9.

Cacioppo JT, Fowler JH, Christakis NA (2009) Alone in the Crowd—the structure and spread of loneliness in a large social network. J Pers Soc Psychol 97:977–991

10.

Pinquart M (2003) Loneliness in married, widowed, divorced, and never-married older adults. J Soc Pers Relat 20:31–53

11.

Routasalo PE, Savikko N, Tilvis RS et al (2006) Social contacts and their relationship to loneliness among aged people—a population-based study. Gerontology 52:181–187

12.

Rico-Uribe LA, Caballero FF, Olaya B et al (2016) Loneliness, social networks, and health: a cross-sectional study in three countries. PLoS One 11:e0145264

13.

Cacioppo JT, Hughes ME, Waite LJ et al (2006) Loneliness as a specific risk factor for depressive symptoms: cross-sectional and longitudinal analyses. Psychol Aging 21:140–151

14.

Zebhauser A, Baumert J, Emeny RT et al (2014) What prevents old people living alone from feeling lonely? Findings from the KORA-Age-study. Aging Mental Health 19:1–8

15.

Hansen T, Slagsvold B (2015) Late-life loneliness in 11 European countries: results from the generations and gender survey. Soc Indic Res 129:445–464

16.

Jehoel-Gijsbers G, Vrooman C (2008) Social exclusion of the elderly a comparative study of EU member states. ENEPRI Research Report, Centre for European Policy Studies, Brussels

17.

Cohen-Mansfield J, Hazan H, Lerman Y, Shalom V (2016) Correlates and predictors of loneliness in older-adults: a review of quantitative results informed by qualitative insights. Int Psychogeriatr 28:557–576

18.

Coleman J (1990) Foundations of social theory. Harvard University Press, Cambridge

19.

Nyqvist F, Victor CR, Forsman AK, Cattan M (2016) The association between social capital and loneliness in different age groups: a population-based study in Western Finland. BMC Public Health 16:542

20.

Uphoff EP, Pickett KE, Cabieses B et al (2013) A systematic review of the relationships between social capital and socioeconomic inequalities in health: a contribution to understanding the psychosocial pathway of health inequalities. Int J Equity Health 12:54

21.

Leonardi M, Chatterji S, Koskinen S et al (2014) Determinants of health and disability in ageing population: the COURAGE in Europe project (Collaborative Research on Ageing in Europe). Clin Psychol Psychother 21:193–198

22.

World Health Organization: WHO Process of Translation and Adaptation of Instruments. World Health Organization. http://www.who.int/substance_abuse/research_tools/translation/en/. Accessed 20 June 2017

23.

Üstun TB, Chatterji S, Mechbal A et al (2005) Chapter X: Quality assurance in surveys: standards, guidelines, and procedures. In: United Nations Statistical Division, United Nations Department of Economic and Social Affairs (eds) Household surveys in developing and transition countries. United Nations, New York, NY

24.

Lobo A, Ezquerra J, Bugarda FG et al (1979) Cognocitive mini-test (a simple practical test to detect intellectual changes in medical patients). Actas Luso Esp Neurol Psiquiatr 3:189–202

25.

Perneczky R, Wagenpfeil S, Komossa K et al (2006) Mapping scores onto stages: mini-mental state examination and clinical dementia rating. Am J Geriatr Psychiatry 14:139–144

26.

Garin N, Koyanagi A, Chatterji S et al (2016) Global multimorbidity patterns: a cross-sectional, population-based, multi-country study. J Gerontol A Biol Sci Med Sci 71:205–214

27.

Basu S, Millett C (2013) Social epidemiology of hypertension in middle-income countries: determinants of prevalence, diagnosis, treatment, and control in the WHO SAGE study. Hypertension 62:18–26

28.

Mancia G, Fagard R, Narkiewicz K et al (2013) 2013 ESH/ESC Guidelines for the management of arterial hypertension. J Hypertens 31:1281–1357

29.

Haro JM, Arbabzadeh-Bouchez S, Brugha TS et al (2006) Concordance of the Composite International Diagnostic Interview Version 3.0 (CIDI 3.0) with standardized clinical assessments in the WHO World Mental Health Surveys. Int J Methods Psychiatr Res 15:167–180

30.

American Psychiatric Association (1994) Diagnostic and statistical manual of mental disorder, 4th edn. DC: Author, Washington, DC

31.

Hughes ME, Waite LJ, Hawkley LC, Cacioppo JT (2004) A short scale for measuring loneliness in large surveys: results from two population-based studies. Res Aging 26:655–672

32.

Steptoe A, Shankar A, Demakakos P, Wardle J (2013) Social isolation, loneliness, and all-cause mortality in older men and women. PNAS 2013:1–5

33.

Freeman A, Tyrovolas S, Koyanagi A et al (2016) The role of socio-economic status in depression: results from the COURAGE (aging survey in Europe). BMC Public Health 16:1098

34.

Galobardes B, Shaw M, Lawlor DA et al (2006) Indicators of socioeconomic position (part 1). J Epidemiol Community Health 60:7–12

35.

Lochner KA, Kawachia I, Brennanb RT, Bukac SL (2003) Social capital and neighborhood mortality ratesin Chicago. Soc Sci Med 56:1797–1805

36.

Alio M (1977) The evolution of a suburban core of Barcelona: Sant Boi de Llobregat. Rev Geogr 11:69–87

37.

Ajuntament de Sant Boi de Llobregat (2014) [Community monograph of the District of Marianao of Sant Boi de Llobregat]. http://marianaotecor.cat/wp-content/uploads/2015/03/MONOGRAFIA-COMUNITARIA-MTC.pdf. Accessed 20 June 2017

38.

Domènech-Abella J, Lara E, Rubio-Valera M et al (2017) Loneliness and depression in the elderly: the role of social network. Soc Psychiatry Psychiatr Epidemiol. doi:10.1007/s00127-017-1339-3

39.

Eurostat (2008) Risk of poverty after social transfers. http://ec.europa.eu/eurostat/tgm/table.do?tab=table&init=1&plugin=1&pcode=t2020_52&language=en. Accessed 20 June 2017

40.

Hawthorne G (2008) Perceived social isolation in a community sample: its prevalence and correlates with aspects of peoples' lives. Soc Psychiatry Psychiatr Epidemiol 43:140–150

41.

Meléndez JC, Tomás JM, Oliver A, Navarro E (2009) Psychological and physical dimensions explaining life satisfaction among the elderly: a structural model examination. Arch Gerontol Geriatr 48:291–295

42.

Holwerda TJ, Beekman ATF, Deeg DJH et al (2012) Increased risk of mortality associated with social isolation in older men: only when feeling lonely? Results from the Amsterdam Study of the Elderly (AMSTEL). Psychol Med 42:843–853

43.

Holwerda TJ, Deeg DJH, Beekman ATF et al (2014) Feelings of loneliness, but not social isolation, predict dementia onset: results from the Amsterdam Study of the Elderly (AMSTEL). J Neurol Neurosurg Psychiatry 85:135–142

44.

Wood L, Giles-Corti B (2008) Is there a place for social capital in the psychology of health and place? J Environ Psychol 28:154–163

45.

Volker B, Flap H, Lindenberg S (2006) When are neighbourhoods communities? Community in Dutch neighbourhoods. Eur Sociol Rev 23:99–114

46.

Putnam RD (1995) Bowling alone: America's declining social capital. J Democr 6:65–78

47.

Marmot M, Bell R (2012) Fair society, healthy lives. Public Health 126:S4–S10

48.

Coll-Planas L, Del Valle Gómez G, Bonilla P et al (2015) Promoting social capital to alleviate loneliness and improve health among older people in Spain. Health Soc Care Community 25:145–157

49.

Putnam RD, Leonardi R, Nanetti RY (1994) Making democracy work: civic traditions in modern Italy. Princeton University Press, Princeton, NJ

50.

Kriegsman DMW, Penninx BWJH, Van Eijk JTM et al (1996) Self-reports and general practitioner information on the presence of chronic diseases in community dwelling elderly. J Clin Epidemiol 49:1407–1417
Acknowledgements
Sant Boi Aging Study was financed by Parc Sanitari Sant Joan de Déu, Ajuntament de Sant Boi de Llobregat and Clúster de Salut Mental de Catalunya. We thank Stephen Kelly for help in English language editing.
Ethics declarations
Conflict of interest
The authors declare that they have no potential conflicts of interest with respect to the research, authorship, and/or publication of this article.
About this article
Cite this article
Domènech-Abella, J., Mundó, J., Lara, E. et al. The role of socio-economic status and neighborhood social capital on loneliness among older adults: evidence from the Sant Boi Aging Study. Soc Psychiatry Psychiatr Epidemiol 52, 1237–1246 (2017). https://doi.org/10.1007/s00127-017-1406-9
Received:

Accepted:

Published:

Issue Date:
Keywords
Loneliness

Neighborhood social capital

Socio-economic status