Abstract
Purpose
Prevention of mental disorders worldwide requires a greater understanding of protective processes associated with lower levels of mental health problems in children who face pervasive life stressors. This study aimed to identify culturally appropriate indicators of individual-level protective factors in Rwandan adolescents where risk factors, namely poverty and a history of trauma, have dramatically shaped youth mental health.
Methods
The sample included 367 youth aged 10–17 in rural Rwanda. An earlier qualitative study of the same population identified the constructs "kwihangana" (patience/perseverance) and "kwigirira ikizere" (self-esteem) as capturing local perceptions of individual-level characteristics that helped reduce risks of mental health problems in youth. Nine items from the locally derived constructs were combined with 25 items from an existing scale that aligned well with local constructs—the Connor-Davidson Resilience Scale (CD-RISC). We assessed the factor structure of the CD-RISC expanded scale using exploratory factor analysis and determined the correlation of the expanded CD-RISC with depression and functional impairment.
Results
The CD-RISC expanded scale displayed high internal consistency (α = 0.93). Six factors emerged, which we labeled: perseverance, adaptability, strength/sociability, active engagement, self-assuredness, and sense of self-worth. Protective factor scale scores were significantly and inversely correlated with depression and functional impairment (r = −0.49 and r = − 0.38, respectively).
Conclusions
An adapted scale displayed solid psychometric properties for measuring protective factors in Rwandan youth. Identifying culturally appropriate protective factors is a key component of research associated with the prevention of mental health problems and critical to the development of cross-cultural strength-based interventions for children and families.
This is a preview of subscription content, log in to check access.
Access options
Buy single article
Instant access to the full article PDF.
US$ 39.95
Price includes VAT for USA
Subscribe to journal
Immediate online access to all issues from 2019. Subscription will auto renew annually.
US$ 199
This is the net price. Taxes to be calculated in checkout.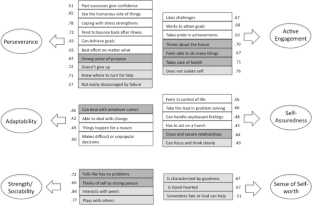 References
1.

Bachmann MO, Booysen FL (2003) Health and economic impact of HIV/AIDS on South African households: a cohort study. BMC Public Health 3:14

2.

Bauman LJ, Foster G, Silver EJ, Berman R, Gamble I, Muchaneta L (2006) Children caring for their ill parents with HIV/AIDS. Vulnerable Child Youth Stud 1(1):56–70

3.

Lester P, Stein JA, Bursch B, Rice E, Green S, Penniman T, Rotheram-Borus MJ (2010) Family-based processes associated with adolescent distress, substance use and risky sexual behavior in families affected by maternal HIV. J Clin Child Adolesc Psychol 39(3):328–340. doi:10.1080/15374411003691677

4.

Murphy DA, Greenwell L, Mouttapa M, Brecht ML, Schuster MA (2006) Physical health of mothers with HIV/AIDS and the mental health of their children. J Dev Behav Pediatr 27(5):386–395

5.

Masten AS (2014) Global perspectives on resilience in children and youth. Child Dev 85(1):6–20

6.

Theron LC, Theron AM, Malindi MJ (2012) Toward an African definition of resilience: a rural South African community's view of resilient Basotho youth. J Black Psychol. doi:10.1177/0095798412454675

7.

Van Rensburg A, Theron L, Rothmann S (2015) A review of quantitative studies of South African youth resilience: some gaps. S Afr J Sci 111(7–8):1–9

8.

Theron LC, Theron A (2010) A critical review of studies of South African youth resilience, 1990–2008. S Afr J Sci 106(7–8):1–8

9.

Bolton P (2001) Local perceptions of the mental health effects of the Rwandan genocide. J Nerv Ment Dis 189(4):243–248

10.

Betancourt TS, Meyers-Ohki S, Stulac SN, Barrera AE, Mushashi C, Beardslee WR (2011) Nothing can defeat combined hands (Abashize hamwe ntakibananira): protective processes and resilience in Rwandan children and families affected by HIV/AIDS. Soc Sci Med 73(5):693–701. doi:10.1016/j.socscimed.2011.06.053

11.

Ng LC, Kanyanganzi F, Munyanah M, Mushashi C, Betancourt TS (2014) Developing and validating the Youth Conduct Problems Scale-Rwanda: a mixed methods approach. PLoS One 9(6):e100549

12.

Betancourt T, Scorza P, Meyers-Ohki S, Mushashi C, Kayiteshonga Y, Binagwaho A, Stulac S, Beardslee WR (2012) Validating the center for epidemiological studies depression scale for children in Rwanda. J Am Acad Child Adolesc Psychiatry 51(12):1284–1292. doi:10.1016/j.jaac.2012.09.003

13.

Scorza P, Stevenson A, Canino G, Mushashi C, Kanyanganzi F, Munyanah M, Betancourt T (2013) Validation of the "world health organization disability assessment schedule for children, WHODAS-Child" in Rwanda. PLoS One 8(3):e57725. doi:10.1371/journal.pone.0057725

14.

Kobasa SC (1979) Stressful life events, personality, and health: an inquiry into hardiness. J Pers Soc Psychol 37(1):1–11

15.

Rutter M (1985) Resilience in the face of adversity. Protective factors and resistance to psychiatric disorder. Br J Psychiatry 147:598–611

16.

Connor KM, Davidson JR (2003) Development of a new resilience scale: the Connor-Davidson Resilience Scale (CD-RISC). Depress Anxiety 18(2):76–82. doi:10.1002/da.10113

17.

Lyons JA (1991) Strategies for assessing the potential for positive adjustment following trauma. J Trauma Stress 4(1):93–111

18.

Baek HS, Lee KU, Joo EJ, Lee MY, Choi KS (2010) Reliability and validity of the Korean version of the Connor-Davidson resilience scale. Psychiatry Investig 7(2):109–115. doi:10.4306/pi.2010.7.2.109

19.

Notario-Pacheco B, Solera-Martinez M, Serrano-Parra MD, Bartolome-Gutierrez R, Garcia-Campayo J, Martinez-Vizcaino V (2011) Reliability and validity of the Spanish version of the 10-item Connor-Davidson Resilience Scale (10-item CD-RISC) in young adults. Health Qual Life Outcomes 9:63. doi:10.1186/1477-7525-9-63

20.

Jorgensen IE, Seedat S (2008) Factor structure of the Connor-Davidson resilience scale in South African adolescents. Int J Adolesc Med Health 20(1):23–32

21.

Lee J (2012) Conducting cognitive interviews in cross-national settings. Assessment. doi:10.1177/1073191112436671

22.

MacCallum RC WK, Zhang S, Hong S (1999) Sample size in factor analysis. Psychol Methods 4(1):84–99

23.

StataCorp (2009) Stata statistical software, 11 edn. StataCorp LP, College Station

24.

Muthen LK MB (1998–2010) Mplus User's Guide, 6th edn. Muthen & Muthen, Los Angeles

25.

Hu L, Bentler PM (1999) Cutoff criteria for fit indexes in covariance structure analysis: Conventional criteria versus new alternatives. Struct Equ Modeling 6(1):1–55

26.

The World Health Report 2001 (2001): Mental health: new understanding, new hope (2001). World Health Organization

27.

Ungar M (2015) Practitioner review: diagnosing childhood resilience–a systemic approach to the diagnosis of adaptation in adverse social and physical ecologies. J child Psychol Psychiatry 56(1):4–17

28.

Breton J-J, Labelle R, Berthiaume C, Royer C, St-Georges M, Ricard D, Abadie P, Gérardin P, Cohen D, Guilé J-M (2015) Protective factors against depression and suicidal behaviour in adolescence. Can J Psychiatry 60(2 Suppl 1):S5

29.

Yu X-n, Lau JT, Mak WW, Zhang J, Lui WW, Zhang J (2011) Factor structure and psychometric properties of the Connor-Davidson Resilience Scale among Chinese adolescents. Compr Psychiatry 52(2):218–224

30.

Jung YE, Min JA, Shin AY, Han SY, Lee KU, Kim TS, Park JE, Choi SW, Lee SH, Choi KS (2012) The Korean version of the Connor–Davidson Resilience Scale: an extended validation. Stress Health 28(4):319–326

31.

Fu C, Leoutsakos J-M, Underwood C (2014) An examination of resilience cross-culturally in child and adolescent survivors of the 2008 China earthquake using the Connor–Davidson Resilience Scale (CD-RISC). J Affect Disord 155:149–153

32.

Catalano RF, Berglund ML, Ryan JA, Lonczak HS, Hawkins JD (2004) Positive youth development in the United States: Research findings on evaluations of positive youth development programs. Ann Am Acad Polit Soc Sci 591(1):98–124

33.

Betancourt TS, Meyers-Ohki SE, Charrow A, Hansen N (2013) Annual research review: mental health and resilience in HIV/AIDS-affected children–a review of the literature and recommendations for future research. J Child Psychol Psychiatry 54(4):423–444
Acknowledgements
This work would not have been possible without the enormous contributions of the Rwandan families that participated in this study, the research team who carried out this work in the field: Charles Ingabire, Sharon Teta, Josee Mukandanga, and Valentine Tuyishime, the collaboration of Partners in Health/Inshuti Mu Buzima, and the Rwandan Ministry of Health. This study was funded by Grant K01MH077246 and T32MH096724 from the National Institute of Mental Health, the Harvard Center for the Developing Child, the Julie Henry Junior Faculty Development Fund, the Peter C. Alderman Foundation, and Fogarty D43TW009335. The authors have no conflicts of interest to report.
Ethics declarations
Conflict of interest
On behalf of all authors, the corresponding author states that there is no conflict of interest.
About this article
Cite this article
Scorza, P., Duarte, C.S., Stevenson, A. et al. Individual-level factors associated with mental health in Rwandan youth affected by HIV/AIDS. Soc Psychiatry Psychiatr Epidemiol 52, 867–875 (2017). https://doi.org/10.1007/s00127-017-1364-2
Received:

Accepted:

Published:

Issue Date:
Keywords
Protective factors

Youth

Rwanda

Mental health

Resilience