Abstract
Purpose
Many adults suffering from mental disorders never receive the care they need. The role of family and friends in overcoming mental health treatment barriers is poorly understood. We investigated the association between awareness of lifetime mental health treatment history in one's family or friends, and likelihood of having recently received mental health care for oneself.
Methods
Using Canadian Community Health Survey 2012—Mental Health data, we defined care seekers as individuals who talked about mental health issues to at least one health professional in the past 12 months. Seekers were matched to non-seekers based on estimated care seeking propensity, and 1933 matched pairs were created. Reported awareness of lifetime treatment history in family and friends was compared between seekers and non-seekers.
Results
There were no differences in the distribution of any confounder of interest between seekers and non-seekers. 73% of seekers were aware of treatment history in family or friends, compared to only 56% of non-seekers (RR 1.3; 95% CI 1.2, 1.3). Awareness of treatment history in family members had nearly identical associations with care seeking as awareness of treatment history in friends.
Conclusions
We have found a social clustering of mental health care seeking behavior; individuals who were aware of lifetime treatment history in family or friends were more likely to have recently sought care for themselves. These novel results are consistent with a social learning model of care seeking behavior, and could inform efforts to bridge the current mental health treatment gap.
Access options
Buy single article
Instant access to the full article PDF.
USD 39.95
Price excludes VAT (USA)
Tax calculation will be finalised during checkout.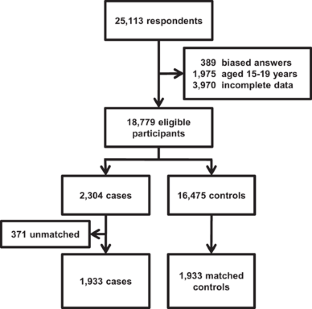 References
Murray CJ, Vos T, Lozano R, Naghavi M, Flaxman AD, Michaud C et al (2012) Disability-adjusted life years (dalys) for 291 diseases and injuries in 21 regions, 1990–2010: a systematic analysis for the global burden of disease study 2010. Lancet 380(9859):2197–2223

Smetanin P, Stiff D, Briante C, Adair C, Ahmad S, Khan M (2011) The life and economic impact of major mental illness in canada: 2011 to 2041, Risk Analytica, on behalf of the Mental Health Commission of Canada

Center for Behavioral Health Statistics and Quality (2015) Behavioral health trends in the united states: results from the 2014 national survey on drug use and health

Deverill C, King M (2009) Common mental disorders. In: McManus S et al (eds) Adult psychiatric morbidity in England, 2007: results of a household survey. NHS Information Centre, United Kingdom, pp 25–51

Australian Bureau of Statistics (2008) National survey of mental health and wellbeing: summary of results

Mojtabai R, Olfson M, Mechanic D (2002) Perceived need and help-seeking in adults with mood, anxiety, or substance use disorders. Arch Gen Psychiatry 59(1):77–84

Bebbington P, Meltzer H, Brugha T, Farrell M, Jenkins R, Ceresa C et al (2003) Unequal access and unmet need: Neurotic disorders and the use of primary care services. Int Rev Psychiatry 15(1–2):115–122

Andrews G, Sanderson K, Corry J, Lapsley HM (2000) Using epidemiological data to model efficiency in reducing the burden of depression. J Ment Health Policy Econ 3(4):175–186

Chisholm D, Sweeny K, Sheehan P, Rasmussen B, Smit F, Cuijpers P et al (2016) Scaling-up treatment of depression and anxiety: a global return on investment analysis. Lancet Psychiatry 3(5):415–424

Kendler KS (1995) Is seeking treatment for depression predicted by a history of depression in relatives? Implications for family studies of affective disorder. Psychol Med 25(4):807–814

Bandura A (1977) Social learning theoryNew York. General Learning Press, New York

Jorm AF, Medway J, Christensen H, Korten AE, Jacomb PA, Rodgers B (2000) Attitudes towards people with depression: Effects on the public's help-seeking and outcome when experiencing common psychiatric symptoms. Aust N Z J Psychiatry 34(4):612–618

Jorm AF, Christensen H, Medway J, Korten AE, Jacomb PA, Rodgers B (2000) Public belief systems about the helpfulness of interventions for depression: Associations with history of depression and professional help-seeking. Soc Psychiatry Psychiatr Epidemiol 35(5):211–219

Bell RA, Franks P, Duberstein PR, Epstein RM, Feldman MD, Fernandez Y, Garcia E et al (2011) Suffering in silence: reasons for not disclosing depression in primary care. Ann Fam Med 9(5):439–446

Hansen MC, Cabassa LJ (2012) Pathways to depression care: Help-seeking experiences of low-income latinos with diabetes and depression. J Immigr Minor Health 14(6):1097–1106

Rickwood DJ, Mazzer KR, Telford NR (2015) Social influences on seeking help from mental health services, in-person and online, during adolescence and young adulthood. BMC Psychiatry 15(40). doi:10.1186/s12888-015-0429-6

Fikretoglu D, Liu A (2015) Perceived barriers to mental health treatment among individuals with a past-year disorder onset: Findings from a canadian population health survey. Soc Psychiatry Psychiatr Epidemiol 50(5):739–746

Vogel DL, Wester SR, Larson LM (2007) Avoidance of counseling: psychological factors that inhibit seeking help. J Couns Dev 85(4):410–422

Vogel DL, Wester SR, Wei M, Boysen GA (2005) The role of outcome expectations and attitudes on decisions to seek professional help. J Couns Psychol 52(4):459–470

Rickwood DJ, Braitwaite VA (1994) Social-psychological factors affecting help-seeking for emotional problems. Soc Sci Med 39(4):563–572

Statistics Canada (2013) Canadian community health survey—mental health

Kessler RC, Ustün TB (2004) The world mental health (wmh) survey initiative version of the world health organization (who) composite international diagnostic interview (cidi). Int J Methods Psychiatr Res 13(2):93–121

Statistics Canada (2014) Canadian community health survey mental health: public use microdata file—derived variable (dv) specifications.

Haro JM, Arbabzadeh-Bouchez S, Brugha TS, De Girolamo G, Guyer ME, Jin R et al (2006) Concordance of the composite international diagnostic interview version 3.0 (cidi 3.0) with standardized clinical assessments in the who mental health surveys. Int J Methods Psychiatr Res 15(4):167–180

Kessler RC, Andrews G, Colpe LJ, Hiripi E, Mroczek DK, Normand SL et al (2002) Short screening scales to monitor population prevalences and trends in non-specific psychological distress. Psychol Med 32(6):959–976

Slade T, Grove R, Burgess P (2011) Kessler psychological distress scale: normative data from the 2007 australian national survey of mental health and wellbeing. Aust N Z J Psychiatry 45(4):308–316

Stuart EA (2010) Matching methods for causal inference: a review and a look forward. Stat Sci 25(1):1–21

Statacorp (2009) Stata statistical software: release 11, StataCorp LP, College Station

Prokofyeva E, Martins SS, Younes N, Surkan PJ, Melchior M (2013) The role of family history in mental health service utilization for major depression. J Affect Disord 151(2):461–466

Nowak SA, Parker AM (2014) Social network effects of nonlifesaving early-stage breast cancer detection on mammography rates. Am J Public Health 104(12):2439–2444

Rao N, Mobius MM, Rosenblat T (2007) Social networks and vaccination decisions. FRB og Boston Working Paper No 07–12

Rosen LJ, Noach MB, Winickoff JP, Hovell MF (2012) Parental smoking cessation to protect young children: a systematic review and meta-analysis. Pediatrics 129(1):141–152

Morgan PJ, Lubans DR, Callister R, Okely AD, Burrows TL, Fletcher R et al (2011) The 'healthy dads, healthy kids' randomized controlled trial: Efficacy of a healthy lifestyle program for overweight fathers and their children. Int J Obes (Lond) 35(3):436–447

Macdonald EM, Hayes RL, Baglioni AJ Jr (2000) The quantity and quality of the social networks of young people with early psychosis compared with closely matched controls. Schizophr Res 46(1):25–30

Kang SH, Wallace NT, Hyun JK, Morris A, Coffman J, Bloom JR (2007) Social networks and their relationship to mental health service use and expenditures among medicaid beneficiaries. Psychiatr Serv 58(5):689–695

Carpentier N, White D (2002) Cohesion of the primary social network and sustained service use before the first psychiatric hospitalization. J Behav Health Serv Res 29(4):404–418

Leng G, Adan RA, Belot M, Brunstrom JM, De Graaf K, Dickson SL et al (2016) The determinants of food choice. Proc Nutr Soc. doi:10.1017/s002966511600286x

Kelly SA, Pomp D (2013) Genetic determinants of voluntary exercise. Trends Genet 29(6):348–357

Sullivan PF, Neale MC, Kendler KS (2000) Genetic epidemiology of major depression: review and meta-analysis. Am J Psychiatry 157(10):1552–1562

Canadian Task Force on Preventive Medicine, Joffres M, Jaramillo A, Dickinson J, Lewin G, Pottie K et al (2013) Recommendations of screening for depression in adults. CMAJ 185(9):775–782

Rubin DB (1997) Estimating causal effects from large data sets using propensity scores. Ann Intern Med 127(8 Pt 2):757–763
Acknowledgements
The authors thank Gabrielle Galley, Dylan Johnson, Nathalie MacKinnon, Kiyuri Naicker, and Ewa Sucha for their methodological advice.
Ethics declarations
Sources of financial support
This research was funded in part by financial support from the Canada Research Chairs program for Ian Colman.
Conflict of interest
The authors have no conflict of interest to declare.
About this article
Cite this article
Thériault, F.L., Colman, I. Awareness of treatment history in family and friends, and mental health care seeking propensity. Soc Psychiatry Psychiatr Epidemiol 52, 485–492 (2017). https://doi.org/10.1007/s00127-017-1349-1
Received:

Accepted:

Published:

Issue Date:

DOI: https://doi.org/10.1007/s00127-017-1349-1
Keywords