Abstract
Purpose
Loneliness and depression are associated, in particular in older adults. Less is known about the role of social networks in this relationship. The present study analyzes the influence of social networks in the relationship between loneliness and depression in the older adult population in Spain.
Methods
A population-representative sample of 3535 adults aged 50 years and over from Spain was analyzed. Loneliness was assessed by means of the three-item UCLA Loneliness Scale. Social network characteristics were measured using the Berkman–Syme Social Network Index. Major depression in the previous 12 months was assessed with the Composite International Diagnostic Interview (CIDI). Logistic regression models were used to analyze the survey data.
Results
Feelings of loneliness were more prevalent in women, those who were younger (50–65), single, separated, divorced or widowed, living in a rural setting, with a lower frequency of social interactions and smaller social network, and with major depression. Among people feeling lonely, those with depression were more frequently married and had a small social network. Among those not feeling lonely, depression was associated with being previously married. In depressed people, feelings of loneliness were associated with having a small social network; while among those without depression, feelings of loneliness were associated with being married.
Conclusion
The type and size of social networks have a role in the relationship between loneliness and depression. Increasing social interaction may be more beneficial than strategies based on improving maladaptive social cognition in loneliness to reduce the prevalence of depression among Spanish older adults.
Access options
Buy single article
Instant access to the full article PDF.
US$ 39.95
Tax calculation will be finalised during checkout.
Subscribe to journal
Immediate online access to all issues from 2019. Subscription will auto renew annually.
US$ 159
Tax calculation will be finalised during checkout.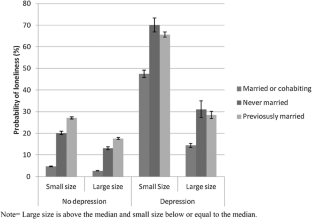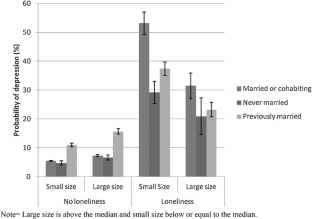 References
1.

Peplau L, Perlman D (1982) Perspectives on loneliness. In: Peplau L, Perlman D. (eds), Loneliness: a sourcebook of current theory, research and therapy. Wiley, New York, pp 1–20

2.

Rico-Uribe LA, Caballero FF, Olaya B et al (2016) Loneliness, social networks, and health: a cross-sectional study in three countries. PLoS One 11:e0145264

3.

Yang K, Victor C (2011) Age and loneliness in 25 European nations. Ageing Soc 31:1368–1388

4.

Cohen-Mansfield J, Hazan H, Lerman Y, Shalom V (2016) Correlates and predictors of loneliness in older-adults: a review of quantitative results informed by qualitative insights. Int Psychogeriatr 28:557–576

5.

Cacioppo JT, Hughes ME, Waite LJ et al (2006) Loneliness as a specific risk factor for depressive symptoms: cross-sectional and longitudinal analyses. Psychol Aging 21:140–151

6.

Santini ZI, Koyanagi A, Tyrovolas S et al (2015) The association between social relationships and depression: a systematic review. J Affect Disord 175:53–65

7.

Cacioppo JT, Hawkley LC, Thisted RA (2010) Perceived social isolation makes me sad: 5-year cross-lagged analyses of loneliness and depressive symptomatology in the Chicago Health, Aging, and Social Relations Study. Psychol Aging 25:453–463

8.

Dahlberg L, Andersson L, McKee KJ, Lennartsson C (2014) Predictors of loneliness among older women and men in Sweden: a national longitudinal study. Aging Ment Health 7863:1–9

9.

Santini ZI, Fiori KL, Feeney J et al (2016) Social relationships, loneliness, and mental health among older men and women in Ireland: a prospective community-based study. J Affect Disord 204:59–69

10.

Houtjes W, Van Meijel B, Van De Ven PM et al (2014) The impact of an unfavorable depression course on network size and loneliness in older people: a longitudinal study in the community. Int J Geriatr Psychiatry 29:1010–1017

11.

Russell D (1996) UCLA loneliness scale (Version 3): reliability, validity, and factor structure. J Pers Assess 66:20–40

12.

McWhirter BT (1990) Factor analysis of the revised UCLA loneliness scale. Curr Psychol 9:56–68

13.

Weiss RS (1973) Loneliness: the experience of emotional an social isolation. MIT Press, Cambridge

14.

Green LR, Richardson DS, Lago T, Schatten-Jones EC (2001) Network correlates of social and emotional loneliness in young and older adults. Personal Soc Psychol Bull 27:281–288

15.

Leonardi M, Chatterji S, Koskinen S et al (2014) Determinants of health and disability in ageing population: The COURAGE in Europe Project (Collaborative Research on Ageing in Europe). Clin Psychol Psychother 21:193–198

16.

Üstun TB, Chatterji S, Mechbal A, Murray CJL, WHS collaborating groups (2005) Quality assurance in surveys: standards, guidelines and procedures. In: United Nations (eds) Household sample surveys in developing and transition countries, chap X. United Nations Publications, New York

17.

Hughes ME, Waite LJ, Hawkley LC, Cacioppo JT (2004) A Short Scale for Measuring Loneliness in Large Surveys: Results From Two Population-Based Studies. Res. Aging 26:655–672

18.

Steptoe A, Shankar A, Demakakos P, Wardle J (2013) Social isolation, loneliness, and all-cause mortality in older men and women. Pnas 2013:1–5

19.

Berkman LF, Syme SL (1979) Social networks, host resistance, and mortality: a nine-year follow-up study of Alameda County residents. Am J Epidemiol 109:186–204

20.

Cohen S, Doyle WJ, Skoner DP et al (1997) Social ties and susceptibility to the common cold. JAMA 277:1940–1944

21.

Zawisza K, Galas A, Tobiasz-Adamczyk B et al (2014) The validity of the instrument to evaluate social network in the ageing population: the collaborative research on ageing in europe social network index. Clin Psychol Psychother 21:227–241

22.

Haro JM, Arbabzadeh-Bouchez S, Brugha TS et al (2006) Concordance of the composite international diagnostic interview Version 3.0 (CIDI 3.0) with standardized clinical assessments in the WHO World Mental Health Surveys. Int J Methods Psychiatr Res 15:167–180

23.

American Psychiatric Association (1994) Diagnostic and statistical manual of mental disorder. 4th edn. Author, Washington, DC

24.

Moussavi S, Chatterji S, Verdes E et al (2007) Depression, chronic diseases, and decrements in health: results from the World Health Surveys. Lancet (London, England) 370:851–858

25.

Mickey RM, Greenland S (1989) The impact of confounder selection criteria on effect estimation. Am J Epidemiol 129:125–137

26.

Holwerda TJ, Beekman ATF, Deeg DJH et al (2012) Increased risk of mortality associated with social isolation in older men: only when feeling lonely? Results from the Amsterdam Study of the Elderly (AMSTEL). Psychol Med 42:843–853

27.

Stek ML, Vinkers DJ, Gussekloo J et al (2005) Is depression in old age fatal only when people feel lonely? Am J Psychiatry 162:178–180

28.

Cacioppo JT, Fowler JH, Christakis NA (2009) Alone in the crowd—the structure and spread of loneliness in a large social network. J Pers Soc Psychol 97:977–991

29.

Rosenquist JN, Fowler JH, Christakis NA (2011) Social network determinants of depression. Mol Psychiatry 16:273–281

30.

Routasalo PE, Savikko N, Tilvis RS et al (2006) Social contacts and their relationship to loneliness among aged people—a population-based study. Gerontology 52:181–187

31.

van Beljouw IMJ, van Exel E, de Jong Gierveld J et al (2014) "Being all alone makes me sad": loneliness in older adults with depressive symptoms. Int Psychogeriatr 26:1–11

32.

Lindgren BM, Sundbaum J, Eriksson M, Graneheim UH (2014) Looking at the world through a frosted window: experiences of loneliness among persons with mental ill-health. J Psychiatr Ment Health Nurs 21:114–120

33.

Taube E, Jakobsson U, Midlöv P, Kristensson J (2016) Being in a bubble: the experience of loneliness among frail older people. J Adv Nurs 72:631–640

34.

Shiovitz-Ezra S, Ayalon L (2012) Use of direct versus indirect approaches to measure loneliness in later life. Res Aging 34:572–591

35.

Gabilondo A, Rojas-Farreras S, Vilagut G et al (2010) Epidemiology of major depressive episode in a southern European country: results from the ESEMeD-Spain project. J Affect Disord 120:76–85

36.

Kessler RC, Berglund P, Demler O et al (2005) Lifetime prevalence and Age-of-onset distributions of DSM-IV disorders in the National Comorbidity Survey Replication. Arch Gen Psychiatry 62:593–602

37.

Amann G (1991) Social network and social support deficits in depressed patients: a result of distorted perception? Eur Arch Psychiatry Clin Neurosci 241:49–56

38.

Kriegsman DMW, Penninx BWJH, Van Eijk JTM et al (1996) Self-reports and general practitioner information on the presence of chronic diseases in community dwelling elderly. J Clin Epidemiol 49:1407–1417

39.

Masi CM, Chen H-Y, Hawkley LC, Cacioppo JT (2011) A meta-analysis of interventions to reduce loneliness. Pers Soc Psychol Rev 15:219–266

40.

Griffin J (2010) The lonely society? Mental Health Foundation, London. http://www.its-services.org.uk/silo/files/the-lonely-society.pdf
Ethics declarations
Conflict of interest
Dr. Josep Maria Haro is a consultant of Eli Lilly and Co, Roche, Lundbeck and Otsuka. None of these activities are related to the current project. For the remaining authors, none were declared.
About this article
Cite this article
Domènech-Abella, J., Lara, E., Rubio-Valera, M. et al. Loneliness and depression in the elderly: the role of social network. Soc Psychiatry Psychiatr Epidemiol 52, 381–390 (2017). https://doi.org/10.1007/s00127-017-1339-3
Received:

Accepted:

Published:

Issue Date:
Keywords
Social Network

Marital Status

High Odds

Depressive Symptomatology

Composite International Diagnostic Interview