Abstract
Background
The link between depression and paranoia has long been discussed in psychiatric literature. Because the causality of this association is difficult to study in patients with full-blown psychosis, we aimed to investigate how clinical depression relates to the presence and occurrence of paranoid symptoms in clinical high-risk (CHR) patients.
Methods
In all, 245 young help-seeking CHR patients were assessed for suspiciousness and paranoid symptoms with the structured interview for prodromal syndromes at baseline, 9- and 18-month follow-up. At baseline, clinical diagnoses were assessed by the Structured Clinical Interview for DSM-IV, childhood adversities by the Trauma and Distress Scale, trait-like suspiciousness by the Schizotypal Personality Questionnaire, and anxiety and depressiveness by the Positive and Negative Syndrome Scale.
Results
At baseline, 54.3 % of CHR patients reported at least moderate paranoid symptoms. At 9- and 18-month follow-ups, the corresponding figures were 28.3 and 24.4 %. Depressive, obsessive–compulsive and somatoform disorders, emotional and sexual abuse, and anxiety and suspiciousness associated with paranoid symptoms. In multivariate modelling, depressive and obsessive–compulsive disorders, sexual abuse, and anxiety predicted persistence of paranoid symptoms.
Conclusion
Depressive disorder was one of the major clinical factors predicting persistence of paranoid symptoms in CHR patients. In addition, obsessive–compulsive disorder, childhood sexual abuse, and anxiety associated with paranoia. Effective pharmacological and psychotherapeutic treatment of these disorders and anxiety may reduce paranoid symptoms in CHR patients.
Access options
Buy single article
Instant access to the full article PDF.
US$ 39.95
Tax calculation will be finalised during checkout.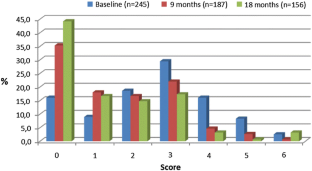 References
1.

Freeman D (2007) Suspicious minds: the psychology of persecutory delusions. Clin Psychol Rev 27:425–457

2.

Kraepelin E (1899) Psychiatrie. Sechste, vollständig umgearbaitete Auflage. Leibzig, Johan Ambrosius Barth, Ein Lehrbuch für Studierende und Aerzte, p 1899

3.

Souery D, Zaninotto L, Calati R, Linotte S, Mendlewicz J, Sentissi O, Serretti A (2012) Depression across mood disorders: review and analysis in a clinical sample. Compr Psychiatry 53:24–38

4.

Manschreck TC, Khan NL (2006) Recent advances in the treatment of delusional disorder. Can J Psychiatry 51:114–119

5.

de Portugal E, González N, Haro JM, Autonell J, Cervilla JA (2008) A descriptive case-register study of delusional disorder. Eur Psychiatry 23:125–133

6.

Bentall RP, Corcoran R, Howard R, Blackwood N, Kinderman P (2001) Persecutory delusions: a review and theoretical integration. Clin Psychol Rev 21:1143–1192

7.

Bebbington P, Jonas S, Kuipers E, King M, Cooper C, Brugha T, Meltzer H, McManus S, Jenkins R (2011) Childhood sexual abuse and psychosis: data from a cross-sectional national psychiatric survey in England. Br J Psychiatry 199:29–37

8.

Häfner H, Maurer K (1991) Are there two types of schizophrenia? True onset and sequence of positive and negative syndromes prior to the first admission. In: Marneros A, Andreasen NC, Tsuan MT (eds) Negative versus positive schizophrenia. Springer, Berlin, pp 134–159

9.

Svirskis T, Korkeila J, Heinimaa M, Huttunen J, Ilonen T, Ristkari T, McGlashan T, Salokangas RK (2005) Axis-I disorders and vulnerability to psychosis. Schizophr Res 75:439–446

10.

Salokangas RKR, Ruhrmann S, Graf von Reventlow H, Heinimaa M, Svirskis T, From T, Luutonen S, Juckel G, Linszen D, Dingemans P, Birchwood M, Patterson P, Schultze-Lutter F, Klosterkötter J, The EPOS Group (2012) Axis I diagnoses and transition to psychosis in clinical high-risk patients. EPOS project: prospective follow-up of 245 clinical high-risk out-patients in four countries. Schizophr Res 138:192–197

11.

Zhang T, Li H, Woodberry KA, Seidman LJ, Zheng L, Li H, Zhao S, Tang Y, Guo Q, Lu X, Zhuo K, Qian Z, Chow A, Li C, Jiang K, Xiao Z, Wang J (2014) Prodromal psychosis detection in a counseling center population in China: an epidemiological and clinical study. Schizophr Res 152:391–399

12.

Fusar-Poli P, Nelson B, Valmaggia L, Yung AR, McGuire PK (2014) Comorbid depressive and anxiety disorders in 509 individuals with an at-risk mental state: impact on psychopathology and transition to psychosis. Schizophr Bull 40:120–131

13.

Klosterkötter J, Ruhrmann S, Schultze-Lutter F, Salokangas RKR, Linszen D, Birchwood M, Juckel G, Morrison A, Vázquèz-Barquero Hambrecht M, von Reventlow H, The EPOS Group (2005) The European Prediction of Psychosis Study (EPOS): integrating early recognition and intervention in Europe. World Psychiatry 4:161–167

14.

Ruhrmann S, Schultze-Lutter F, Salokangas RKR, Heinimaa M, Linszen D, Dingemans P, Birchwood M, Patterson P, Juckel G, Heinz A, Morrison A, Lewis S, Graf von Reventlow H, Klosterkötter J (2010) Prediction of psychosis in adolescents and young adults at high risk: results from the Prospective European Prediction of Psychosis Study. Arch Gen Psychiatry 67:241–251

15.

Schultze-Lutter F, Klosterkötter J (2002) Bonn scale for assessment of basic symptoms—prediction list, BSABS-P. University of Cologne, Cologne

16.

McGlashan TH, Miller TJ, Woods SW et al (2001) Structured interview for prodromal syndromes (Version 3.0, unpublished manuscript). New Haven, Connecticut, PRIME Research Clinic, Yale School of Medicine

17.

American Psychiatric Association (1994) Diagnostic and statistical manual of mental disorders, 4th edn. American Psychiatric Association, Washington, DC

18.

Kay SR, Fiszbein A, Opler LA (1987) The positive and negative syndrome scale (PANSS) for schizophrenia. Schizophr Bull 13:261–276

19.

Patterson P. Skeate A. Schultze-Lutter F, von Reventlow H (2002) Trauma and Distress Scale, TADS—EPOS version 1.2. 2002

20.

Raine A (1991) The SPQ: a scale for the assessment of schizotypal personality based on DSM-III-R criteria. Schizophr Bull 17:555–564

21.

Cutting J (1997) Principles of psychopathology: two worlds-two minds-two hemispheres. Oxford University Press, Oxford

22.

Schultze-Lutter F, Renner F, Paruch J, Julkowski D, Klosterkötter J, Ruhrmann S (2014) Self-reported psychotic-like experiences are a poor estimate of clinician-rated attenuated and frank delusions and hallucinations. Psychopathology 47:194–201

23.

Schultze-Lutter F, Michel C, Ruhrmann S, Schimmelmann BG (2014) Prevalence and clinical significance of DSM-5-attenuated psychosis syndrome in adolescents and young adults in the general population: the Bern Epidemiological At-Risk (BEAR) Study. Schizophr Bull 40:1499–1508

24.

Pine DS, Cohen JA (2002) Trauma in children and adolescents: risk and treatment of psychiatric sequelae. Biol Psychiatry 51:519–531

25.

Varese F, Smeets F, Drukker M, Lieverse R, Lataster T, Viechtbauer W, Read J, van Os J, Bentall RP (2012) Childhood adversities increase the risk of psychosis: a meta-analysis of patient-control, prospective- and cross-sectional cohort studies. Schizophr Bull 38:661–671

26.

Bentall RP, Wickham S, Shevlin M, Varese F (2012) Do specific early life adversities lead to specific symptoms of psychosis? A study from the 2007 the Adult Psychiatric Morbidity Survey. Schizophr Bull 38:734–740

27.

Sitko K, Bentall RP, Shevlin M, O'Sullivan N, Sellwood W (2014) Associations between specific psychotic symptoms and specific childhood adversities are mediated by attachment styles: an analysis of the National Comorbidity Survey. Psychiatry Res 217:202–209

28.

Marwaha S, Bebbington P (2015) Mood as a mediator of the link between child sexual abuse and psychosis. Soc Psychiatry Psychiatr Epidemiol 50:661–663

29.

Kendler KS, Masterson CC, Davis KL (1985) Psychiatric illness in first-degree relatives of patients with paranoid psychosis, schizophrenia and medical illness. Br J Psychiatry 147:524–531

30.

Manschreck TC (1989) Delusional (paranoid) disorders. In: Kaplan HI, Sadock BJ (eds) Comprehensive textbook of psychiatry/V, vol 1, 5th edn. Williams & Wilkins, Baltimore, pp 816–829

31.

Fusar-Poli P, Meyer-Lindenberg A (2013) Striatal presynaptic dopamine in schizophrenia, part II: meta-analysis of [18F]/[11C] DOPA PET studies. Schizophr Bull 39:33–42

32.

Hietala J, Syvälahti E, Vilkman H, Vuorio K, Räkköläinen V, Bergman J, Haaparanta M, Solin O, Kuoppamäki M, Eronen E, Ruotsalainen U, Salokangas RK (1999) Depressive symptoms and presynaptic dopamine function in neuroleptic-naive schizophrenia. Schizophr Res 35:41–50

33.

Howes OD, Montgomery AJ, Asselin MC, Murray RM, Valli I, Tabraham P, Bramon-Bosch E, Valmaggia L, Johns L, Broome M, McGuire PK, Grasby PM (2009) Elevated striatal dopamine function linked to prodromal signs of schizophrenia. Arch Gen Psychiatry 66:13–20

34.

Howes OD, Bose SK, Turkheimer F, Valli I, Egerton A, Valmaggia LR, Murray RM, McGuire P (2011) Dopamine synthesis capacity before onset of psychosis: a prospective [18F]-DOPA PET imaging study. Am J Psychiatry 168:1311–1317

35.

Laruelle M (2003) Dopamine transmission in schizophrenic brain. In: Hirsch SR, Weinberger D (eds) Schizophrenia, 2nd edn. Blackwell Science Ltd, Bath, pp 365–387

36.

Morgante L, Colosimo C, Antonini A, Marconi R, Meco G, Pederzoli M, Pontieri FE, Cicarelli G, Abbruzzese G, Zappulla S, Ramat S, Manfredi M, Bottacchi E, Abrignani M, Berardelli A, Cozzolino A, Paradiso C, De Gaspari D, Morgante F, Barone P, PRIAMO Study Group (2012) Psychosis associated to Parkinson's disease in the early stages: relevance of cognitive decline and depression. J Neurol Neurosurg Psychiatry 83:76–82

37.

Freeman D, Dunn G, Murray RM, Evans N, Lister R, Antley A, Slater M, Godlewska B, Cornish R, Williams J, Di Simplicio M, Igoumenou A, Brenneisen R, Tunbridge EM, Harrison PJ, Harmer CJ, Cowen P, Morrison PD (2015) How cannabis causes paranoia: using the intravenous administration of ∆9-tetrahydrocannabinol (THC) to identify key cognitive mechanisms leading to paranoia. Schizophr Bull 41:391–399

38.

Wood JG, Joyce PR, Miller AL, Mulder RT, Kennedy MA (2002) A polymorphism in the dopamine beta-hydroxylase gene is associated with "paranoid ideation" in patients with major depression. Biol Psychiatry 51:365–369

39.

Howes OD, Murray RM (2014) Schizophrenia: an integrated sociodevelopmental-cognitive model. Lancet 383:1677–1687

40.

Kapur S (2003) Psychosis as a state of aberrant salience: a framework linking biology, phenomenology, and pharmacology in schizophrenia. Am J Psychiatry 160:13–23

41.

Schmidt SJ, Grunert VM, Schimmelmann BG, Schultze-Lutter F, Michel C (2014) Differences in coping, self-efficacy, and external control beliefs between patients at-risk for psychosis and patients with first-episode psychosis. Psychiatry Res 219:95–102

42.

Vaswani M, Linda FK, Ramesh S (2003) Role of selective serotonin reuptake inhibitors in psychiatric disorders: a comprehensive review. Prog Neuropsychopharmacol Biol Psychiatry 27:85–102

43.

Hofmann SG, Asnaani A, Vonk IJ, Sawyer AT, Fang A (2012) The efficacy of cognitive behavioral therapy: a review of meta-analyses. Cogn Ther Res 36:427–440

44.

Schmidt SJ, Schultze-Lutter F, Schimmelmann BG, Maric NP, Salokangas RKR, Riecher-Rössler A, van der Gaag M, Nordentoft M, Raballo A, Meneghelli A, Marshall M, Morrison A, Klosterkötter J, Ruhrmann S (2015) EPA guidance on the early intervention in clinical high risk states of psychoses. Eur Psychiatry 30:388–404

45.

Masillo A, Day F, Laing J, Howes O, Fusar-Poli P, Byrne M, Bhattacharyya S, Fiori Nastro P, Girardi P, McGuire PK, Valmaggia LR (2012) Interpersonal sensitivity in the at-risk mental state for psychosis. Psychol Med 42:1835–1845
Acknowledgments
The International Advisory Board 'European Prediction of Psychosis' (EPOS) group comprises Patrick D. McGorry, Australia; Thomas H. McGlashan, USA; Martin Knapp, UK. The authors thank the following scientists for their work for EPOS: Reinaud van der Fliert, Rianne Klaassen (Department of Psychiatry, AMC, University of Amsterdam, The Netherlands); Heinz Picker, Meike Neumann, Anke Brockhaus-Dumke, Ralf Pukrop (Department of Psychiatry and Psychotherapy/FETZ, University of Cologne, Cologne, Germany); Jukka Huttunen, Terja Ristkari (Department of Psychiatry, University of Turku, Finland); Tanja Svirskis (Department of Psychiatry, University of Helsinki, Helsinki, Finland); Amanda Skeate (ED: IT, Early Intervention Service, Birmingham, UK); Yehonala Gudlowski (Charité, Berlin, Germany); Seza Ozgürdal, Henning Witthaus (Charité, Berlin, and Ruhr-University, Bochum, Germany); Shôn Lewis, Antony Morrisson (School of Psychological Sciences, University of Manchester, Manchester, UK).
Ethics declarations
Funding
This study was funded by Grant QLG4-CT-2001-01081 from the 5th Framework Program Quality of Life and Management of Living Resources of the European Commission. Additional local funding was provided by the Social Insurance Institution of Finland, the Medical Faculty of Cologne (Köln Fortune Program), the Research Council of The Netherlands (ZorgOnderzoek Nederland/NWO-Medische Wetenschappen, project # 2630.0001), the National Institute for Health Research (NIHR) through the Collaborations for Leadership in Applied Health Research and Care for Birmingham and the Black Country (CLAHRC-BBC)' and Oy H. Lundbeck AB, Finland.
Conflict of interest
None.
Electronic supplementary material
Below is the link to the electronic supplementary material.
About this article
Cite this article
Salokangas, R.K.R., Schultze-Lutter, F., Hietala, J. et al. Depression predicts persistence of paranoia in clinical high-risk patients to psychosis: results of the EPOS project. Soc Psychiatry Psychiatr Epidemiol 51, 247–257 (2016). https://doi.org/10.1007/s00127-015-1160-9
Received:

Accepted:

Published:

Issue Date:
Keywords
Depression

Anxiety

Paranoia

Persistence

Clinical high risk