Abstract
Purpose
Understanding how veterans appraise their post-deployment experiences could provide insight into better assisting their deployment transitions. We aimed to assess the factor structure of positive and negative post-deployment appraisals in Australian veterans and to examine the resultant factors in their relationship with military stress and psychological health.
Method
Questions capturing post-deployment attitudes were developed by the researchers in collaboration with veterans. The questions were administered to 1938 veterans and the results factor analysed. The relationships between post-deployment appraisal, military stress and psychological health were examined using Structural Equation Modelling.
Results
A three-factor solution was found for the post-deployment appraisal questions; representing personal development, lack of recognition, and appreciation of life and country. Military stress was associated with the three factors and psychological health. The three factors were weakly to moderately associated with psychological health. Mediation between military stress and psychological health by any post-deployment appraisal factor was minimal.
Conclusions
Post-deployment appraisal measures three important attitudes and concerns of veterans after deployment. Military stress is associated with the post-deployment appraisal factors. However, the factors did not mediate the relationship between military stress and psychological health. These factors provide insight into how veterans appraise their complex array of post-deployment experiences, and may provide useful in regard to transitions and integration into civilian life.
Access options
Buy single article
Instant access to the full article PDF.
US$ 39.95
Tax calculation will be finalised during checkout.
Subscribe to journal
Immediate online access to all issues from 2019. Subscription will auto renew annually.
US$ 159
Tax calculation will be finalised during checkout.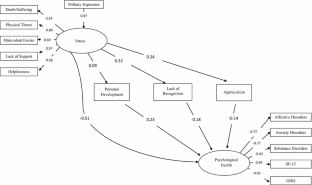 References
1.

Institute of Medicine (2010) Gulf War and Health, vol 8: Update of Health Effects of Serving in the Gulf War. The National Academies Press, Washington

2.

Bolton EE, Litz BT, Glenn DM, Orsillo S, Roemer L (2002) The impact of homecoming reception on the adaptation of peacekeepers following deployment. Military Psychol 14(3):241–251

3.

Sayer N, Noorbaloochi S, Frazier P, Carlson K, Gravely A, Murdoch M (2010) Reintegration problems and treatment interests among Iraq and Afghanistan combat veterans receiving VA medical care. Psychiatr Serv 61(6):589–597

4.

Larner B, Blow A (2011) A model of meaning-making coping and growth in combat veterans. Rev Gen Psychol 15(3):187–197

5.

Folkman S, Lazarus RS (1984) Stress, appraisal, and coping. Springer, New York

6.

Lazarus RS, Smith CA (1988) Knowledge and appraisal in the cognition—emotion relationship. Cogn Emot 2(4):281–300

7.

Tedeschi RG, Calhoun LG (1996) The Posttraumatic Growth Inventory: measuring the positive legacy of trauma. J Trauma Stress 9(3):455–472

8.

King LA, King DW, Vogt DS, Knight J, Samper RE (2006) Deployment Risk and Resilience Inventory: a collection of measures for studying deployment-related experiences of military personnel and veterans. Military Psychol 18(2):89–120. doi:10.1207/s15327876mp1802_1

9.

Maercker A, Müller J (2004) Social acknowledgment as a victim or survivor: a scale to measure a recovery factor of PTSD. J Trauma Stress 17(4):345–351

10.

Feder A, Southwick SM, Goetz RR, Wang Y, Alonso A, Smith BW, Buchholz KR, Waldeck T, Ameli R, Moore J, Hain R, Charney DS, Vythilingam M (2008) Posttraumatic growth in former Vietnam prisoners of war. Psychiatry Interperson Biol Process 71(4):359–370. doi:10.1521/psyc.2008.71.4.359

11.

Ikin JF, Sim M, Creamer M, Forbes A, McKenzie D, Kelsall H, Glass D, McFarlane A, Abramson M, Ittak P, Dwyer T, Blizzard L, Delaney K, Horsley K, Harrex W, Schwarz H (2004) War-related psychological stressors and risk of psychological disorders in Australian veterans of the 1991 Gulf War. Br J Psychiatry 185(2):116–126

12.

Ikin JF, McKenzie DP, Creamer MC, McFarlane AC, Kelsall HL, Glass DC, Forbes AB, Horsley KW, Harrex WK, Sim MR (2005) War zone stress without direct combat: the Australian naval experience of the Gulf War. J Trauma Stress 18(3):193–204

13.

World Health Organization (1992) The ICD-10 classification of mental and behavioural disorders: clinical descriptions and diagnostic guidelines, vol 1. World Health Organization

14.

American Psychiatric Association (1994) Diagnostic and statistical manual of mental disorders (DSM-IV). American Psychiatric Association

15.

Janca A, Robins LN, Bucholz KK, Early TS, Shayka JJ (1992) Comparison of Composite International Diagnostic Interview and clinical DSM-III-R criteria checklist diagnoses. Acta Psychiatr Scand 85(6):440–443. doi:10.1111/j.1600-0447.1992.tb03208.x

16.

Ware JE Jr, Kosinski M, Keller SD (1996) A 12-Item Short-Form Health Survey: construction of scales and preliminary tests of reliability and validity. Med Care 34(3):220–233

17.

Goldberg DP, Williams P (1988) A user's guide to the general health questionnaire. Windsor, England

18.

Muthén BO, Muthén LK (1998) Mplus (version 5.1) [computer software], Los Angeles

19.

Forbes AB, McKenzie DP, MacKinnon AJ, Kelsall HL, McFarlane AC, Ikin JF, Glass DC, Sim MR (2004) The health of Australian veterans of the 1991 Gulf War: factor analysis of self-reported symptoms. Occup Environ Med 61(15550608):1014–1020

20.

Hu L, Bentler PM (1999) Cutoff criteria for fit indexes in covariance structure analysis: conventional criteria versus new alternatives. Struct Equ Model 6(1):1–55

21.

Gliem JA, Gliem RR (2003) Calculating, interpreting, and reporting Cronbach's alpha reliability coefficient for Likert-type scales. In: Midwest research-to-practice conference in adult, continuing, and community education. The Ohio State University, Columbus

22.

Tedeschi RG, McNally RJ (2011) Can we facilitate posttraumatic growth in combat veterans? Am Psychol 66(1):19

23.

Pietrzak RH, Goldstein MB, Malley JC, Rivers AJ, Johnson DC, Morgan CA, Southwick SM (2010) Posttraumatic growth in veterans of Operations Enduring Freedom and Iraqi Freedom. J Affect Disord 126(1–2):230–235

24.

MacGregor AJ, Shaffer RA, Dougherty AL, Galarneau MR, Raman R, Baker DG, Lindsay SP, Golomb BA, Corson KS (2009) Psychological correlates of battle and nonbattle injury among operation iraqi freedom veterans. Mil Med 174(3):224–231

25.

Kivimäki M (2014) Effort–reward imbalance. In: The Wiley Blackwell Encyclopedia of Health, Illness, Behavior, and Society. Wiley, New York. doi:10.1002/9781118410868.wbehibs001

26.

Cadell S, Regehr C, Hemsworth D (2003) Factors contributing to posttraumatic growth: a proposed structural equation model. Am J Orthopsychiatry 73(3):279–287. doi:10.1037/0002-9432.73.3.279

27.

Kavanagh J (2005) Stress and performance: a review of the literature and its applicability to the military. DTIC Document

28.

Sareen J (2010) Is peacekeeping peaceful? A systematic review. Can J Psychiatry 55(7):464–472

29.

Chin WW (1998) Commentary: issues and opinion on structural equation modeling. MIS Quarterly
Acknowledgments
The research on which this article was based was funded by a grant from the Australian Department of Veterans' Affairs. The views expressed in the article do not necessarily represent the views of the Minister for Veterans' Affairs or the Department of Veterans' Affairs. The Commonwealth of Australia does not give any warranty nor accept any liability in relation to the contents of the article.
Conflict of interest
None.
Ethical standard
The authors assert that all procedures contributing to this work comply with the ethical standards of the relevant national and institutional committees on human experimentation and with the Helsinki Declaration of 1975, as revised in 2008. All participants provided voluntary informed consent.
About this article
Cite this article
Wright, B., Forbes, A., Kelsall, H. et al. 'Post-deployment appraisal' and the relationship with stress and psychological health in Australian veterans. Soc Psychiatry Psychiatr Epidemiol 50, 1885–1892 (2015). https://doi.org/10.1007/s00127-015-1054-x
Received:

Accepted:

Published:

Issue Date:
Keywords
Veterans

Military stress

Cognitive appraisal

Psychological health