Abstract
Background
Early-life low socioeconomic position (SEP) increases the risk of adult major depression; however, associations vary according to the measure of SEP and adults' life stage. Although maternal education often predicts offspring health better than other SEP indicators, including paternal education, it is unclear how maternal and paternal education differentially influence early-adult depression, and how early-life and adult risk factors may mediate the association.
Methods
Longitudinal data come from the Canadian National Population Health Survey from 1994/1995 to 2006/2007, restricted to a sample (N = 1,267) that was aged 12–24 years in 1994/1995. Past-year major depressive episode (MDE) was assessed in 2004/2005 and 2006/2007 using the Composite International Diagnostic Interview Short Form for Major Depression. Logistic regression models were used to estimate odds ratios (OR) and 95 % confidence intervals (CI) for the association between both maternal and paternal education and MDE, adjusting for respondent's demographics, early-life adversities, adult SEP, psychosocial factors, and physical health.
Results
Offsprings of mothers with less than secondary school education had higher odds of MDE (adjusted OR 2.04, 95 % CI 1.25–3.32) relative to those whose mothers had more education. Paternal education was not associated with MDE. Although adult income, student status, psychosocial stress, and several early-life adversities remained associated with MDE in the fully adjusted model, the estimate for maternal education was not reduced.
Conclusions
Maternal education was associated with MDE in early adulthood, independent of paternal education and other early-life and early-adult risk factors.
Access options
Buy single article
Instant access to the full article PDF.
US$ 39.95
Tax calculation will be finalised during checkout.
Subscribe to journal
Immediate online access to all issues from 2019. Subscription will auto renew annually.
US$ 159
Tax calculation will be finalised during checkout.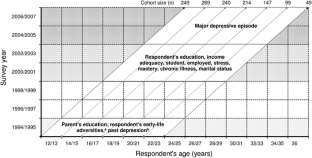 References
1.

World Health Organization (2008) Global burden of disease: 2004 update. World Health Organization, Geneva

2.

Patten SB, Wang JL, Williams JVA, Currie S, Beck CA, Maxwell CJ et al (2006) Descriptive epidemiology of major depression in Canada. Can J Psychiatry 51:84–90

3.

Kessler RC, Berglund P, Demler O, Jin R, Merikangas KR, Walters EE (2005) Lifetime prevalence and age-of-onset distributions of DSM-IV disorders in the national comorbidity survey replication. Arch Gen Psychiatry 62:593–602

4.

Fryers T, Melzer D, Jenkins R (2003) Social inequalities and the common mental disorders: a systematic review of the evidence. Soc Psychiatry Psychiatr Epidemiol 38:229–237

5.

Power C, Atherton K, Strachan DP, Shepherd P, Fuller E, Davis A et al (2007) Life-course influences on health in British adults: effects of socio-economic position in childhood and adulthood. Int J Epidemiol 36:532–539

6.

Mensah FK, Hobcraft J (2008) Childhood deprivation, health and development: associations with adult health in the 1958 and 1970 British prospective birth cohort studies. J Epidemiol Community Health 62:599–606

7.

Harper S, Lynch J, Hsu WL, Everson SA, Hillemeier MM, Raghunathan TE et al (2002) Life course socioeconomic conditions and adult psychosocial functioning. Int J Epidemiol 31:395–403

8.

Kestila L, Koskinen S, Martelin T, Rahkonen O, Pensola T, Aro H et al (2006) Determinants of health in early adulthood: what is the role of parental education, childhood adversities and own education? Eur J Public Health 16:306–315

9.

Reynolds JR, Ross CE (1998) Social stratification and health: education's benefit beyond economic status and social origins. Soc Probl 45:221–247

10.

Makinen T, Laaksonen M, Lahelma E, Rahkonen O (2006) Associations of childhood circumstances with physical and mental functioning in adulthood. Soc Sci Med 62:1831–1839

11.

Gilman SE, Kawachi I, Fitzmaurice GM, Buka SL (2002) Socioeconomic status in childhood and the lifetime risk of major depression. Int J Epidemiol 31:359–367

12.

Luo Y, Waite LJ (2005) The impact of childhood and adult SES on physical, mental, and cognitive well-being in later life. J Gerontol B Psychol Sci Soc Sci 60:S93–S101

13.

Mossakowski KN (2008) Dissecting the influence of race, ethnicity, and socioeconomic status on mental health in young adulthood. Res Aging 30:649–671

14.

Morgen CS, Bjork C, Andersen PK, Mortensen LH, Nybo Andersen AM (2008) Socioeconomic position and the risk of preterm birth-a study within the Danish National Birth Cohort. Int J Epidemiol 37:1109–1120

15.

Chen Y, Li H (2009) Mother's education and child health: is there a nurturing effect? J Health Econ 28:413–426

16.

Guralnik JM, Chen Y, Wadsworth MEJ, Kuh D (2006) Childhood socioeconomic status predicts physical functioning a half century later. J Gerontol A Biol Sci Med Sci 61A:694–701

17.

Kaplan GA, Turrell G, Lynch JW, Everson SA, Helkala E-L, Salonen JT (2001) Childhood socioeconomic position and cognitive function in adulthood. Int J Epidemiol 30:256–263

18.

Melchior M, Moffitt TE, Milne BJ, Poulton R, Caspi A (2007) Why do children from socioeconomically disadvantaged families suffer from poor health when they reach adulthood? A life-course study. Am J Epidemiol 166:966–974

19.

Gilman SE (2002) Commentary: childhood socioeconomic status, life course pathways and adult mental health. Int J Epidemiol 31:403–404

20.

Zisook S, Lesser I, Stewart JW, Wisniewski SR, Balasubramani GK, Fava M et al (2007) Effect of age at onset on the course of major depressive disorder. Am J Psychiatry 164:1539–1546

21.

Kessler RC, Foster CL, Saunders WB, Stang PE (1995) Social consequences of psychiatric disorders, I: educational attainment. Am J Psychiatry 152:1026–1032

22.

Kessler RC, Walters EE, Forthofer MS (1998) The social consequences of psychiatric disorders, III: probability of marital stability. Am J Psychiatry 155:1092–1096

23.

Ettner SL, Frank RG, Kessler RC (1997) The impact of psychiatric disorders on labor market outcomes. Ind Labor Relat Rev 51:64–81

24.

He Y, Zhang M, Lin EH, Bruffaerts R, Posada-Villa J, Angermeyer MC et al (2008) Mental disorders among persons with arthritis: results from the World Mental Health Surveys. Psychol Med 38:1639–1650

25.

Ormel J, von Korff M, Burger H, Scott K, Demyttenaere K, Huang YQ et al (2007) Mental disorders among persons with heart disease—results from World Mental Health surveys. Gen Hosp Psychiatry 29:325–334

26.

Kuh D, Ben-Schlomo Y (2004) A life course approach to chronic disease epidemiology. Oxford University Press, Oxford

27.

Turner RJ, Lloyd DA (1995) Lifetime traumas and mental health: the significance of cumulative adversity. J Health Soc Behav 36:360–376

28.

Jaffee SR, Moffitt TE, Caspi A, Fombonne E, Poulton R, Martin J (2002) Differences in early childhood risk factors for juvenile-onset and adult-onset depression. Arch Gen Psychiatry 59:215–222

29.

Green JG, McLaughlin KA, Berglund PA, Gruber MJ, Sampson NA, Zaslavsky AM et al (2010) Childhood adversities and adult psychiatric disorders in the national comorbidity survey replication I: associations with first onset of DSM-IV disorders. Arch Gen Psychiatry 67:113–123

30.

Pudrovska T, Schieman S, Pearlin LI, Nguyen K (2005) The sense of mastery as a mediator and moderator in the association between economic hardship and health in late life. J Aging Health 17:634–660

31.

Beaudet M (1999) Psychological health—depression. Health Rep 11:63–75

32.

Patten SB, Williams JV, Lavorato DH, Modgill G, Jetté N, Eliasziw M (2008) Major depression as a risk factor for chronic disease incidence: longitudinal analyses in a general population cohort. Gen Hosp Psychiatry 30:407–413

33.

Statistics Canada (2008) National Population Health Survey, household component, cycle 7 (2006–2007). Statistics Canada, Ottawa

34.

Kessler RC, Andrews G, Mroczek D, Ustun B, Wittchen HU (1998) The World Health Organization Composite International Diagnostic Interview Short-Form (CIDI-SF). Int J Methods Psychiatr Res 7:171–185

35.

American Psychiatric Association (1987) Diagnostic and statistical manual of mental disorders (DSM-IIIR), 3rd edn. Revised. American Psychiatric Association, Washington

36.

World Health Organization (1992) The ICD-10 classification of mental and behavioural disorders, diagnostic criteria for research. http://www.who.int/classifications/icd/en/GRNBOOK.pdf

37.

Statistics Canada (2009) National Population Health Survey, household component, documentation for the derived variables and the constant longitudinal variables, cycles 1–7 (1994/1995–2006/2007). http://www.statcan.gc.ca/imdb-bmdi/document/3225_D10_T9_V3-eng.pdf

38.

Schilling EA, Aseltine RH, Gore S (2008) The impact of cumulative childhood adversity on young adult mental health: measures, models, and interpretations. Soc Sci Med 66:1140–1151

39.

Pearlin LI, Schooler C (1978) The structure of coping. J Health Soc Behav 19:2–21

40.

Baker DP, Leon J, Smith Greenaway EG, Collins J, Movit M (2011) The education effect on population health: a reassessment. Popul Dev Rev 37:307–332

41.

Mirowsky J, Ross CE (2003) Education, social status, and health. Aldine de Gruyter, Hawthorne

42.

Braveman P, Egerter S, Williams DR (2011) The social determinants of health: coming of age. Annu Rev Public Health 32:381–398

43.

Vosko LF (2010) Managing the margins: gender, citizenship, and the international regulation of precarious employment. Oxford University Press, Oxford

44.

Patten SB (2012) The National Population Health Survey's assessment of depression risk factor associations: a simulation study assessing vulnerability to bias. Chronic Dis Inj Can 32:70–75

45.

Morgan Z, Brugha T, Fryers T, Stewart-Brown S (2012) The effects of parent-child relationships on later life mental health status in two national birth cohorts. Soc Psychiatry Psychiatr Epidemiol 47:1707–1715
Acknowledgments
We are thankful for data provided by Statistics Canada [National Population Health Survey Household Component, cycle 7 (2006–2007), Ottawa: Statistics Canada, 2008] and data access through the Québec Inter-University Centre for Social Statistics, Statistics Canada Research Data Centre, McGill University. Amelie Quesnel-Vallée is supported by a Fonds de recherche en santé du Québec Health and Society Research Scholar Junior 2 Award. Rebecca Fuhrer holds the Canadian Institutes of Health Research Canada Research Chair in Psychosocial Epidemiology. This work was supported by the Canadian Institute for Health Research (operating grant MOP 77800 to AQV) and the Quebec Inter-University Centre for Centre for Social Statistics Matching Grants Program to ALP.
Conflict of interest
All authors declare that they have no conflicts of interest.
Appendix
Appendix
See Table 3.
About this article
Cite this article
Park, A.L., Fuhrer, R. & Quesnel-Vallée, A. Parents' education and the risk of major depression in early adulthood. Soc Psychiatry Psychiatr Epidemiol 48, 1829–1839 (2013). https://doi.org/10.1007/s00127-013-0697-8
Received:

Accepted:

Published:

Issue Date:
Keywords
Major depression

Life course

Socioeconomic factors

Adults

Longitudinal studies