Abstract
Purpose
Conduct problems and emotional distress have been identified as key problems among children and adolescents in post-war Burundi. This pilot study aims to evaluate the impact of a brief parenting psychoeducation intervention on children's mental health.
Methods
This study employs a controlled pre and post evaluation design. The two-session psychoeducation intervention was offered to groups of parents of children (mean age 12.3 years, 60.8 % female) who had been screened for elevated psychosocial distress. Children in the intervention group (n = 58) were compared to a waitlist control group (n = 62). Outcome indicators included child-reported levels of aggression (using the Aggression Questionnaire), depression symptoms (using the Depression Self Rating Scale) and perceived family social support.
Results
The intervention had a beneficial effect on reducing conduct problems compared to the control condition (Cohen d = 0.60), especially among boys, while not showing impact on depression symptoms or family social support. Parents evaluated the intervention positively, with increased awareness of positive parenting strategies and appropriate disciplinary techniques reported as the most common learning points.
Conclusion
A brief parenting psychoeducation intervention conducted by lay community counselors is a promising public health strategy in dealing with widespread conduct problems in boys living in violence-affected settings and not so for social and emotional indicators and for girls. An efficacy study is warranted to confirm these preliminary findings.
Access options
Buy single article
Instant access to the full article PDF.
US$ 39.95
Tax calculation will be finalised during checkout.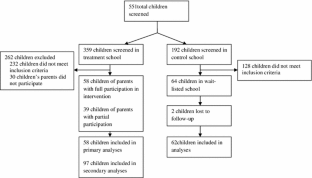 References
1.

Jordans MJD, Tol WA, Komproe IH, Susanty D, Vallipuram A, Ntamatumba P, De Jong JTVM (2010) Development of a multi-layered psychosocial care system for children in areas of political violence. Intern J Mental Health Syst 4(15):1–12

2.

Jordans MJD, Tol WA, Komproe IH, de Jong JTVM (2009) Systematic review of evidence and treatment approaches: psychosocial and mental health care for children in war. Child Adolesc Mental Health 14:2–14

3.

Bradley SJ, Jadaa DA, Brody J, Landy S, Tallett SE, Watson W, Shea B, Stephens D (2003) Brief psychoeducational parenting program: an evaluation and 1-year follow-up. J Am Acad Child Adolesc Psychiatry 42(10):1171–1177

4.

Jordans MJD, Komproe IH, Tol WA (2011) Mental health interventions for children in adversity: pilot-testing a research strategy for treatment selection in low-income settings. Soc Sci Med 73:456–466

5.

Gardner F, Burton J, Klimes I (2006) Randomised controlled trial of a parenting intervention in the voluntary sector for reducing child conduct problems: outcomes and mechanisms of change. J Child Psychol Psychiatry 47(11):1123–1132

6.

Sanders MR (1999) Triple-P-Positive Parenting Program: towards an empirically validated multi-level parenting and family support strategy for the prevention of behavioral and emotional problems in children. Clin Child Fam Psychol Rev 2:71–89

7.

Tol WA, Barbui C, Galappattti A, Silove D, Betancourt TS, Souza R, Golaz A, Van Ommeren M (2011) Mental health and psychosocial support in humanitarian settings: linking practice and research. Lancet 378:1–11

8.

Wessely S, Bryant RA, Greenberg N, Earnshaw M, Sharpley J, Hughes JH (2008) Does psychoeducation help prevent post traumatic psychological distress? Psychiatry 71(4):287–302

9.

IASC (2007) IASC Guidelines on Mental Health and Psychosocial Support in Emergency Settings. IASC, Geneva

10.

Neuner F, Schauer M, Klaschik C, Karunakara U, Elbert T (2004) A comparison of narrative exposure therapy, supportive counseling, and psychoeducation for treating posttraumatic stress disorder in an African refugee settlement. J Consult Clin Psychol 72(4):579–587

11.

Yeomans PD, Forman EM, Herbert JD, Yuen E (2010) A randomized controlled trial of a reconciliation workshop with and without PTSD psychoeducation in a Burundian sample. J Trauma Stress 23:305–312

12.

Patel V, Weiss HA, Chowdhary N, Naik S, Pednekar S, Chatterjee S, DeSilva MJ, Bhat B, Araya R, King M, Simon G, Verdeli H, Kirkwoood BR (2010) Effectiveness of an intervention led by lay heath counsellors for depressive and anxiety disorders in primary care in Goa, India (MANAS): a cluster randomized controlled trial. Lancet 376:2086–2095

13.

McCleary L, Ridley T (1999) Parenting adolescents with ADHD: evaluation of a psychoeducation group. Patient Educ Couns 38:3–10

14.

Fristad MA, Gavazzi SM, Mackinaw-Koons B (2003) Family psychoeducation: an adjunctive intervention for children with bipolar disorder. Biol Psychiatry 53:1000–1008

15.

Dybdahl R (2001) Children and mothers in war: an outcome study of a psychosocial intervention program. Child Dev 72(4):1214–1230

16.

Morris J, Berrino A, Crow C, Jordans MJD, Okema L, Jones L (2012) Does combining infant stimulation with emergency feeding improve psychosocial outcomes for displaced mothers and babies? A controlled evaluation from Northern Uganda. Am J Orthopsychiatry 82:349–357

17.

Rahman A, Iqbal Z, Roberts C, Husain N (2009) Cluster randomized controlled trial of a parent-based intervention to support early development of children in a low-income country. Child: care. Health Dev 35:56–62

18.

Cooper PJ, Tomlinson M, Swartz L, Landman M, Molteno C, Stein A, McPherson K, Murray L (2009) Improving quality of mother-infant relationship and infant attachment in socioeconomically deprived community in South Africa: randomized controlled trial. Br Med J 338:b974

19.

Wolpe H (2011) Making Peace after genocide: anatomy of the Burundi process. United States Institute for Peace, Washington

20.

Amnesty International (2004) Burundi: a critical time; human rights briefing on Burundi. Amnesty International, London

21.

Jordans MJD, Komproe IH, Ventevogel P, Tol WA, de Jong JT (2008) Development and validation of the child psychosocial distress screener in Burundi. Am J Orthopsychiatry 78:290–299

22.

Jordans MJD, Komproe IH, Tol WA, de Jong JTVM (2009) Screening for psychosocial distress amongst war affected children: cross-cultural construct validity of the CPDS. J Child Psychol Psychiatry 50:514–523

23.

Tol WA, Komproe IH, Susanty D, Jordans MJD, Macy RD, De Jong JTVM (2008) School-based mental health intervention for children affected by political violence in Indonesia: a cluster randomized trial. JAMA 300(6):655–662

24.

Jordans MJD, Komproe IH, Tol WA, Smallegange E, Ntamatumba P, de Jong JTVM (2012) Potential treatment mechanisms of counselling for children in Burundi: a series of n = 1 studies. J Am Orthopsychiatry 82:338–348

25.

Jordans MJD, Komproe IH, Tol WA, Kohrt B, Luitel N, Macy RDM, de Jong JTVM (2010) Evaluation of a school based psychosocial intervention in conflict-affected Nepal: a randomized controlled trial. J Child Psychol Psychiatry 51:818–826

26.

Birleson P (1981) The validity of depressive disorder in childhood and the development of a self-rating scale: a research report. J Child Psychol Psychiatry 22:73–88

27.

Buss AH, Perry M (1992) The aggression questionnaire. J Pers Soc Psychol 63(3):452–459

28.

Harpham T, Grant E, Thomas E (2002) Measuring social capital within health surveys: key issues. Health Policy Plann 17:106–111

29.

van Ommeren M, Sharma B, Thapa SB, Makaju R, Prasain D, Bhattarai R, de Jong JTVM (1999) Preparing instruments for transcultural research: use of the translation monitoring Form with Nepali-speaking Bhutanese refugees. Transcult Psychiatry 36:285–301

30.

World Medical Association (1997) Declaration of Helsinki: recommendations guiding physicians in biomedical research involving human subjects. JAMA 277:925–926

31.

Macksoud M (2000) Helping children cope with the stresses of war: a manual for parents and teachers. UNICEF, New York

32.

Cohen J (1988) Statistical power analysis for the behavioral sciences, 2nd edn. Academic Press, New York

33.

Jordans MJD, Komproe IH, Tol WA, Susanty D, Vallipuram A, Ntamatumba P, Lasuba AC, de Jong JTVM (2010) Practice-driven evaluation of a multi-layered psychosocial care package for children in areas of armed conflict. Community Ment Health J. doi:10.1007/s10597-010-9301-9

34.

Barber BK (1999) Political violence, family relations, and palestinian youth functioning. J Adolesc Res 14(2):206–230

35.

Cohen JA, Mannarino AP (2008) Trauma-focused cognitive behavioural therapy for children and parents. Child Adolesc Mental Health 13(4):158–162

36.

Barenbaum J, Ruchkin V, Schwab-Stone M (2004) The psychosocial aspects of children exposed to war: practice and policy initiatives. J Child Psychol Psychiatry 45(1):41–62

37.

Peltonen K, Punamaki RL (2010) Preventive interventions among children exposed to trauma of armed conflict: a literature review. Aggress Behav 36:95–116

38.

Mercy JA, Butchart A, Rosenberg ML, Dahlberg L, Harvey A (2008) Preventing violence in developing countries: a framework for action. Intern J Inj Control Safety Promot 14:878–887

39.

Diamond G, Josephsen A (2005) Family-based treatment research: a 10-year update. J Am Acad Child Adolesc Psychiatry 44(9):872–887

40.

Scott S, O'Connor TG, Futh A, Matias C, Price J, Doolan M (2010) Impact of a parenting program in a high-risk, multi-ethnic community: the PALS trial. J Child Psychol Psychiatry 51(12):1331–1341. doi:10.1111/j.1469-7610.2010.02302.x
Acknowledgments
This study was conducted with funding from War Child Holland (BU046WC). We would like to thank Dr. Marian Tankink for her contribution to this study.
Conflict of interest
No competing interests need to be disclosed for any of the authors.
About this article
Cite this article
Jordans, M.J.D., Tol, W.A., Ndayisaba, A. et al. A controlled evaluation of a brief parenting psychoeducation intervention in Burundi. Soc Psychiatry Psychiatr Epidemiol 48, 1851–1859 (2013). https://doi.org/10.1007/s00127-012-0630-6
Received:

Accepted:

Published:

Issue Date:
Keywords
Parenting

Psychoeducation

Evaluation

Children

Violence

War